You don't have to be an ecologist and a conservation fanatic to realize that it is necessary to change our practices, habits, and behaviors when it comes to the environment, and even more so when carrying out an activity that is directly nourished by Nature such as pastry making. Even a reason as selfish as guaranteeing that in the future we can continue to have the best raw materials is also valid. But what can we do? To delve into this question, we have interviewed at so good.. 29 seven great pastry chefs with different professional profiles and origins, and we have asked them to tell us what measures they have implemented in their daily lives to practice more sustainable pastry. Our protagonists are Lauren V. Haas, Francisco Migoya, Juan Contreras, Nicolas Dutertre, Jo Barrett, Nicoll Notter, and Natsuko Shoji, who, in addition to answering our questions, offer us an exclusive practical test, a creation in which sustainability plays a prominent role.

Discover all the #sogood29 contents
In addition to this necessary contribution to something that concerns us all, so good.. magazine#29 deals with knowledge and creativity, as it has on other occasions. Regarding the former, we have the invaluable collaboration of Michel Willaume and Marc Balaguer, who offer us a very interesting study on fruit glazes. They explain how from simple and basic recipes more than a hundred different coatings can be made. In this line of technical work, Richard Hawke returns to so good… to bring us an illuminating study on pectins; while the Japanese chefs Daisuke Mori and Yohei Nakayama, in charge of two of the best pastry shops in Tokyo, reveal the richness of the world of fermented foods through two iconic products such as miso and sake.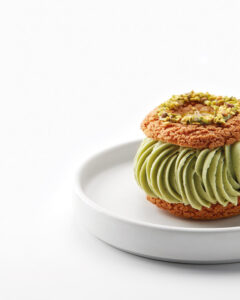 Of the 24 chefs selected to prepare this issue, a total of 13 are visiting us for the first time, which is something that we are especially pleased about. Among them are the Chilean chef Camila García Elizalde and the South African chef Anthony Hart, both with interesting personal and professional stories and delicious creations full of talent. It is also the first time for an Italian who is passionate about and a scholar of baked doughs, Andrea Tortora; for Abel Bravo and classic cakes with a local accent; for Valentin Mille, currently responsible for the sweet station of the Four Season in Madrid; and for the Dutchman Roger Van Damme, a consecrated pastry chef who has made beauty and perfection his professional hallmark.

We can only thank those chefs who continue to trust so good.. magazine to share their latest creations. They are Josep Maria Ribé, with his "marked" chocolates; Cedric Grolet, with his versatility; Malaysian chef Otto Tay, and his dim sum turned into a sweet delight; and Ross Sneddon, and the exclusive pastries of The Balmoral Hotel.

Finally, we echo the two most relevant booksforchefs releases in recent months, signed by Antonio Bachour and Yohan Ferrant, who also provide us with recipes for their creations.

We hope that this issue number 29 will help you reflect, even for a moment; learn, even if just a little; and enjoy, albeit moderately. We set out to offer you a so good.. magazine#30 that should be memorable, as befits a publication that reaches 30 issues and celebrates 15 marvelous years.