The end of the year is approaching and pastry chefs are again demonstrating technique, good taste, and a lot of fantasy when it comes to designing their collections.
Some take the opportunity to recall personal experiences, others appeal to the Christmas spirit, some even associate with artists to demonstrate their most creative side. No one can deny that Christmas is one of the highlights of the sector, not only to increase sales, but also to exhibit talent.
In this year's selection, we wanted to highlight pieces that, apart from surprising because of their aesthetics, they are designed to be shared. All of these can be found in prestigious pastry shops, and not just in France.
35 Haussman, Yann Couvreur's sweet boutique
Yann Couvreur (upcoming so good #21) has created a bûche inspired by the café he has opened at the Galeries Lafayette in Paris, located at 35 Boulevard Haussman, which combines white chocolate, light mousse with almond milk, tangerine compote, toasted almond paste, a touch of fleur de sel, and sweet almond biscuit. A delicate piece in which the fox, his alter ego, is once again present // www.yanncouvreur.com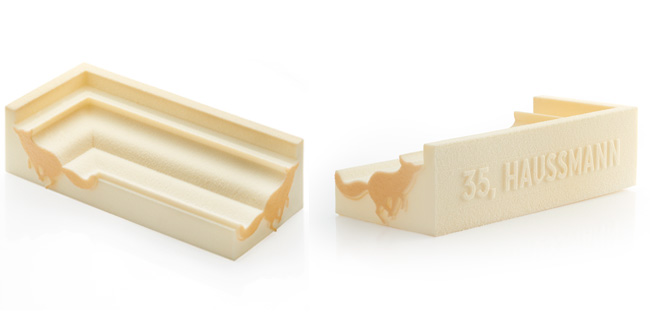 Ladurée and its Scandinavian Christmas
During a trip to Norway, David Holder, president of Ladurée, met the talented pastry chef Sverre Saetre and let himself be seduced by his unlimited energy and excellence. He was so fascinated that he has now invited him to share his creativity with the Maison by signing an exclusive Christmas collection, in which we find the Bûche Tine, made with typical Norwegian flavors: a ganache made with rice pudding, a compote of cherries and spices, and a rose mousse placed in an almond dacquoise, and macadamia nut crunch. To create his form, Sverre has been inspired by Tine, a traditional wooden box from his country that is used to transport cakes and other sweets // www.laduree.fr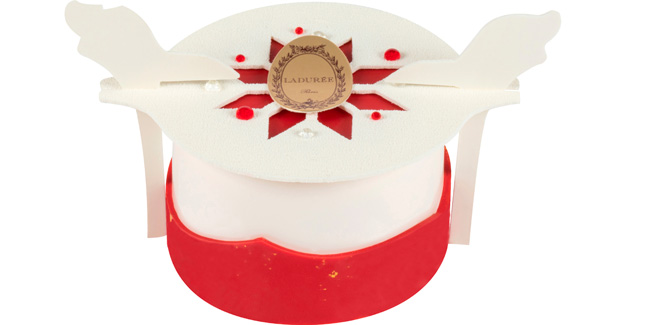 On board the Ark of Dalloyau!
Jérémy Del Val, Nicolas Boucher, and Johan Giachetti, from Dalloyau, invite us at the end of the year to get on board their Christmas ark occupied by a cheerful troop of animals. Covered with a milk chocolate rock, the ultra-gourmet base of this bûche consists of toasted rice and quinoa soufflé, combined with a hazelnut biscuit, and a fresh cream of praline-Piedmont hazelnut sublimated with a very fine touch of yuzu. A dacquoise hazelnut biscuit and a light hazelnut and Tahitian vanilla mousse complete the tasting // www.dalloyau.fr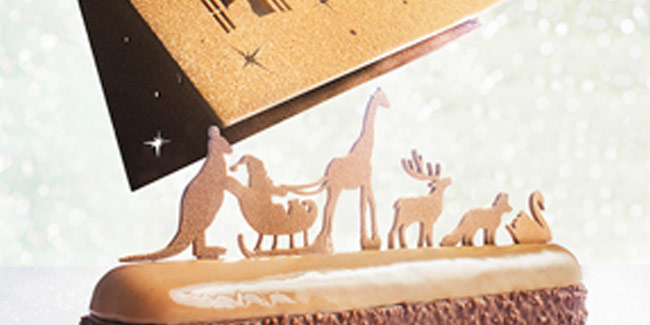 Christophe Renou. One for all!
Sensitivity, simplicity, and technique go hand in hand in this frosted version of Mr. & Mrs. Renou, the pastry-chocolate shop of Christophe and Vanessa Renou. Up to six different portions to share, each with a different flavor: vanilla, chocolate, passionfruit, lemon, hazelnut, and raspberry // www.patisserie-renou.ch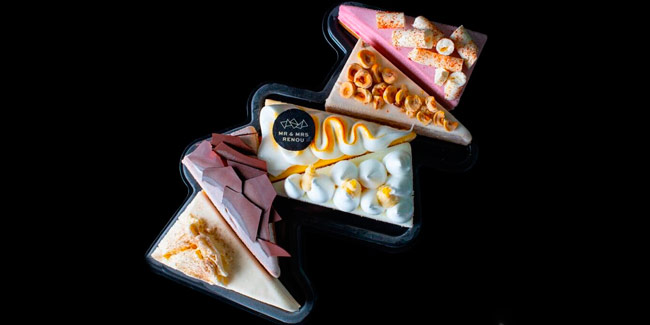 A walk-through Pascal Caffet's winter forest
For this Christmas, Pascal Caffet (so good #13) proposes a tour through a delicious winter forest with creations like this praline bûche for sharing. Under a crust of intense 70% dark chocolate, a crunchy sablé is superimposed, a Guérande fleur de sel caramel, a creamy praline with Piedmont hazelnuts and hazelnut chips and almonds // www.maison-caffet.com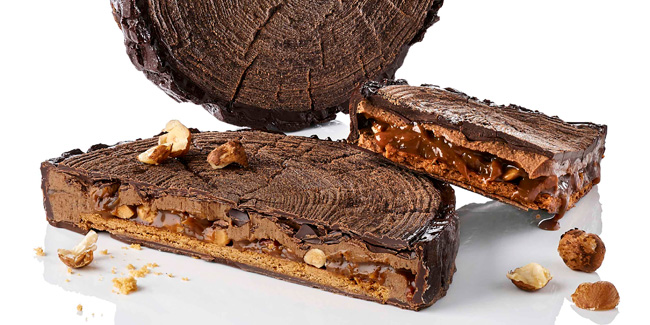 Immerse yourself in Pierre Hermé's polar universe
With smooth aromas and contrasting colors, the Bûche Orphéo by Pierre Hermé combines intense dark chocolate with Piedmont hazelnuts and can be decorated according to one's taste with pristine marshmallows or a decorative saw. An original and fun creation that is sent for the first time anywhere in continental France thanks to an isothermal box.
Ingredients: dark chocolate cake and viennese biscuit, melt-in-the mouth hazelnut praline, Pure Origin Venezuelan Dark Chocolate ganache and Chantilly cream, Grand Cru Araguani // www.pierreherme.com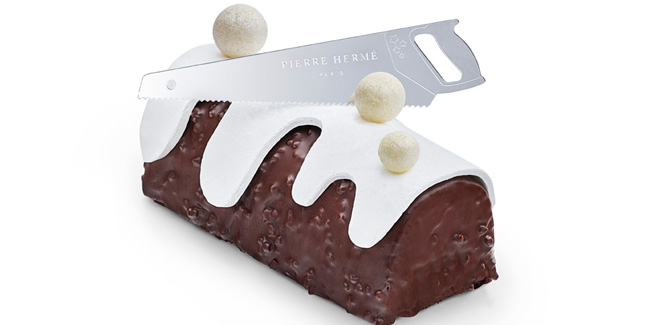 Pierre Marcolini rings the bells
Once again, Pierre Marcolini presents a collection full of games and flavors. Bonbons, bûches, chests… with one element in common: the bell. We highlight here his two bûches: Grelot "Chocolat", decorated with dark chocolate bells and praline nougat with Maldon fleur de sel, and Zéphyr, with raspberry notes, rose and passionfruit, and white chocolate and nougat bells // eu.marcolini.com
New Year's star by Christophe Michalak
A crunchy base of hazelnut praline, joconde biscuit, exotic punch associated with a foam sabayón noisette foam, and creamy and exotic jelly. These are the components of this sparkling star that Michalak (so good #8, so good #4, so good #2) proposes to celebrate the New Year // www.christophemichalak.com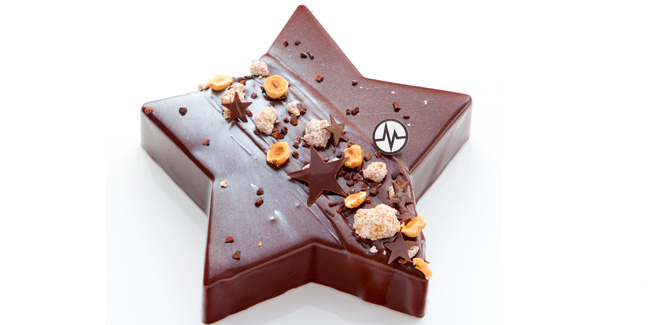 100% chocolate with Claire Damon
Chocolate lovers, pay attention to La Couronne Chocolat by Claire Damon, the owner of Des Gateaux et du Pain. A simple and beautiful crown created from spongy cocoa biscuit, chocolate chips, and dark chocolate coating // www.desgateauxetdupain.com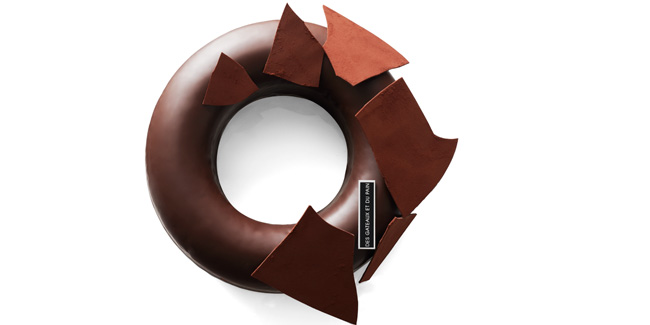 Jean-Paul Hévin's travel journal
In his Christmas collection, Jean-Paul Hévin wanted to pay tribute to those places he has traveled and that have left a mark on him. Cities like Kyoto, which fascinates with its traditional architecture and the beauty of temples like the Golden Pavilion, represented in this bûche and made with dark chocolate and almond biscuit, joconde biscuit, matcha green tea mousse, and 75% Ecuadorian Grand Cru dark chocolate mousse // www.jeanpaulhevin.com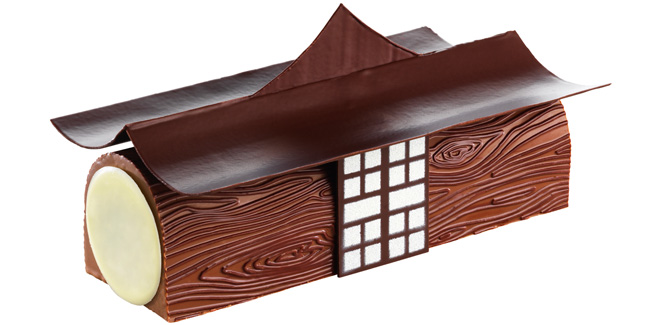 Lenôtre and his wonderful odyssey
The wonderful Odyssey evokes the sweet starry Christmas night, bringing together flavors from the three continents from where the represented animals come (Asian lemon, African chocolate, and European hazelnut). On a base of crispy cocoa with hazelnut, we find a creamy lemon zest, an airy baba soaked in lemon syrup, and a cloud of lemon egg white mousse. As an accompaniment, three delicacies are served to remember the gifts of the Three Wise Men: an intense chocolate coulis without added sugars which symbolize incense, small sweet lemons and almond paste that symbolize gold, and toasted and caramelized hazelnuts that symbolize myrrh. A divine creation framed in a diorama-type paper theater designed by the artist, Michaël Cailloux // www.lenotre.com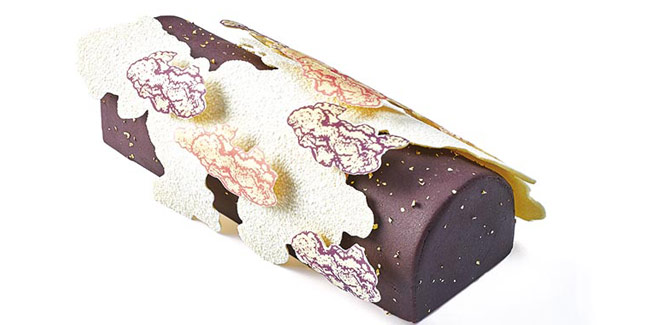 Sweet spices, chocolate, and fruit. La Maison du Chocolat's winning trio
In his bûche Rêve d'Ailleurs, Nicolas Cloiseau explores the exoticism of the fruits of these holidays. With green lemon zest, a pure Brazilian chocolate mousse covers the sweet notes of pineapple cubes infused in sweet spices on a bed of coconut biscuit. In addition, it is decorated with dark chocolate coated with gold // www.lamaisonduchocolat.fr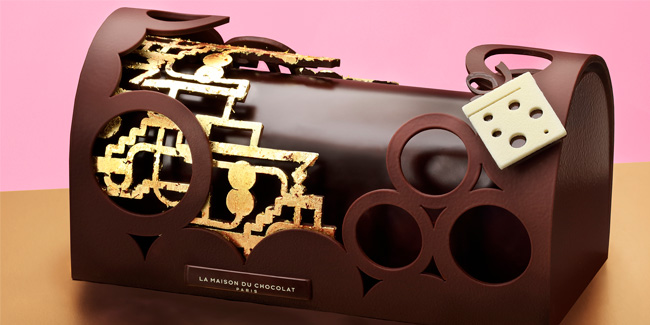 La Couronne by LAC
La Maison LAC has recently presented its Christmas collection, which includes its classics, but also some interesting novelties such as La Couronne, which consists of crunchy praline biscuit, apricot compote, and creamy hazelnut praline // www.patisseries-lac.com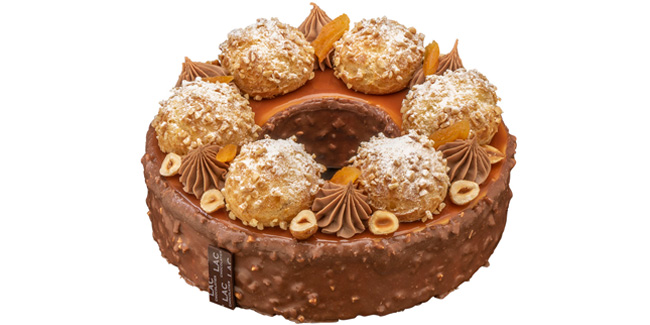 Miquel Guarro, nougat-flavored Epiphany
As is tradition in many southern European countries, the epiphany of the Wise Men is also a very important moment in the Christmas calendar. In fact, Spanish pastry artisans usually have their most important date in terms of production on the date of January 6. And although the normal thing on that date is to eat a Three Kings cake, Miquel Guarro has reconverted the idea into some fantastic chocolate crowns filled with gianduja, as if it were the classic nougat. The three wise men are in the hands of the young Catalan chef, an almond gianduja, another of hazelnut, and a third of pistachio. A simple but effective result // www.chocolate-academy.com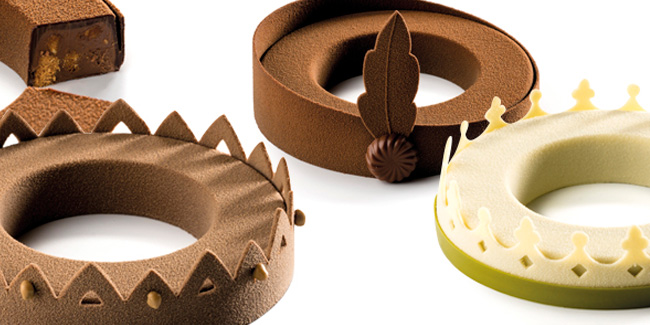 Marike Van Beurden. 'Bananarcelona'
Dutch pastry chef Marike Van Beurden has been living in Barcelona for a while, a city which she pays a particular tribute with this beautiful bûche that combines banana with chocolate and the Dutch biscuit par excellence, the speculoos. To highlight the presentation, the beautiful chocolate lattice handkerchief, inspired by the classic tiles of the modernist center of the Catalan city // www.marikevanbeurden.com