All over the world there is a clear trend by renowned pastry chefs to make an inclusive pastry that reaches all types of audiences. A light pastry, which can even be considered as healthy and that can be enjoyed by those users looking for vegan, gluten-free and / or lactose-free proposals. A pastry that does not have to be bland, dry, or simple.
Below, we share twelve preparations that make it clear that more and more people are suffering from allergies and intolerances, and that chefs have understood the need to work with new techniques and alternative ingredients to achieve a delicious result suitable for all types of consumers. Do they satisfy you?
Patryk Szczepański thinks green
Patryk Szczepański, formerly a professor at the Chocolate Academy in Poland, has been a vegetarian for a few years and is convinced that it is a trend that will not stop growing in the near future. However, he is aware that it is important to be open-minded and not believe that any dairy-based creation can have a vegan version. For this reason, he always seeks to offer products that make sense for themselves and likes it when many people enjoy them without even being aware that they have that 'green' characteristic.
For so good # 25, the owner of Pure Sugar prepared a cake with a strong chocolate flavor, contrasting with sour fruits and a ginger finish. There is also a variety of textures: creamy and crispy, smooth jelly, and the rawness of cocoa nibs. "The chocolate crémeux is based on water, which results in a noticeably clear, undisturbed and pure flavor. By replacing the egg yolks by popular pectin NH, which activates very fast, we will obtain a stable consistency, perfect for piping, "he explains.
David Briand, word of MOF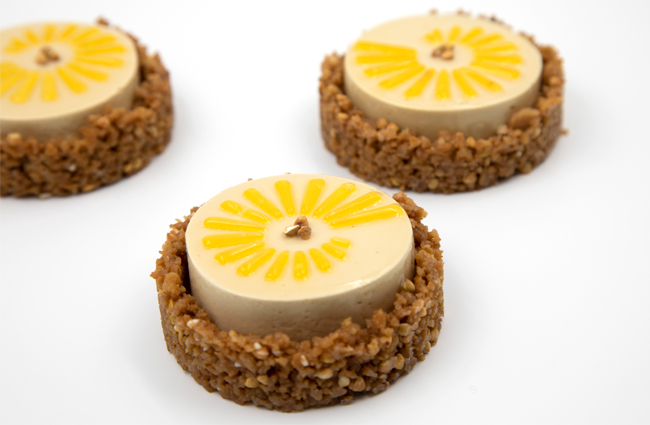 At so good # 21 we share an individual piece, l'Hespérie, that is part of the product showcase that led David Briand to proclaim himself MOF in 2018. And, curiously, it is a sugar- and gluten-free production. "My showcase revolved around the butterfly effect or the impact of man on nature. From there I would choose either this individual piece or my artistic sugar piece, which represents the past, the harmony of an ecosystem that I hope will last".
Here, the chef, professor at L'École Valrhona de Tain l'Hermitage (France) that was forged over years in Oriol Balaguer's workshop, has chosen ingredients such as maltitol (a polyalcohol that is chemically similar to sucrose), buckwheat, and rice.
Richard Hawke. Light and adapted pastry
As a pastry consultant, Richard Hawke carries out an intense job of reformulating all the classics. The purpose, on the one hand, is to adapt many specialties so that they are suitable for audiences such as people with celiacs disease or consumers with allergy or intolerance problems. And, on the other hand, to achieve a healthier pastry without giving up flavors and textures. A philosophy that he explains in detail in so good # 21 and which he shows again in so good # 24 with light creations, without complicated assembly or preparation processes, in which he avoids the use of food coloring. One of these pieces is Apricat Coco, in which he "wanted to work with coconut and create a slightly different product. I normally pair coconut with tropical fruits, or raspberries, but here I decided to use apricots. I wanted to keep things as simple as possible and keep a white finish on the cake without using any coloring. The difference in textures with the shortbread base, moist coconut sponge and fruity coulis in the center finished off with the nice and light coconut mousse ". A creation in which he uses different types of flours (brown rice and maize) and potato starch.
Jordi Bordas. Goodbye to the myth of bland pastry!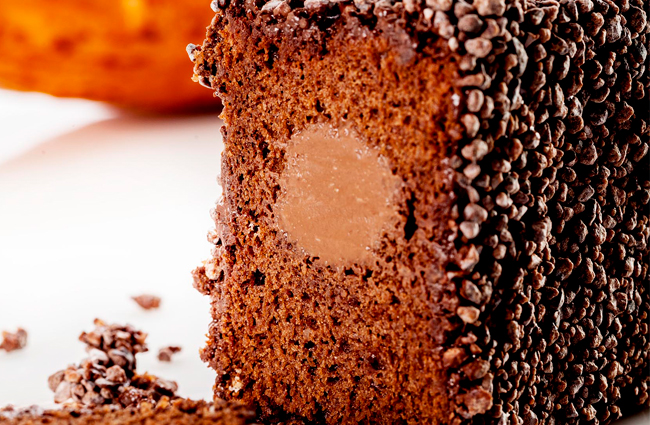 Jordi Bordas, with whom we are preparing a collaboration for so good # 27, shared in our Spanish pastry magazine a recipe for his Ghana Chocolate Cake. A proposal with which he makes it clear that the idea that gluten- and lactose-free pastry is bland or dry is just a myth.
Using his particular B · Concept method of formulating healthier, lighter, and tastier recipes from scratch, he achieves a very balanced preparation in flavor, texture, and moisture using almond flour, coconut oil, or pasteurized egg white.
Leonardo di Carlo. Leaving the comfort zone to evolve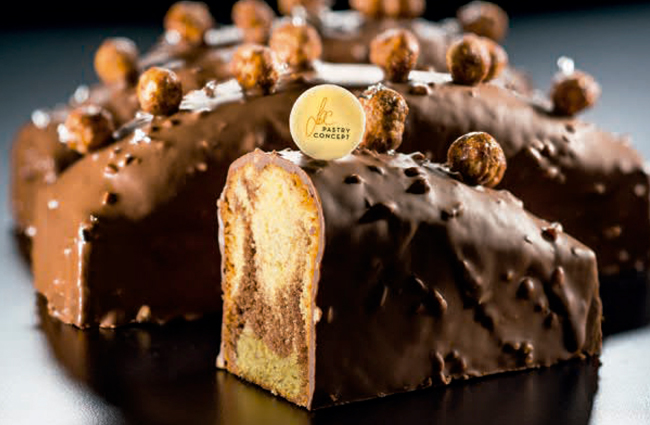 This Italian pastry chef has been defined in the sector as a versatile professional in constant research. Di Carlo is convinced that only through constant evolution can we reach a transformative revolution. It is the theory around which he revolves his book, Evoluzione in Rivoluzione, in which he starts from a noble and basic ingredient, flour, to show that everything can be perfected in the pastry trade. The objective, he assures "is for the professional to understand and reason from the knowledge of the ingredients, and to have the courage to modify their recipes with a clear objective".
In so good # 23, we showcase one of the creations included in the book and that show the evolution of a muffin that undergoes a total modification to first become a product without lactose and, later, without lactose or gluten.
Overcoming limits, Lluc Crusellas's goal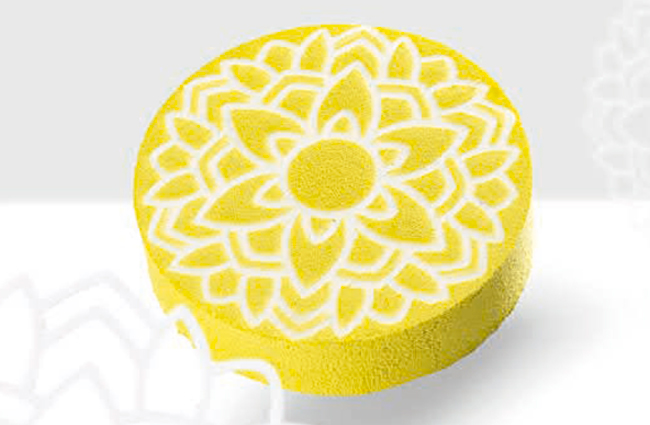 Focusing the pastry trade towards overcoming limits is always positive, since progress and evolution are guaranteed. This is how Lluc Crusellas, head of the El Carme pastisseria's workshop in Vic (Barcelona), proposed the creation of a cake that responded to the growing demand from the vegan public and that we share in Spanish Dulcypas # 481.
Crusellas had to perform a technical exercise to substitute ingredients while maintaining the intensity of the flavors. Thus, in the cake, the liquid necessary to hydrate the recipe comes from oat milk, which provides a dairy touch without having to resort to animal derivatives. For the necessary emulsion both in the compote and in the mousse, he chooses to use vegetable gelatin and sojawhip instead of albumin.
As for the decoration, he uses different paintings and mandala-type drawings, designs that are not usually used in haute patisserie.
Gourmet finger donut Longboys in a vegan option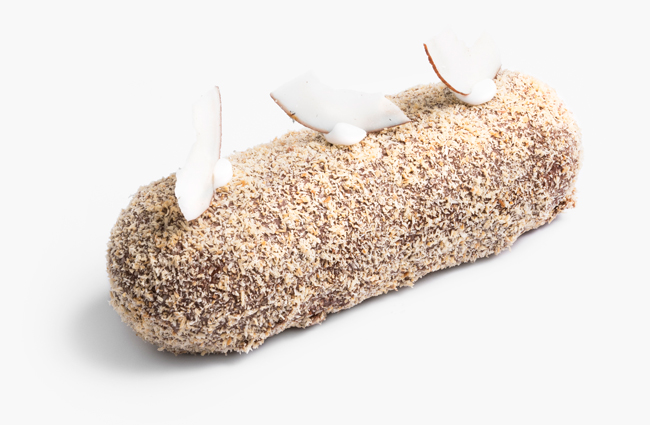 At Longboys in London, Graham Hornigold and Heather Kaniuk attempt to unite two worlds that are often separated: the popularity of a universal specialty like the donut and the refinement and precision of haute cuisine, both in the ingredients used and in the methods. The result is a range of fried yet lightened doughs, with a long shape rather than a round one, rich but suggestive at the same time, whose descriptions and types are reminiscent of the menu of a Michelin star restaurant. "We focus on using great tasting fillings, using fruits, nuts and compotes made in house rather than sugary glazes and processed toppings", they explain in so good # 24.
In this establishment, we also find vegan proposals such as Vegan coconut chocolate longboy, made with a vegan dough with coconut milk, aquafaba (vegetable substitute for eggs) and coconut oil, and vegan coconut custard with cornmeal.
Andrea Coté, in search of lightness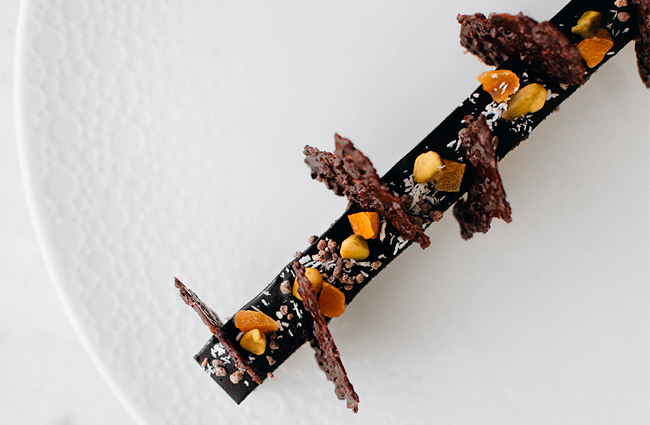 At RPM Seafood in Chicago, Andrea Coté displays a restaurant patisserie with no desire for sophistication. Her intention is to bring classic pastry to the maximum expression, relying on lightness and a repertoire where it is common to find gluten-free dishes such as this Chocolate mousse that we share in so good # 24, since "I'm never usually a fan of gut-busting desserts," he asserts.
Coté also explains that "I always struggle creating chocolate desserts. I'm more of a fruit lover, so those desserts come more naturally for me. I made the chocolate mousse to fulfill the needs of the chocolate lovers, but I actually love the final result ". The crust is made of coconut, pistachio, and white chocolate without gluten or being baked, and for the decoration, ingredients that are well-balanced were used: acidic orange, crunchy tuile, salty pistachios, and bitter cacao nibs.
Stefan Riemer is inspired by La Riviera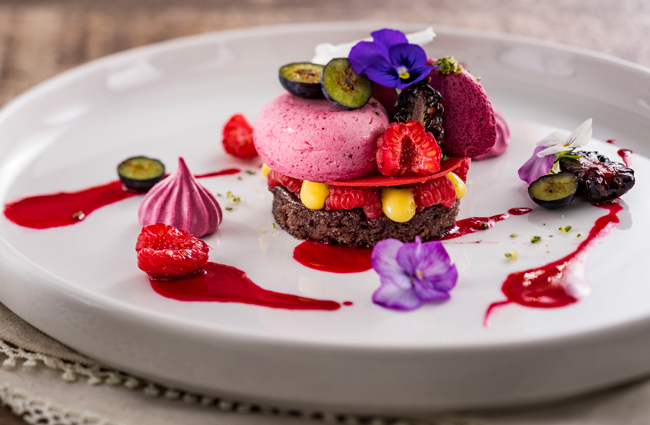 Stefan Riemer, Executive Pastry Chef at the Flavor Lab at Walt Disney World, makes amazing desserts like this vegan Fruit of the Forest, plant-based and made from black currant mousse, blueberry sorbet, macerated berries, and hibiscus cake.
For this dish, he confesses, his "inspiration came from the trending plant-based approach at Disney and incorporating the ingredients of the Riviera region including the forest berries such as black currant and also hibiscus".
Rethinking ingredients with Sarah Tibbetts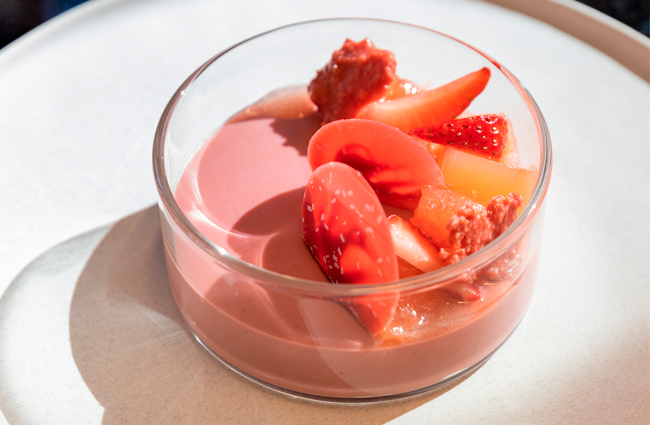 In the United States, special diets for people with food intolerances or allergies are a topic of great interest. That is why l'École Valrhona Brooklyn organizes each year a course with Sarah Tibbetts to analyze techniques, trends, and recipes to help pastry chefs adapt to the needs of customers looking for gluten-free, lactose-free, and vegan proposals.
Below we highlight one of the proposals developed by the chef in these classes. It's called Think Think and it includes a vegetarian panna cotta, made with oat milk and a crunchy streusel with almonds, rice, and coconut oil. The only element with an animal component is the Inspiration Strawberry topping with milk.
Chestnut flour, a good option for Adrien Bozzolo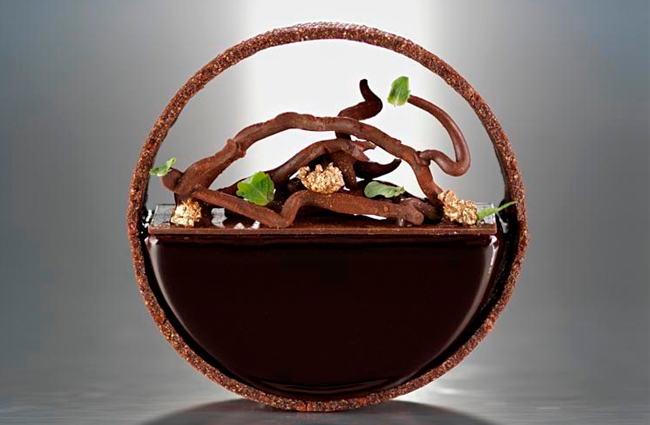 As Executive Pastry Chef at Mandarin Oriental Paris, Adrien Bozzolo likes to mix Asian flavors with French pastry techniques to achieve elegant creations inspired by the shapes, colors, and fragrances of nature.
A good example of this philosophy is found in Sweet 'n strong, where chocolate is the protagonist and the Asian touch is found in the green leaves of the shisho bud that serve as a decorative element.
A piece in which the chef from Lorraine, in the north of France, has substituted wheat flour for chestnut flour to make gluten-free sweet cocoa pastry. This flour, in addition to being ideal for the celiac intolerant population, provides antioxidants, vitamin E, and amino acids.
Yves Scherrer's mochi, suitable for all audiences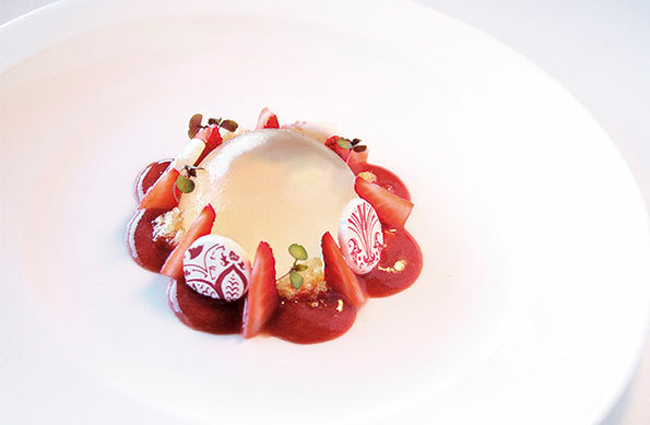 Yves Scherrer, the current owner of Madame & Yves, showed in so good # 15 his high sensitivity to food allergies when organizing his menus when he worked as head of pastry at Ananas Bar and Brasserie in Sydney. There he realized that "it was embarrassing for me to serve beautiful desserts to everyone and just have a sorbet plate for the allergic or intolerant people", so he ends up making his allergen-free desserts into the most on-demand desserts on the menu.
Among these proposals is this Yuzu Water Mochi. The idea, as he explains, "started with something quite popular in Japan lately which is the water mochi. Being a see-through plain water jelly with kinako powder and black sugar sauce which reminds me of the flavors of a traditional mochi ". In order to achieve a more tasty and fun result, Scherrer clarified some yuzu to add to the jelly and keep it as clear as possible and blended with some strawberries to make a really fresh summery dessert.