Stefan Riemer, Executive Pastry Chef at the Flavor Lab at Walt Disney World, acknowledges that "we want to make sure we deliver exactly what our guests want. It's all about having options and up-selling, providing a great experience for the guest to come back. I think that is the most difficult part ".
Part of this unforgettable experience are desserts like this vegan Fruit of the Forest served at Topolino's Terrace – Flavors of the Riviera, located at Disney's Riviera Resort (Florida, USA), plant-based and made from black currant mousse, blueberry sorbet, macerated berries, and hibiscus cake. As he himself explains, "inspiration came from the trending plant-based approach at Disney and incorporating the ingredients of the Riviera region including the forest berries such as black currant and also hibiscus."
Below we share the recipe for this textured and purple-colored proposal, which is inspired by the beauty of the region. You can also enjoy the whole interview our correspondant Santiago Corral took to him.
Fruit of the Forest vegan plated dessert with black currant and hibiscus
Hibiscus Sponge Cake
211.5 g Almond milk, vanilla
4,8 g Lemon juice
112 g Vegan butter
150 g Granulated sugar
2 g Lime zest
4,8 g Vanilla paste
150 g All-purpose flour
20 g Hibiscus powder
2,4 g Baking soda
7 g Baking powder
14 g Cornstarch
Pinch of salt
Mix almond milk and lemon juice and set aside for at least 5 minutes. Cream butter, sugar and lime zest. Add in vanilla paste. Sift all dry ingredients. Add dry ingredients in 3 parts alternating with the almond milk mixture, ending with the dry ingredients. Bake at 176°C / 350°F for 10 minutes. Cool completely, then using a ring cutter cut cake into 2-inch circles.
---
Cassis plant-based Mousse
300 g Cassis purée
90 g Agave
3,4 g Vanilla
225 g Almond milk
112 g Strawberry chocolate, melted
169.5 g Water, divided
8,4 g Agar-Agar
15 g Aquafaba powder
142 g Granulated sugar
Pinch of cream of tartar
Combine 42.5 grams water and agar-agar to create a gel-like consistency. Combine cassis purée, agave and vanilla. Set aside. Heat coconut milk to a simmer. Add agar-agar mixture and bring to a boil. Remove from heat, pour into purée mixture, and let cool in blast chiller until completely set. Melt strawberry chocolate over double boiler. Once cassis mixture has cooled, place in blender until smooth glossy consistency is achieved. Pour into bowl and add in melted strawberry chocolate. Heat up aquafaba, 127 grams water, and sugar in double boiler until sugar has dissolved. Place in stand mixer with whip attachment on high speed until meringue forms and reaches stiff peaks. Fold together cassis mixture and meringue. Pipe into medium "stone" or "globe" molds and freeze.
---
Hibiscus plant-based Meringue
8,5 g Aquafaba powder
113 g Water
113 g Granulated sugar
Pinch of cream of tartar
100 g Powdered sugar
14 g Hibiscus powder
Follow a traditional Swiss meringue method. Heat up aquafaba powder, granulated sugar and water in double boiler until sugar has dissolved completely. Transfer to stand mixer with whip attachment and add in cream of tartar. Allow to whip on high speed until stiff peak. This will happen when the mixture cools completely. Sift confectioner's sugar and hibiscus powder and fold into meringue. Transfer to piping bag with French piping tip. Pipe meringue kisses onto parchment paper cut to dehydrator size. Dehydrate overnight at 130°F.
---
Lemon plant-based Cream
213 g Almond milk, unsweetened
169,5 g Lemon juice
42 g Saffron simple syrup, divided
71 g Granulated sugar
1/2 ea Vanilla bean, scraped
25,5 g Cornstarch
2 g Lemon zest
84 g Coconut oil
Make slurry with cornstarch and 21 grams saffron simple syrup. Heat almond milk, lemon juice, sugar, vanilla bean, and 21 grams saffron simple syrup. Add slurry to liquid at a simmer, stirring constantly until thickened. Mixture should boil as to ensure the starch is cooked out. Strain and cool slightly. Add in lemon zest and coconut oil, stirring until smooth. Chill in an ice bath and reserve in refrigerator.
---
Blueberry Basil Sorbet
226 g Blueberry purée
pinch of salt
2,5 g Lemon juice
7 g Basil leaves, fresh
70 g Simple syrup
3 g Lemon zest
Chop basil. Place all ingredients into bowl and combine. Transfer to frozen food processor beaker and freeze. Once frozen, micro purée. Hold in freezer.
---
Raspberry Sauce
280 g Raspberry purée
85 g Granulated sugar, divided
3,5 g Pectin, yellow
Pinch of salt
1,75 g Lime juice
In sauce pan on medium heat, bring raspberry purée and 70 grams sugar to boil. Mix pectin and 15 grams sugar. Drizzle into boiling purée while constantly mixing. Once incorporated, boil for 30 seconds. Remove from heat and strain into clean container. Chill in ice water bath to seal the texture. Add salt and lime to enhance flavor. Store in refrigerator.
---
Saffron Simple Syrup
2 g Saffron
85 g Simple syrup
Heat sugar and water until sugar has dissolved. Add in saffron and allow to sit overnight to develop color. Store in cooler.
---
Basil Sugar
110 g Granulated sugar
28 g Basil leaves, fresh
In food processor, place half the sugar, fresh basil leaves, and top with the remaining sugar. Gently pulse until sugar and basil are combined. Mixture should still look granulated and not wet. Place onto acetate lined dehydrator rack and dehydrate at 130°F overnight. Store in airtight container.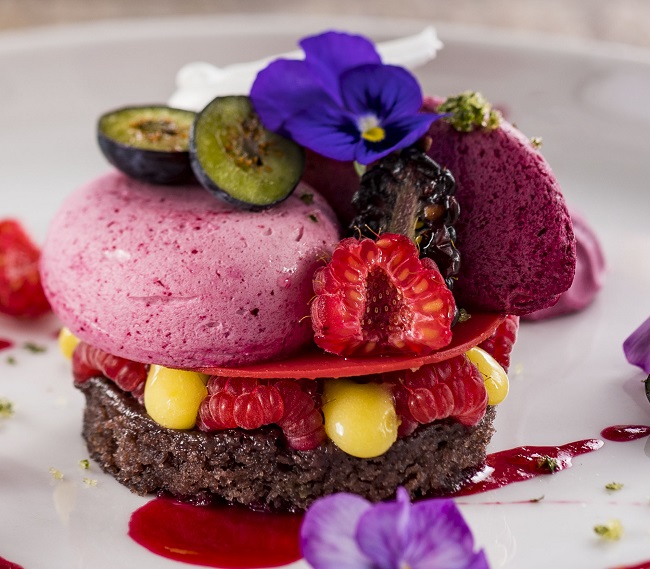 ---
Garnish
Raspberries
Blackberries
Blueberries
Viola flowers
---
Montage
Splatter plate with raspberry sauce. Place cut hibiscus cake into center of plate. Place raspberry halves flat on the cake circle, leaving 1/2" between each raspberry half. Fill gaps between raspberries by piping in lemon cream. Temper a small amount of strawberry chocolate and spread thin onto acetate and cut with 2" metal ring. Top raspberries and lemon cream with 2" tempered strawberry disc. On top of the strawberry disc, place the cassis mousse, a quenelle of blueberry basil sorbet, half a raspberry, half a blackberry, half a blueberry and a viola flower. Top blueberry basil sorbet quenelle with a pinch of basil sugar. To garnish the plate, organically place hibiscus meringues, half raspberries, half blueberries, half blackberries, viola flowers and basil sugar.