Today, 16 May, on the occasion of International Coeliac Day, organized by the Association of European Coeliac Societies, we share the Ghana cake recipe by Jordi Bordas published in Dulycpas # 442, with which he succeeds in banishing the idea that bakery free of gluten or lactose is bland or dry. Using his particular B • Concept method, it does not replace the allergen with another alternate, but designs a new piece balanced in taste, texture, and humidity.
In the next so good # 19 we will showcase new creations from the pastry chef, winner of the Coupe du Monde de la Pâtisserie 2011.
Ghana Chocolate Cake
Recipe for 6 cakes measuring 19×4, 5×6 cm with tube mold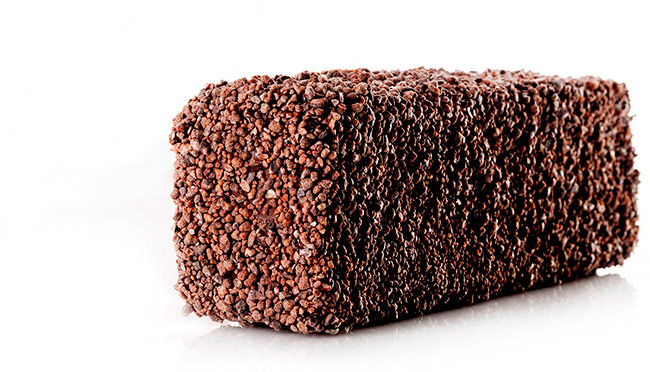 cake 60% Sao Palme
207 g almond flour
207 g confectioner's sugar
177 g pasteurized egg yolks
353 g pasteurized egg whites
94 g brown rice flour
6 g baking powder
128 g coconut oil
259 g 60% Sao Palme dark couverture
Grease the cake molds with coconut oil and rice flour. Put the almond flour with the confectioner's sugar in the food processor to make a fine powder.
Place the previous mixture in the bowl of the mixer. Mount and gradually incorporate the yolks and the whites in the mixer at medium speed. Sift the flour together with the impeller.
Melt the coconut oil with the couverture at 45ºC in the microwave. Add one part of the smoothie to the mixture of the cover and the coconut oil. Work lightly with a spatula and add the rest. Then add the flour and the impeller and mix gently with a spatula.
Mold and bake in the oven at 150ºC for 22 minutes with the valve closed.
Cool for 1 hour in the refrigerator, unmold and freeze.
---
60% Sao Palme creme
220 g dark coverage Sao Palme
3.3 g liquid lecithin Sosa
8.5 g sunflower oil
320 g water
Melt the coating at 45 ° C and add lecithin and oil. Ensure a temperature of 20 ° C in the water and gradually add to the coating mixture, emulsifying intensively with the food processor. Cool in a refrigerator until it crystallizes.
---
Sao Thome 60% coating
436 g dark chocolate Sao Palme 60%
85 g coconut oil
Melt the chocolate and coconut oil at 50°C in the microwave oven.
---
weight per cake
220 g cake Sao Palme
85 g creme Sao Palme
80 g Sao Palme enrobbing
90 g cocoa nibs Qroqant Felchlin
---
Assembly
Fill the creme inside the frozen cake and keep in the fridge. Bring the temperature of the Sao Palme coating to 29ºC, Coat the cakes and cover them completely with cocoa nibs.