Lighten the recipes, make them healthier and also achieve maximum intensity of pure flavor. With this vocation, without compromise, B•Concept was born, a method developed by Jordi Bordas, world champion in 2011 and newly appointed Ambassador of the Felchlin brand. A project created with the intention of rethinking and updating classic pastry recipes, taking into account the technology, knowledge and equipment available today, as the needs and sensitivities of today's consumer.
B•Concept is a method for learning how to build a recipe from scratch. For this he abandons the rigidity of classical formulation and what was perceived as constraints on caloric needs, preservation and consumption of the moment each recipe was created. Jordi Bordas assesses each recipe on two pillars: firstly, today's technology and knowledge and secondly, the needs (fats, sugars, allergens…) and sensitivity (lightness and purity of flavor) of today's consumer. The result: strong, lightweight and calculated recipes like White Diamond.
In so good #13 you can discover other creations prepared with B•Concep like Origin Cacao and Pure Creole.
White diamond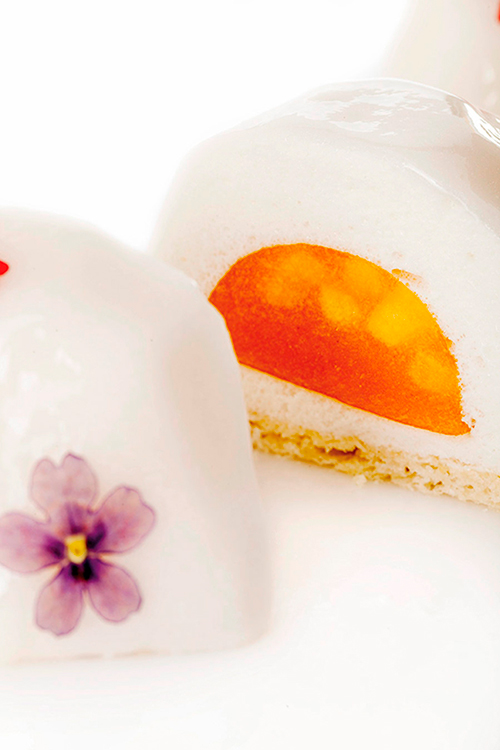 ---
mango compote
light lychee sponge
These recipes are in so good #13.

---
gelatin mass 6:1
100 g powdered gelatin, 200 bloom
600 g water
Mix the powdered gelatin and water at 20ºC with the help of a hand whisk. Allow to hydrate for 10 minutes before use. Keep in the refrigerator at 4ºC.
---
light lychee mousse
165 g heavy cream, 35% fat
379 g lychee purée 10%
38 g egg white powder
99 g sugar
157 g atomized glucose DE 38
148 g gelatin mass 6:1
553 g lychee purée 10%
111 g lemon purée 10%
Whip the heavy cream to soft peaks. Combine the first measurement of lychee purée, egg white powder, sugar and atomized glucose and whip until a meringue is obtained. Heat the gelatin mass to 40ºC, add the second measurement of lychee purée and lemon purée. Vigorously mix. Combine with the meringue and finally fold in the semi-whipped cream with the help of a rubber spatula.
---
silver neutral glaze
These recipes are in so good #13.

---
Montage and finishing
Pipe the light lychee mousse into a diamond mold (by Silikomart). Insert then the mango hemisphere.
Finally seal with a 5.5-cm-wide lychee sponge and freeze.
Unmold and spray with the silver-colored neutral glaze. Garnish with flower petals.