Photos: Ivan Raga
One of the great Spanish chocolate talents, Raúl Bernal, who is at the head of LaPaca, shared his ingenuity with chocolate in Four in One with this cute chocolate popcorn. A sweet trompe l'oeil that thanks to the dry meringue acquires a crunchy texture similar to the original. Want to play?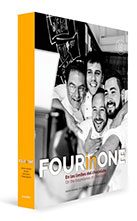 Dry meringue and chocolate 'popcorn'
Dry meringue
150 g sugar
100 g egg whites
Combine the egg whites and sugar and heat up to 40ºC. Whip in a mixer until peaks form. With the help of a pastry bag, pipe meringue strips on a silicone mat. Bake in a 120ºC oven until the meringues become dry. Remove from the oven and leave to cool. Cut irregularly. Store in an airtight container.
---
Dry meringue and white chocolate
100 g dry meringue
200 g Opal white chocolate
Combine the tempered white chocolate and dry meringue. Spoon some dollops onto an acetate sheet. Once crystallized, store in an airtight container.
---