In recent years, coconut is one of the favored fruits by professional pastry chefs, not only due to its flavor and aroma, but also because of its versatility since it can be used in the form of milk or oil in recipes where you want to avoid using dairy ingredients. Below we share 10 creations where this tropical fruit shows all its potential.
David Briand. childhood memories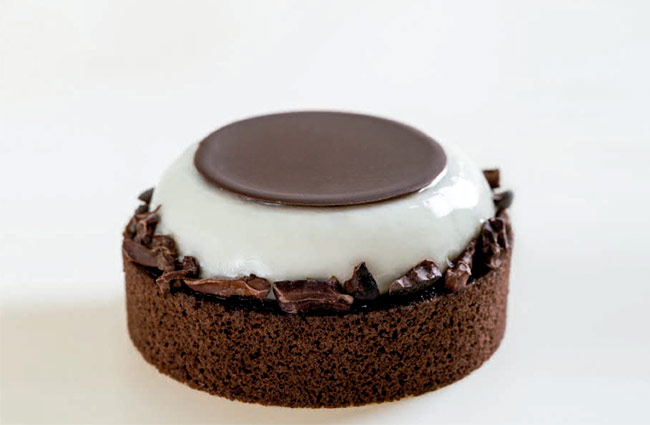 MOF Pâtissier David Briand is not interested in who makes the most complex cake. The important thing for him is to have a story behind each creation and not to forget that in the end, everything we create is eaten. And with that idea in mind he shared Choco in so good #23, which on the top has light and pure coconut.
"Choco is the memory of a bar that I liked very much as a child, with dark chocolate and coconut. The bottom has crispy textures, and the sponge cake represents the earth", he explains.
Julien Dugourd. The importance of visual appearance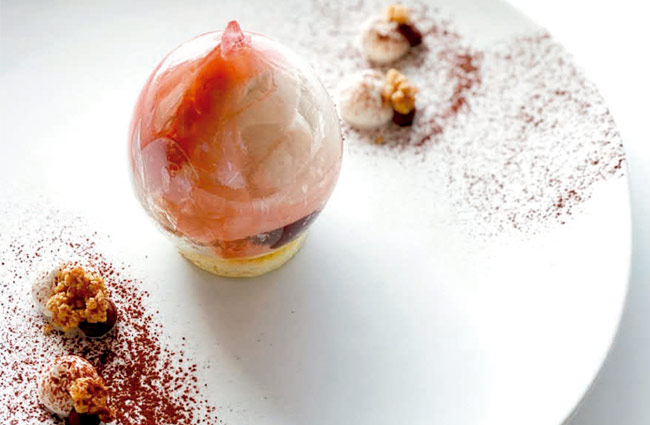 The pastry chef at La Chèvre d'Or, a mythical Côte d'Azur hotel and gastronomic restaurant crowned with two Michelin stars, is an elegant and versatile professional.
As a result of all this experience and his culinary background, he does not hesitate to define his proposals as simple, light, and fruity, without losing sight of the importance of the visual aspect of each creation. For this reason, he does not hesitate to seek inspiration even in contemporary art to find original designs that provide the added value that an environment such as La Chevre d'Or demands. We see it in so good #25 thanks to recipes like the Tiramisu Noisette, garnished with some coconut chantilly dots.
Vinesh Johnny. Indian-inspired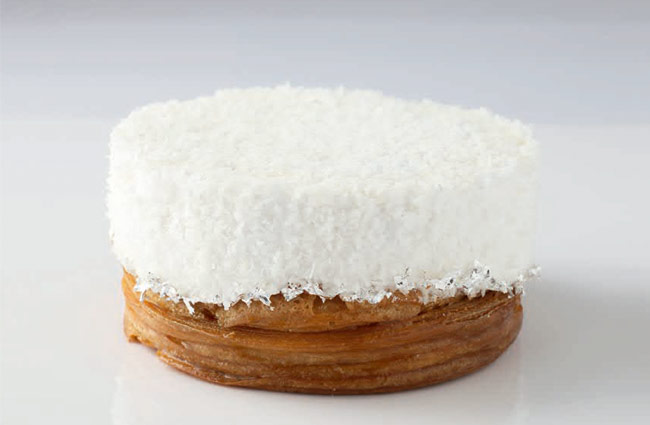 During the lockdown caused by the pandemic, Vinesh Johny carried out an introspection exercise, a trip to his own childhood and the typical sweets of his country as his main motivation. From there, he designed personal proposals such as Coconut Cloud Dilkush, which he presented in so good #25.
Dilkush or dilpasand, which loosely translates to 'Happy Heart' in Hindi, is a very old Bangalore nostalgia-inspired pastry stuffed with dry grated coconut, green cardamom, and candied fruit. His version, Coconut Cloud Dilkush, "has a puff pastry base, stuffed with grated coconut, candied fruits, nuts, and honey with a hint of green cardamom, all slathered with some very light and fluffy Coconut Marshmallow. Without changing much of its originality, I do believe I have managed to take this humble street food to a global audience".
Curtis Duffy experiments with sprouted coconut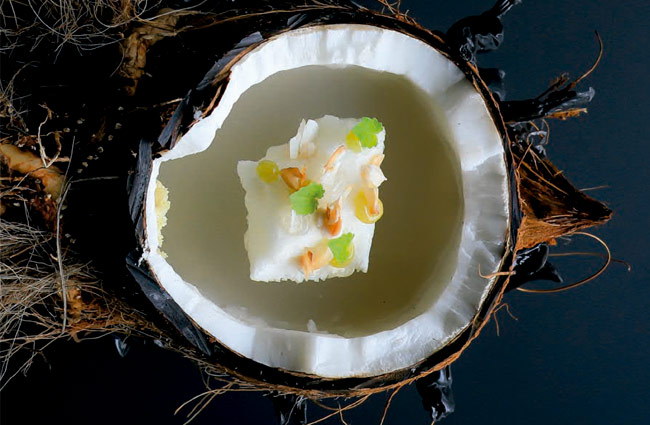 At the restaurant Ever in Chicago, Curtis Duffy blurs the lines between sweet and savory. Among his spectacular dishes is Sprouted coconut sponge with sudachi, spruce & lemon balm. A dish which we showed in so good #25 and in which he was inspired "by living between here [Chicago] and Miami Beach. I was inspired when I was running by the water and saw a coconut on the ground that had fallen from the tree and had sprouted. I started doing research on sprouted coconut and how it grows. I didn't realize that when it starts sprouting you can eat it and it creates a sponge-like mass on the inside. If you get it at the right time, it is a beautiful, fatty rich coconut like you've never tasted before. It has a cool sponge-like texture. I knew we would have to get this to our guests".
Will Goldfarb highlights its healing properties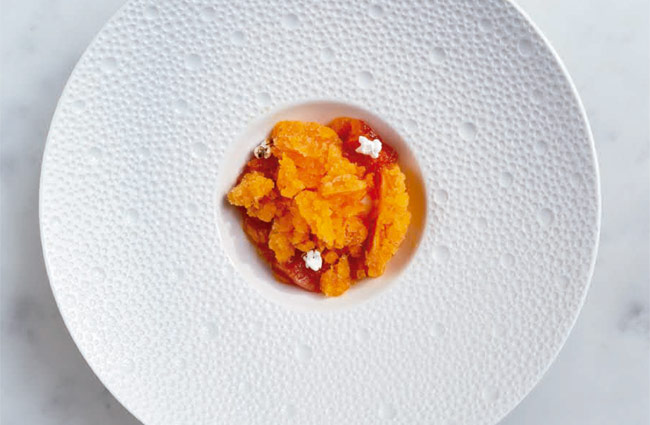 In Bali, Will Goldfarb runs his own dessert restaurant, Room4Desserts, located in the middle of a 3,000 square meter garden, with 300 varieties of plants and a hundred types of trees that nurture his desserts. The winner of The World's Best Pastry Chef 2021 is very interested in botany, its benefits, and the healing properties of plants, something seen in Nothing Rhymes with Orange, a creation that can be found in so good #27.
Made of papaya, homemade coconut yogurt, and turmeric jamu, this is a monochromatic dessert. "All our desserts for Season 12 took inspiration from Lontar Kuranto Bolong, an ancient book about medicinal plants and their healing powers for children. Nothing Rhymes With Orange incorporated coconut as one of the ingredients, as it is able to cure fever according to the book", he explains.

Fabrice Danniel's health-conscious gourmand pastry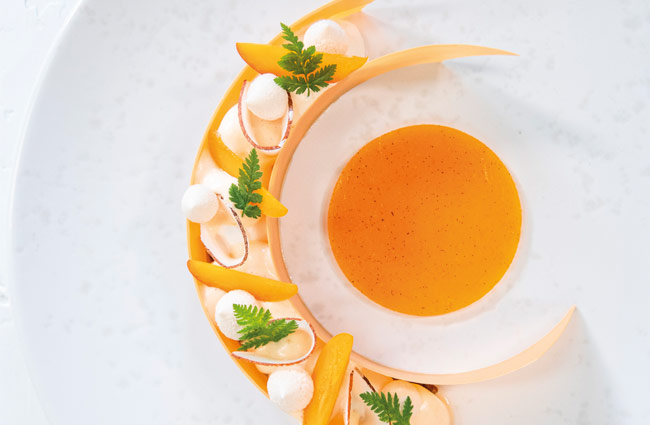 The concern for health, well-being, and ecology have become priority issues, and according to Fabrice Danniel, a trend that patisserie must see as an opportunity.
In so good #27, Danniel shared some examples of this new form of health-conscious gourmand pastry that provides an extra dimension to the flavor profile, provoking a difference in taste and textures. A good example of this is Apricot and Coconut, "a recipe to make in summer when fresh apricots are available. Aquafaba (chickpea cooking water), is an excellent substitute for egg whites and is used to lighten the apricot mousse. This dessert is plated with the same coconut crumble and foam as found in Raspberry and Tarragon and set upon an apricot and rosemary gel".
Samira Saade. At the breakfast table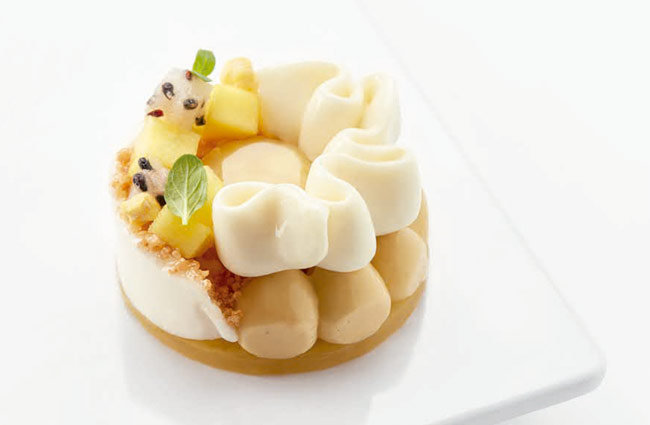 Without previous experience of any kind, Samira Saade achieved a stage with her admired Antonio Bachour and has ended up becoming the right hand and key player in the expansion of the acclaimed pastry chef. Additionally in 2021 she was chosen as a Rising Star by the American magazine Star Chefs.
In so good #28, Saade presents, among other creations, Guayaquil. "Naranjilla and guanabana are part of my childhood, my country, they are my childhood memories. They're something that was always on the table for breakfast in my house," she explains. A recipe where coconut is present in dacquoise, streusel, and whipped ganache.
Spyros Pediaditakis. Ideal for a pastry shop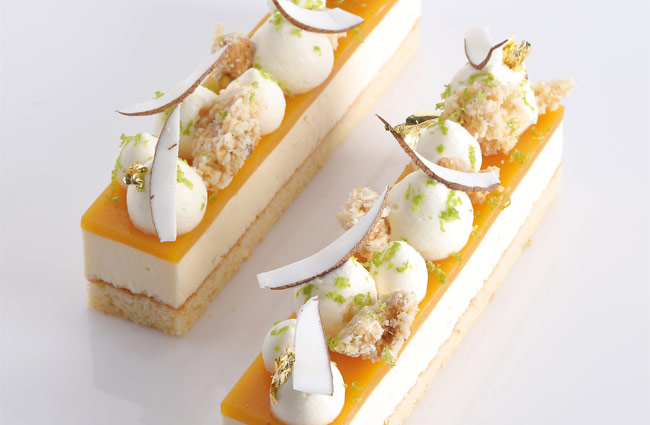 After ten years of training in the main centers and experiences in some of the best European restaurants, Spyros Pediaditakis decided that he could not keep the dozens of ideas, tricks, and creations that he had written down in his notebook. And from there, Notebook was born. In so good #28, he advances some creations that he will include in the second volume of his book, among which we find Exotic.
"Exotic is one of my favorite recipes as it is a dessert with a balanced and delicate flavor, light acidity, and lots of fresh aromas. It's a surprise for those who taste it. It combines many different flavors such as coconut, mango, and lemon. With its airy textures of mousse, the light and fluffy biscuit gives you a fresh aftertaste. It would perfectly fit in a pastry shop."
Frank Haasnoot's Prisma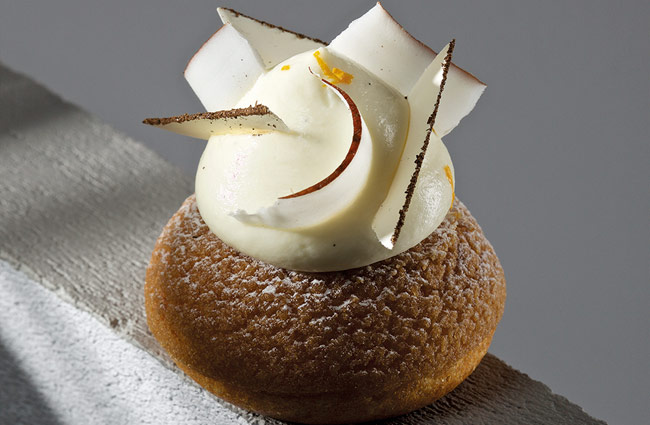 The coconut is also present in the book Prisma by Frank Haasnoot, a celebration of colors and creativity. The pastry chef presents fifty elaborations in this book, some emblematic and others original in which his characteristic mark is imprinted.
One of the preparations included is Coco Puffs, which does not have a story behind it. "Coco Puffs comes from wanting to offer something pleasant and delicious, and everything flows from there. In this case, I incorporate flavors like yuzu, coconut, and citrus. The texture comes through the craquelin and choux pastry, which also adds some structure. For the decoration at the top, the chocolate is submerged in vanilla powder, with which we get it to appear like a piece of coconut. It is a small and elegant touch for a dessert that is otherwise simple".
Eric Ortuño's exotic flavored cookie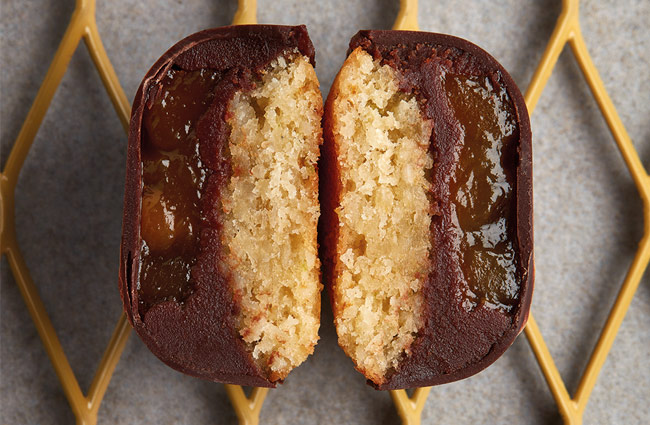 In 1846, the Lefèvre-Utile brand was born in Nantes (France), known in its abbreviated form as LU, creator of biscuits that are very popular all over the world. In the last decades of the 20th century, the company contributed to the large-scale commercialization of industrial biscuits as a widely consumed product. One of the creations that fall within this period is Pim's, whose composition marks distances from the typical dry tea pastry. It is a tender sponge cake accompanied by a jam encapsulated in chocolate.
Taking this mythical cookie as a reference, Eric Ortuño proposes in his book Break! an artisan version with more exotic flavors, with a tender coconut and lime sponge cake, a mango jam, and a dark chocolate ganache.