Cacao Barry, in collaboration with La Liste, launched a list months ago with a selection of the best pastry shops in the world, a list which currently contains more than 2,000 chocolate shops, cafes, dessert restaurants, bakeries, and places to have tea. Now the brand goes one step further and presents a large number of awards to pastry shops and chefs with the aim of acknowledging international talent.

For the creative chef of Cacao Barry, Ramon Morató, these awards represent a crucial moment in the world of pastry. "For chefs, these awards symbolize recognition for their relentless pursuit of perfection. Cacao Barry has always championed creativity and I am honored to witness a new chapter in our legacy."

These new awards cover 11 categories:

Honor Award 2023

Pierre Hermé achieves this recognition for his career spanning more than 20 years, marked by leadership and pastry creativity.
In the nineties, the French chef broke with conventions by organizing pastry shows that were reminiscent of haute couture events. Among his milestones, the reinvention of the macaron and the publication of the book ph10 stand out.
Award for the Best Creative Pastry Chef in the World 2023

Amaury Guichon is French-Swiss but lives in Las Vegas, and stands out for his extraordinary creativity, great technical skills and his ability to set trends with millions of followers on social media.
Game Changer Award
Lauren V. Haas campaigns to change the culture of the pastry industry through engagement and education, as she showed us in so good.. magazine 29. The American chef encourages her peers to think beyond plastic by using sustainable ingredients and recycled paper molds.
New Talent Awards

Eunji Lee, of Lysée (New York), who combines Korean flavors with classic techniques to present a fun pastry.
Dej Kewkacha for his creative dessert menu with Thai and Japanese ingredients at Kyo Bar (Bangkok).
Mayada Badr of Pink Camel (Jeddah, Saudi Arabia), known for her culinary vision and her macarons.
Tejasvi Chandela, promoter of Indian pastry and alma mater of the first pastry shop opened in Dzurt.
Ophélie Barès, trained in large hotel kitchens, offers bread and pastries in the Encore neighborhood of Paris.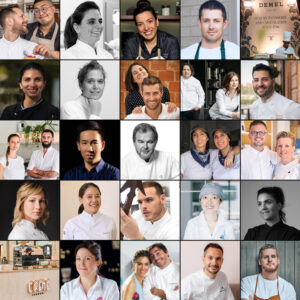 Pastry Innovation Award

Philip Khoury (Harrod's, London). A chef who has shown that a plant-based pastry can be tasty, delicate, and creative, based on reformulation and reinvention.
Yann Couvreur (France). Chef who defends ecological, natural, and seasonal pastries.
Award for Craftsmanship and Authenticity

Demel (Vienna). Historic café that preserves classics such as the strudel, sachertorte,or Dobostorte.
Bontemps (Paris). Chef Fiona LeLuc uses traditional sablé biscuits as the basis for exclusive creations.
Ethics and Sustainability Award

Jérôme Raffaelli opened the first 100% vegan bakery in Marseille in 2018. Additionally, in Oh Faon! (Marseille), seasonal fruits grown 25 km away and organic flour and chocolate from France are used.
Discovery Gems Award

(Hard to find bakeries, tea rooms or dessert restaurants)

Fusto Milano, Gianluca Fusto – Milan. A spacious boutique, research laboratory, workshop, and event space.
BRIX Desserts, Carmen Rueda – Dubai. The pastry chef designs her menus as multi-sensory experiences, guiding diners to gastronomic destinations from Japan to Mexico, or through the four seasons.
Pâtisserie Rhubarbe, Stéphanie Labelle – Montreal. Combining sweet and savory, floral and herbaceous, to demonstrate what can be achieved with what is local.
Pâtisserie Asako Iwayanagi – Tokyo. It stands out for its elaborate parfait desserts, mousses, sorbets, and fruits that change according to the seasons and look like miniature terrariums.
La Goutte d'Or, Yann Menguy – Fort-de-France (Martinique). Mixture of classic pastry techniques with island flavors.
Best Afternoon Tea Award

Nicolas Rouzaud at The Connaught, London, offers an exemplary tea experience in a traditional location, but a pastry with a bold twist.

Best Pastry Shop Experience Award

The ice cream parlor Rocambolesc (Girona) by Jordi Roca and Ale Rivas was born 11 years ago with the desire to reach the maximum number of people and awaken the inner child that we all have inside. Entering the establishment is like entering a fantasy world reminiscent of the movie Charlie and the Chocolate Factory or the comics of Dr. Franz from Copenhagen.
Openings of the year

Crème, Jeremy and Gabrielle Coste – London, Paris and the Middle East.
Tarts Anon, Gareth Whitton & Catherine Way – Melbourne (Australia)
La Pastelería, Belu Melamed – Buenos Aires (Argentina)
Frappe, Solenn Le Squer & Thomas Padovan – Paris (France)
La Pâtisserie Julien Dugourd, Julien Dugourd – Nice (France)