Once again, we made a selection of some of the original bûches de Noel by great pastry chefs who have caught our attention.

Creations with interesting combinations of flavors, fascinating aesthetics, and impeccable techniques that awaken the most magical and poetic side of these holidays.

It is clear that Christmas is a time of experimentation and creativity for chefs, who have not missed the opportunity to make their ideas shine despite the delicate health crisis.
Christophe Michalak's nod to Tchaikovsky's Nutcracker

One of the most popular Christmas ballets is "The Nutcracker", which premiered in 1892 by the Russian composer Tchaikovsky. A Christmas story that takes us to a children's world, where everything is illusion and innocence. A magical story that Christophe Michalak wanted to honor in his bûche Casse-Noisette, which takes up the subtle notes of a Paris Brest with an intense flavor of Piedmont hazelnut. This beautiful log is made from a crunchy laminated praline, a hazelnut praline dacquoise, and hazelnut praline muslin cream. // www.christophemichalak.com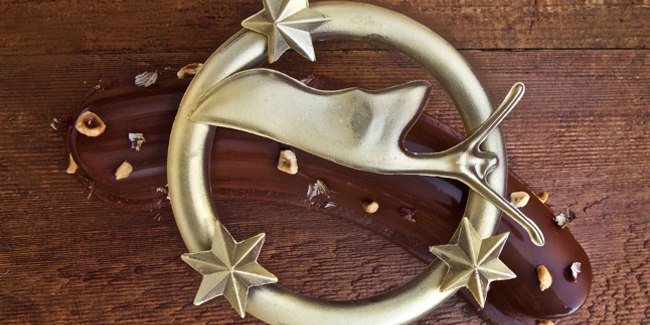 Dalloyau's Immaculate White

Jérémy Del Val, pastry chef of Dalloyau and Champion de France du Dessert 2014, imagines a refined, graphic, and gourmand Christmas with this pristine white wreath that brings to mind unforgettable moments. White like a delicate snowflake and the coconut, one of its main ingredients.
Among the ingredients are coconut and Tahitian vanilla mousse, soft banana biscuit and avocado cream scented with lime and passion fruit "to give it spicy notes that awaken the taste buds and that perfectly combines with exotic fruits and vanilla", he states. // www. dalloyau.fr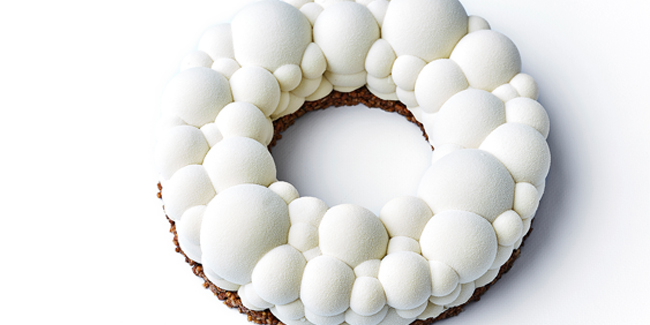 Cédric Grolet, pure honey

Cédric Grolet has created original bûches for Le Meurice this year, inspired by his "Pure" collection of delicious reinterpreted entremets. Due to its uniqueness, the Pure Miel log is striking.
An airy foam delicately sprinkled with pollen hides a clever montage: a dacquoise and a meringue topped with forest honey lie on a honey and pollen crunch. The lemon gel with sweet lavender nectar is very palatable and the powerful flavored pollen gel completes this elegant bûche. // www.dorchestercollection.com/en/paris/le-meurice/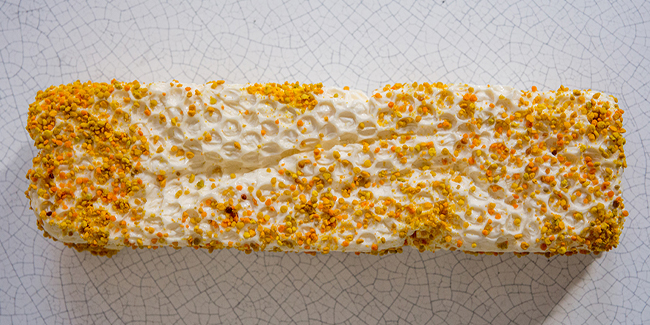 Isatis, Yann Couvreur's polar fox

After several months of work, Yann Couvreur presents Isatis, the polar fox.
Composed of a biscuit and a crunchy pecan, the heart of the bûche is completed with vanilla caramel and maple syrup. The piece is also made up of a pecan praline and a vanilla mousse and maple syrup that provides lightness. The whole set is covered with chocolate garnished with pecan praline.
For the French chef, Christmas is like a great playground that allows for folly. And on this occasion, he wanted to make a dessert that was both gourmet and aesthetically pleasing, based on simple flavors. // www.yanncouvreur.com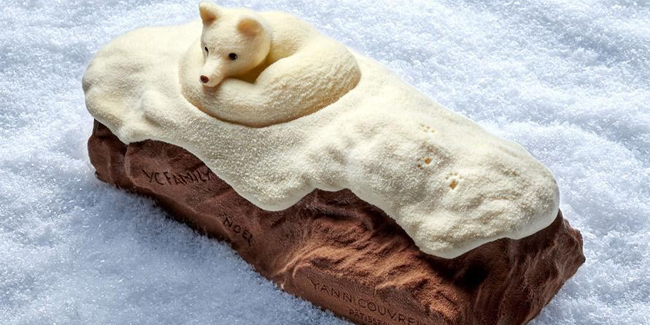 The magical universe of Pierre Hermé & Philippe Baudelocque

Pierre Hermé imagines a world full of intense emotions with the artist Philippe Baudelocque. Both share sensitivity and creative freedom, and in the Christmas collection they wanted to capture the sky illuminated by the Milky Way through celestial bûches, macaron pyramids, and seven-pointed stars.
In all this repertoire, the flagship bûche is that of cassis flower. Under the shell, there are aromatic notes of blackcurrant pepper, then we slide towards the bitterness of a blackcurrant compote tamed by a touch of redcurrant while the juice of lemon exacerbates its acidity.
For its limited edition, it is presented in a luminous case that recreates the sparkling mark left by this stardust. The cocoa used is a Pure Origin Belize, Cayo district, Plantation Xibun, transformed by Valrhona, with an exclusive recipe for 64% cocoa for Pierre Hermé Paris // www.pierreherme.com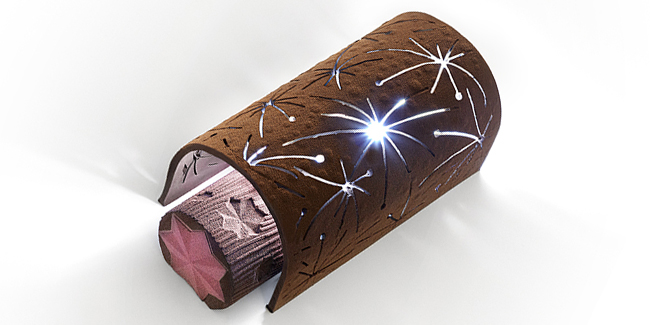 Jasmine and black currant, Philippe Conticini's tasty combination
Famous for his cakes full of emotions, Philippe Conticini revisits the traditional log this year, exploring interesting alliances of flavors. The result is four original and gourmet creations that propose delicate associations such as kumquat and white chocolate, coconut, pineapple, almond, and ginger, different varieties of San Martin chocolate, and jasmine and black currant. The latter, which is the one that appears in the photo, is made from hazelnut biscuit nancier, crunchy brown sugar, black currant compote, and jasmine mousse. // www.philippeconticini.fr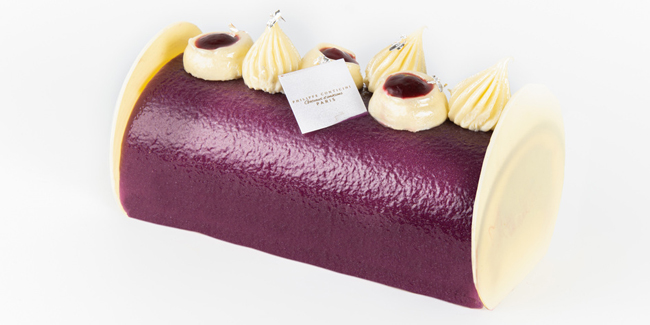 Jean-Paul Hévin is inspired by pop music
Joyfully and without nostalgia, Jean-Paul Hévin goes back to the 60s, the time of the birth of the pop era, to design his Christmas 2020 collection.
In this range we find this bûche inspired by pop music, characterized by being energetic and danceable. A surprising piece that consists of a flourless chocolate biscuit with a creamy cardamom, accompanied by a Grand Cru Chanchamayo 63% chocolate mousse and a pistachio gianduja. // www.jeanpaulhevin.com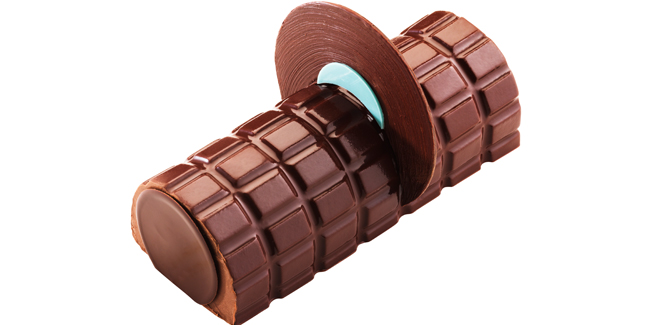 The Cracker Fir from La Maison du Chocolat
What would Christmas be without fir? The one proposed by Nicolas Cloiseau, pastry chef at La Maison de Chocolat, has an architecture that defies gravity.
La Maison workshops have needed 30 hours of manual work to make this explosive and XXL tree a reality, made in 60% dark chocolate, 37% milk chocolate, and 35% cocoa butter, and available in limited edition, since there are only 22 units in the whole world.
Its structure is based on a central cracker one meter high that supports a total of 8.5 kg of chocolate divided into 40 chocolate crackers of four different sizes and diameters, in which we can find 5,500 perforations and 23 stars. // www .lamaisonduchocolat.fr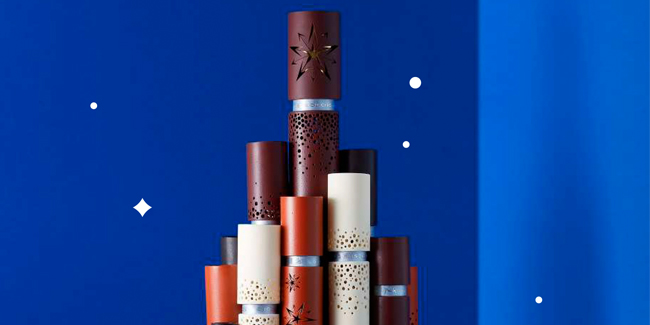 Ladurée teams up with Jean-Francois Piège

Ladurée, a true emblem of Paris, presents an elegant Christmas collection in which it had the collaboration of the well-known French chef Jean-François Piège. A collection in which "I wanted to be inspired by 'Blanc Manger', the flagship dessert of my gourmet restaurant, Le Grand Restaurant. Starting from the original recipe, I have made variations of the flavors looking for lightness in the mouth, to find the perfect harmony between vanilla and caramel, two aromas that I love," says Piège.
The ingredients of this Christmas log are Genoese sponge cake and Joconde sponge cake soaked in vanilla syrup, mounted ganache and Comoros and Tahitian vanilla. Inside, there is a Jivara caramel coulant accompanied by a vanilla mascarpone mousse from Comoros and Tahiti. In addition, it is adorned with a caramel Opaline and a white chocolate flower with vanilla caramel in the center. // www.laduree.fr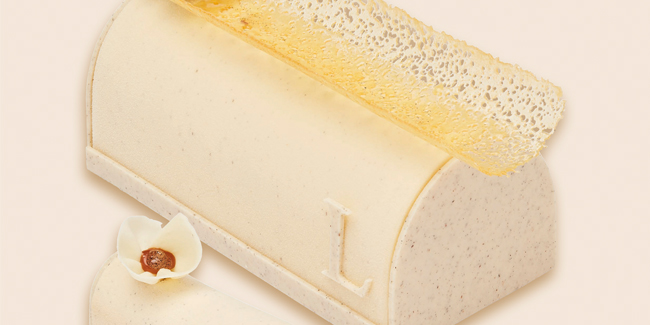 Yann Menguy. Creativity and personality

In the pâtisserie La Goutte d'Or (Paris), creativity is the slogan and the base is French pastry with personality. The person in charge is the young pastry chef Yann Menguy, who has worked in emblematic establishments such as Ladurée and alongside professionals such as Michalak.
This year, Menguy launches four delicate bûches and an entremet. The one we present here is Mango-Jasmine, made up of a crunchy vanilla biscuit, mango interior, jasmine mousse, glaze and chantilly. The customers of his establishment can also enjoy the Piémont-Nippon bûche, based on hazelnuts and yuzu, the La Scie d'Or bûche, for chocolate lovers, and the Mon beau sapin entremet with vanilla biscuit, almond crunch, honey cream, pure praline and fleur de sel, orange blossom mousse, and chocolate trees. // www.instagram.com/yann_menguy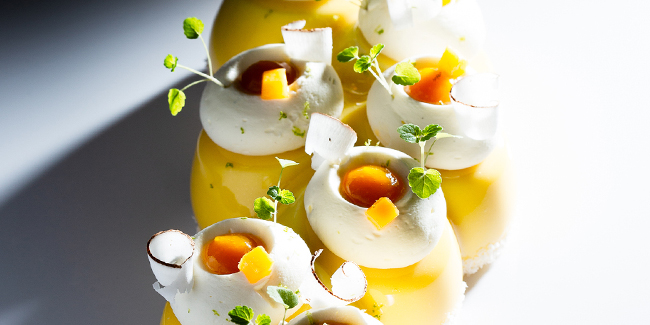 Antony Prunet's hyper-realistic wood effect

Under the leadership of Antony Prunet, the Pâtisserie de Famille de l'Hôtel Ha (a) ïtza (Pya-sur-Mer) has designed a collection of four logs that is inspired by the autumnal forests and the very essence of the hotel: wood. The chef not only gives the logs a hyper-realistic wood effect, but presents them in edible boxes as authentic Christmas gifts.
The four bûches are Paris-Pyla with a box of milk chocolate and almond pieces, three types of vanilla (Tahiti, Mexique, Bourbon) with a box of white chocolate and pieces of almond, Chocolate Caramel with a box of dark chocolate and almond pieces, and Citron Yuzu with Dulcey chocolate box and almond pieces. // www.haaitza.com/patisserie/la-patisserie/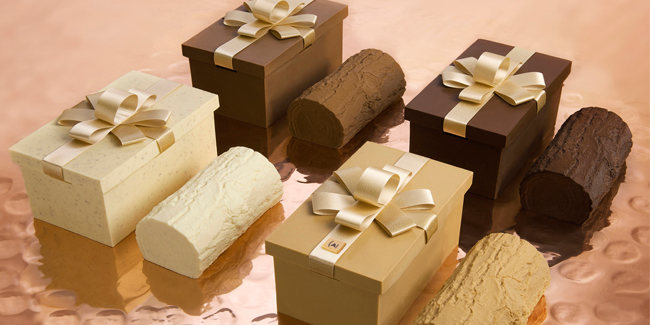 Nuances, the first Christmas bûche by the restaurant Paul Bocuse
For the first time in its history, the restaurant Paul Bocuse presents a bûche de Noël: Nuances. A creation of Benoit Charvet, executive pastry chef and winner of the Gelato World Cup 2018, which will be available in a limited edition of 500 pieces.
Charvet wanted to pay tribute to the late Paul Bocuse here. On the one hand, he has been inspired by watercolor, which fascinated the legendary chef, and, on the other hand, he wanted to honor his penchant for travel through flavors (hazelnut and exotic flavors).
Nuances is made up of a crunchy sablé and toasted coconut sponge cake, as well as a creamy praline with Piedmont hazelnuts and a spicy confit with calamansi and lime. A milk chocolate cream and a light coconut milk mousse complete this delicacy. // www.bocuse.fr