The apple is one of the fruits that has always been used in pastry making. It is found in dozens of classic pastry preparations and chefs still keep it very present in their most modern pieces.
Below we share some of the most interesting proposals in recent times, published in our two pastry magazines, So Good .. and Spanish Dulcypas. Some of them are very innovative, others give a twist to the essence or to the classics, and in all of them the great protagonist is the apple. It is interesting to observe what type of variety and what processing technique is used in each case for inspiration.
1. Royal Gala, Pink Lady, and Granny Smith, Gianluca Fusto's trio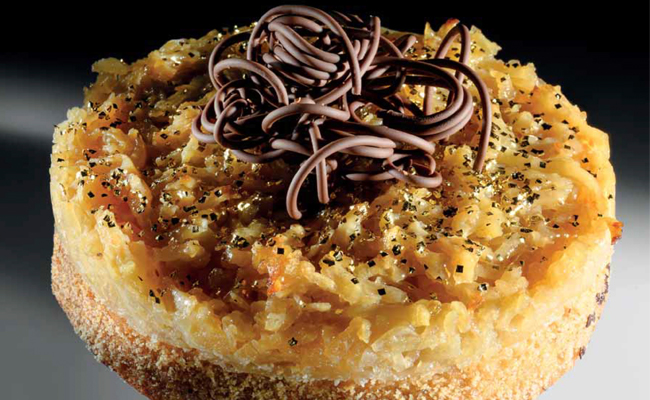 In so good # 24, Gianluca Fusto presents Fusto Milano in style, a space where in addition to the creation and sale of his signature products, he organizes events, investigates new techniques and ingredients, and even uses it as a setting for recordings and television programs.
In this establishment you can try creations like Melodica. Three different apples (Royal Gala, Pink Lady, and Granny Smith) make this cake a universal creation in which Fusto also uses the skin of the green apple. It is important to observe the proportions, since it uses the same thickness for the dough as for the apple.
2. Seven Japanese apples rose pie by Gabriele Riva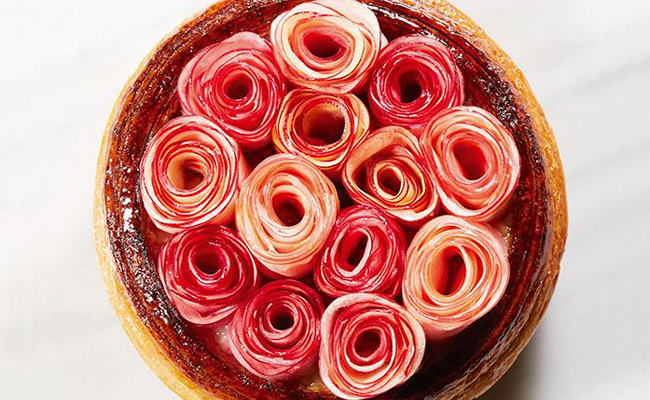 This beautiful apple roses pie by Gabriele Riva, whose creation is on the cover of so good # 23, is served at LESS, a whole concept that emerges from the dialogue between two pastry chefs, Gabriele Riva and Kanako Sakakura, located off of the JR train line in a residential and commercial area of ​​Meguro-ku, Tokyo.

Like with all LESS offerings, it is based on some non-negotiable principles: work seasonally with local producers, emphasize organic ingredients, and avoid processed, artificial colors and flavor compounds common in pastry practices. And here, Riva does not limit himself to using one apple, but uses up to seven Japanese apples: May Chan no Hitomi, Hougyoku, Kurenai no Yume, Ruby Sweet, Geneva, Bramly Green, and Rose Pearl.
3. Apple 2.0 pie by Hans Ovando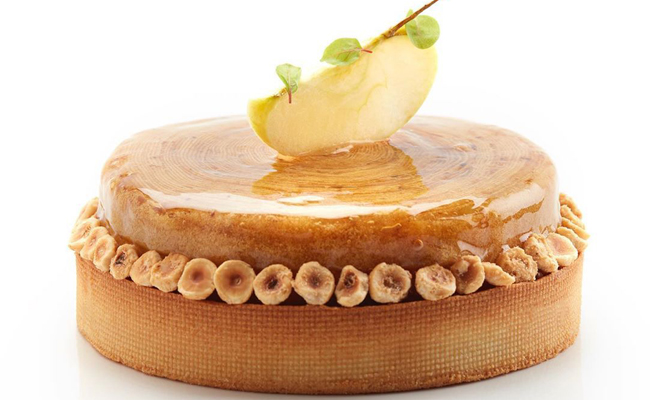 Gluten-free sablé, gluten-free apple financier, crunchy hazelnut, apple sous-vide, and apple roll. These are the ingredients of Hans Ovando's Apple Pie 2.0.

A beautiful and suggestive piece that the Chilean pastry chef shared with us in so good # 23, a magazine in which he also took stock of the first months of operation of his Barcelona Bee Pastry Chef School. Pay attention to the apple slice that decorates the cake and especially to the mandolin cutting technique, followed by vacuum cooking at a low temperature with which he obtains not only the perfect texture, but also the desired impregnation of flavors.
4. Olivier Fernández is inspired by tradition to go forward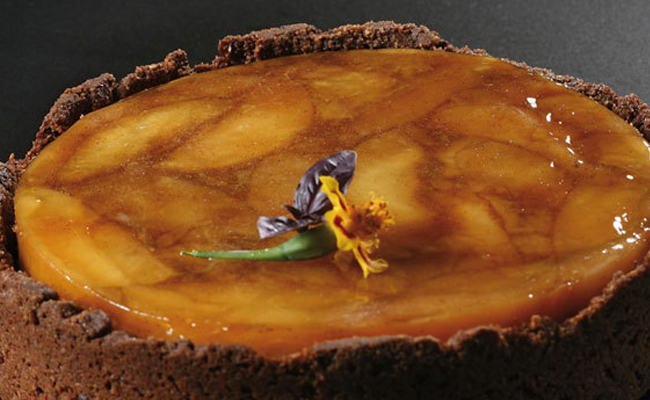 Drawing inspiration from tradition to move forward is also a way of creating. An expert in this field is Olivier Fernández, director of the Barcelona Pastry School, as demonstrated in Dulcypas 426 with this apple tatin.

He takes advantage of the tartlet concept to assemble this simple proposal in which he uses the classic apple tatin on a vanilla whipped cream. The counterpoint of texture is provided by the crunchy and earthy cocoa crumble.
5. Andrea Dopico roasts them in its own juice in cocotte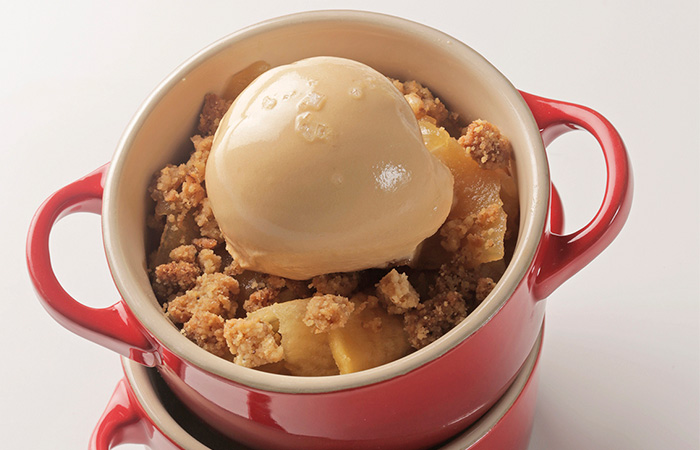 A restaurant pastry chef with a vocation, Andrea Dopico has developed a relatively short but intense career alongside great figures in the kitchen. In her creations, she takes care of all aspects, from the concept to the presentation, the combination of flavors, and techniques.

In this irresistible proposal (check out the recipe in Spanish), she has opted for an apple roasted in its own juice in cocotte, easy to assemble and that retains all its freshness and intensity. An apple that is successfully combined with a walnut crumble and frozen caramel garnished with Maldon salt crystals.
6. Elena Adell's vegan and gluten-free entremet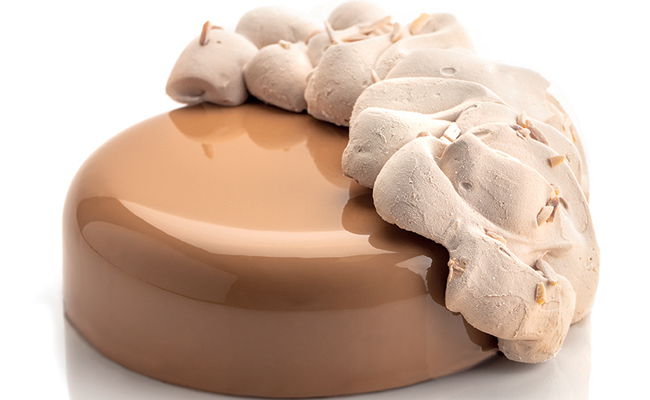 The apple is one of the main ingredients of the Cloud Cake by Elena Adell, co-founder and teacher of the Barcelona pastry school Bee Chef Pastry School.

A creation which we showcased in Dulcypas 469 that echoes current food trends and can be labeled vegan and gluten-free. From a more formal point of view, the original dark chocolate and praline ganache is striking, creating a cloud effect.

The idea of this cake (check out the recipe in Spanish), she says, is "to offer an alternative that adapts to these food needs, but also that contributes something that excites us. We must change the concept that something intended for those who suffer from an intolerance or allergy is simply acceptable at the taste level. It has to be rich, but really rich. Let them eat it because they like it, not because they have no other options ".
7. Ma Normandie by Zachary Lebel, an awarded plated dessert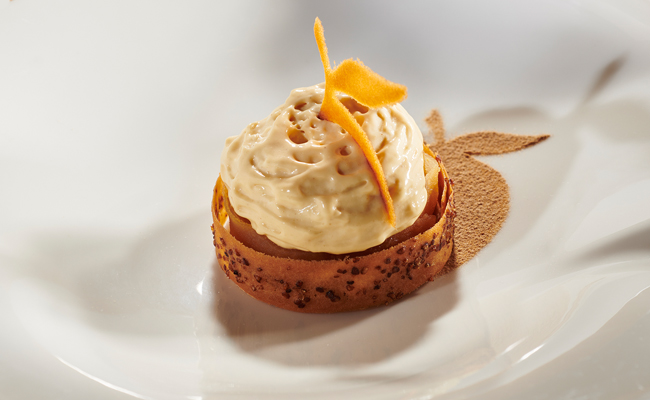 The student Zachary Lebel has been proclaimed winner of the junior category of the demanding Championnat de France du Dessert 2020 with Ma Normandie, a plated dessert where he wanted to represent his origins with local ingredients such as apple, the emblematic fruit of Normandy, which is seasoned with a Calvados made in an artisanal way on a farm near his home.
The young pastry chef has also used yuzu from a producer located a few kilometers from Caen, the city where he was born, and raw milk and eggs from a neighboring home of his parents.
8. Christmas is coming with Emmanuel Hamon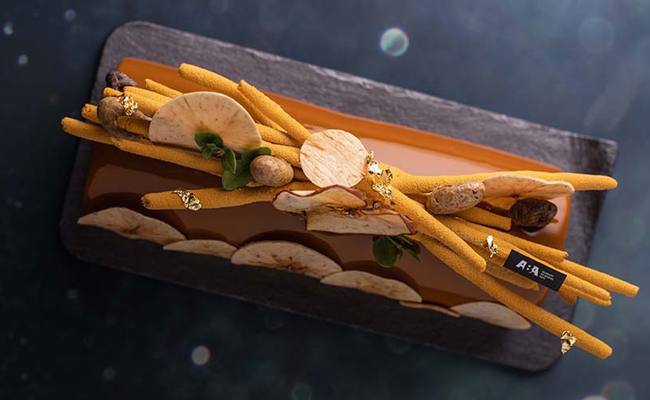 The Breton pastry chef and chocolatier surprised us last Christmas with the Applelina bûche, made from almond biscuit, hazelnut streusel, apple / caramel (tatin way), vanilla creamy, caramel mousse, caramel, and caramel glaze.
In this modern and creative piece (check out recipe), the past director of the Academy of Baking Arts in Lebanon and current responsible of The French Touch in Ukrania, shows his adaptation to the different seasons of the year by using the apple, which is consumed more frequently in winter, and nuts that are perfect for fighting off the cold.
9. 'Bite' the apple with Saray Ruiz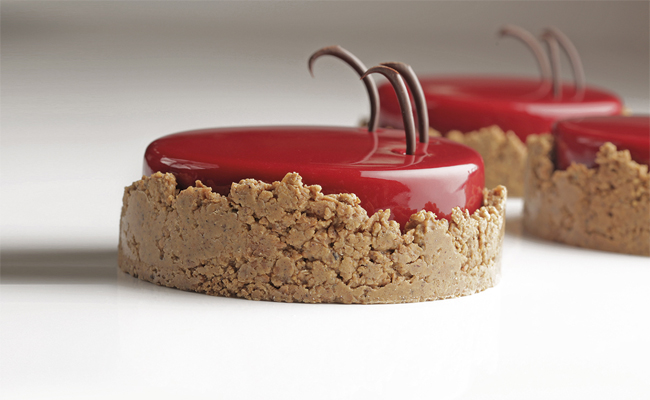 The most interesting thing about this entremet, which Sara Ruiz presents in so good # 22, is in the interior. Outside you can see the stems of the apples, but the fruit is inside, buried.
The teacher at the Barcelona Pastry School EPGB achieves this effect by introducing the interior filling of roasted apple compote in the shape of spheres into the mousse that covers everything. A piece very much in line with the pastry chef, full of life. You can check out online a part of this creation.
10. Jacquy Pfeiffer. Taste, texture, and simplicity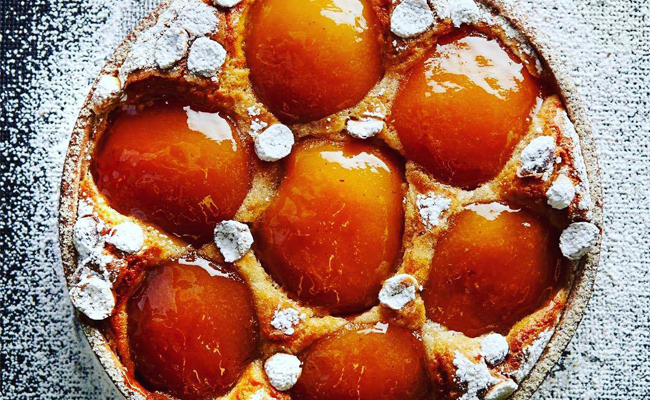 Flavors, texture, and simplicity meet in equal parts in this flavorful cider infused caramelized apple tart with grapefruit jam from Jacquy Pfeiffer, co-founder of The French Pastry School. For this award-winning chef, balance is the most important parameter when creating a piece.

In this preparation he has opted for a product as fresh, tasty, and healthy as the apple, in line with new eating habits.