Photos: Cultures Sucre / Julien Bouvier Studio

The 46th edition of The Championnat de France du Dessert, initially scheduled for April and postponed due to the coronavirus, was held on October 6 and 7 at the Lycée hôtelier Georges Baptiste in Canteleu-Rouen (France).

For more than four hours, seven junior candidates and eight professionals competed in creativity, rigor, and talent before a jury, chaired by Christophe Adam and made up of renowned pastry chefs such as Benoît Castel, Nicolas Paciello, and Lilian Bonnefoi (sogood #16), among others. The high level of the participants was recognized by Adam, who is convinced that "the two champions will be worthy ambassadors of tomorrow's plated dessert".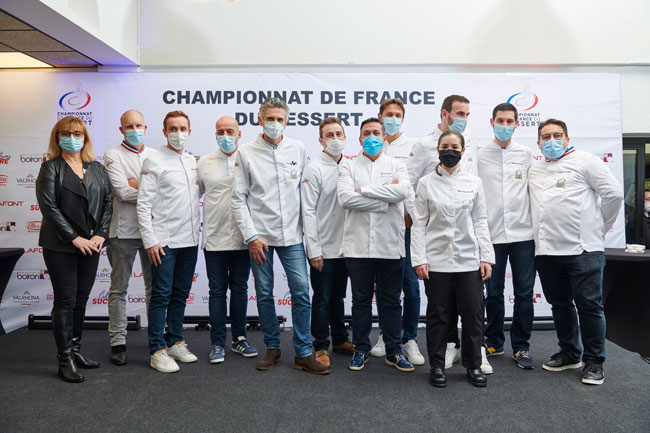 In the professional category, the gold trophy went to Morgane Raimbaud from the Alliance restaurant in Paris for Sentiers de l'esterel. The chef is not new to this competition, in 2016 she was the winner of the junior category and, four years later, she has returned to the podium. The silver went to Simon Pacary, from the restaurant La Table de Franck Putelat in Carcassonne for Beignet de ponme agria … Mikan et Thym, and the bronze to Christophe Loeffel, from Le Pont de Brent restaurant (Switzerland), for Échanges gourmands.

In the junior section, the victory went to Zachary Lebel (CFA Médéric Paris) for Ma Normandie. In second place was Gauthier Caloin (GRETA from the Côte d'Opale Le Touquet-Paris-Plage) for Ballade en baie de Somme, and in third place Julian Lalevée (CFA Jean-Baptiste Chardin de Gérardmer) for Circonvolution.

The competition also wanted to grant two special distinctions to the helpers of the participants. Each junior candidate is assigned, by lot, a student who presents his two desserts to the tasting jury. Likewise, each professional candidate benefits from the help of a clerk, who is assessed by the work jury. In recognition of this task, the Prix de la Salle was awarded to Guillaume Bezirard (Lycée Georges Baptiste de Rouen-Canteleu) and the Prix du Commis to Laura Cipriani (Lycée Georges Baptiste de Rouen-Canteleu).