Autumn is the season of the chestnut, manually collected and for many years being an indispensable food in the rural economy.

Originally from the European Mediterranean areas, it is a dried fruit with the properties of a cereal. We currently find them on the market in the form of natural puree, marron puree, whole marron glacé, and whole cooked chestnuts. When cooking them, the best thing to do is peel them and boil them for half an hour. One of the most traditional ways of consuming them is roasted in the oven or on the grill, making a small cut in the skin to prevent them from bursting. To make a puree, the chestnuts are boiled and crushed until a uniform paste is obtained and to which milk or sugar can be added. There is also the exquisite French dessert "marron glacé", in which egg white and chestnuts of the best quality are used that are peeled, candied, and glazed.

In pastry, it is impossible to think of chestnuts without thinking of one of the most classic desserts, the Mont Blanc. In this ranking, in addition to presenting versions of the Mont Blanc, we reveal the great versatility of this fruit in pastry.
Masahiko Ozumi, in search of uniqueness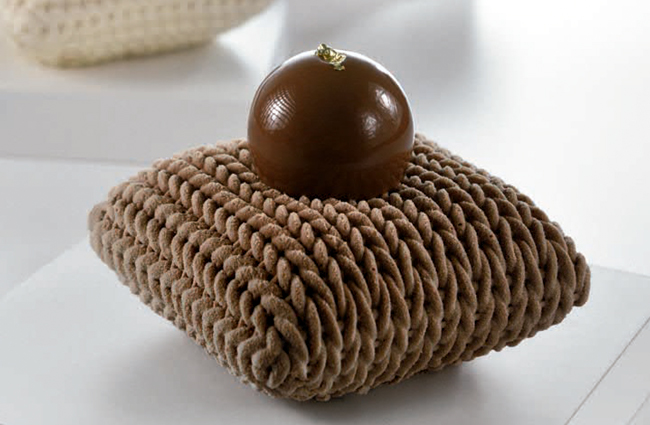 "I am obsessed with creating something different, something other people won't think of." With this idea, he set out to update his emblematic Mont Blanc. The cake was booming as his pop-up pastry shop opened in Osaka's department store last year, when he temporarily returned to Japan due to the pandemic.
This version of the Mont Blanc suggests the shape of the Zabuton – a Japanese cushion – that is used on the tatami mat. "I thought if I could put a knit stitch pattern on the cake surface, it would be unique. I just didn't know how I would do it". He was able to finally do it using a 3D printer and silicone.
Taste: chestnut sago soufflé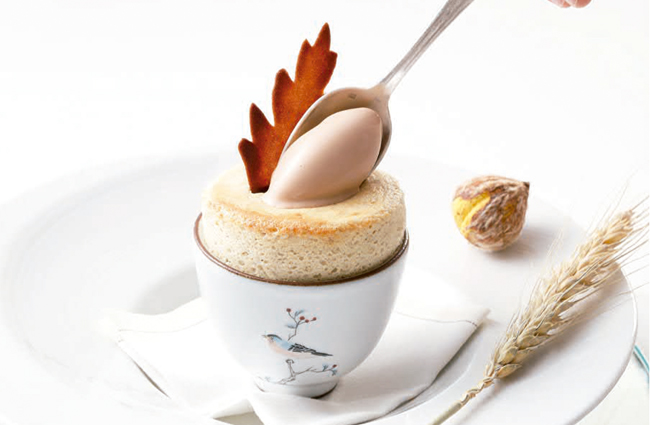 In the kitchen of the two Michelin star restaurant Tate (Hong Kong), a balance is sought between many counterpoints to achieve a surprising result. Vicky Lau, the founder and owner chef, refers to her menus as Edible Stories.
The person in charge of the dessert station is Nocar Lo, who also seeks a balance between techniques and ingredients of French origin and cultural references from Hong Kong. The goal is to finish the edible stories that are told based on drive, passion, and a love of pastry, following the inspiration of figures like Grant Atchaz or Frank Haasnoot. Along these lines we find the Chestnut sago soufflé, "based on a traditional Chinese dessert called baked sago pudding. This is a version which uses chestnut aroma, giving a nice bite in the mouth without compensating the airy softness of a traditional soufflé ".
Antonio Bachour. Mont Blanc in an architectural style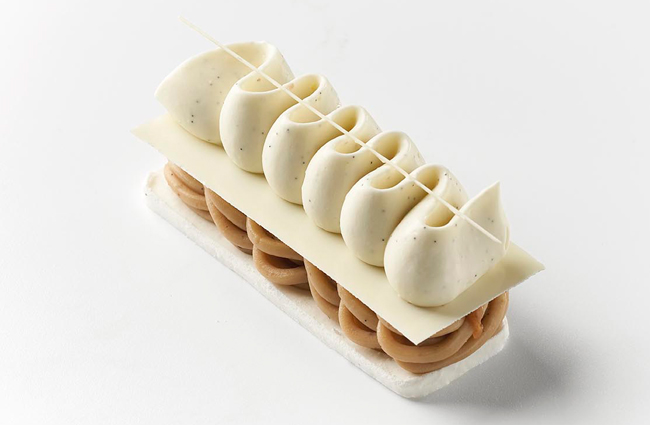 The Mont Blanc is a French dessert, although there are those who place its origin in Italy, which is named after the famous Alpine mountain due to its resemblance to a snowy peak. "My Mont Blanc, however, is not high nor does it look like a mountain. It is horizontal, elongated and rectangular. I wanted to give it a more architectural and modern style," Antonio Bachour explains in Bachour Gastro, his most culinary and refreshing book.
In the recipe, included in the chapter "Inspiration" (versions of the great classics of universal pastry), the chestnut puree covered with whipped cream of the classic becomes a meringue base, with a chestnut cream and a mousseline of this same fruit, and all this crowned by a mascarpone cream.
Cédric Grolet, no technicalities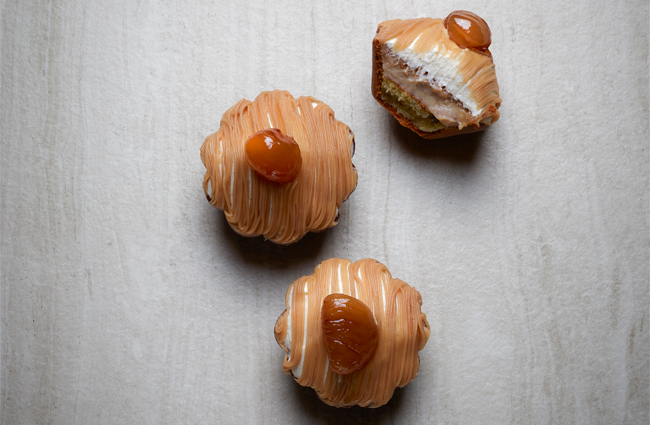 In his successful book, Opera, Cédric Grolet advocates a fresh pastry without technicalities, without preservatives, or colorings. The book gathers 100 recipes to be made at the moment, organized by chapters following the rhythm of a day and respecting, hour by hour, what will be served in his boutique.
Creations such as this original tart with an absolute protagonist: the chestnut, which is presented accompanied by an almond cream, a hazelnut praline, a pastry cream, and a lemon gel. And on the cover photo of this selection you can enjoy one of the latest trompe-l'oeuil of the popular chef.
Attila Meinhart, a seasonal product advocate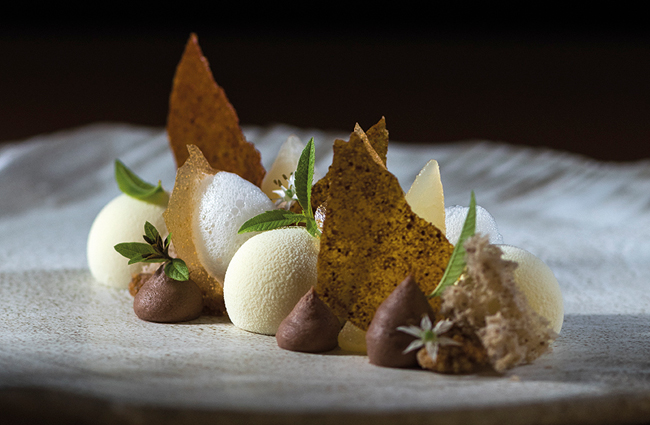 Chestnut cream is one of the ingredients used by Attila Meinhart, pastry chef at the Four Seasons Gresham Palace in Budapest, in this plated dessert. A proposal that he demonstrated in So Good # 21 in which he opts for winter flavors. "I know that nowadays fruits are available in each and every season, but they taste the best when they are in season. It is important to have the right balance on the plate and to have the perfect combinations. It is also important to add a touch of spices ".
Paco Torreblanca travels to the essence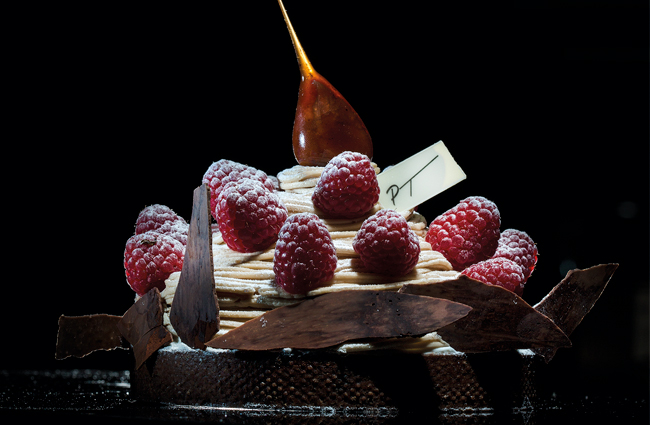 In his book, Radix, Paco Torreblanca vindicates timeless, essential, oven and knife pastry, which is above fashions, trends, and social media. A simple pastry that tends to simplify many of the recipes and processes in order to increase productivity in workshops.
Within this book we find the Mont Blanc in an entremet and tartlet version. For the tartlet, he arranges the cooked sablé base, pours the sweetened cream in the shape of a cone, covers with the chestnut cream in the form of threads and finishes with fresh fruit and pieces of chocolate.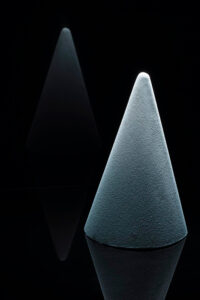 Xavi Donnay, in a bite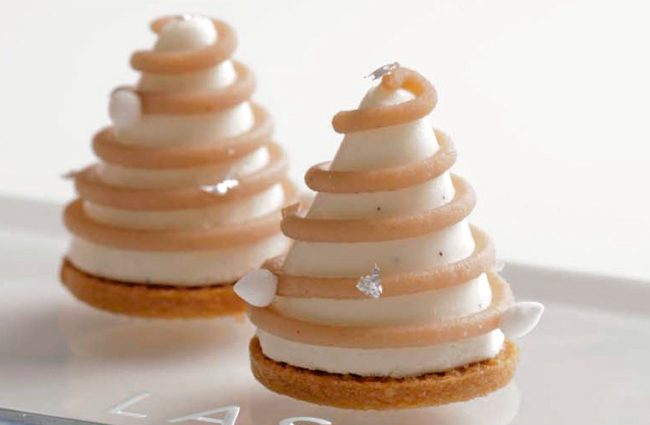 In Dulcypas # 457, Xavi Donnay, head of the dessert station at Lasarte restaurant, shows that you can always learn new things with him, such as discovering the many possibilities that petits fours have in a restaurant.
In this case, he is betting on presenting a Mont Blanc to eat in one bite. A creation with which he tries to surprise and please, giving a personal touch, but at the same time being aware that it is one of the moments when the client wants to take the least risks.
Sergi Vela. The magic of details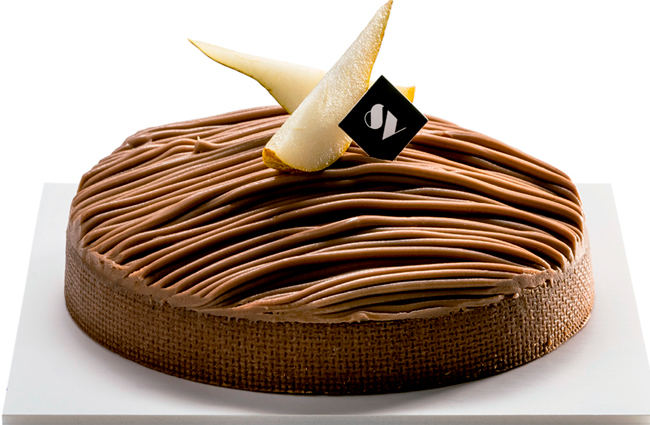 A fresher tartlet-shaped Mont Blanc, with chestnut cream, Jade milk chocolate topping, as well as a frangipani and pear compote filling.
This variation not only does not "betray" the spirit of the original, but it gives it personality and enriches it. It is the magic of the details that Sergi Vela provides in Dulcypas # 454.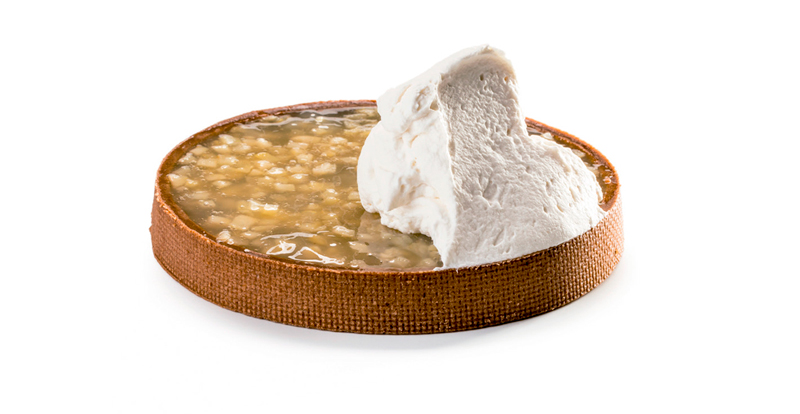 Yoann Normand and his winning dessert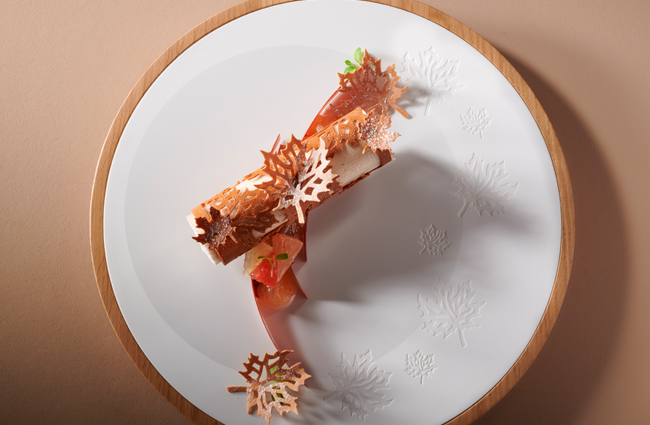 The Angel's Share (La Part des Anges) is the 2% liquid that evaporates in the production of whiskey, and also the name of one of the desserts that led Yoann Normand (Les Crayères restaurant in Reims) to win the Championnat de France du Dessert 2019 in the professional category.
In this dish, Normand reflects on his history, his travels, his encounters through ingredients such as the chestnut that "brings a note of undergrowth and gluttony (gourmandise)" he explained, then added: "the pink, white, and ruby ​​grapefruits give freshness and a touch of acidity discovered during a time spent in Corsica. Knob Creek Smoked Maple Whiskey, a souvenir of one of my trips in America, lightly perfumes the dessert. The particularity of this whiskey is that it ages in maple syrup oak barrels, represented with engravings on the plate. The tube, which represents the same barrel of oak perforated ".
Yohan Ferrant explores its nutritional component in breads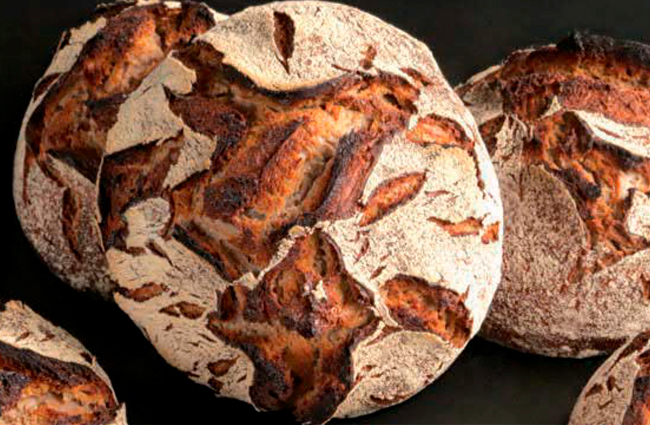 More and more artisan bakers have set a goal for themselves to give prestige to the trade and put it in the place it deserves within Spanish gastronomy. One of them is Yohan Ferrant, director of the Baking School Barcelona Sabadell, also known as the Andreu Llargués bakery school of the Bakers Guild of the province of Barcelona.
For Ferrant, evolution involves "creating a line of more nutritious breads, going for a line of cleaner wheats". In accordance with this thought, he presents a chestnut bread in Dulcypas #450 to which you can add nuts, seeds, or pieces of bacon. "Chestnut flour develops a unique and moist flavor, it is a good nutritional supplement, especially with a long process. It is a bread that I created in 2008 for Helène Darroze's bread menu in London and it goes perfectly with terrines, pâté, meat in sauce, and red wine ", he says.