In the book Opéra, which is now available in English at our Books For Chefs online store, Cédric Grolet shows a fresh pastry and bakery without technicalities, personal in their presentations, close, and with a homely spirit.
This book, the second by the well-known French pastry chef, gathers 100 recipes to be made at the moment and in front of the customer, and which are organized by chapters following the rhythm of a day and respecting, hour by hour, what will be served in his boutique. Simple but effective preparations, without preservatives or colorants, with which the user will have an authentic sensory experience.
Below we share one of the original recipes included in the book, Chestnuts in Baskets, which uses as its main ingredient a very characteristic autumn product, chestnut or marron (in French), as its main ingredient and which is accompanied by an almond cream, a hazelnut praline, a pastry cream and a lemon gel. An irresistible bite with chestnuts as the protagonist.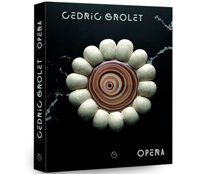 Discover Opéra by Cédric Grolet
Chestnuts in baskets
Sweet dough
150 g unsalted butter
95 g confectioners' sugar
30 g ground almonds
1 g Guérande salt
1 g vanilla powder
58 g egg
250 g all-purpose flour
The previous day, make a sweet dough as usual. You can find more detailed directions in the book.
---
Almond cream
75 g unsalted butter
75 g superfine sugar
75 g ground almonds
75 g eggs
Make an almond cream as usual. You can find more detailed directions in the book.
---
Chestnut gel
500 g whole milk
90 g egg yolks
50 g superfine sugar
200 g candied chestnuts
400 g chestnut paste (Agrimontana)
1 teaspoon xanthan gum
Make a crème anglaise with the milk, the egg yolks and the sugar. Pour it over the chestnuts, previously rinsed in cold water, and the chestnut paste. Using an immersion blender, mix with the xanthan gum.
---
Hazelnut praline
400 g hazelnuts
120 g superfine sugar
8 g fleur de sel
50 g cocoa butter
50 g feuilletine flakes
Make a hazelnut praline as usual. You can find more detailed directions in the book.
---
Lemon gel
250 g lemon juice
25 g superfine sugar
4 g agar powder
Make a lemon gel with these ingredients. You can find more detailed directions in the book.
---
Pastry cream
450 g whole milk
50 g whipping cream
2 u vanilla beans, split and scraped
90 g superfine sugar
25 g custard powder
25 g all-purpose flour
90 g egg yolks
30 g cocoa butter
13 g powdered gelatin
50 g unsalted butter
30 g mascarpone cheese
Make a pastry cream as usual. You can find more detailed directions in the book.
---
Chestnut cream
300 g UHT cream
65 g superfine sugar
125 g egg yolks
6 g powdered gelatin
625 g mascarpone cheese
400 g pastry cream
500 g chestnut paste (Agrimontana)
Make a crème anglaise replacing the milk with the cream. Mix together the mascarpone, drained gelatin, pastry cream, and chestnut paste, then incorporate the crème anglaise, mixing well until smooth.
---
Chestnut mixture
500 g chestnut paste (Agrimontana)
500 g chestnut cream (Agrimontana)
In a food processor, blend the chestnut paste with the chestnut cream and 3½ tablespoons (50 g) of water. Remove and cover with plastic wrap to prevent it from drying.
---
Montage
Using a rolling pin, roll out the sweet dough to a thickness of 1 16 inch (2.5 mm) and line lightly buttered ¾-inch (2-cm)-deep and 2¾-inch (7-cm)-diameter basket molds. Freeze for 1 hour. Preheat the oven to 320°F (160°C), and bake blind for 20 minutes. Fill the tartlet shells with almond cream, then place a few rinsed candied chestnuts on top. Fill to the top with chestnut gel. Fill the center with hazelnut praline and lemon gel. Using a spatula, make a dome on top of the basket with the chestnut cream.Transfer the chestnut mixture to a pastry bag fitted with a nest tip, pipe threads over the top, and finish by smoothing the edges. Finally, top with a candied chestnut.