Tomato, black truffle, Matcha green tea and Goat cheese are the stars of the creations that the Hungarian Attila Meinhart brings to so good #21 from his arena, the majestic Four Seasons Hotel Gresham Palace in Budapest. This chef of pastry descent, whose calling had already begun at the young age of 14, has traveled all over the world on board a major cruise line, has visited ports as distinguished as a Michelin-starred restaurant in London and has even run his own pastry shop in Switzerland. However, for his taste, it is important to have a good technical base of French pastry, and to combine it with the influences and ideas of each country.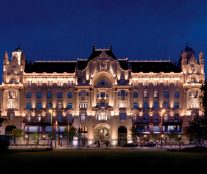 In his case, nothing is richer than the Austro-Hungarian pastry culture itself, and which he himself proposes to update. But in addition to the necessary updating of symbolic desserts such as Apple Strudel, Dodo's Cake or Sacher Tort, his style is nourished by flavors and ingredients more typically culinary. His proposals are less common in the sweet territory and have been reduced to the maximum when it comes to sugar content. The purpose is to refine the palette of flavors, and to leave the greatest prominence to each ingredient, thus, offering the diner a new experience and one that is more similar to that found on the savory side of cuisine.
Attila Meinhart himself presents this fourth creation from his inclusion in the magazine:
At this plated dessert I used winter flavors. I know that nowadays the fruits are available in each and every season, but they have the best taste when they are in season. It is important to have the right balance on the plate and to have the perfect combinations. It is important to add a twist with spices
and this beautiful planet is rich with exciting elements. I have a long ongoing collaboration with my photographer and I have learnt a lot when I comes to presentation. It is completely different when I look at a dessert through a camera lens. You will realize certain details that you probably don't see from another angle.
Plated dessert photos: Antonio Fekete – Designfood
Ceramic. ERROR N' MORE by Adam Sanzo
Goat cheese parfait
500 g cream
30 g glucose
400 g goat cheese
100 g Opalys Valrhona
90 g egg whites
75 g sugar
230 g semi whipped cream
Heat cream and glucose and add cheese and blend it well. Heat it to 90C and pour over the chocolate and emulsify. Make a swiss meringue with egg whites and sugar and mix with the base. Fold into the cream.
---
Pecan micro biscuit
126 g ground toasted pecan nuts
252 g egg whites
168 g egg yolks
70 g sugar
38 g flour
Blend all ingredients until smooth and strain into an ISI whipper. Charge with 2 N2O chargers and refrigerate for 2-3 hours. Make a few holes on the bottom of a plastic cup and fill each cup one third full. Microwave for 40seconds and flip cups up side down. Tear biscuit and dry it in Excalibur at 70C for 1 hour.
---
Pecan crumble
100 g butter
100 g demarara sugar
100 g flour
100 g ground pecan
Mix all ingredients till crumble and bake it . Cool after baking and blitz to refine.
---
Compressed baby pear
300 g sugar
800 g water
10 g citric acid
5 g sancho pepper
Peel and cut baby pear and place in a vacuum bag. Boil all ingredients and pour over the pear and vacuum. Let it cool and place in the fridge.
---
Chestnut cremeux
190 g cream
190 g milk
25 g sugar
90 g egg yolks
8 g gelatine leaves
200 g Bahibe Valrhona
200 g chestnut pure
80 g chestnut paste
Hydrate gelatine in ice water. Cook cream, milk, sugar and yolks as anglaise and add hydrated gelatine. Pour over the chocolate and emulsify. Add chestnuts and blend it. Let it set in the fridge.
---
Pecan nougatine
1000 g icing sugar
120 g chopped pecan nuts
Make a dry caramel and add pecan nuts and pour on a silpat. Let it cool. Blitz and sieve a thin layer on a silpat. Place it in the oven at 180C and melt it. After cooling store in a airtight container.
---
Pear chips
125 g tapioca
120 g water
170 g pear pure
60 g coocked tapioca
Cook tapioca with water and let it rest. Strain it. Blend pure and cooked tapioca and spread on a silpat. Dry it in the oven at 90C
---
Goats milk foam
500 g goats milk
300 g Sucro SOSA
Warm milk and Sucro. Blend it to make a foam.
---
You will find also these creations in #sogood21