Cheese is one of Antonio Bachour's favorite ingredients since he was a child. What he likes most about this food, he confesses, "is that it can be used for both savory and sweet and adds flavor, texture, creaminess, and a touch of dairy to our preparations, as well as consistency". Its potential is undeniable. He assures that among other reasons, it is a product known worldwide. "It's international. Each country produces its own cheeses and at the same time it is a source of consumption for the whole of society ".
To check its prominence, just consult the Brunch chapter of his latest book, Bachour Gastro, where the Puerto Rican chef makes it clear that it is a product capable of providing flavor, acidity, personality, or delicacy, depending on the needs of each dish.
At Bachour Gastro, the renowned chef brings out his most gastronomic side through 52 creations in which he shows a new and fresh style, updated techniques, new recipes, new combinations and new presentations, without losing his characteristic mark. A book that is being very well received, as he explains.
"Every day I get messages from around the world congratulating me on the presentation and the new style. I think the most popular is the 2-3 bites format, and the clean and well explained recipes "
What is very interesting is the block dedicated to brunch that presents mainly savory preparations to eat between breakfast and lunch, such as a bagel-sandwich, a quiche with croissant dough, or stuffed bomboli. Brunch, he says, "is a remarkable success in my shop, especially on the weekends. In this chapter I wanted to show that we pastry chefs – and not the cooks – dominate the breakfast menus in a restaurant. Many people have written to me and thanked me because these types of products that are halfway between cuisine and pastry are almost never seen in a pastry book ".
Below we share nine creations with cheese as an important element, included in the Brunch chapter of Bachour Gastro.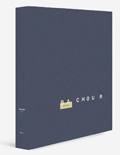 1. Quiche with Gruyère and atypical dough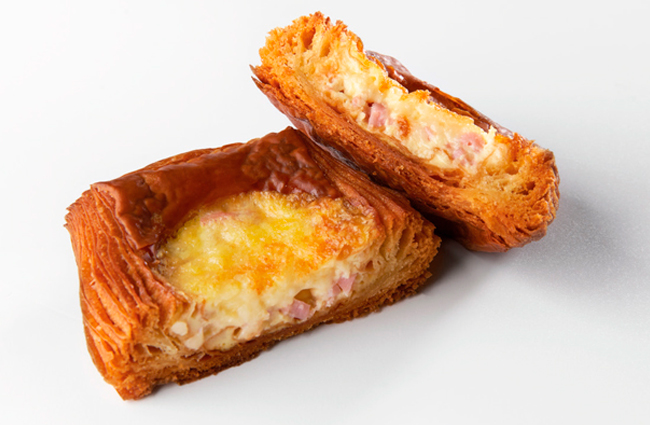 Bachour had in mind to include a different quiche lorraine in this chapter, without the traditional shortcrust tart. He thought, why not use a croissant dough? He did the test and it was a success, both due to the result – it is richer and crunchier – and for its acceptance among his customers.
The cheese appears here in the form of a filling. As he explains, "in addition to the egg cream and cream, we opted for bacon and the famous gruyère, a cheese with a mild aroma, somewhat sweet and whose flavor can present a slightly spicy touch, depending on the degree of maturation".
2. Crêpe with fresh feta cheese in a pizza format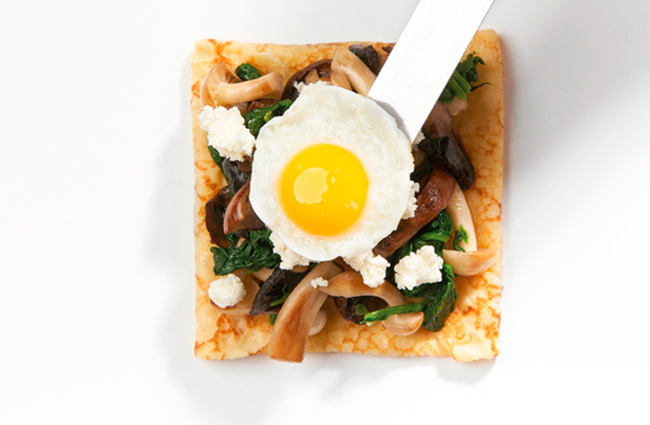 The crêpe is another universal preparation, both in its sweet and savory versions. When he was in Colombia years ago, the media friendly pastry chef visited a restaurant called Crêpes and Waffles, and it was there that he ate his first savory mushroom and spinach crêpe, and was fascinated by its flavor and texture.
This crêpe is inspired by that experience. A difference with respect to the classic ones is that in this version the dough does not surround the filling, but it is placed on top, as if it were a pizza. In this case, he has opted for fresh crumbled feta cheese, as it provides power of flavor, a grainy texture, and above all, acidity.
3. Galette with leeks, potatoes, and goat cheese. A very balanced version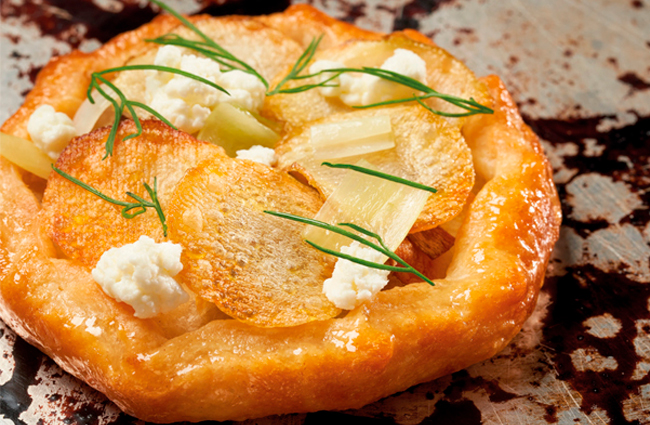 We always see the galette filled with sweet ingredients, especially fruits such as strawberry, peach, or apple. Although the dough that acts as a base is also valid for the sweet galette, Bachour makes this version of it with savory ingredients, in this case with leeks and potatoes. The inwardly folded edges of the dough are the main characteristic of this specialty of Breton origin.
In this case, the goat cheese provides spicy and creamy touches, as well as a lot of personality. The balance between the crunchiness of the galette and the potatoes and the creamy texture of the cheese is very interesting.
4. Pancake with guava, syrup, and cream cheese, one of his top sales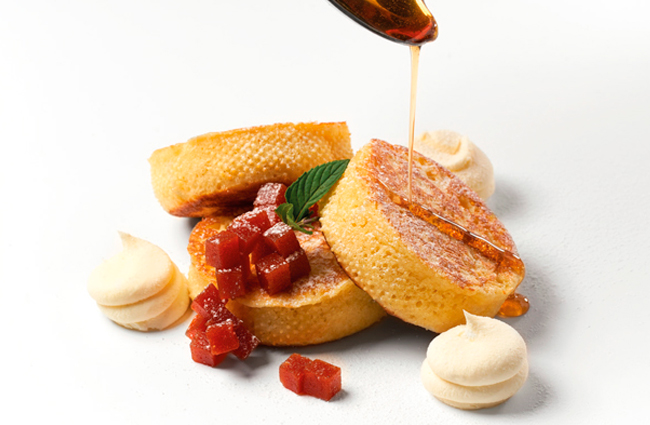 There can't be a self-respecting brunch selection without including the fluffy pancakes. Hot cakes, griddle cakes, flapjacks, blinis, pancakes, dorayakis … We are talking about a universal product that, with small differences and different names, is made all over the world.
Bachour pancakes are thick and fluffy because they incorporate meringue into the recipe. The touch of maple syrup and noisette butter gives it a special shine and incredible flavor. "This recipe with guava, syrup, and cheese is the most popular product in my shop every weekend", he assures and adds that the cream cheese "besides combining perfectly with the guava jelly, it has a delicate and neutral flavor" .
5. Challah and ricotta for a soft French toast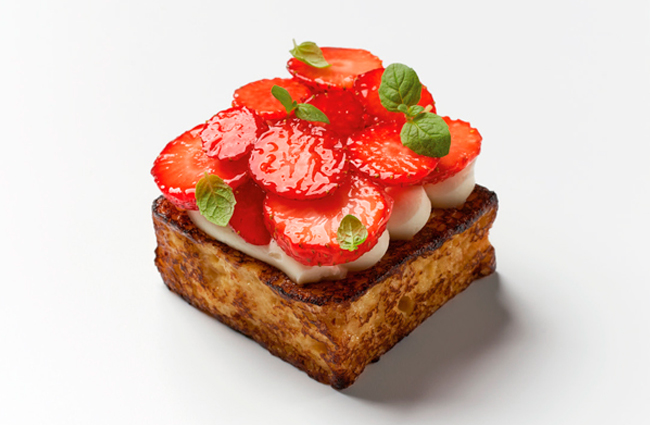 The chef confesses that he has prepared countless French toasts with different types of bread, "but none are as smooth and creamy as the one I make with Challah bread. It is as if there is a pastry cream inside the dough. This version, with ricotta and strawberries, is one of the most popular in my shop every weekend ".
Challah is a bread of Jewish origin, very popular in the United States, which is consumed on Jewish holidays and Shabbat. Its traditional format is that of a braided bread, "but we were only interested in its extraordinary texture. That is why we shape it like sliced ​​bread. Ricotta cheese adds softness and delicacy," he states.
6. Berries with mascarpone and fruit. Dairy flavor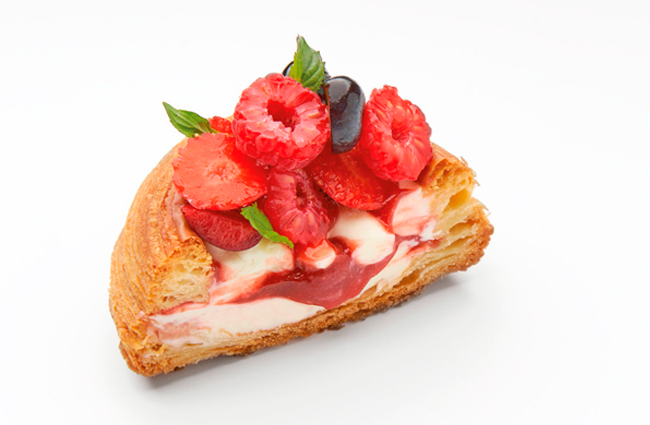 Although this preparation is not strictly savory, it is served in his shop every weekend for brunch, a word that comes from the fusion of the terms "breakfast" and "lunch".
This piece of puff pastry brioche is filled with two mascarpone creams and red berries, respectively, and decorated with natural fruit. The dairy flavor is achieved thanks to the mascarpone.
7. Bagel with egg, avocado, spices, and cream cheese, say yes to texture!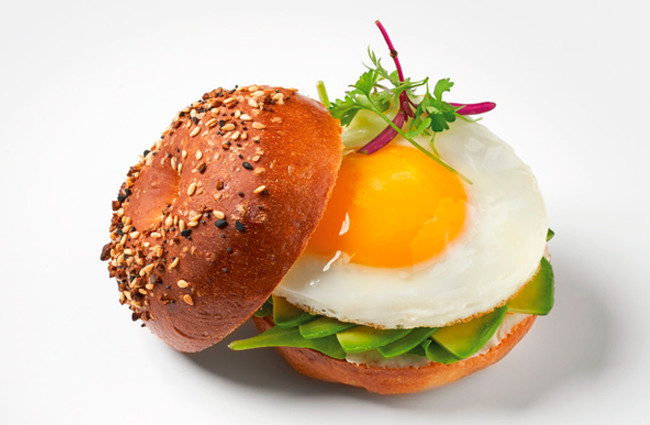 The secret of good bagels is that they have no secret. You also don't have to be near New York for fresh, perfectly chewy bagels for breakfast on Sunday mornings. It is an easier specialty to make than one can imagine. The curiosity of this dough is that it is briefly blanched before baking, which provides a dense crumb and a crisp exterior. A thicker texture is achieved with cream cheese.
8. Tartine with salmon and cream cheese, a winning duo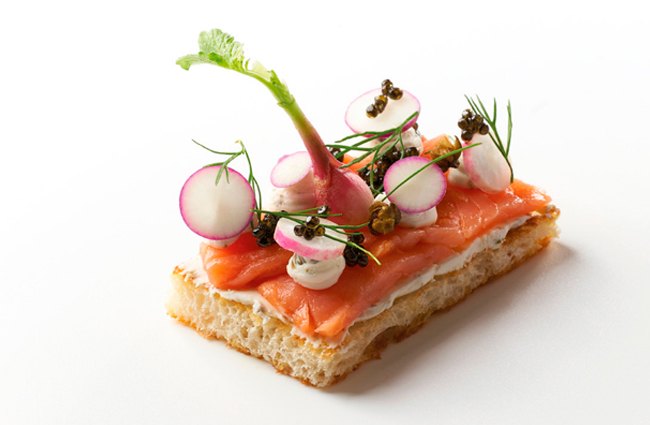 Tartines are what is known in the United States as "open faced toast", that is, a single slice of bread with various ingredients on top, mainly cheese or cold meats. The possibilities are endless, both in the chosen bread dough and in the flavors. This tartine is mounted on a slice of "country loaf" (rustic bread), one of the most complex and difficult doughs to make, especially for the poolish or pre-ferment. It is a variety with a honeycombed crumb, clean, simple flavor, and crunchy crust. On top of that, he has opted for salmon, fried capers, and cream cheese," which apart from giving the tartine texture, combines perfectly with salmon" he says.
9. A refined Croque Madame with Gruyère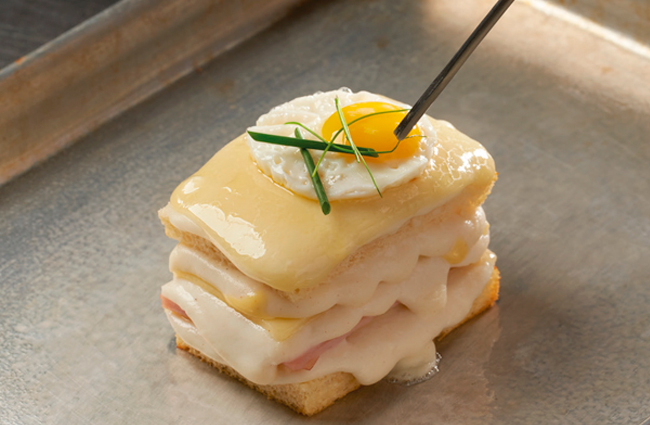 It is one of the most famous sandwiches in the world. The Croque Madame is the gastronomic sublimation of the ham and cheese sandwich, and unlike the Croque Monsieur, it has a fried egg on top, representing a female hat, hence Madame. In this case, Bachour uses a Gruyère cheese and a prosciutto ham, mounts the sandwich in several layers and keeps the mini format. An even more refined and gourmet bite than the original.
The main ingredient is Gruyère cheese, a Swiss variety made from whole cow's milk and cured for six months or more. It is rich, creamy and with a slight nutty note. "What interested us most about this cheese was its great ability to melt without losing its pleasant flavor and creaminess. This is due to the combination of enzymes called Rennet in its curd, unlike other cheeses that are curdled with an acid, such as ricotta or fresh cheese, which do not melt at all ".