Due to the global impact of the coronavirus, the eighth edition of the World Chocolate Masters, initially scheduled for 2021, has been postponed to October 2022 to give applicants the opportunity to fully focus on the recovery of their businesses and find time to prepare for this great competition that proposes as a theme, #TMRW_TASTES_LOOKS_FEELS_LIKE_.
Attila Meinhart, pastry chef at the Four Seasons Hotel Gresham Palace in Budapest, was proclaimed the winner of the Central Europe qualifier on February 9, with creations in which he has used ingredients from Hungary. For the chef, "it has always been a burning desire of mine to compete in a world-renowned professional competition, setting myself a challenge on an international stage".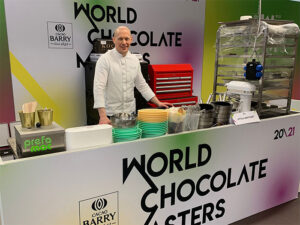 Within his presentation buffet, we find this vegan snack, which is made up of raspberries, roasted caper peppers, vegan dark chocolate cremeux, and sablé dough. Regarding this piece, Meinhart explains that his intention was "to show the pod from different dimensions, therefore the #TASTE was a shape of a horizontally cut cocoa pod which draws a flower shape". As the snack had to be packed, "it was a great idea to have the feeling of a real cocoa pod and when you open it you will find the seeds which is the dessert actually. The package also had a special code which can be read by an app called ARTIVIVE. This is an augmented reality and when the code was scanned, a short video showed up in 3D explaining the dessert itself and the packaging", he continues.
To achieve the perfect shape, the pastry chef used a special mold for the sablé and it was glazed with chocolate and cocoa gru. "I used Cacao Barry Alto el Sol chocolate to make a Cremeux. As the rule said to introduce a local product in each dessert, the Cremeux was paired with a Capper Pepper and Hungarian Red Paprika, then a layer of soft chocolate sponge topped with Raspberry gel and finished with also some Alto el Sol Cremeux", he assures.
As the #SNACK had to be packed, it was a great idea to have the feeling of a real cocoa pod and when you open it you will find the seeds which is the dessert actually
Vegan chocolate Snack
Vegan sablé
400 g flour T55
125 g almond Flour
3 g salt
190 g vegan margarin
120 g icing sugar
2 g vanilla powder
100 g water
Mix with paddle attachment flour, almond flour, salt, vegan margarin, icing sugar and vanilla powder… At the end mix in 100 g water.
Roll between 2 baking papers into desired thickness (No:2).
Bake at 160°C for 21 minutes.
---
Alto El Sol Cremeux
7 g pectin X58
1 g agar agar
10 g sugar
2,5 g carob bean gum
375 g almond milk
135 g Alto El Sol 65% plantation couverture
30 g Saint Domingue 70% origine dark couverture
30 g coconut oil
Mix pectin, agar agar, sugar and carob bean gum. Heat almond milk at 45°C, add mixture above and bring to boil and cook for a couple of minutes. Pour over Alto El Sol, Saint Domingue and coconut oil. Blend it with a hand blender. Pipe immediately to the silicon mold and leave the remaining in the fridge.
---
Caper Pepper Cream
500 g caper pepper (in whole pieces)
130 g caper pepper cream
4 g hungarian red paprika
1,5 g Sosa Vegetable Gelatine
1,3 g pectin NH
1 g Maldon salt
Bake caper pepper in the oven at 210°C for 40-50 minutes. After baking, cover with cling film. Remove skin and all the seeds. Blend pepper to a cream. Mix capper pepper cream, hungarian red paprika, vegetable gelatine and pectin NH at 45°C add to the cream and bring to a boil. Add Maldon salt and cook for 2 minutes.
---
Raspberry Gel
102 g raspberry purée
20 g lemon purée
12 g glucose syrup
7,5 g sugar
1,5 g Sosa vegetable gelatine

1,5 g pectin NH
Heat raspberry purée, lemon purée and glucose syrup. Mix and at 45º add to warm purées. Add sugar, vegetable gelatine, pectin NH and bring to boil.
---
Chocolate Biscuit
5 g apple cider vinegar
180 g almond milk
50 g vegetable oil (Sunflower)
60 g almond milk
160 g flour T45
60 g ground almonds
20 g cocoa powder
100 g sugar
8 g baking powder
2 g baking soda
2 g salt
2 g vanilla powder
Mix apple cider vinegar with 180 g almond milk. Reserve on room temperature at least for 10 minutes. Then add vegetable oil and 60 g almond milk. Mix and sieve flour, ground almonds, cocoa powder, sugar, baking powder, baking soda, salt and vanilla powder.
Add to batter and mix with a whisk.
Bake at 180°C for 8- 9 minutes in the deck oven.
---
Chocolate Glaze
250 g Extra Bitter Guayaquil 64% dark couverture
62,5 g grape seed oil
100 g cocoa nibs
Melt Extra Bitter Guayaquil. Blend with grape seed oil. Add cocoa nibs.
---
White Velvet Spray
175 g vegan white chocolate
75 g cocoa butter
Melt and mix together and use as velvet spray
---
Montage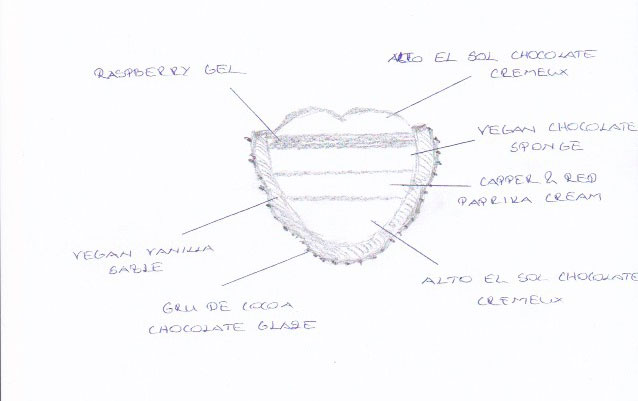 ---
We share below a video with a sample of the elaborations that he presented in the Central Europe qualifier