In cuisine, it is very common to use basil, either fresh or dried, for dressing salads, vegetable soups, pasta dishes, stews or meat. This aromatic herb has also been increasingly present in haute pastry. Beyond its characteristic flavor and aroma, it gives an intense and attractive green tone to any preparation without using artificial pigments.
In this selection we have gathered nine pastry proposals that know how to take advantage of basil's potential, not only at the taste level, but also as a decorative element.
Green, the omnipresent color in Frank Haasnoot's patisserie

In Prisma, Frank Hasnoot's first book, light is separated into six colors (white, yellow, red, green, violet, and black), which in turn are the protagonists of half a hundred unique creations. In the green chapter, we find this basil cake (previous photo) which maintains an oval shape and plays with visual textures. "I had made leaf-shaped cakes before, but here I wanted the basil leaf shape to reinforce the profile of this flavor. It is refreshing and offers a pleasant lemon and basil aroma," he explains.
Sergi Vela combines it with strawberry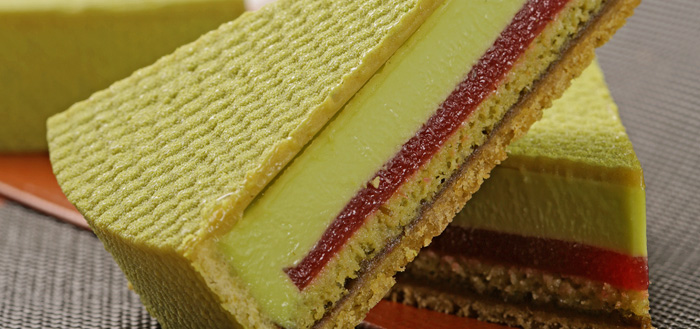 After many years of his idea ripening, Sergi Vela has opened his own space, The Lab, in which he plans to organize all kinds of activities and training, in addition of it becoming his new operations center, complementing his work as a professor at Barcelona's Hospitality and Tourism School. In this new "Lab", the chef will give free rein to his creativity with creations such as this elegantly fine cake of apparent simplicity that hides a subtle combination of flavors and a presentation marked by a velvety texture, uniform color and, above all , the external relief. This strawberry and basil creation was part of the last meeting of Colectivo 21 Brix, which revolved around the color green (video).
Eunyoung Yun, beyond the éclair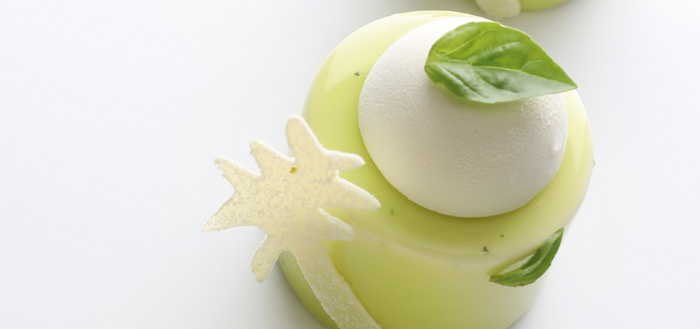 Eunyoung Yun was known as the Korean queen of the éclair, but her passion for good pastry is not limited to a single product. In her establishment in Seoul (South Korea), customers can taste a wide range of modern cakes and delicacies of European origin with constant nods to the local culture. One of the stars of her showcase is this piece, published in so good # 20, where lemon and pineapple merge and Eunyoung uses allies such as basil and coconut to achieve a balanced result.
Josep Maria Ribé makes his own concentrated paste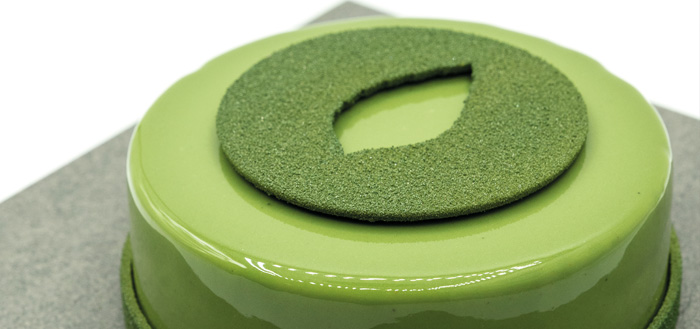 Basil is the main thread of this cake in which Josep Maria Ribé, director of the Chocolate Academy of Barcelona, incorporates the color and flavor of the herb not only in the glaze and the main mousse, but also in the crumble and cake. To do this, he makes his own concentrated basil paste with a versatile small size Grinder machine.
Andrés Morán's healthy proposal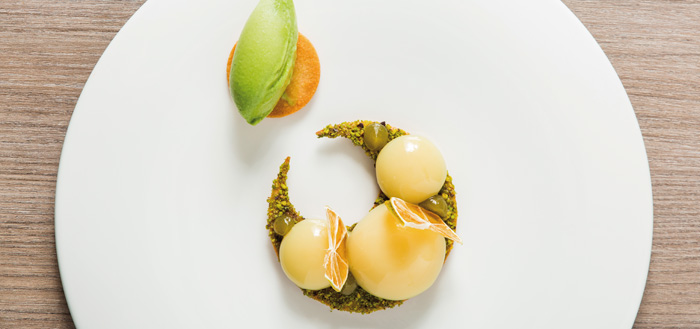 Natural ingredients and more intense and clean flavors. These are the keys to these yuzu yolks with basil ice cream, a dessert that Andrés Morán has developed for Sha Wellness Clinic (L'Albir, Alicante, Spain). As in all of his creations, there is no trace of dairy products and derivatives, no eggs, margarines, sugars, or refined flours … nor of course artificial colors or preservatives.
Oriol Balaguer extols its decorative function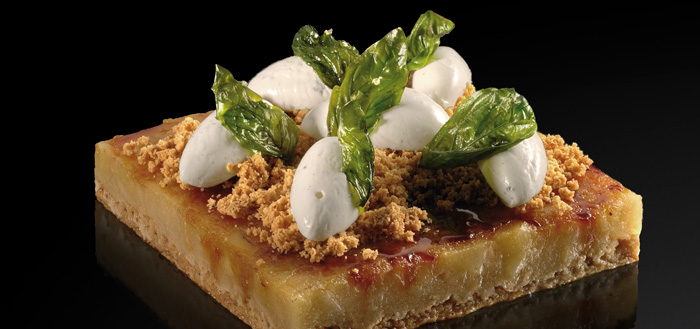 It is the first "concept cake", with a philosophy of cooking and technical execution of pastry, that Oriol Balaguer made in 2003 and that you can see in his book Obsession. A restaurant dessert that would also fit in at a pastry shop.
His idea here is to version a combination as classic as apple and cheese in a piece that we can place between dessert and cake. The caramelized basil leaves, in addition to giving it a fresh and slightly bitter point to the composition, serves as a decorative element.
Carles Mampel's evolved travel cake

Within the evolved concept of Carles Mampel's travel cakes, this Sablée Provenç stands out. A piece that shows an evolution at a technical level since the masses are worked on in reverse, adding the solids at the beginning and the butter at the end with an emulsion in the food mixer. And also an evolution at the level of ingredients. The chef decreases the amount of dough drastically and integrates elements such as basil caviar that enrich the preparation.
Abel Bravo and his tribute to the Mediterranean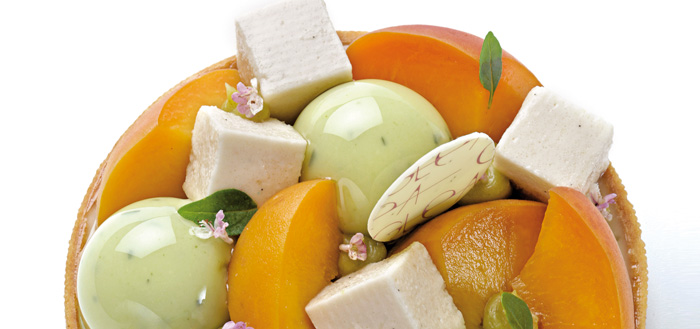 Land and innovation are the two pillars on which Abel Bravo's pastry shop, Glea in Murcia is based on. Two aspects which are combined in his Mediterranean cake (so good # 17), in which he wanted to mix distant products but united by something common: the Mediterranean. To make it, he places a disc of soft almond cake inside the sablé. He fills it with bergamot and basil cream and covers the top with candied peach pieces, balls of bergamot and basil cream, almond foam cubes and basil flower.
Instant and fresh basil by David Gil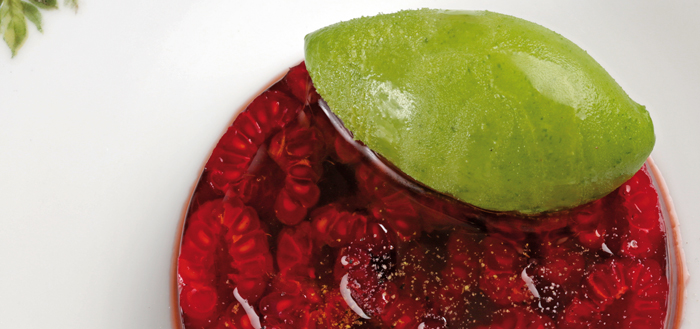 David Gil, head of ElBarri's sweet proposals, presents this elegant dessert at Bodega 1900, one of the group's restaurants. Wild Strawberry Aspic is based on two concepts. "On the one hand, French aspics: a type of molded and flavored gelatin, used in the preparation of cold ham, foie gras, seafood, vegetables and even fruit dishes. And on the other hand, it satisfies the need to create a very fresh sorbet, which reflects the intense green color of chlorophyll. This is why we refuse to use a dairy base to work it, and that is why it is made and consumed the same day so that the basil, the main character of this dish, does not oxidize or darken." From the moment basil comes into play, the different preparation steps must be carried out constantly, otherwise the attractive green color of chlorophyll would be lost.