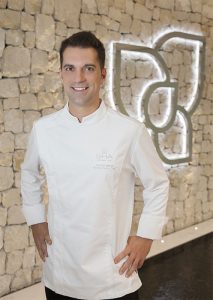 He became acquainted with high-class artisan pastry by the hand of Paco and Jacob Torreblanca and also high quality industrial pastry in Barry Callebaut Pastry Manufacturing. He even spent a year in China developing products for the hostelry sector. Now, for two years, pastry chef Andrés Morán has been making healthy desserts at the Sha Wellness Clinic, (L'Albir, Alicante).
The ingredients he uses are natural, mostly integral and of ecological and sustainable origin, and also, he assures us, beneficial for one's health.There is no trace of dairy products, eggs, margarines, sugars and refined flours in his desserts… nor of course artificial colors or preservatives. And the flavor? More intense, clean and authentic.
At So Good #18, he reveals how he achieve this, for instance with this plated dessert.
Yuzu yolks with basil ice cream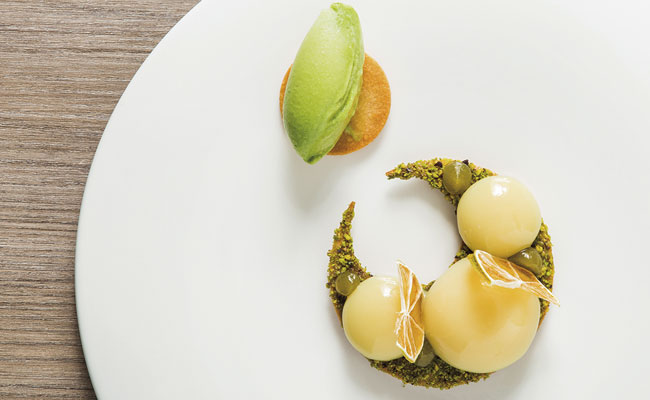 30 pax
ginger and citrus fruit crescent
600 g almond powder
300 g rice flour
300 g rice molasses
100 g sunflower oil
50 g water
2 g salt
10 g ginger, grated
5 g lemon zest
5 g orange zest
Mix all the ingredients in the bowl of a mixer and spread on a silicone mat. Cut with the help of crescent-shaped rings and bake at 160ºC for 13 minutes. Cut into circles with a 3-cm cutter.
---
yuzu yolks
600 g rice cream
1.000 g yuzu purée
10 g lemon zest
800 g rice molasses
14 g iota
Mix all the ingredients and cook in a food processor at 80ºC. Strain and pipe into small and medium hemisphere molds.
---
Dry lime crescents
Cut the limes into halves and slice. Place in the drying oven at 50ºC for 3 hours.
---
basil ice cream
440 g mandarin juice
130 g lemon juice
80 g basil
480 g rice molasses
800 g rice cream
14 g agar agar
Mix all the ingredients well except the basil and cook to a boil. Transfer to a food processor and add the basil. Blend well until the basil is perfectly incorporated. Transfer to Pacojet containers and freeze. Churn at serving time.
---
celery gel
450 g green apple juice
300 g celery juice
300 g rice molasses
7 g agar
Mix all the ingredients well.
Cook in a saucepan to a boil, allow to cool and transfer to a food processor to obtain the gel.
---
green sand
100 g pistachio
200 g coconut, shredded
2 g matcha tea
Mix well all the ingredients.
---
agave
Brush the ginger and citrus fruit crescents to fix the green sand to it.
---
You will also find this two recipes in so good #18