It takes guts to end an elaborate 8-course tasting menu with a bowl of vegetable 'pate de fruits.' But, then again, the meal at Smyth, a tasting menu-only restaurant in Chicago's West Loop, began with a small cup of funky maitake mushroom tea adorned with a bare twig.
Offering dishes that nudge—or push, as the case may be—diners out of their comfort zones is nothing new for husband-and-wife chefs John Shields and Karen Urie Shields, who between them, have some 30 years of culinary experience, including at Alinea and Charlie Trotter's. It was at the latter that John and Karen—he as sous chef, she as head pastry chef—first met.
Text: Lisa Shames
Photos: Galdones photography
In 2008, the couple turned down an offer to open a Trotter restaurant in Las Vegas, and instead headed to Smyth, a small county in Virginia, where their cooking at Town House and then Riverstead Inn earned them national acclaim as well as some valuable insight. "It allowed us to figure out who we were as young chefs and what drove us," says Karen. The couple's unique point of view is all over Smyth, which opened late last year, from the midcentury-modern furniture and wide open kitchen to the beautiful dishes coming out of it.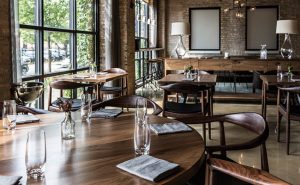 While it's hard to find a chef who doesn't find inspiration in the seasons, the Shields take it even further via a relationship they have with a 20-acre Illinois farm (The Farm) growing an extensive variety of produce exclusively for Smyth, as well as The Loyalist, the casual lounge downstairs. "We want to give guests an experience of what is happening day to day on the farm," says John. "You can definitely taste the difference." In addition, there's an indoor garden at the restaurant as well as herb and flower beds outside.
The couple also finds inspiration in each other. "It helps that I have my hands in pastry a lot and she throws her thoughts my way on savory," says John. What that means for diners is a seamless flow from course to course with no real separation between the desserts and the savory courses that came before them. "If it's the first dessert course, we like it to border on savory to lend to that liaison between the savory courses," says Karen. "If it's the last, we like it to be bright, acidic and palate cleansing, which aids in digestion."
''We want to create memories. We want people walking away saying, I'm never going to forget that''
That collaboration and similar philosophy on food—"We like to pull flavors out and make them intense, but all the while portray a seemingly minimal aesthetic," says Karen—has led to some interesting and delicious dishes. A few years back a spring onion and rhubarb dessert earned fans, as did a vegetable and fruit gazpacho paired with a giant meringue of sorts in which Karen swapped in an olive-oil based batter. On the current menu, there's the ingenious savory brioche doughnut cooked in aged beef fat that's served halfway through the meal. A milk chocolate bar made with fermented shiitakes and huckleberries follows the final meat course. "The shiitakes are sweet and earthy, which is a great liaison between savory and desserts courses," says Karen, "while the huckleberries are bright and acidic, which cuts through the rich flavors."
But perhaps the dessert that's earned the most buzz—and reluctance of the couple to release its recipe—is the egg yolk cured in salted licorice and served with yogurt meringue. While John and Karen have been tinkering on the dish for years, it wasn't until they just started working with The Farm prior to opening Smyth that the now signature dish was created. "The only thing coming from them in late March was eggs," says John. He switched from the dish's original savory slant and opted for sweet. The egg yolk is cured for 24 hours in black licorice molasses until it has a dense texture. Leftover egg whites are thrown in a Pacojet and transformed into a delicious, tangy concoction. There's a bit of crumb on the bottom of the bowl and a touch of blackberry jam.
With this dish, and all the others at Smyth, it's important "the menu in its entirety takes guests on a storytelling voyage," says Karen. Adds John, "We want to create memories. We want people walking away saying, I'm never going to forget that."
You will find these creations with recipes at so good #18