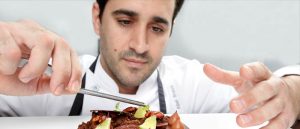 Two pillars support the Pastelería Glea in Murcia, run by Abel Bravo and his partner, Poli Gómez: land and innovation. Glea means land in panocho, a local dialect of this part of the Spanish coast. And in pastry terms it translates to a firm commitment to citrus and fruits that in many cases come from the very garden that Abel's family owns. Citrus, almond, but also the most popular combinations of the area, starting with the most important cake in the region, a savory product based on puff pastry called meat pie. The second of the pillars is innovation or modernity. Having mainly trained in Barcelona by the hand of some of the city's great chefs (Carles Mampel, Josep Maria Rodríguez – so good #15 and so good #8-, Rafael Delgado), Abel Bravo has developed a taste for new formats, for unglazed cakes, for extremely fresh products and, at the same time, for perfection in the finishes. This is clearly seen in all their variety of products that go from pastries and savory products, to a spectacular collection of bonbons.
The combination of local demand with the air of modernity results in something totally new in a city like Murcia, which despite having about half a million inhabitants is not very used to this type of offer which is so refined and current. "At first, we didn't know how people would react," Poli says, "it scared us a little." Fortunately, after a few months, the public acknowledges Glea, " they know our products and know what they want," Abel explains.
This is contributed by the fact that they always use ingredients that are very recognizable to the public in the area and, in addition to identifying the flavors on the labels, they can identify the flavors later on the palate. Abel Bravo refers to this by saying that "one must be honest", another aspect that places his proposal as a reference to the most restless pastry that is done today.
'In Glea one can breathe the winds of modernity without losing the local reference, using the products offered by the fertile land of Murcia'
Citric green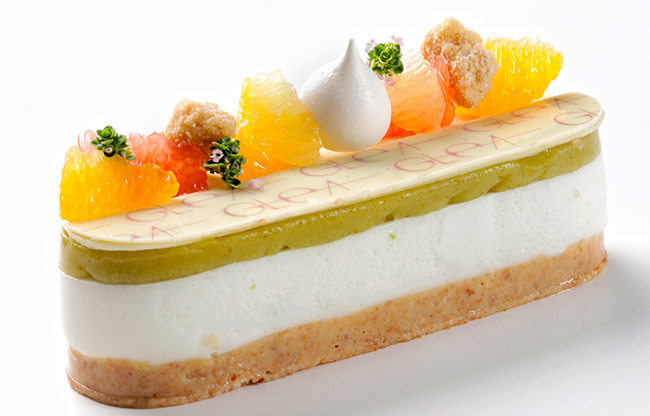 basic meringue for the mousse
28 g dextrose
69 g atomized glucose
102 g pasteurized egg whites
---
light Ivoire-lemon mousse
500 g lemon juice
400 g Ivoire white couverture
90 g cocoa butter
20 g powdered gelatin
100 g water (for gelation)
800 g cream, whipped to soft peaks
20 g lime zest
200 g basic meringues
Melt the couverture to 45ºC. Combine with the melted cocoa butter. Add the previously hydrated and melted gelatin and make an emulsion with the lemon juice at 30ºC. Dissolve the sugars in the egg whites at 45ºC. Whip the meringue. Add the lemon juice emulsion at 32ºC to the meringue. Finally, add the semi-whipped cream together with the lime zest.
---
almond crumble
200 g brown sugar
264 g almond powder
276 g cake flour
220 g butter
2.6 g salt
Mix all the ingredients in the bowl of a mixer fitted with a paddle. Pass through a 0.3 mm sieve. Bake at 140ºC for 26 minutes.
---
almond and lemon praliné
1000 g almonds
400 g sugar
50 g lemon zest
Mix all the ingredients in a food processor to a homogeneous texture.
---
almond and lemon croustillant
920 g almond crumble
821 g almond and lemon praliné
Combine both preparations and reserve.
---
lime peel compote
180 g lime peel
160 g sugar
30 g glucose
140 g lime juice
8 g NH pectin
0.3 g citric acid
72 g butter
Blanch the lime peel three times (changing the water each time). Make the last cooking last for 25 minutes. Drain well, transfer to a food processor together with half the amount of sugar, glucose and lemon juice and process. Strain the resulting mixture and heat to 40ºC, adding then the remaining amount of sugar together with the pectin. Cook to 90ºC and add the citric acid. Allow to cool down to 50ºC and emulsify with the butter. Reserve.
---
Montage
Spread 20 g of almond and lemon croustillant in the oval mold.
Pipe 40 g of light Ivoire-lemon mousse.
Finish with 15 g of lime peel compote.
Garnish with chocolate plaquettes, citrus fruits, dehydrated meringue and thyme-lemon.
---
Concept
Concentrating the flavor in the green citrus fruit peels – lime and lemon.
---
You will also find this two recipes in so good #17