Voilà His Majesty Saint Honoré! Few, if any, pastry specialties lend themselves to the so good.. magazine challenge like this one. Because of its complexity, its majesty, its identification with the best French tradition, its gourmandise and, if that were not enough, because it bears the name of the patron saint of pastry chefs and bakers. This is one of the great totems of universal patisserie, which is also celebrating its 175th anniversary.
Apparently, the Saint Honoré was created in the middle of the 19th century, in Fauvel Chiboust's pastry shop, located in Rue Saint Honoré, hence its name. The author was inspired by a Bordeaux dessert, the 'Swiss flan', a kind of brioche filled with pastry cream. But being the brioche spongy in nature, it absorbed the cream and collapsed quickly. For this reason, in 1863 Auguste Jullien improved the recipe by replacing the brioche with a puff pastry base, with a crown of choux pastry filled with pastry cream. If in the center we pipe with a flat nozzle (Saint Honoré) a chantilly or a chiboust cream, i.e. a pastry cream lightened with an Italian meringue, we then have the current version of the great classic.
Here we gather nine great approaches to this classic, four of them from issue 26 of so good .. magazine that each chef, Dinara Kasko, Saray Ruiz, Jérémy del Val, and Zhou Xiaohu, have made to pay tribute to this product. The other five chefs in the selection also have a lot to do with our publisher and our most recent publications. We refer to Antonio Bachour, Kirsten Tibballs, Cédric Grolet, Adrien Brozzolo, and Francisco Migoya. Come and enjoy the parade.
01. Dinara Kasko. Riding the waves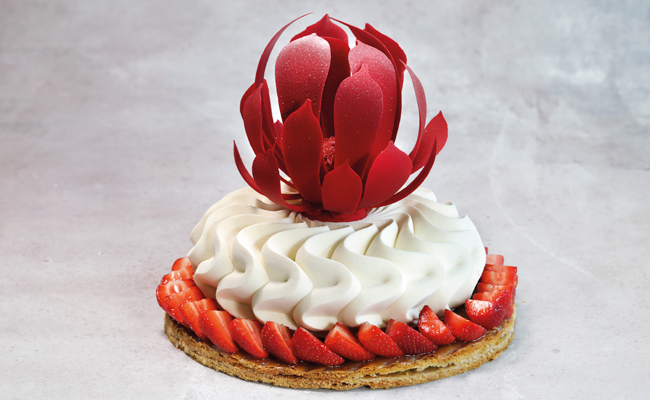 There is always one more step to take, a new path to explore, a new style to print or a new technique waiting to be discovered. Without this non-conformist spirit, evolution would not be possible. And without the curiosity, determination and creative vision of Dinara Kasko, Ukrainian architect and pastry chef, some of the famous designs that have caused a stir in recent years would not have seen the light of day either. In addition to exhibiting her work in such distinguished venues as the Metropolitan Museum in New York, giving lectures and courses all over the world, opening her own classroom and creating her own line of molds, Kasko has never stopped creating, researching and setting new goals for herself.
We must confess that we were particularly curious about Dinara Kasko's challenge to create a version of such a classic specialty as the Saint Honoré for so good #26. What would she be capable of this time? The pastry chef picked up the gauntlet and gave us an answer in the form of waves, the perfect waves on the sea of Saint Honoré.
Discover all the details and recipes in So Good #26
02. Jérémy del Val. Breathing in a new aroma in Dalloyau's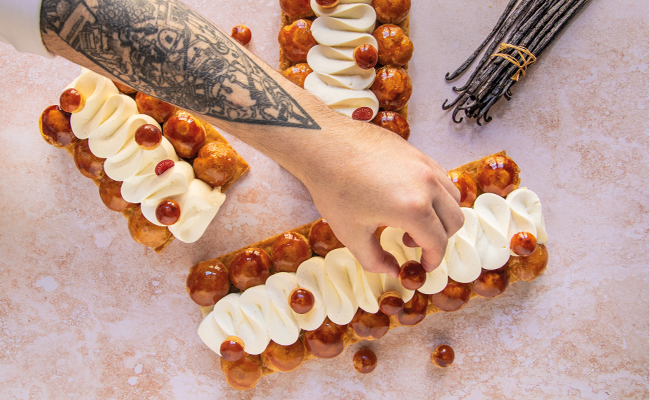 If the Saint Honoré is one of those classics printed in gold within the traditional French pastry, imagine how this dessert must be when you taste it in Dalloyau, a pastry shop with more than 300 years of history located in the very Rue Faubourg Saint-Honoré. Magic inevitably surrounds the experience. But also the respect for a classic of this magnitude. Jéremy del Val is well aware of this, but as the creative chef of this legendary Parisian pastry shop, he does not shy away from proposing a reasoned update of the classic for so good #26. To do so, he leaves behind the classic chiboust cream and replaces it with a crémeux that plays with two vanillas from different origins, 'they really offer a different aroma whose mixture is ideal and surprising,' says the 2014 winner of the Championnat de France des Desserts. The other renovating element is the format, this time with a rectangular design, which gives a 'more geometric and modern' sensation. There are few other elements to add to a dessert whose secret, in the words of Jéremy del Val himself, lies in the interplay of textures between the crispy puff pastry, the caramelized choux and the smoothness of the cream.
Discover all the details and recipes in So Good #26
03. Saray Ruiz. Upside down, inside out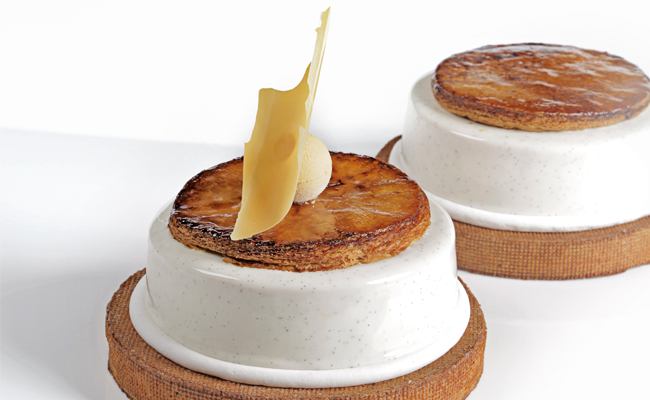 Brilliant interpretation of the classic Saint Honoré for so good #26 by Saray Ruiz, teacher at the Pastry school of Barcelona (Spain). An upside down Saint Honoré, or inside out. The puff pastry is not at the base, but on top. And the choux pastry appears in the form of a disk at the base and also in the form of small spheres with their craquelin inside the cream. And so that nothing is missing, the chiboust becomes a string of marshmallow.
The game proposed by Saray Ruiz does not intend to question the virtues of the original, but to pay homage to it, 'revisiting a classic is always a responsibility. This version is nothing more than a tribute to a cake that is no less than 175 years old', concludes a pastry chef who always visits us at so good.. magazine to bring us something of value. Saray herself explains in the magazine her ingenious proposal in first person.
Discover all the details and recipes in So Good #26
04. Zhou Xiaohu. Saint Honoré tree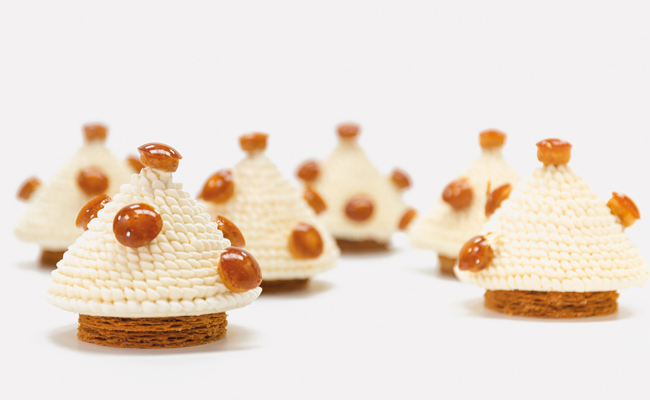 If the Saint Honoré were a tree, it would be strong and robust, with roots that penetrate the best French tradition and whose shade already shelters several generations of artisan pastry chefs. But beyond its indisputable French origin, this specialty is one of the most universal, versioned and revisited. Among the many interpretations, we would like to highlight the one offered exclusively by the Chinese pastry chef Zhou Xiaohu (Lucky Tiger), professor at the TDessert International Pastry Academy, a lover of Western patisserie and with a strict obsession for perfection and attention to detail, as you can see in issue #26 of so good.. magazine. Returning to the idea of the tree, Chef Xiaohu presents us with an elegant Saint Honoré in the form of small cedar or pine trees covered with snow, and explains what this emblematic elaboration means to him.
Discover all the details and recipes in So Good #26
05. Kirsten Tibballs' modernity with a Breton sablé base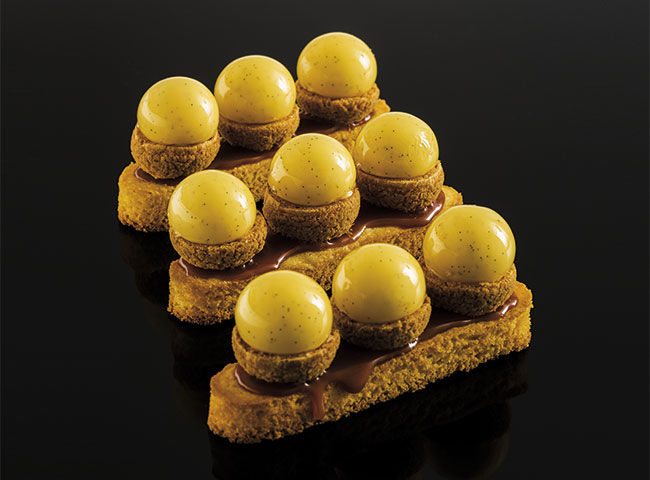 It was the time of so good # 15 when Kirsten Tibbals showed once again why she is one of the leading chefs in Australia and around the world. She did so using the Saint Honoré as a reference, which she takes to her own terrain but without losing the respect of her bases. Technical perfection, colorism, and fun shapes come together in this creation, the details of which you can consult here. The peculiarity of her Saint Honoré is that it has an elongated Breton sablé base on which the suggestive vanilla-flavored profiteroles are mounted.
06. The well-deserved pyramid to the god Saint Honoré, Adrien Bozzolo's memorable proposal
It is no coincidence that being in charge of "L'honoré Cake Boutique", he would try to surprise with a unique creation. This is probably the reason Adrien Bozzolo thought to develop this proposal based on the classic but with a revolutionary pyramid shape, which has even deserved obtaining the recognition of the best Saint Honoré in Paris, as the chef himself explained to us. This shape has dazzled Parisians and half the world through Instagram, a creation that has been thought out to the last detail, as can be seen in the article that we dedicate to it. For our part, we can only say that a creation like this well deserved a pyramid to worship it.
07. The most 'gastro' Saint Honoré by Antonio Bachour goes with piña colada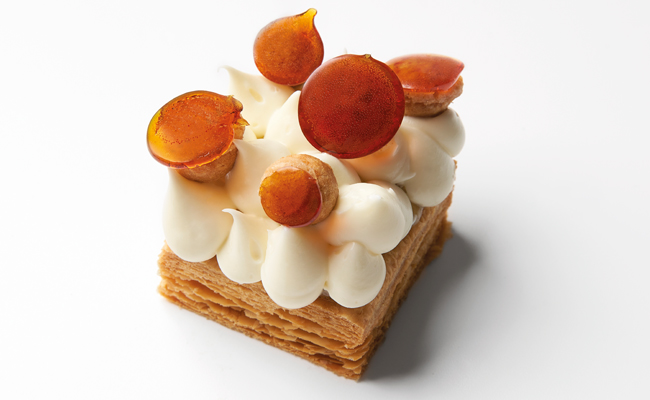 Three blocks divide the new and acclaimed book by Antonio Bachour, "Bachour Gastro". One of these is totally dedicated to the inspiration generated by the classics and, of course, he has included a delicate version of the Saint Honoré that he also personalizes with a touch of piña colada.

Discover all the details and recipes in the book Bachour Gastro
08. Cedric Grolet also raises the Saint Honoré emblem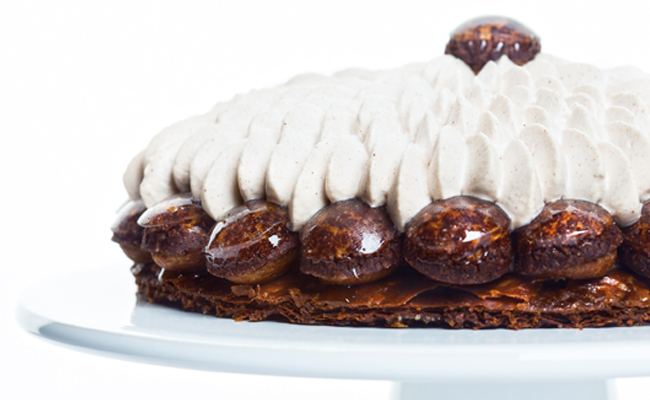 One of the renovators of French pastry that has achieved the most popularity and recognition in recent times is Cédric Grolet. Of course he could not overlook a classic like the Saint Honoré, which he has popularized like few others with the classic scooped in a radial fashion and with the profiteroles wisely placed to achieve perfect harmony. This is how we saw it, for example, with the chocolate version of this classic in So good # 17. Even then he manifested a great clarity of ideas. Grolet belongs to a new generation of young pastry chefs who want to share a different way of seeing pastry through simplicity. 'I express this by working with raw materials and noble products that allow me to make simple and good pastry.
Find out more about his Saint Honoré in the book Opéra
09. Francisco Migoya and the science of Saint Honoré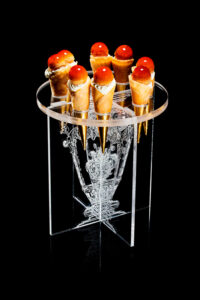 It was 2017 when one of the people in charge of Moderniste Cuisine, Francisco Migoya, shared with us an interesting approach to Saint Honoré in the form of two different versions, one as if it were a bite-sized cone, and the other in the form of a cake with the profiteroles on top. If rigor is a condition to achieve perfection in each pastry preparation, the classic Saint Honoré requires it for each of its components: a puff pastry, choux pastry, or mousseline. For this chef, these creations determine the ability to know what a good base is. He himself explained it to us like this: "I have always thought that Saint Honoré contains a large number of highly technical aspects that every pastry chef should know how to do well. Puff pastry, choux, and pastry cream are things that can be done well or not. For me, if I were to hire someone, this would be the test that I would give the candidates. Everything you would have to know about this person's abilities would be embodied in this dessert. "