Funky dinosaurs, friendly vegetables, astronauts, eggs that take on the most diverse forms … Easter is just around the corner and, as usual, pastry chefs show their talent and ingenuity without hesitation, presenting pieces made with chocolates of first quality.
Below we present our ranking, in which we include 16 original and unique proposals. Some invite you to travel and remember your childhood, others have clear artistic references. There are those which look towards Japanese culture, and all, without exception, are a sample of professionalism and mastery of work with chocolate.
Christophe Michalak travels to space
The pastry chef moves to his childhood to design a collection of monkeys inspired by his passion for space travel. We show here two which are dedicated to the astronaut. On the one hand, the Buzz figure in dark and milk chocolate, adorned with mini pieces of dark and milk chocolate, and also with small hazelnut and caramel Dulcey praline eggs. On the other hand, l'Astronaute, a gourmand egg available in three flavors (dark chocolate, milk chocolate and caramel), stocked with mini pieces of dark chocolate, milk chocolate and praline eggs, Piedmont hazelnut and Dulcey caramel // www.christophemichalak.com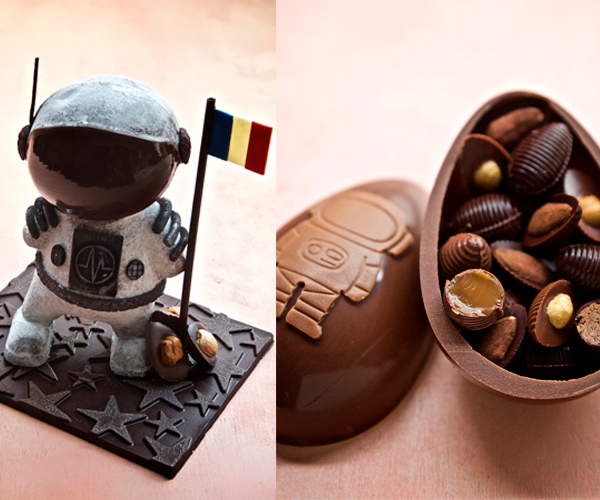 Alain Ducasse expands his bestiary
Once again, Alain Ducasse has the collaboration of French designer Pierre Tachon to expand his Easter collection and continue to surprise with simply designed animals that seem to be sculpted.
The latest addition is a crab that, under its diamond-shaped shell, hides mini praline pieces in the form of shells, crustaceans, and eggs // www.ducasse-paris.com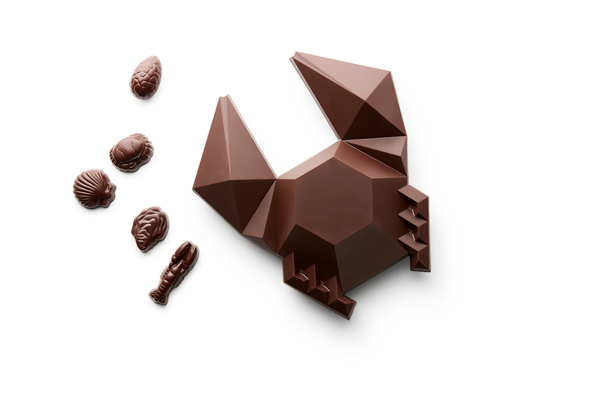 Cédric Grolet reinterprets his iconic Noisette Or
For this holiday, the popular pastry chef presents his praised Noisette D'or in an egg shape to be shared. The chef invites you to break the golden shell and discover a coverage of chocolate ganache combined with a hazelnut praline sprinkled with roasted whole hazelnuts. A delight available on demand at La Pâtisserie du Meurice for Cédric Grolet// www.dorchestercollection.com/fr/paris/le-meurice/restaurants-bars/patisserie-meurice/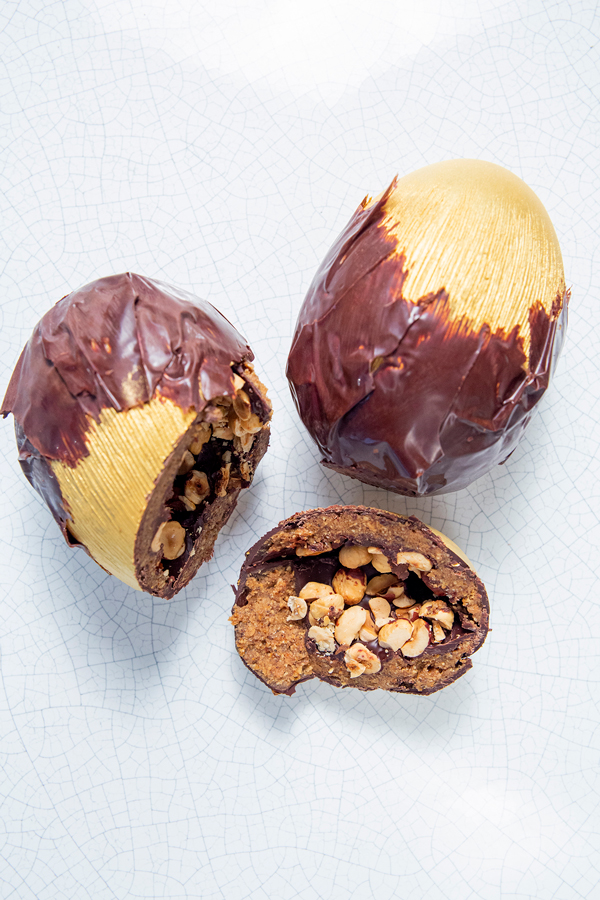 Charlie and Mario, the dinosaur musicians of Dalloyau
Electric guitar, saxophone, and star glasses in white chocolate are the accessories that accompany Charlie and Mario, the fun endangered dinosaurs of Dalloyau, invented by Jérémy Del Val together with chocolate chefs and pastry chefs of the maison. Both, with a base in 70% dark chocolate of Madagascan origin, combine blonde chocolate and 43% chocolate from Madagascar (dark and with milk) // www.dalloyau.fr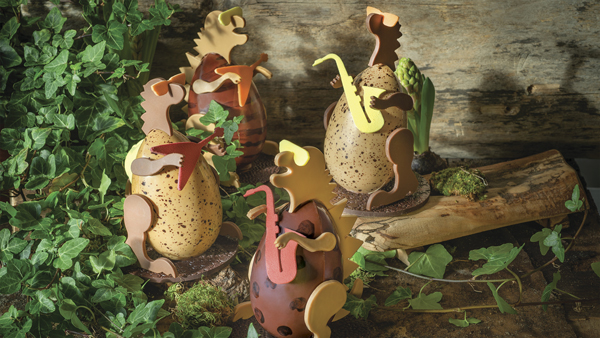 Dominique Costa and his carousel egg
Inspired by his childhood memories, Dominique Costa proposes the Carousel Egg at The Peninsula Paris hotel, consisting of a thin 64% Manjari dark chocolate peel with fresh berry notes. Inside there are three horses, one made with white Opalys chocolate with vanilla aroma, another with Dulcey chocolate, and a third with 64% Manjari dark chocolate. A piece with which one can once again enjoy one of children's favorite attractions, albeit at a gastronomic level// www.peninsula.com
Jimmy Mornet's flower power spirit
Jimmy Mornet, pastry chef of Park Hyatt Paris-Vendôme, pays tribute to the Daisy, a wildflower with relaxing properties. As if he were a real goldsmith, he has attached each petal, one by one, to this realistic egg. A 2.5 kg floral creation made with 70% dark chocolate and covered inside with a flaky hazelnut praline, which reminds us of childhood games with the surprise of being able to detach the various flowers like chocolate lollipops to eat // www.hyatt.com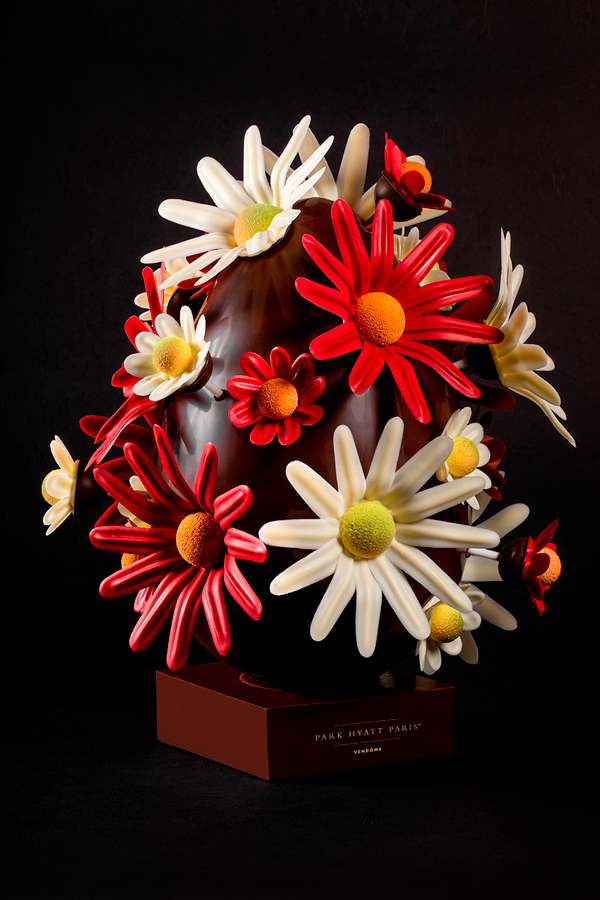 Saray Ruiz. Green power!
In her eagerness to reinvent herself and abandon past collections with marine and Jurassic motifs, Saray Ruiz, professor at the Pastry School of the Guild of Barcelona, wanted to reflect the growing interest of consumers in vegan diets and deployed a complete series of "friendly" vegetables, which not only inspire the shape of the piece, but are integrated into the composition of the chocolate, transforming its flavor. In fact, ginger, corn, and beets, to name a few of the references, have not only given a different flavor to the white chocolate with which they are conched, but they have also provided the all-natural color pigment of their finishes. An interesting repertoire that Ruiz advocates for seasonal adjustment, since beyond being monas, they are chocolate figures with a lot of potential to be acquired at any time of the year // EPGB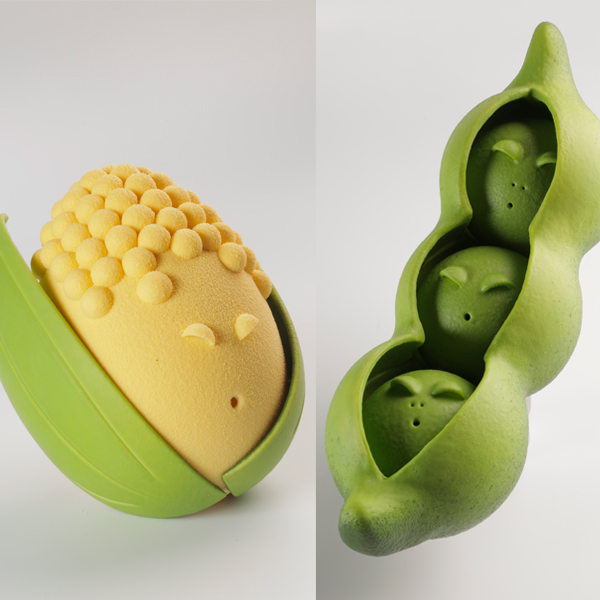 The extraordinary journeys of La Maison du Chocolat
In his journey through the world of the deep sea, the ship of Nicolas Cloiseau, chef of La Maison du Chocolat, sails towards the southern seas in search of the best cocoa: the Island of Grenada, Ghana, Vietnam.
In limited edition, Vaisseau Oeuf is a giant egg, made entirely by hand and composed of a reef of eleven perforated eggs, a chick, and two chickens, a frame, screws, taps and chocolate pipes // www.lamaisonduchocolat.fr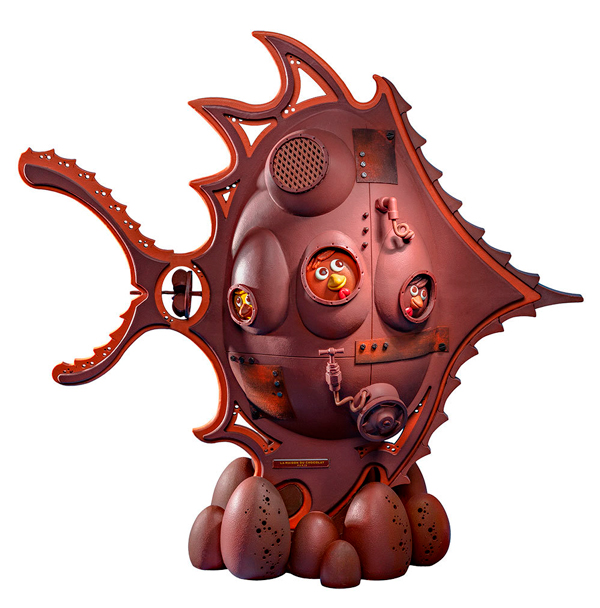 Ersnt Knam, fan of the neo-pop style
Art and chocolate go hand in hand with Ernst Knam's modern dog and modern rabbit. Two pieces that take as a reference model the neo-pop creations of the American artist Jeffrey Koons.

Both figures are made with 70% Pachiza Peru dark chocolate, and decorated with colored cocoa butter with a multicolor Pollock technique // www.eknam.com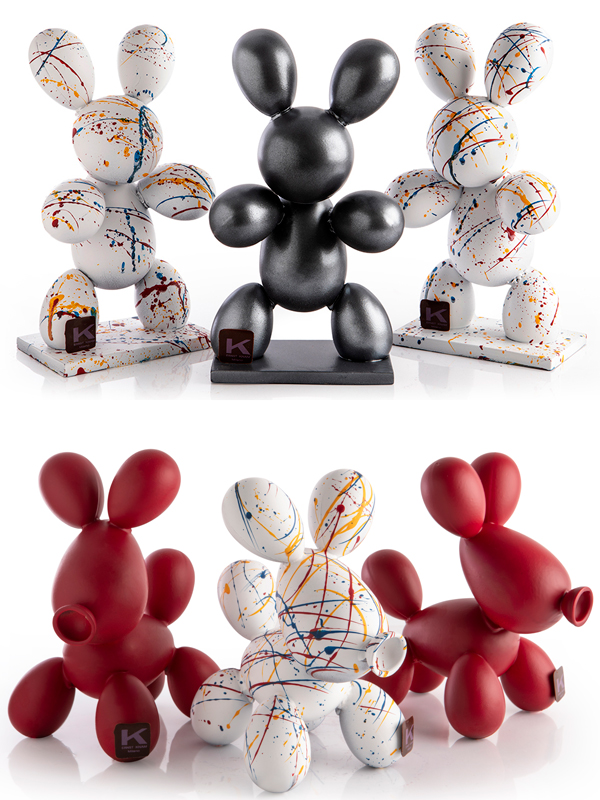 The oneiric and the baroque mark the collaboration of Pierre Hermé & Thomas Boog
From the collaboration of Pierre Hermé and Thomas Boog (https://www.thomasboog.com/en-fr/), interior designer and creator of decorative objects, this dream Easter collection emerges.
Hermé has given his admired Boog carte blanche to create this extraordinary egg with shells that replace nacre with chocolate. Both share a passion for the work of raw materials. The artist selects, sculpts, polishes, bleaches, and cuts shells to reveal their splendor. The pastry chef tastes, chooses, chisels, and sublimates the ingredients. And both, with precision and thoroughness, present "The face of the egg", a unique piece composed of an elegant and baroque set of shells, which is available in different chocolate combinations: caramelized blond, pure Belize dark, and with milk in different mixtures // www.pierreherme.com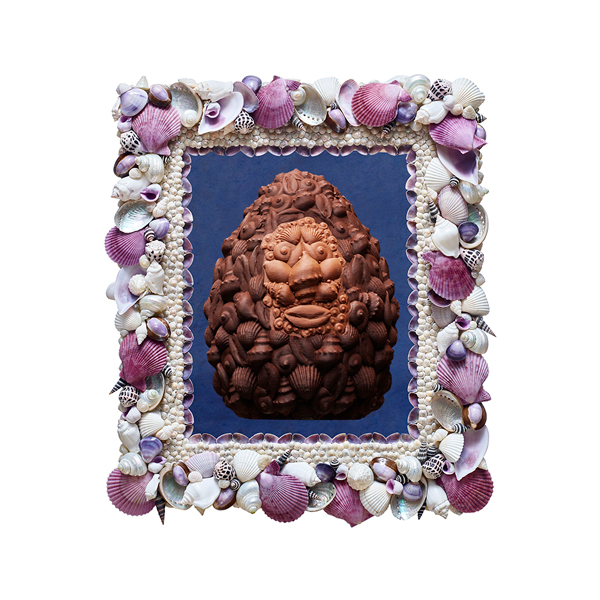 Jean-Paul Hévin continues his homage to nature
As he already did in his Christmas collection, Jean-Paul Hévin continues to delve into the theme, "Happiness is in the meadow", which is inspired and pays homage to the flora and fauna on which our survival depends. A series in which we highlight this pink owl, made with 68% dark chocolate and covered with mini pieces filled with dark chocolate and milk// www.jeanpaulhevin.com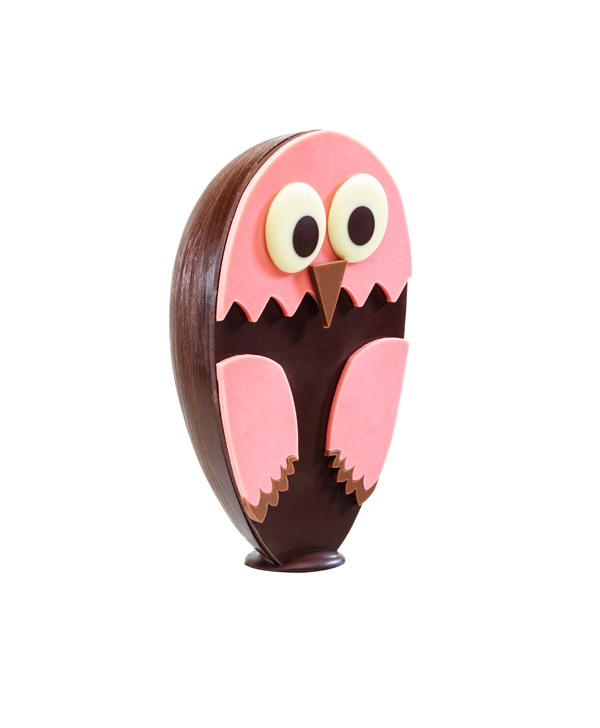 Joris Vanhee, japanese traditional papercraft
Joris Vanhee shows the influence of Japan, where he lives, in his Easter collection. The chef, who has developed a career linked to pastry and chocolate, pays close attention to technique and details to achieve impeccable creations such as these birds made with Japanese traditional papercraft with chocolate // www.instagram.com/jorisvanhee/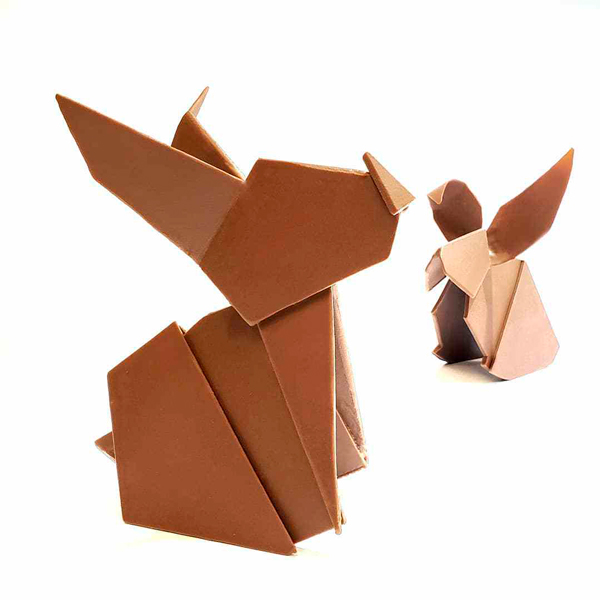 Luc Burtschy's rabbits come to life
Luc Burtschy, chef at the bakery Jacques (member of Relais Desserts), creates all the models in modeling clay to then make a mold. Their fun monkeys only carry chocolate and their rabbits – over 400 this year – are unique pieces. Naughty, angry, loving … none are the same// www.patisserie-jacques.com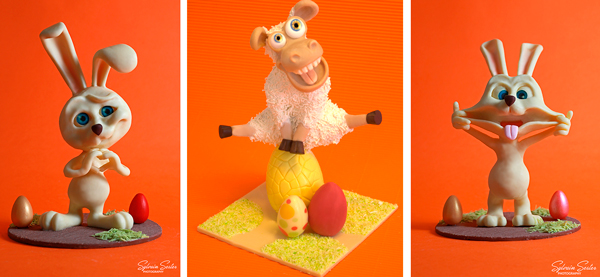 A day at the farm with Lenôtre
Lenôtre chef Guy Krenzer, chocolate chef Marc Sibold, and MOF pastry chef Jean-Christophe Jeanson have reinvented the Easter tradition in Japanese kawaii style. The three professionals have imagined a crunchy and edible farm where teasing rabbits, adorable sheep, smiling cows, and pigs with snub noses live together with carefully selected ingredients such as Foratero and Trinitarian cocoa beans from Sao Tome, Ghana, and Tanzania, a white chocolate covered with Madagascan Bourbon vanilla beans or even cocoa butter with strawberries // www.lenotre.com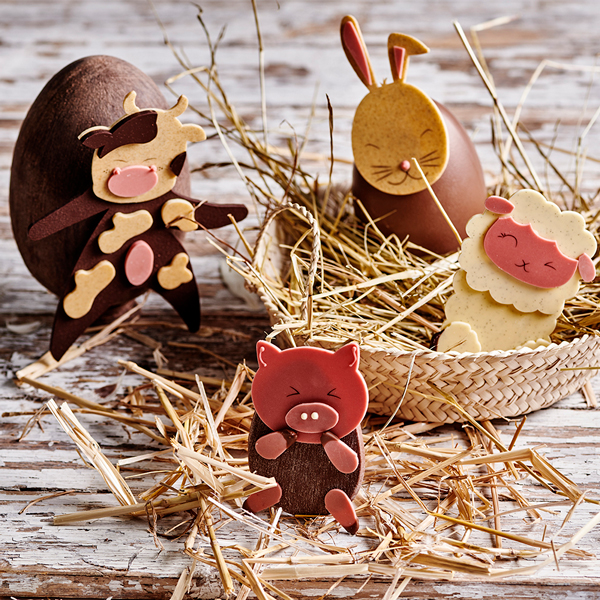 A royal rabbit couple designed by Yann Brys
Yann Brys, Director of Evok's sweet creations, has conceived a different Easter creation for each hotel in the group, true to the personality of each establishment.

For Cour des Voges, which was a 17th-century residence that retains the splendor of that era, the MOF proposes a Royal rabbit couple made of 62% dark chocolate from Brazil and 34% milk chocolate from Madagascar on a crunchy bar with hazelnuts and puffed rice // www.evokhotels.com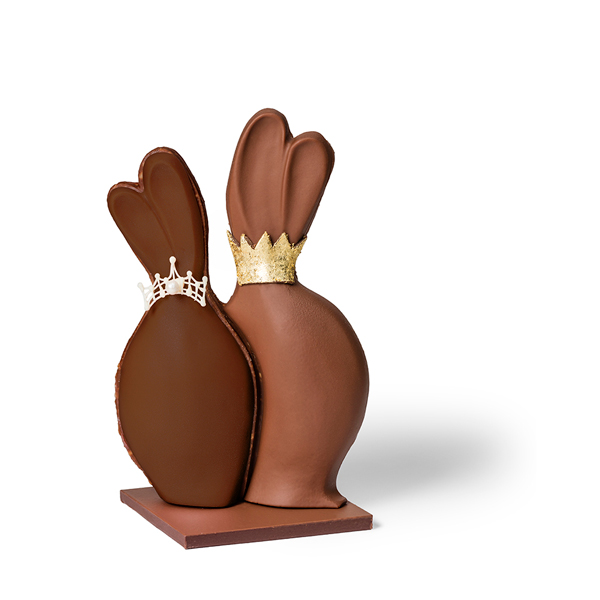 'Pup patrol' adds to the wildlife of Raúl Bernal
In the first year of his own chocolate shop, By Lapaca, Raúl Bernal continues to show his love and affection for the chocolate figures that have made him famous throughout the world. Googly-eyed animals that this season see the family grow with three friendly dogs. The three new pets, a chihuahua, a bull terrier, and a pug enjoy, like the rest of the family, a perfect reproduction full of small details that delve into simplicity (everything is basically made from eggs and chocolate hemispheres) but with a casual and perfectionist result //https://www.instagram.com/bylapaca/