The quintessential day dedicated to lovers is among us, celebrated with roses, gifts, beautiful words, and, of course, with sweets.
At this time many pastry chefs are activating their imaginations to create amazing pieces that are out of the norm and eye-catching, but mostly flavorful.
In this selection there are cakes, éclairs, bonbons, and even cocktails which do not follow clichés, which caught our attention because of their elegance, flavor combinations, and for their commitment to personalization. Desserts that will appeal to both people who celebrate Valentine's Day in classic ways and to those most reluctant to celebrate this holiday.
1. Christophe Michalak. Mon Koeur! The chef gets to show off his fancy with this crunchy milk chocolate covered with a light coconut foam mousse and intense creamy dark chocolate. And to make the dedication more personal, you only have to inflate the balloon which is included, take a pen and write. // www.christophemichalak.com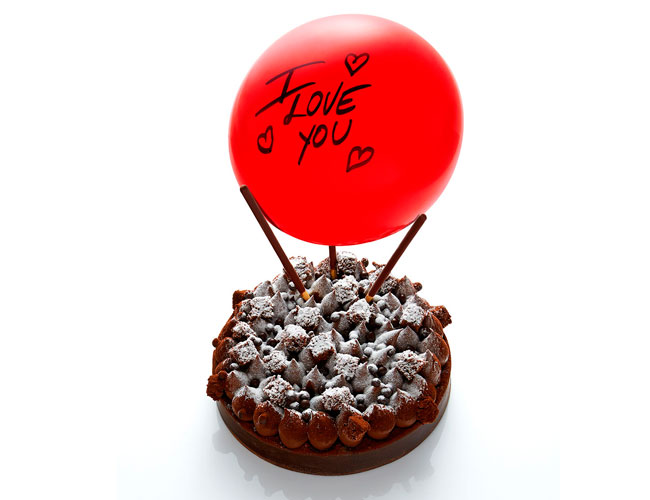 2. Christophe Adam. Rock'n'roll Tattoo. Adam proposes four éclairs with designs that are somewhat "rogue" with cupids and skulls outside the traditional romantic patterns and where each user can put a personalized message.
#173 is salted butter caramel (almond paste, mascarpone caramel cream and salted butter), #174 made of raspberry (almond paste and raspberry cream) #175 made of Chocolate Grand Cru (almond paste, heart of 80% Guanja dark chocolate, aromas of yellow fruit and acidic), and #176 of vanilla (almond paste and Madagascan vanilla cream). // leclairdegenie.com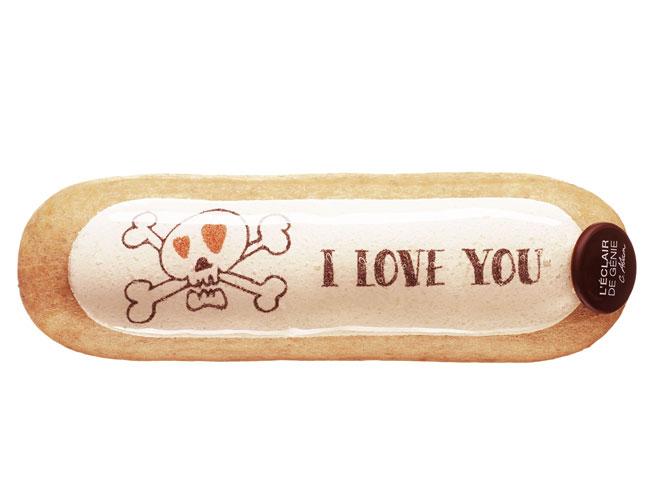 3. Bellanger. Éclair pour les amoureux. Choux pastry cookie, passion custard, feuilletine and chocolate custard, whipped cream covered with Grand Cru Madagascan chocolate Chantilly cream. A sweet, crunchy, slightly acidic delight, made to be shared with one other person. // www.chocolats-bellanger.com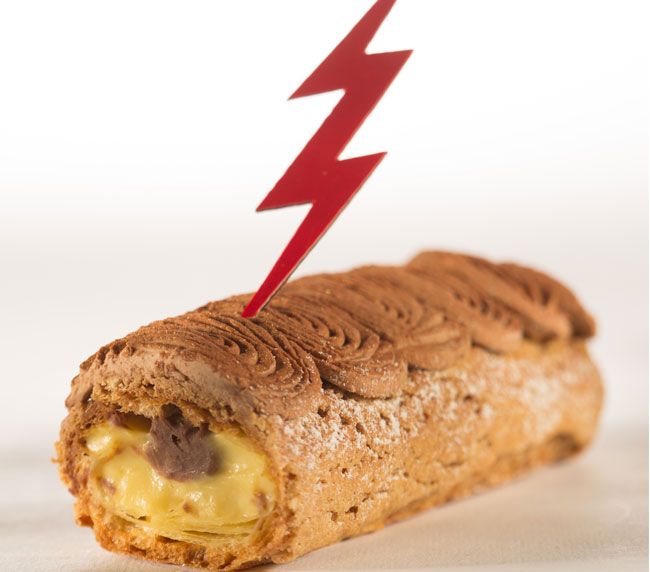 4. Scott Green goes with red. The executive pastry chef at the helm of The Langham Hotel proposes a cake that catches the eye with its colors in which red berries predominate. Among its ingredients are rose cream, macerated strawberries, raspberry jelly and white chocolate cream. // https://www.langhamhotels.com
5. Jean-Paul Hévin. Cour ailé. Hidden inside two 68% dark chocolate shells are two delicious chocolate bonbons, "Sacred Heart" and "Street Art", encircled by a multitude of crunchy pearls made of dark chocolate with milk. // www.jeanpaulhevin.com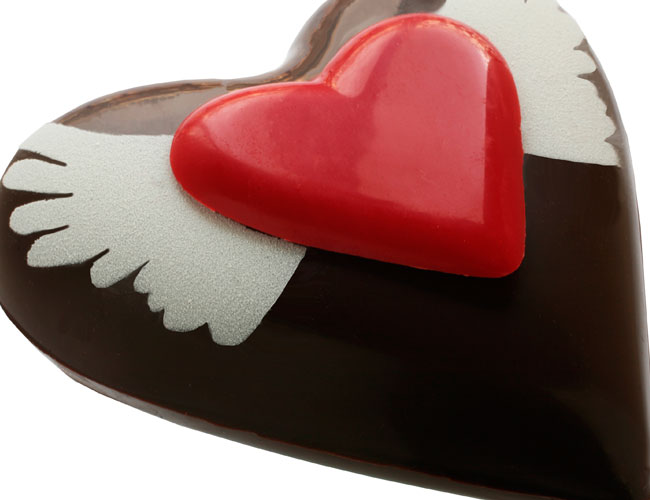 6. Pomme d'Amour from La Pâtisserie des Rêves. Philippe Conticini and his team have developed a magical creation that brings us back to childhood games. A dessert for two consisting of a coconut cookie, fleur de sel and praline "craquonet", ultra fondant caramel cream, green apple compote, and a mousse cream lightly scented with apple. // lapatisseriedesreves.com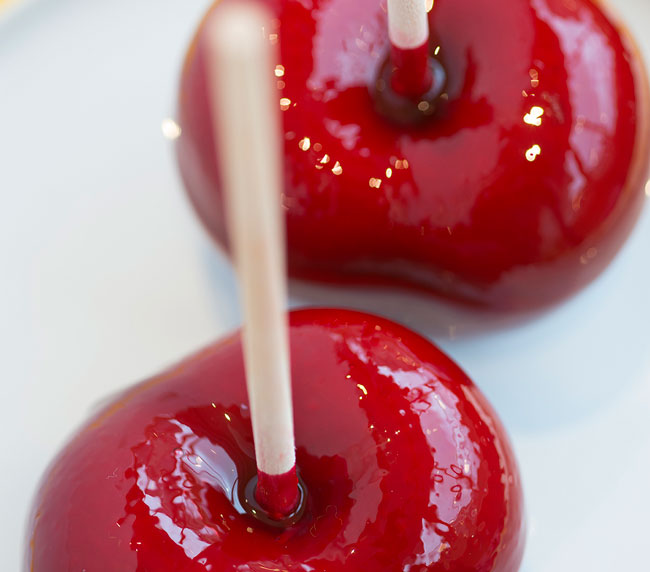 7. Pascal Caffet. Cocooning. Chocolate Cookie and dark chocolate mousse, Madagascan vanilla bourbon crème brulée, and delicious red fruit coulis. The icing: a delicate pastel pink heart and decorated with feathers, made with white chocolate. // www.pascal-caffet.com
8. Mulhaupt. Cassis and violet. The inventive Thierry Mulhaupt surprises with a creation full of flavors and aromas. A dacquoise entremet of almond and black currant crouquant, black currant cream a la violet and a mousse of pure 64% native Madagascan chocolate. // www.mulhaupt.fr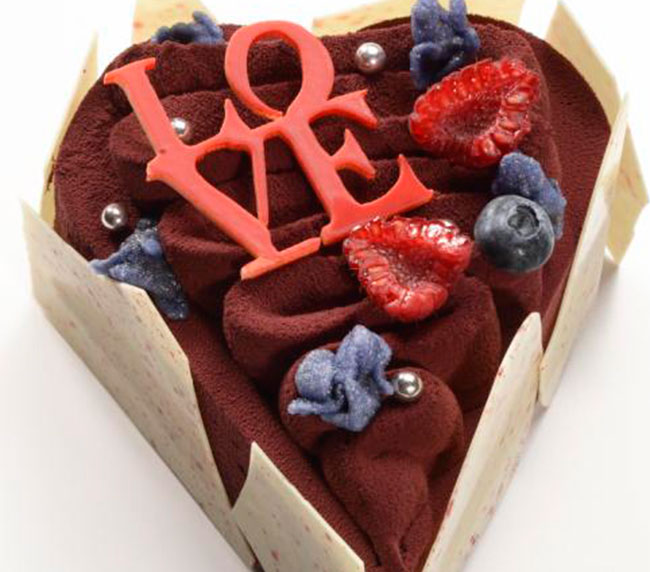 9. Hotel Peninsula Paris. French Kiss. At Le Bar Kléber at the Hotel Peninsula Paris, whose pastry station is led by the talented Julien Alvarez, one can try a cocktail for two with a base of red berries, vanilla, and champagne on February 14. A sparkling way to celebrate this day. // paris.peninsula.com
10. Cacao Sampaka. Passion et Chocolat. The firm intends to rekindle the flame of passion in couples with a collection of chocolate with a high cocoa content. Six varieties, which can be purchased individually, with six different effects, to consumer tastes: Aphrodisiaque, Revitalisant, Stimulant, Énergie, Sensualité, and Extase.
Chocolate joins aromatic herbs, medicinal roots and spices such as sandalwood, nutmeg, ginger, cardamom, passion flower, jasmine, bergamot, guarana or ginseng; all of them well-known for their health benefits. // https://www.cacaosampaka.com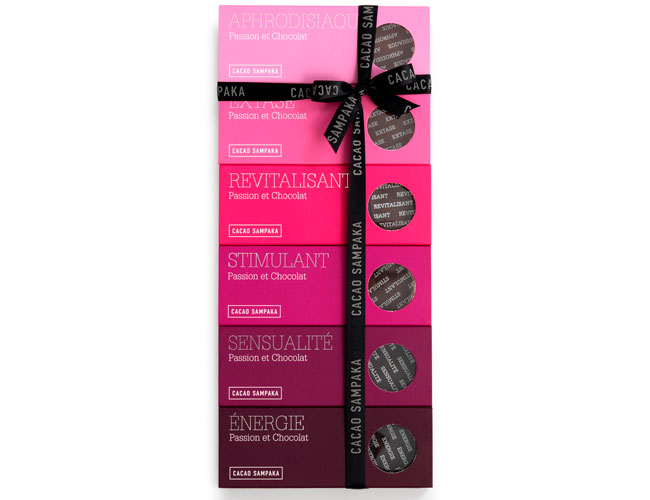 11. Antony Prunet's heart. This young French chef is in a very interesting point in his career. After leaving his role as creative pastry chef Arcachon's Maison Guignard, Prunet will lead the pastry station at the hotels Co(o)rniche and Ha(a)ïtza in the picturesque coastal village of Pyla-sur-Mer. We hope to soon enjoy his new proposals, on par, for example, with this heart of chocolate and berries.
12. Alain Ducasse. Heart – Milk Praliné. One big heart of hazelnut praliné and fleur de salt, coated with milk chocolate, with bevelled lines reminiscent of his famous chocolate bar.
Praline: Hazelnuts (60%), lace biscuits (flour, sugar, milk fat, milk sugar, salt, malt flour, raising agent), sugar, cocoa butter, fleur de sel. Milk chocolate: cocoa beans, cocoa butter, sugar, powdered milk, cocoa butter, emulsifier: sunflower lecithin, vanilla pods, fleur de sel. Cocoa: 45% mínimum. // https://www.lechocolat-alainducasse.com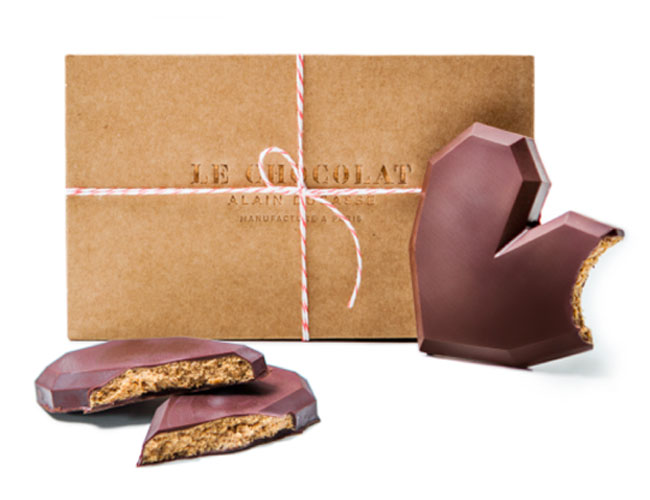 13. Pierre Hermé. The kingdoms of the Sun and the Moon. La Maison Pierre Hermé Paris has collaborated with artist Nicolas Buffle to present a love story between two imaginary characters, Helios and Roxane from the Kingdoms of the Sun and the Moon as it unfolds. A saga inspired by fairy tales, baroque and pop culture.
Each character is a chocolate flavored reinterpretation signed by La Maison. Paineras (pure origin Brazilian dark chocolate ganache) by Helios and Infiniment Vainille (dark chocolate ganache with Tahitian, Mexican, and Madagascan vanilla) by Roxanne, coated with Ispahan (chocolate ganache and raspberry, lychee sherbet and dark chocolate-covered rose). // https://www.pierreherme.com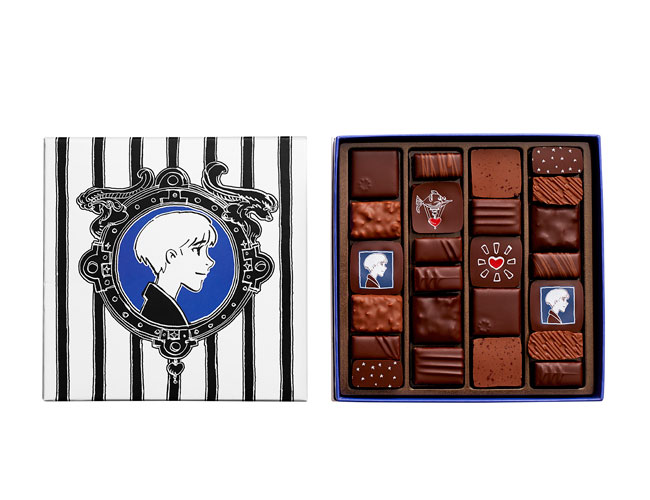 14. The Saint Honoré of lovers. Matyasy. Matyasy offers the customers of its four shops new designs inspired by Valentine's Day. One of them is this great Saint Honoré des Amoureux made with creamy strawberry and strawberry comfit and a whipped vanilla, meringue, and strawberry choux ganache. Pure love. // https://www.matyasy.com/