In the latest issues of our magazine we have observed how the use of berries remains one of the favorites to inspire the creativity of our collaborating pastry chefs. And since red is the color of love and passion, we want to propose a selection of ideas with these fruits to celebrate a different Valentine's Day this year.

A selection of tartlets, gâteaux, strudel, and tea pastries where raspberries, strawberries and cherries play an important role, not only at the level of flavor, but also in terms of decoration. Proposals that have not been designed for February 14 and which, however, are the perfect finishing touch for any romantic date.

Paco Torreblanca vindicates essential pastry

In his latest book, Radix, Paco Torreblanca draws on the best tradition and reclaims timeless, essential, oven and knife pastry, which is above fashion, trends, and social networks.
In the chapter dedicated to the sable doughs, we find this elegant and versatile cooked tartlet of pistachio sablé with raspberry cream, covered with a glaze of 40% Jivara lche topping and decorated with a crown of fresh raspberries.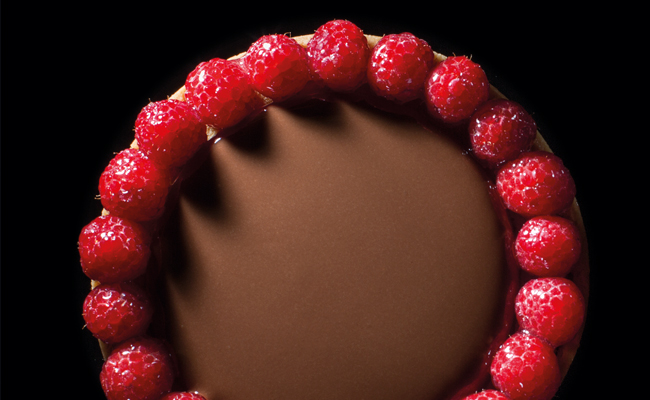 The childhood memories of Lauren V. Haas
When she was little, Lauren V. Haas, an instructional chef at Johnson & Wales University, College of Culinary Arts (New England), remembers devouring fresh strawberries sprinkled with the smallest amount of sugar and covered in milk with her sister. From this happy memory came Strawberries & Cream, the cover of so good # 22, which simulates a strawberry splashing into milk.
A small gateaux where strawberries are suspended in strawberry juice and embedded in a velvety strawberry cremeux. A moist vanilla chiffon provides the base, and the entire gateaux is enveloped in a light mousse. The yogurt adds tartness and Tahitian vanilla adds depth and roundness to these traditional flavors.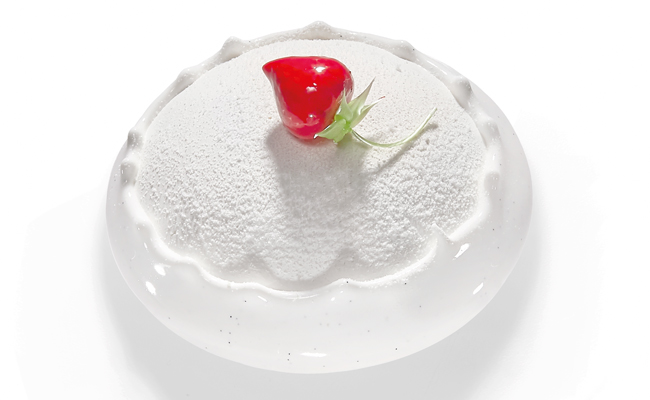 The color red according to Frank Haasnoot
Frank Haasnoot classifies his book Prisma in six colors (white, yellow, red, green, violet, and black) that are the protagonists of unique creations. In the chapter dedicated to red, we highlight this cherry almond choux puff, built upside down in a way. In this piece roasted almonds with amaretto function as a decoration element while adding texture and flavor. The cherry on the top also serves a dual purpose: it echoes the flavor inside with the cherry confit as well as offering a lovely design element.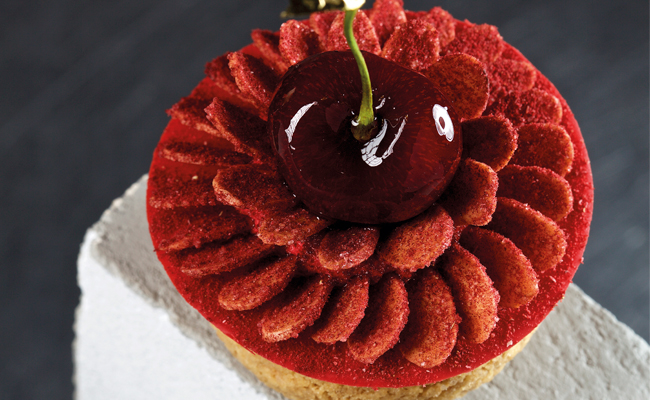 Attirance Fraise by Jérôme de Oliveira
A little over a year ago, Fully Baked Story brought together four world pastry champions (Jérôme de Oliveira, Julien Álvarez, Quentin Bailly and Etienne Leroy) in Bangkok under the title of The Four Musketeers. An interesting masterclass where spectacular pieces such as this Attirance Fraise de Oliveira were developed, which was revealed in so good # 22 and which is composed of pistachio biscuit joconde, lemon crémeux, strawberry coulis, and strawberry bavaroise.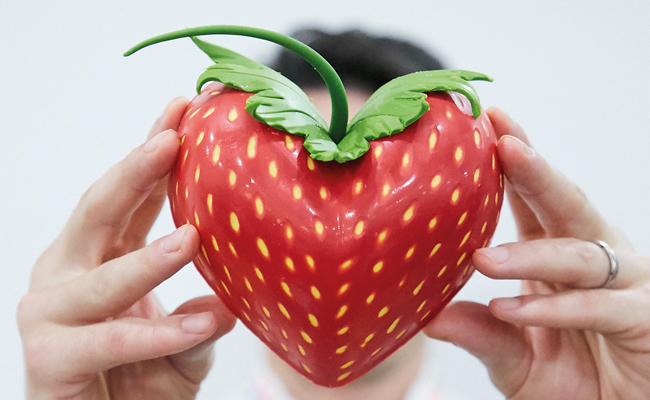 Pierre Hermé, 100% flavor
Ispahan is one of Pierre Hermé's emblematic pieces. In so good # 22, in addition to remembering that the important thing when creating a dessert is to think about what the tasting experience will be like, he shared with us the Millefeuille minute Ispahan recipe. A sweet for sinking your fork or spoon from top to bottom and enjoying all the flavors in full.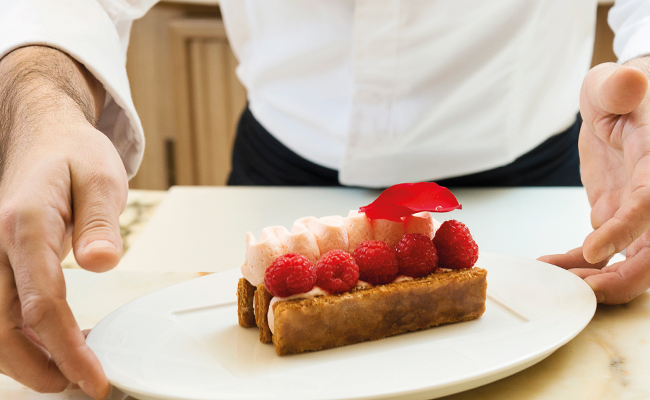 The tropical vision of Yusuke Aoki's Opera

In so good # 23, Yusuke Aoki, winner of the C3 Valrhona 2018, surprised with Strawberry Kaffir Lime Pistachio Opera, a tropical version of the famous Opera consisting of red strawberries harvested in Bali and a Green pistachio sponge. It has a great contrast of tastes thanks to the strawberry gelée, whose tanginess is highlighted by the kaffir lime and cherry, and the sweet cream made with Inspiration Strawberry Chocolate.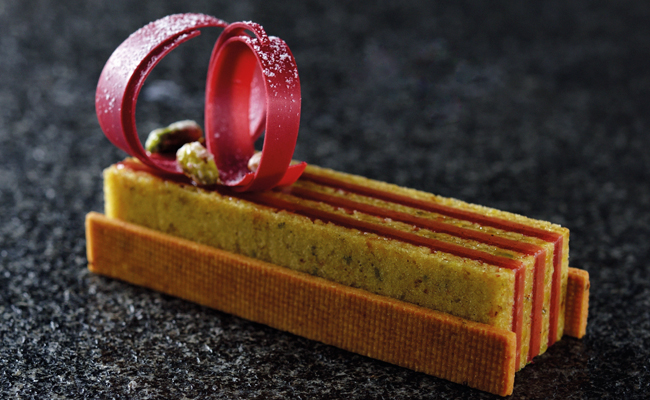 Russ Thayer honors the cheesecake
Russ Thayer, who leads the chef brigade of Chocolate Academy Online, wanted to return to childhood with this raspberry cheesecake. In it, as explained in so good # 23, he wanted to capture the same flavor and textures as the original, "in a confectionery application that is stable at room temperature and easy to eat like a traditional candy bar might be. The crunchy base is not much different than that of a classic cheesecake, except bound with cocoa butter which helps to protect it from the jam and the ganache. The ganache piping on top is meant to evoke the classic swirls often seen in cheesecakes. I chose to hide the raspberry jam inside as a surprise, and also to protect it. "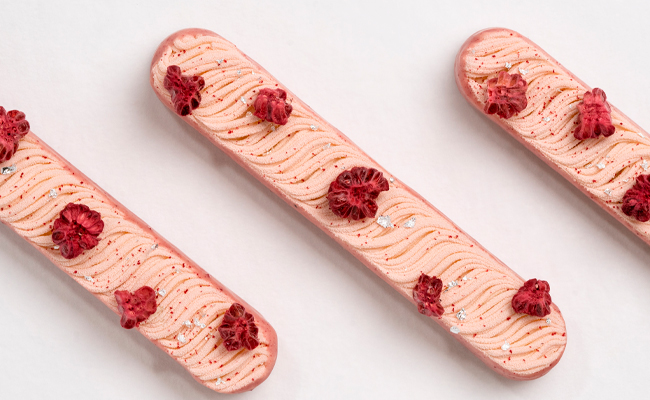 Tea time with Ross Sneddon
Ross Sneddon, the executive pastry chef of Balmoral Hotel (Edinburgh) who has worked in cities like Paris, New York, and London, presented in so good # 23 this delicious tea pastry in which two first-class ingredients are involved: Blairgowrie strawberries and matcha tea. This is how Sneddon describes this snack: "Scotland produces what we absolutely believe to be the finest berries in the world; we only use Scottish strawberries here at The Balmoral for the choux pastry. The Little wild Scottish strawberries are an added bonus and are hand foraged by our pastry chefs. The sweet strawberries play off against the bitterness from the grassy green matcha. This particular ceremonial grade of matcha we use is called Tencha, it is shade grown, deveined and destemmed before being ground on traditional ceramic stones. "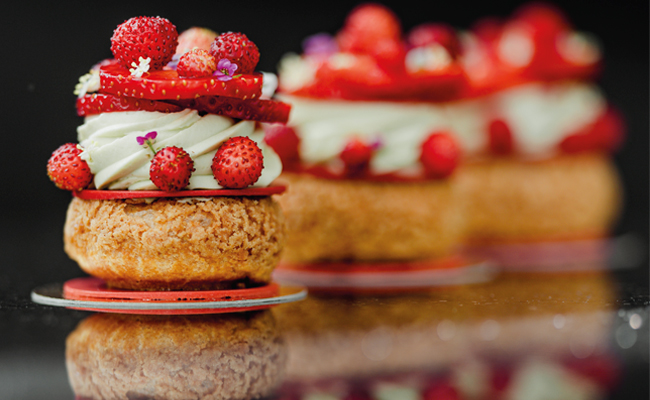 Marco d'Andrea and his perfect mix
At the Hotel Fontenay in Hamburg, Marco d'Andrea presents his creations in a circle, so that he invites the diner to combine all the components that are on the plate and simultaneously enjoy the contrast of flavors, textures, and temperatures.
In so good # 23, we show the beautiful White Chocolate, strawberry, tonka bean, Kalamata olive, mint recipe that has an interesting concept himself explained: "One day my sous chef Mike and I wanted to dehydrate our olives. They are so salty and yummy that we wanted to sell them in small bags for a snack. This idea has not come true. So we decided to make a really complex dessert with strawberries, white chocolate, and of course our lovely olives from Kalamata. "

Strawberry and rhubarb, Hans Ovando's choice
In so good # 23, Hans Ovando, apart from taking stock of the first months of operation of his Bee Pastry Chef School, shared with us some of his colorful creations.
Strawberry and rhubarb is suggestive, seductive, and cheerful. Its ingredients? Gluten-free shortbread, granola, strawberry-rhubarb jelly, yogurt cream and Namelaka strawberry inspiration.