French pastry shops are once again prepared to seduce customers with spectacular Christmas collections. Here we share a selection of 11 bûches, many of them which are limited edition.
Authentic pieces of craftsmanship, with chocolate as an omnipresent ingredient, made in some cases with the collaboration of ceramic artists, fashion designers, and other artistic disciplines. We are struck by its symbolic aspect and the allusion to the sky such as the moon or the stars in many of them. We have an invitation to travel "to infinity and beyond" alongside these very French Christmas pastries.
1. An appointment under the light of the moon with Pierre Marcolini.
Have you ever wanted to travel to the moon? Thanks to Pierre Marcolini you can not only see it up close, you can also eat it and in two versions. One in white chocolate from Maison (with 30% less sugar) that hides a light Madagascan vanilla foam and an interior of mango, pineapple and yuzu decorated with fresh cilantro, and another in dark chocolate, which has a mousse inside of white chocolate (a mixture of cocoa beans from Cameroon and Ecuador) and a core of morello coulant and vanilla cream // www.eu.marcolini.com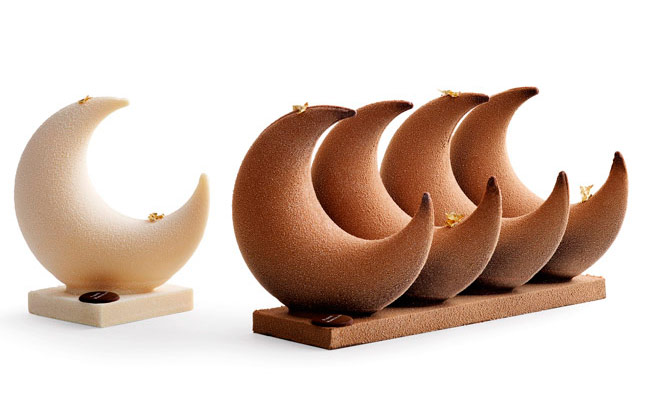 2. Starry bûche by Hugo & Victor x agnès b.
The friendship between the fashion designer agnès b. and Hugues Pouget, creator and chef of Hugo & Victor, has derived in a joint Christmas collection, in which we find this starry bûche composed of a biscuit delicately scented with lemon zest and garnished with a red currant jam. The stars are made with small crispy lemon sablés.
It comes in gold and white tones and has a charitable purpose. Since both artists share a concern for the environment, they decided that part of sales of the log will be donated to the Tara Foundation for the preservation of our oceans // www.hugovictor.com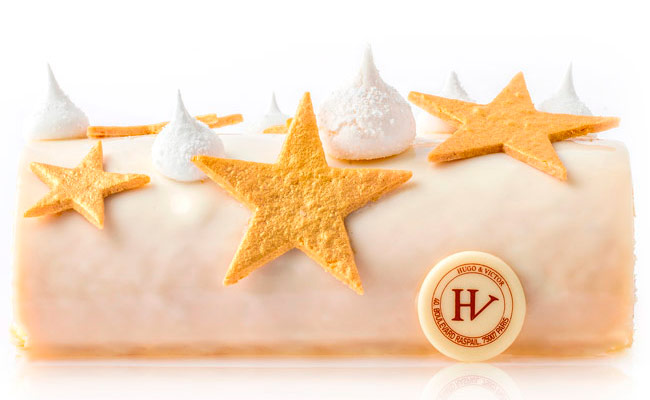 3. Enter Lenôtre's enchanted forest
Madagascan vanilla and French hazelnuts are some of the flavors that can be appreciated in this enchanted forest by Lenôtre populated by squirrels, wolves, deer… that not only fascinates children, but also adults.
Its decoration is inspired by a paper cut artist, Marianne Guély, who also signs the box. It has nine tiaras in white chocolate and pastillage, and is covered with chocolate and wrapped in a coulant of hazelnut praline. In the core there is a roll of dacquois, a bavaroise, a ribbon of hazelnut caramel with fleur de sel … // www.lenotre.com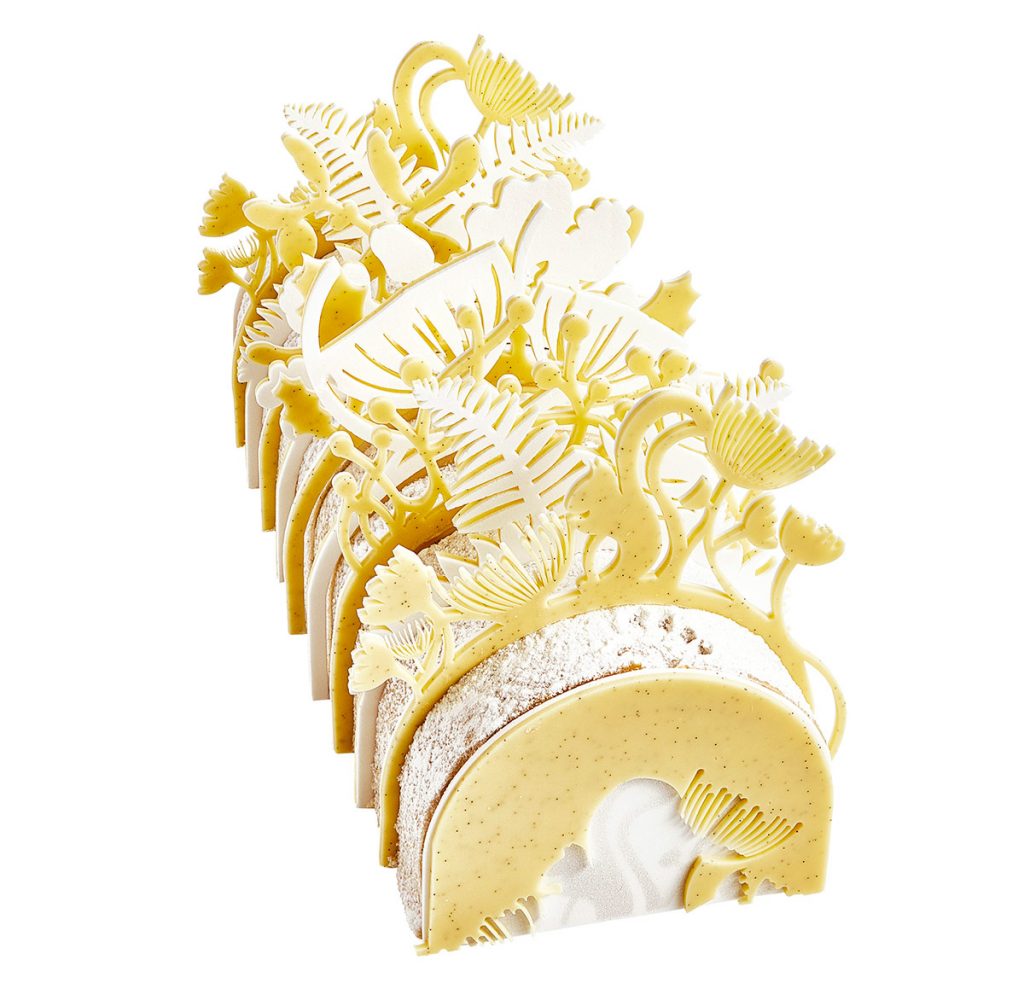 4. Pierre Hermé. Ode to nature
From the collaboration of Hermé with the ceramist Sylvianne Lüscher, Écorces emerges. A limited edition bûche (can only be purchased on request from December 1 to December 31) that we recommend contemplating quietly before tasting. Presented on a very fine leaf of black French stone created by Lüscher, it is an ode to nature.
A thin bark of chiselled chocolate protects four portions of cake. The first impression is of pure chocolate, but little by little you discover the intensity of the raspberries and the crispy taste of chocolate shortbread.
Ingredients: Viennese chocolate biscuit, Chantilly cream with dark and raspberry chocolate, raspberry compote, black chocolate sable with fleur de sel. All sales will be destined to the La Voix de L'Enfant association // www.pierreherme.com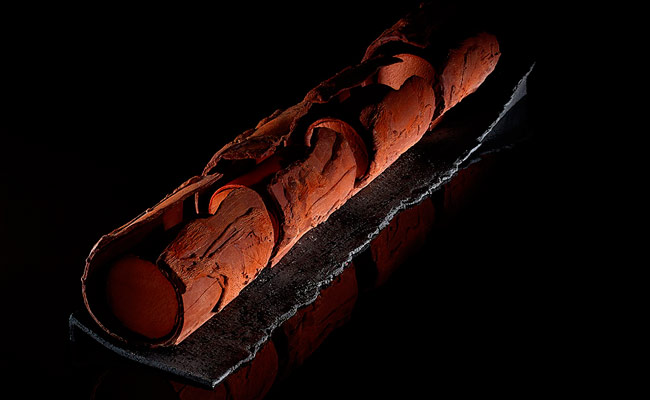 5. Claire Damon's Asian touch
Claire Damon, the owner of Des Gateaux et du Pain is a specialist in making elegant creations that one cannot stop looking at. Her Kashmir bûche seduces at first sight because of its beautiful aesthetics, although the combination of its ingredients is not left behind: almonds, compote of organic oranges, ecological dates Deglet Nour and sweet cream with pistils of saffron and Tahitian vanilla mousse // www.desgateauxetdupain.com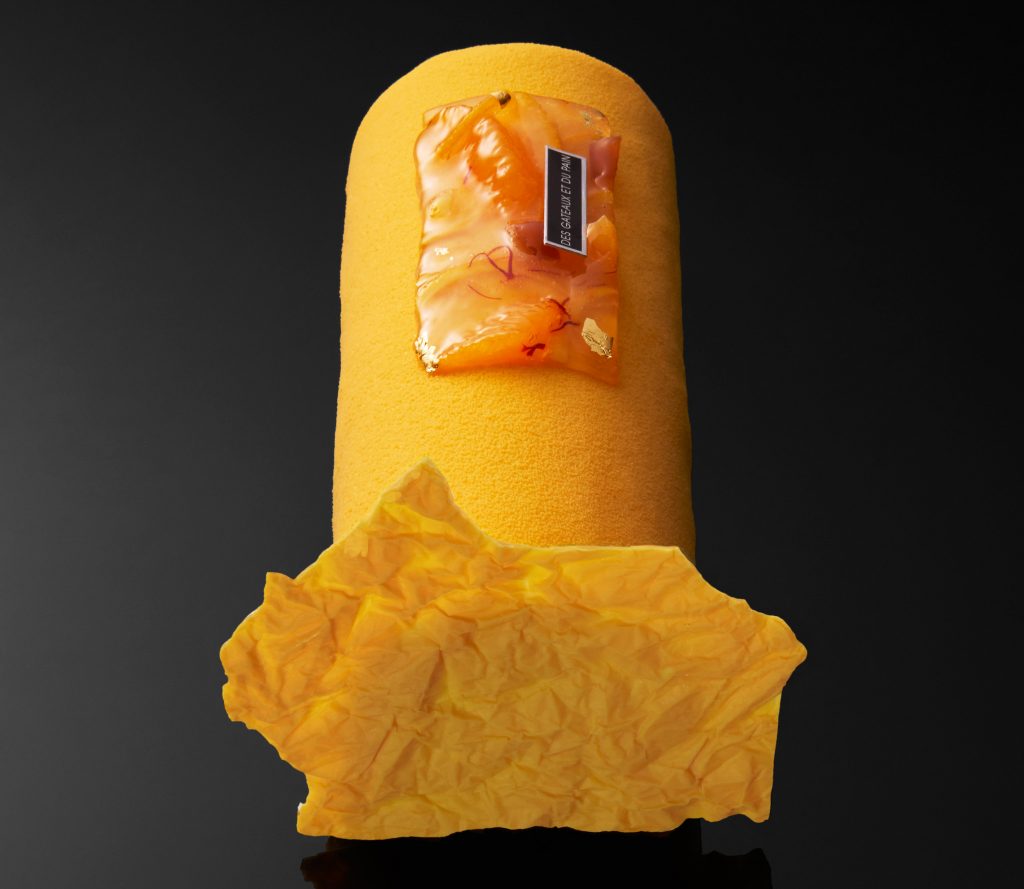 6. Tree, snowman … Christmas in its purest form in Pascal Caffet
A mischievous snowman is at the top of this magical and sweet Christmas tree in Caffet (so good #13). An exceptional entremet composed of 70% intense dark chocolate mousse and biscuit, dark and creamy chocolate interior flavored with Timut pepper. The glaze is dark chocolate 70% // www.pascal-caffet.com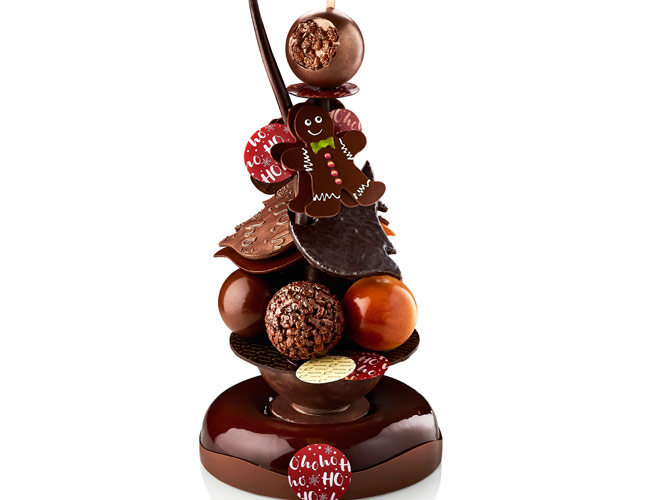 7. Ladurée: power to hazelnuts!
To celebrate the end of the year, Claire Heitzler (so good #7, so good #12), chef of Ladurée, comes up with a dessert dressed in white where the constellations shine like shooting stars in a wintry sky: the Bùche Céleste.
Crunchy hazelnut and almond superposed delicately in a soft biscuit with hazelnut, a walnut mousse and hiding inside, a praline hazelnut coulant. The set is decorated with stars of white chocolate and silver pearls. // www.laduree.com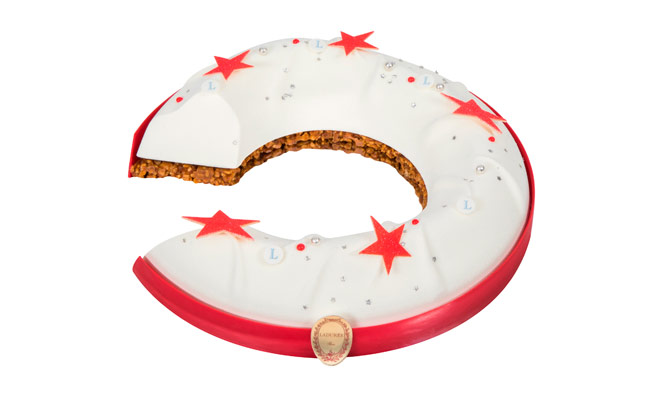 8. Christophe Roussel is flamboyant
Coated with an intense red glaze, with this fruity bûche you will finish your meal with a sensation of lightness. With raspberry, strawberry, and black currant scents, a new texture Is revealed in each spoonful // www.christophe-roussel.fr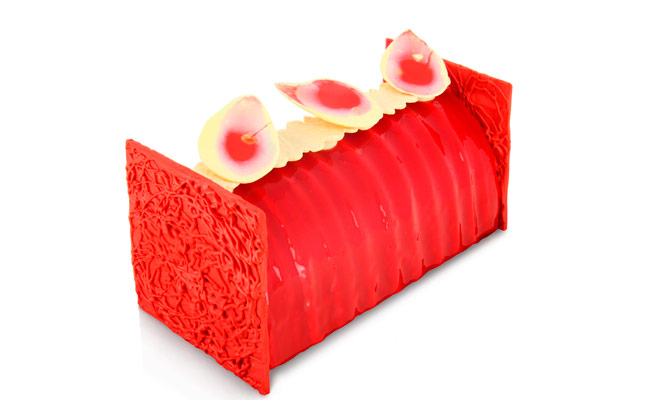 9. A star shines in La Maison du Chocolat
The master chocolatier Nicolas Cloiseau surprises this Christmas with an impressive limited edition piece, 7 kg and 86 cm high, made entirely by hand and full of details.
Composition: 12 stars of dark chocolate with almost 10,000 perforations. Finishes: 55 chocolate balls and 40 sheets of fine gold // www.lamaisonduchocolat.fr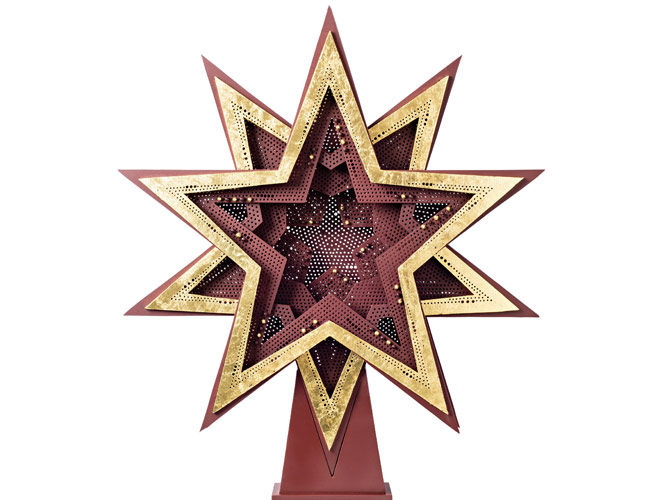 10. Back to the 30s with Jean-Paul Hévin
Hévin proposes a trip to the 30s with logs like the O'clock that marks 12:30, an hour that has not been chosen at random, since midnight is crucial in the celebration of New Year's Eve parties and the 30 minutes are a nod to the 30 years of La Maison's creation.
The mechanism is composed of chocolate infused with bergamot tea, an almond biscuit and raspberry gelée, a dacquois and a chiboust cream with yuzu, and is covered with a Madagascan Grand Cru chocolate mousse // www.jeanpaulhevin.com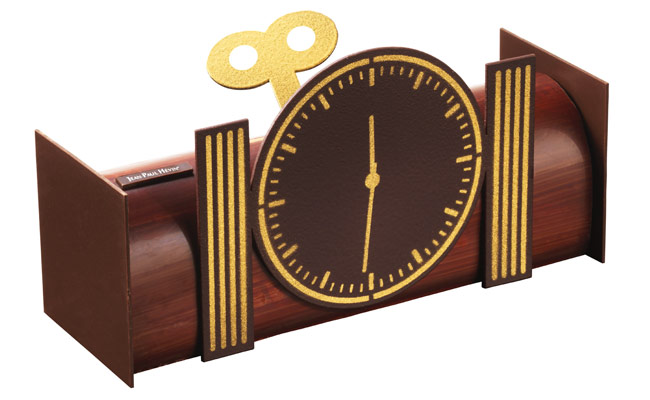 11. The fox, Yann Couvreur's alter ego
Since the beginning of his career, the image of Yann Couvreur has always been closely associated with the fox. Perhaps because his parents were booksellers and this cunning animal appears in many iconic books such as "The Little Prince", or because growing up on the edge of the forest he might have met a fox or two, Yann considers it almost as an alter ego. With it, he shares a playful, free, wild, and gourmand spirit, and this year, he wanted to reclaim it in his Christmas collection, in the form of beautiful "Love" bûches in three perfumes: brown-cassis, chocolate praline, and vanilla-mango // www.yanncouvreur.com