Impulse pastry occupies an increasingly important place in the display cases of artisan establishments. And it is not surprising, since it is a profitable product with high gastronomic and packaging possibilities. Without a doubt, the mini size is ideal for any moment: afternoon tea, a break at work … and it is very attractive for today's consumer who cares about their health and their weight.

Here we gather ten pieces, published in our two pastry magazines So Good.. and Dulcypas, which show that small formats, far from limiting creativity, encourage chefs to use all their ingenuity to create incredible proposals.
1. Russ Thayer turns the Flat White into a dragee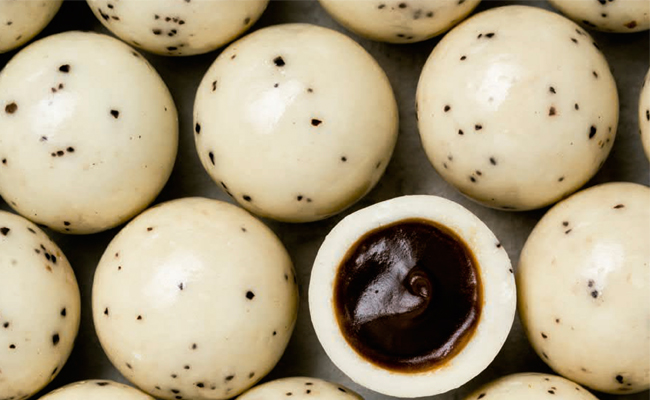 After a successful career, Russ Thayer leads the team of chefs at the Chocolate Academy Online, a position from which he defends the freshness and intensity of natural and intense flavors.
In so good #23, the chef exclusively presented new creations like these dragees, a good example of his impeccable technique and creativity. Dragees that he explains, "are based on the flavor of Flat White coffee. The idea was to find a way to create a quasi-liquid filler inside a craft dragee, a technique that can be difficult to achieve without technology like a one-shot machine. I had to make several attempts to obtain the correct texture of the caramel so that it was fluid, but firm enough to survive the process. "

2. Tea time with Ross Sneddon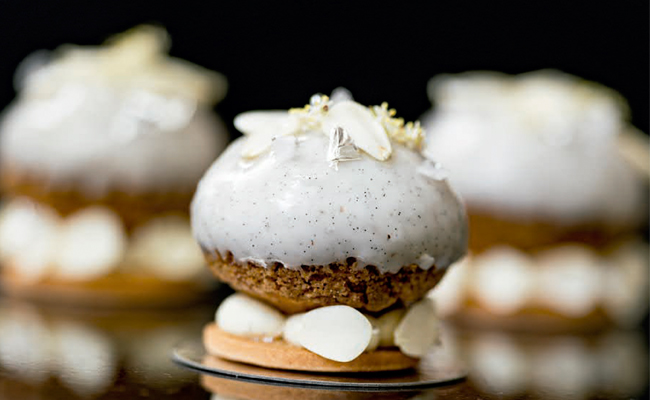 Afternoon tea is in fashion and in the hands of Ross Sneddon, pastry chef at the Balmoral Hotel in Edinburgh, it can be a fun, elegant time full of pastry possibilities as he made clear in so good #23 with this mini piece that has green almonds as the main component and combines the honey taste of the almond blossom with Tahitian vanilla and Maldon salt to achieve a round and complex flavor. In addition, he assures that it combines very well with a Spanish infusion of almond blossom, "it is my favorite combination".

3. Xavi Donnay, great defender of petits fours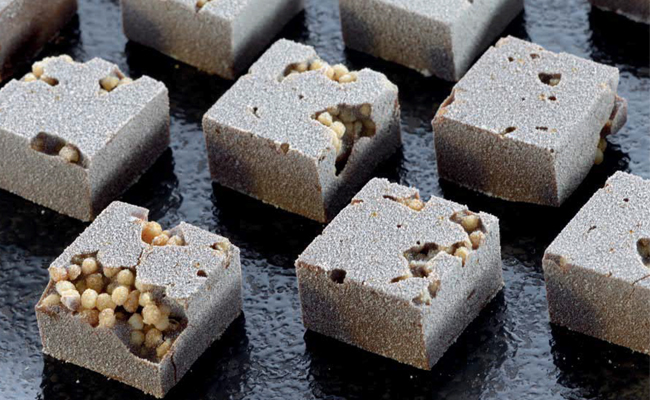 Xavi Donnay, head of the dessert station of the three Michelin star restaurant Lasarte pays a lot of attention to petits fours as he declared in so good #21, since he is convinced that this format is in fashion and will be demanded by the final consumer more and more, not only in a gastronomic restaurant where it is the last flavor that is registered in the minds of diners before leaving, but also in other places and above individual or family formats.
He always surprises and brings a personal touch in his mini-snacks, like this gianduja with black quinoa.

4. Sobacha Sablé by Yann Menguy
At La Goutte d'Our in Paris, Yann Menguy makes French pastry shine with creativity and personality.
In so good #22, this young chef confessed that he is looking for simple and recognizable flavors, although he is not afraid to break schemes and try risky flavor combinations. The truth is that he works a lot with impulse pastry. A good example is this Sobacha Sablé with hazelnut praline.
5. Baltassar Massot. Power to gummies!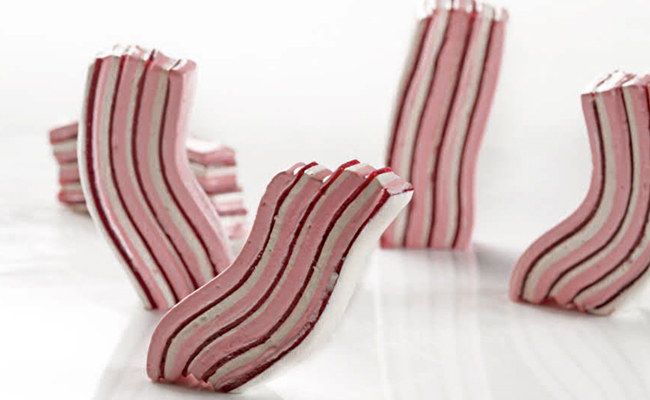 When thinking about childhood, it is very common to recall the taste and smell of sweets such as licorice or the Masky, an elongated candy that could be stretched almost limitlessly.
Inspired by these "delights", Baltassar Massot wants to take us back to childhood in Dulcypas #466 with artisan sweets made up of a soft Masky-type caramel and a strawberry jelly whose texture is reminiscent of licorice. Snacks that make us wonder: why has the artisan lost this confectioner's legacy?

6. Yann Duytsche's fresh travel pastry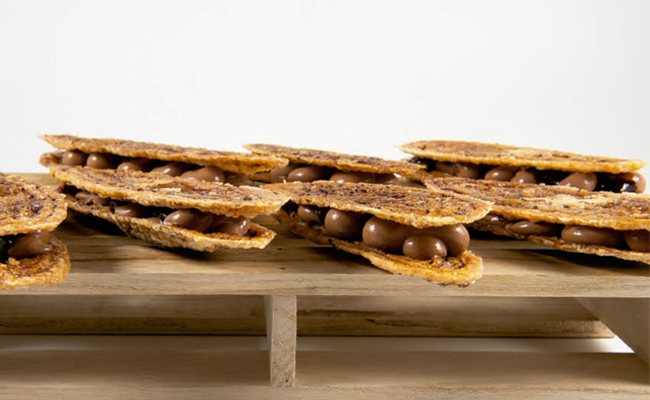 In Dolç (Sant Cugat, Barcelona) a freshly made, immediate service and gastronomic pastry is made, as reflected in the book "A Week with Yann Duytsche". A work philosophy that the French chef also showed during his speech at the fourteenth edition of the EPGB Chocolate Master, where chocolate is explored from various techniques, recipes, artistic possibilities, etc. In Dulcypas #466 we share the recipe for one of the suggestive and crunchy creations that he carried out in this formation: cocoa and grué arlettes.

7. Georgia, the starting point of Jhonatan González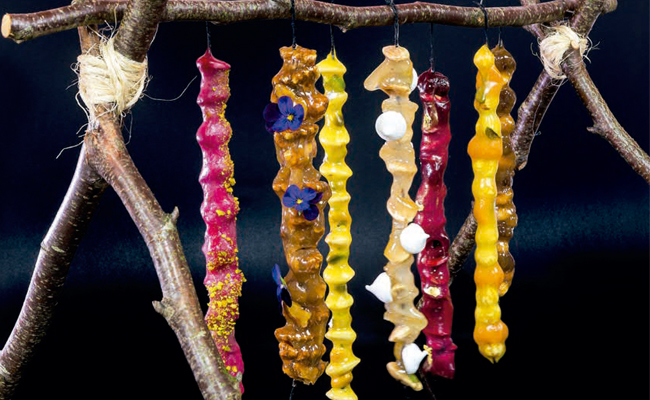 In Dulcypas #467, Jhonatan González paid special tribute to Georgia, the birthplace of his partner Maria Athanasiadou, through a gourmet version of the churchkhela, a very typical Caucasian delicacy sold in street market stalls. As he explains, "it usually combines fruits and nuts, but with a large amount of sugar. We have given it a less sugary air and we have played with the texture provided by the pectins of dehydrated fruit to find fun combinations. We have also opted for corn starch for coatings, when in the original they are usually made with normal wheat flour. I think that the cornstarch allows a more pleasant result in the mouth ".
From a technical point of view, the Asturian pastry chef has put the fruits in pectin through the dehydrator to give a personal touch to this proposal.
8. Raúl Bernal explores creative and packaging possibilities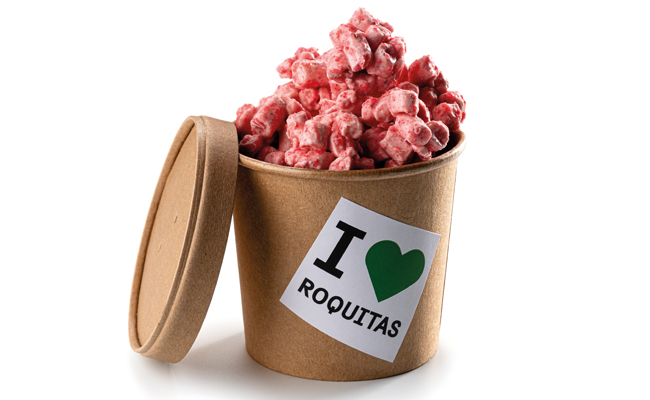 Lapaca by Raúl Bernal is like its owner: multidisciplinary, surprising and unclassifiable. This chef's Huesca establishment is neither a conventional chocolate shop nor a typical pastry shop. Cakes, bonbons, tarts, dragees, or cookies come out of his workshop with which the chef wants to demonstrate that the theory he has taught for years in his courses is real, "the idea is that there is not such a high step between what is shown in demos and what is sold in stores. We try to find more profitable production systems so that each product is viable ".
In Dulcypas #468, in addition to analyzing this unique business, Bernal makes it clear with these little meringue roquitas that impulse pastry, in addition to occupying an important place in display cases, has infinite creative and packaging possibilities.

9. Francisco Broccolo, practical and inclusive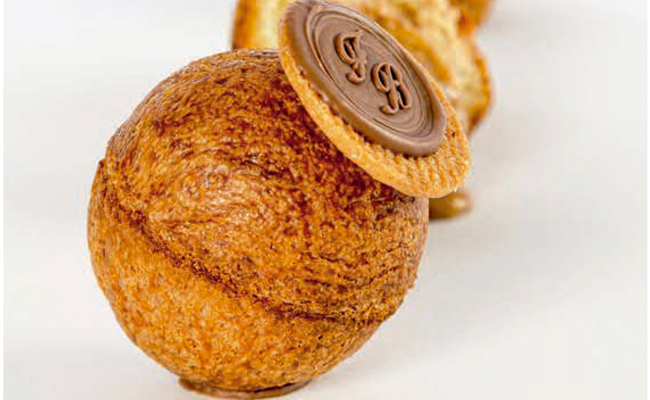 "For me it is like a visual game, a simple product, but at the same time a curious one. Also, being gluten-free, it ties in with my philosophy and search for practicality. " This is how Francisco Broccolo defined this spherical choux in Dulcypas #469. A proposal that summarizes a pastry philosophy that has sparked the interest of professionals in Italy, Spain, and several Latin American countries, and which advocates for local and seasonal ingredients, simplification of techniques and processes, and adaptation of recipes to reach everyone in the public.

10. Eric Ortuño's ultralight churros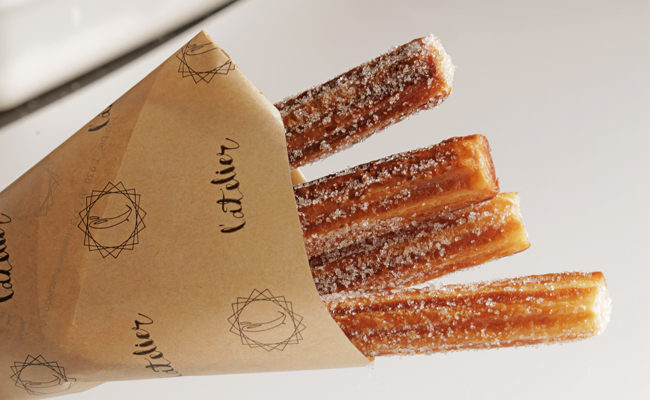 The surprise effect, the constant renewal of the offer, and the desire to offer a unique tasting experience are the hallmarks of l'Atelier Barcelona by Eric Ortuño and Ximena Pastor.
Artisan pastries begin to stand out in its wide repertoire. With pieces like these 3.0 puff pastry churros, Ortuño not only showed in Dulcypas #473 the versatility of croissant dough, but also offered all the crunch of traditional preparation through a lighter and healthier product that is not fried.