One more year, great pastry chefs surprise with interesting and spectacular buches for the Christmas season. It is time to review the Christmas logs that have most caught our attention in this preview of the season.

In our selection this year, we see a clear tendency to represent different elements of nature, from mountains to trees and even driftwood. Some say goodbye to artifice, opting for a "raw" aesthetic, others highlight typical winter ingredients such as chestnuts, some take a trip back to childhood, and there are even those who surprise with artisanal work worthy of being called works of art.
Christmas in Provence with Lenôtre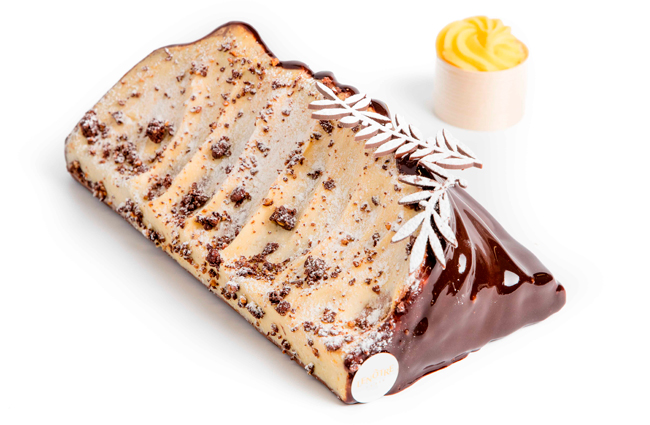 The Sainte-Victoire mountain, located in the south of France near Aix-en-Provence, is one of the recurring landscapes in Paul Cézanne's paintings. A mountain that creative director Guy Krenzer and pastry chef Jean-Christophe Jeanson reinterpret here in two different ways, one snowy and dusty, and the other in deep, bright chocolate.
The bûche is made up of a Joconde cocoa cookie, chocolate parfait with cocoa streusel truffle and pine nuts, pine nut and hazelnut praline, creamy chocolate, joconde cookie, mandarin jam, mandarin orange mousseline, and chocolate ganache. It is served with a mandarin sorbet and olive oil and citrus fruit (Kumquat and mandarin) // www.lenotre.com
Christophe Adam's creativity comes to Barrière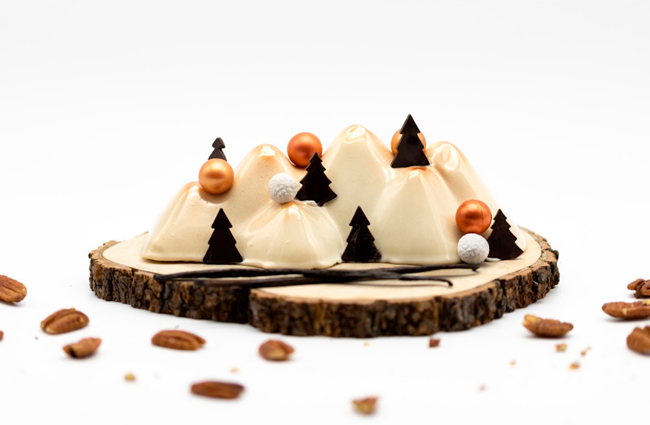 Christophe Adam, one of the chefs who best masters the art of the éclair, creates for the first time for the Groupe Barrière a log recipe. Monts and Merveilles – the name of the piece – evokes the snow-capped mountains, the smell of pine trees, snowflakes, and fire in the fireplace.
Produced by Benjamin Siwek, the group's pastry chef, it combines crunchy sponge cake flavored with maple syrup with walnut praline, Dulcey chocolate whipped ganache, white chocolate coating, and dark chocolate tree decorations and bronze balls // www.groupebarriere.com
Jeffrey Cagnes, no artifice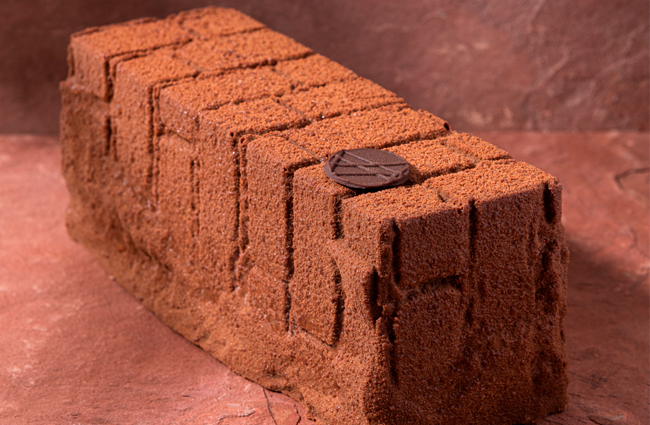 Jeffrey Cagnes gives his chocolate bûche an attractive raw look without artifice. An interesting aesthetic that accompanies a super gourmand composition. Inside there are two generous layers of sponge cake and Peru 64% chocolate with fleur de sel. Between the two cakes we also find a creamy caramel and a chocolate ganache flavored with tonka bean. And to top it off, an insert of caramel coulant with fleur de sel. The whole piece is surrounded by a light Madagascar vanilla cream, covered by a thin and crunchy layer of milk chocolate // www.jeffreycagnes.fr
Driftwood with Le Royal Monceau serial number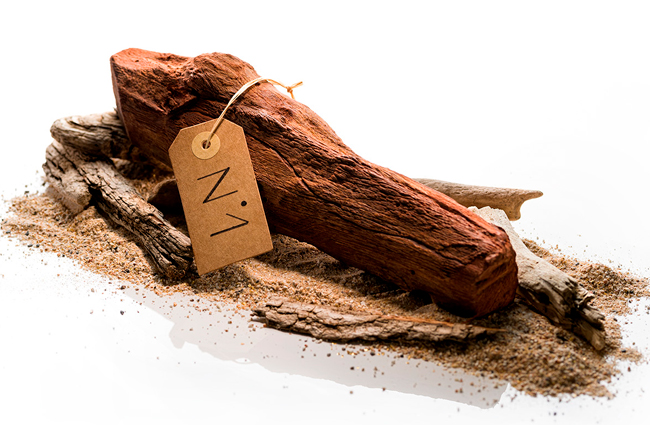 Brown mousse covered with Tahitian vanilla whipped ganache, chestnut cream heart with pieces of marron glacé and a thin layer of vanilla caviar with lemon jam on buckwheat sponge cake. These are the ingredients of the bûche by Quentin Lechat, executive pastry chef of Le Royal Monceau – Raffles Paris.
The driftwood effect is achieved with a chocolate coating and long work carving as if it were a sculpture. Each piece is therefore unique, hence the embedded serial number // https://www.leroyalmonceau.com
Valentin Garnot climbs to the top of Mont Blanc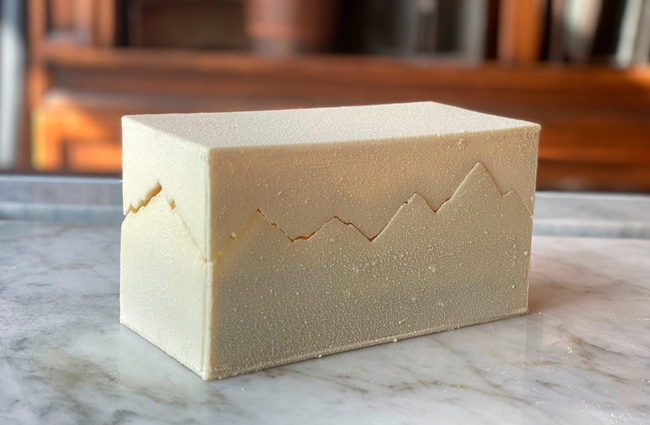 Valentin Garnot, pastry chef at Perlin Tatin, captures Mont Blanc through a bûche in the shape of a white chocolate box. Once opened, it reveals the complexity of its design and its interior.
It is a dessert made from chestnut cake, chestnut noodles, raspberry and blackcurrant jam, creamy chestnut, vanilla panacotta, and pieces of meringue hidden in the lid// https://www.perlintatin.com
Hôtel du Louvre. Pear in three textures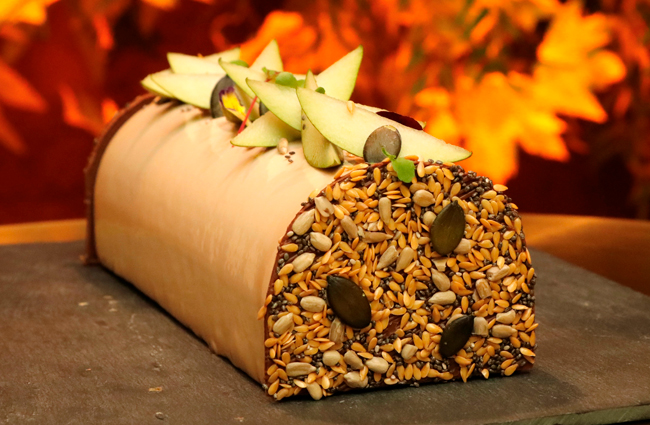 Traditional in appearance and clean in style, but with an interior full of technicality in its setup and textures, chef Julien Delhome's bûche at the Hôtel du Louvre is made up of a crunchy sablé with seeds, an oven-roasted pear insert, a creamy Dulcey mousse, and a pear candied with tarragon.
Without a doubt, the Doyenné del Comice pear is the key ingredient. A winter fruit par excellence, it is equally delicious both raw and cooked. And this is what inspired the pastry chef to offer it in this bûche in three different textures: roasted, candied, and raw // www.hyatt.com/fr-FR/hotel/france/hotel-du-louvre
Snow has come to the Four Seasons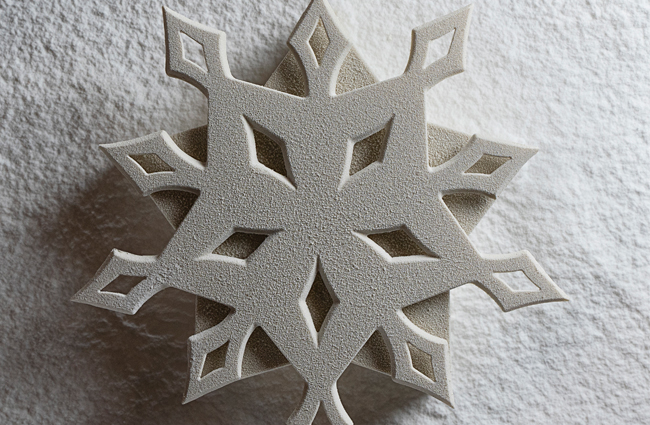 With the bûche Flocon Enneigé, pastry chef Jonathan Chapuy and chef Anne-Sophie Pic pay tribute to the snow-capped peaks that line the Four Seasons Megève Hotel in Haute-Savoie.
As Chapuy indicates, it is a sweet and creamy dessert made with little sugar so as not to saturate the palate. It is made with white chocolate scented with caraway, sponge cake, and creamy vanilla from Madagascar and Tahiti. An alpine milk mousse with a subtle Meyer lemon scent adds a light touch // www.fourseasons.com/megeve
The Surprise Tree by Vincent Guerlais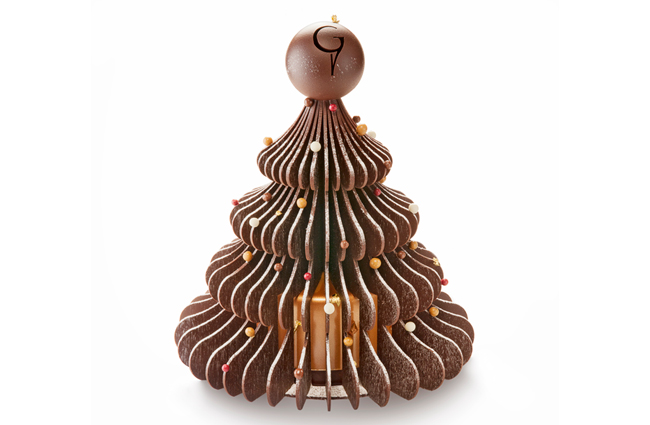 With the bûche Magie de Noël, Vincent Guerlais makes one think of family festivities, by the fire, singing Christmas carols and contemplating the Christmas tree, which is full of fruity surprises.
It consists of 50% Ecuadorian milk chocolate mousse, poached pears with vanilla, caramel and brownies with almond eclats // www.vincentguerlais.com
Infiniment Praliné Pistachio by Pierre Hermé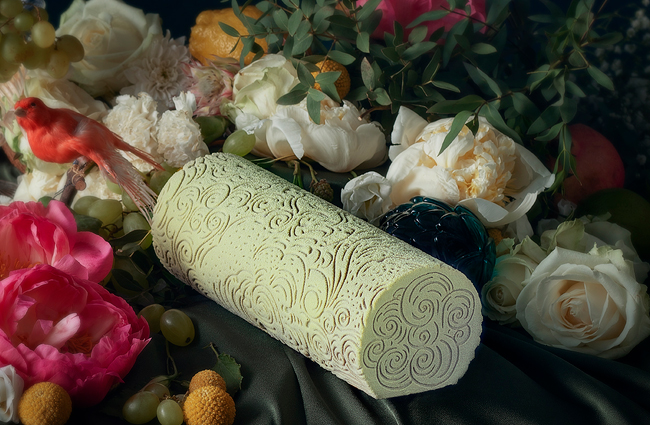 In this Infinitely Praliné Pistachio from Iran bûche, Pierre Hermé plays with numerous contrasts: sweet, smooth, crisp, and crunch, working with pistachio in different nuances.
It consists of a pâte sablée and a pistachio-soaked biscuit, a crunchy melted pistachio praline, a smooth cream, and a pistachio chantilly cream // www.pierreherme.com
Philippe Conticini puts the refreshing touch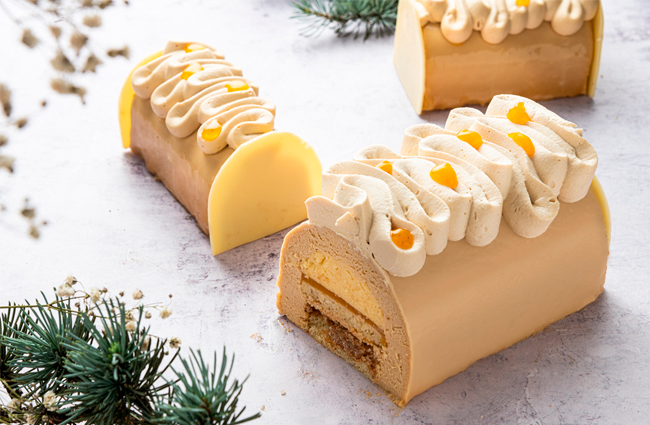 For gourmets looking to end their long Christmas meals with a fresh dessert, Philippe Conticini proposes this sweet yuzu and kumquat bûche.
On the one hand, we have an almond and vanilla financier biscuit topped with a crunchy crumble. On the other hand, a dulce de leche mousse covers the two layers of biscuit and contrasts with a powerful yuzu cream and a fresh kumquat confit. The whole log is covered with a sweet glaze and welcomes a mounted ganache sprinkled with kumquat confit drops. // www.philippeconticini.fr
Photo: Kevi Rauzy
Sébastien Serveau, back to childhood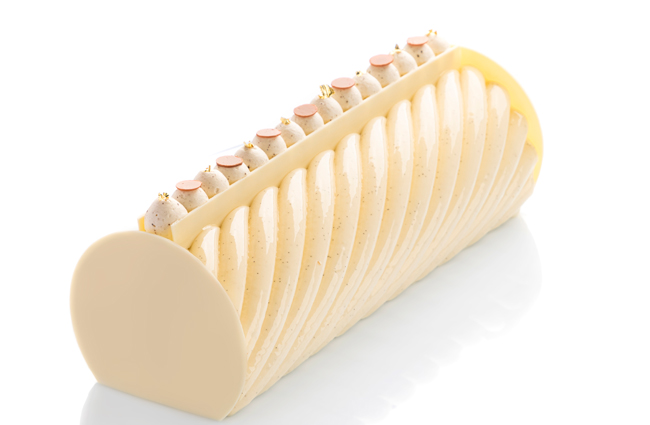 At Pâtisserie Fine (Versailles), Sébastien Serveau presents the bûche Finesse, made with a Madeleine biscuit, a crunchy puff pastry with éclats de speculoos, an apple insert poached with Christmas tea with cinnamon, ginger, cloves, and orange peel notes, a creamy speculoos, and a Tahitian vanilla mousse.
"With its twisted shape that reminds me of the lollipops from fairs of my childhood and its authentic aromas, it will transport gourmands back to their childhood" // www.patisseriefine.fr

La Maison du Chocolat. BOULEversante!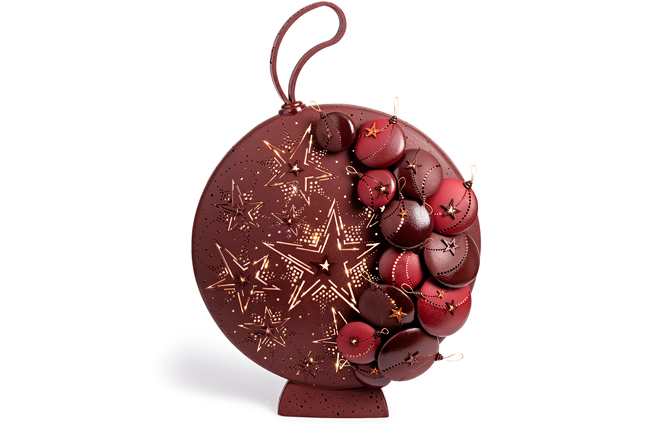 This year, Nicolas Cloiseau lights up his chocolate with a garland full of perforations with which he achieves a multitude of reflections.
This unique piece, of which there are only 10 copies, is made entirely in the workshops of La Maison du Chocolat de Nanterre by artisan chocolatiers. The ball is made entirely of 69% pure dark chocolate Isla de Santo Tomé origin, molded from two hemispheres and decorated with 26 Christmas balls of five different diameters. The set has 2,916 perforations decorated with stars and colored with a spray gun // www.lamaisonduchocolat.com