February 14 is fast approaching, and lovers are beginning to think about what to give that special someone. For pastry chefs it is a good opportunity to explore their artistic sensibility and make elegant creations.
In this selection we collect pieces where roses and pink and red tones prevail, but without falling into clichés, designed for the most gourmand couples.
1. Mon koeur by Christophe Michalak
The big day is coming, and lovers do not know if it is better to give a flower or something sweet. With Mon Koeur, Michalak (so good #2, so good #4, so good #8) ends the dilemma. Its appearance is that of a rose, but in reality, it is a spongy chocolate cake covered with a creamy caraïbe dark chocolate 66% and yuzu, combined with an exotic compote with the aroma of passion fruit and lactée chocolate mousse // www.christophemichalak.com
2. Pierre Hermé and his huge floral heart
The natural rose flavor of cooked quince is featured in Coeur Venus, a piece of "haute couture" perfumed and fruity, ready to bite. A delicate crunchy sablé breton where Pierre Hermé rightly combines the sweetness of rose mascarpone cream with the light acidity of the quince and the freshness of the apples.
Ingredients: breton shortbread biscuit, cake, candied and apple flavored with rose, rose mascarpone cream // www.pierreherme.com
3. Michel Willaume's hyper-realistic rose
The World Pastry Champion only uses chocolate and glucose to get Red velvet rose, included in the Dobla catalog, a brand for which he is an ambassador.
For more than 20 years the company has been producing roses with this technique, but when they are produced in an industrial way, they do not achieve a real appearance. Willaume goes a step further with these hyper-realistic roses that, moreover, are compatible with production terms // www.mwpastry.com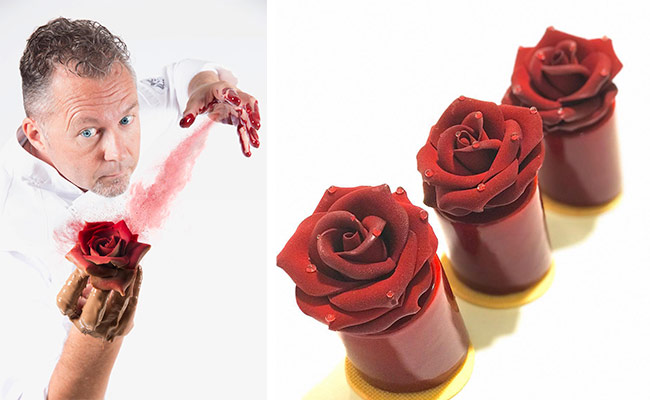 4. Grolet continues to explore fruits
In the Dalí restaurant of the Hotel Le Meurice you can taste, on February 14th, an exceptional menu created by Jocelyn Herland. A culinary proposal that ends with citron rose, a delicate and refreshing dessert signed by Cédric Grolet. The chef, who recently published the book Fruits, offers here a pink version of his famous Citron en trompe l'oeil, which will be accompanied by a Laurent Perrier Alexandra Rosé 2004 //  www.alain-ducasse.com
5. Andrea Valentinetti Raspberry power!
Andrea Valentinetti, chef of Radici Restaurant, has used the new Silikomart molds for Valentine's Day when designing this creation with a vanilla sablé breton base. A cake in which we find milk chocolate namelaka cream, barley crumble, and raspberry in three ways (cream, gelée, and meringue) // www.radicirestaurant.it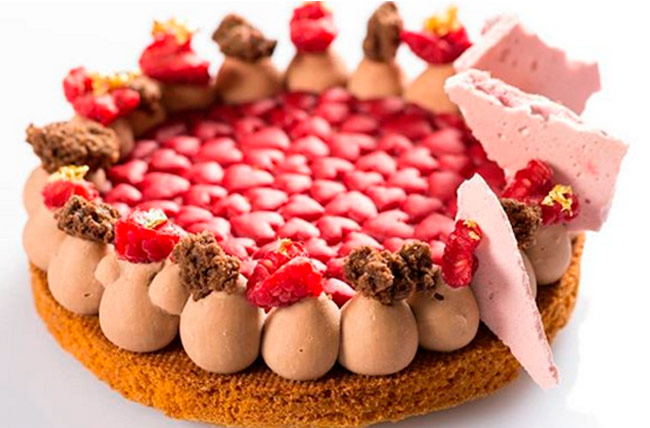 6. Paolo Griffa and Pavoni, a good tandem
Pavoni has relied on Paolo Griffa to show the full potential of his line of Gourmand silicone molds to decorate and personalize sweet and savory dishes. A collection whose main attraction is its interior filling.
With these molds the Italian candidate for the next Bocuse d'Or has designed a sweet recipe for Valentine's Day from raspberry sponge cake, cream of mascarpone and vanilla, white chocolate decorations, among other ingredients // www.paologriffa.com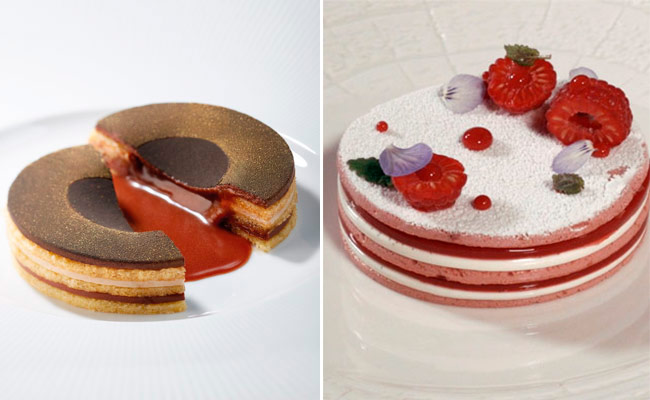 7. Croque Madame and Croque Monsieur by Hévin
Following the same aesthetic as in his Christmas collection, Jean-Paul Hévin presents for Croque Madame Valentine's Day, with Grand Cru du Belize chocolate mousse, and Croque Monsieur with almond flavor, and Brazilian Grand Cru's dark chocolate mousse. What the chocolate of Hévin has joined together, let no man put asunder! // www.jeanpaulhevin.com