We never get tired of saying it. Christmas is a magical date for haute pastry. The great chefs surprise each year with original and captivating proposals, demonstrating not only technical mastery, but also knowledge when it comes to pairing flavors and textures. On this occasion we are looking especially at France to find out about some of the most fascinating surprises in the format of the Christmas log, or bûche de Noël, as it is known there.

In our 2022 Christmas ranking, we see a clear commitment to honoring cities and regions, from Paris to Provence. Some opt for minimalism with pieces that do not even look like logs, there are those who resort to effective trompe l'oeil, and there are even those who establish a connection with fashion.
Éric Raynal, a lover of Provençal terroir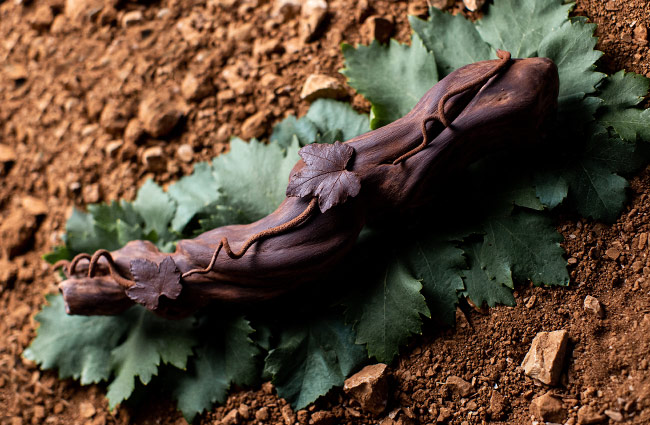 Éric Raynal, lover of Provençal terroir and pastry chef at Le Jardin de Berne*, wanted to use olive oil, one of the emblematic products of the region, and combine it with Château chocolate in his Christmas bûche. On an aesthetic level, he has been inspired by the vineyards of Château du Berne -the hotel where the restaurant is located- to create a trompe l'oeil in the shape of the trunk of the vine.
Underneath its crunchy chocolate crust is a Joconde biscuit with olive oil and lemon, accompanied by a creamy fruity black olive oil. The touch of spice is provided by the Château chocolate mousse and fruity green olive oil that instantly melts in the mouth.
Quentin Lechat. Five flavors in a single bûche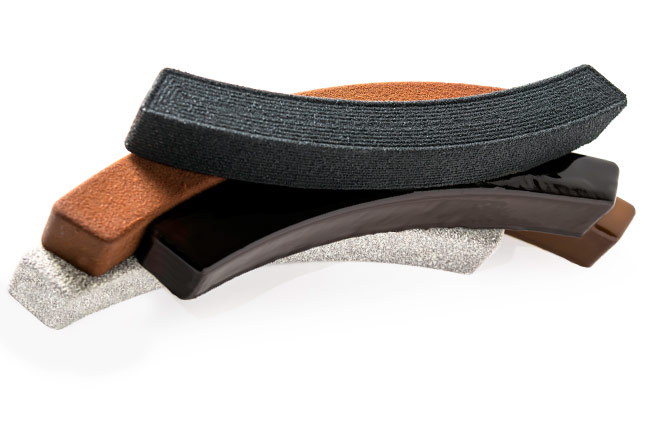 Quentin Lechat, pastry chef at Royal Monceau – Raffles Paris, brings together five flavors in a single bûche, thus multiplying the possibilities of satisfying all diners. Five bars of heterogeneous and complementary flavors that he recommends tasting in this order: Vanilla Bar, Milk Chocolate Tonka Bar, Tatin Bar, Praline & Dacquoise Bar, and Deep Chocolate & Cranberry Bar.
But what was he inspired by? The idea of ​​the bûche often starts with a sketch. For this chef, the first pencil stroke represents a curve. The five bars recall the instinctive movement of the drawing. "Each of the bars that make up the set is free from the others. As a result, the bûche is not sliced, but deconstructed before the bars are cut independently," he explains.
With La Maison du Chocolat came the gifts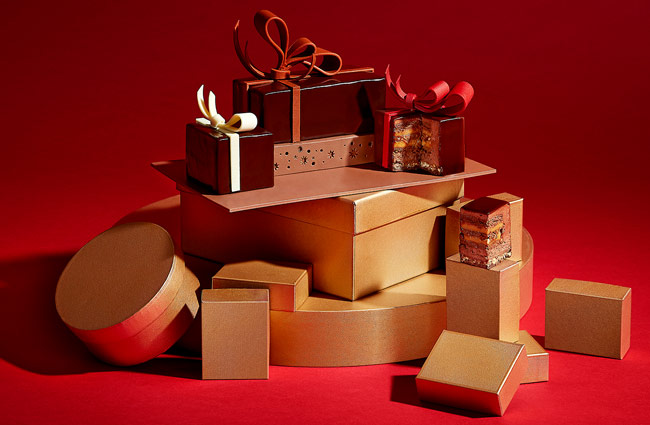 This year, Nicolas Cloiseau from La Maison du Chocolat, having caught the Christmas spirit and the enthusiasm for the characteristic gifts of this holiday, presents the Absolument Cadeaux bûche, made up of three bûches in the shape of a gift with chocolate as a starting point.
The intensity of the 71% Cameroon origin dark chocolate mousse contrasts with the fluid notes of salted caramel that glides over pecan praline grains. Also, milk chocolate covered pecans are placed on a bed of brownie with caramelized pecan powder. No detail is missing, it is even decorated with chocolate ribbons (white, milk, and strawberry) and a perforated milk chocolate base decorated with stars.
Frank Haasnoot's Red Santa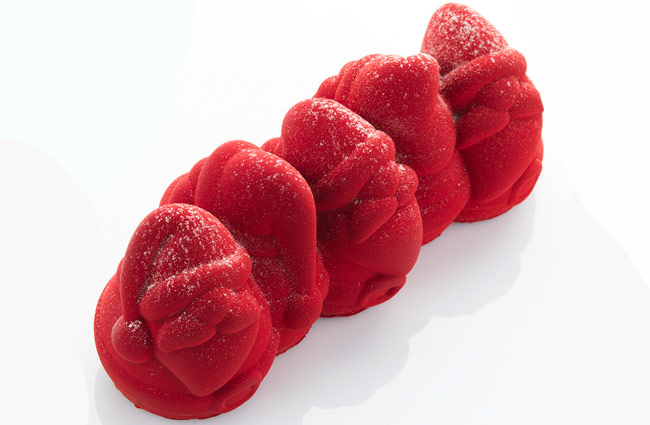 In 2021, Dutch pastry chef Frank Haasnoot created a winter village wonderland with snow-covered houses and trees. This 2022, he wanted to complete this postcard scene with Santa Claus. The result is a red bûche which is "very visual and cute and together with the rest of the bûche design, your Christmas dinner will be a real spectacle creating a winter wonderland on your dining table", he says.
Regarding the ingredients, the World Chocolate Masters 2011 maintains the classic and seasonal flavors with mandarin orange, chocolate, and hazelnut.
Haute Couture at Park Hyatt Paris-Vendôme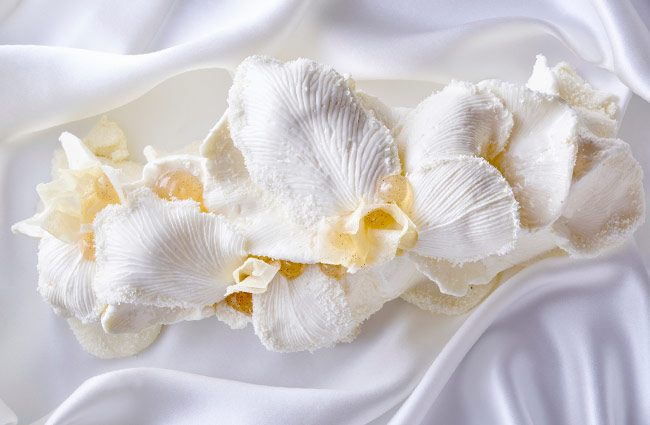 Naraé Kim, pastry chef at the Park Hyatt Paris-Vendôme, pays homage with this bûche de Noel to Jeanne Paquin, who played an important role in changing the female silhouette in the 1930s. Very sensitive to the connection between pastry and art, Kim works with precision the details and reliefs of her work in order to immerse us in the universe of this French designer who marked the history of Fashion.
When choosing the ingredients, the chef combines pear at the heart of the bûche with hazelnut cooked in two ways: hazelnut biscuit and hazelnut fermented for three months. A 72% Venezuelan chocolate mousse surrounds this insert and the pear cream, eau de vie, brings a lightness to the tasting.
The Hôtel Fouquet souvenir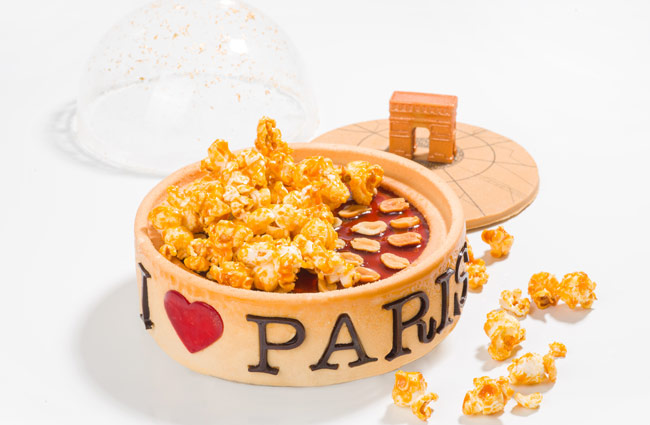 For his first Christmas creation under the banner of Hotel Fouquet's Paris, Anthony Coquereau has created a Christmas bûche with a Parisian look and New York flavors.
A piece that represents a crystal snowball, one of the most popular souvenirs in the world, that shows the emblematic Arc de Triomphe inside and, a stone's throw away, the hotel.
Composed of a peanut biscuit on crunchy peanuts and roasted corn, this entremet contains a creamy caramel heart and a popcorn-flavored cream. Covered with a mousse that recalls the flavors of the famous American popcorn, this souvenir will delight the most gourmand thanks to the caramelized corn chips that are placed on the log. Plus, it's 100% edible.
Yann Brys is inspired by Venice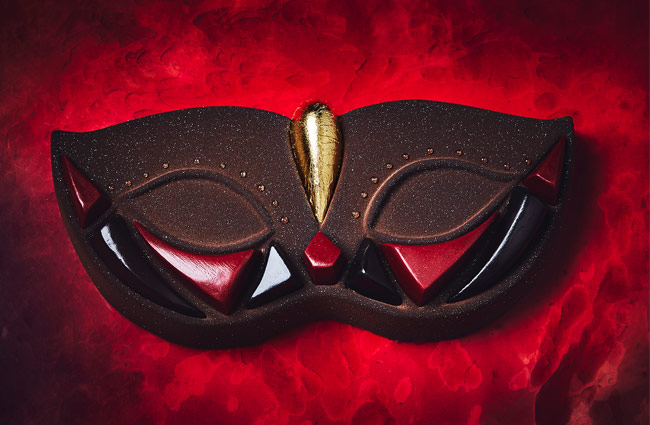 Evok presents a collection of Venice-inspired Christmas bûches, in anticipation of the opening of Nolinski Venezia in early 2023. Yann Brys, Creative Director and winner of the Meilleur Ouvrier de France award, has designed five creations that pay homage to the Queen of the Adriatic , respecting the unique identity of each Evok location: Brach, Sinner, Cour des Vosges, Nolinsky, and Evok.
Thinking of Sinner, who draws on the vibrant energy of a historical neighborhood, transforming it into an uncompromisingly edgy interpretation of a cultured lifestyle, Brys proposes this piece in the form of a Venetian mask. His composition? Chocolate and cocoa nib shortbread crisp, chocolate and hazelnut butter biscuit, Oabika panna cotta with cocoa extract, raspberry compote, Manjari chocolate mousse, raspberry pâte du fruits, and Oabika caramel.

Alain Ducasse explores Asian fauna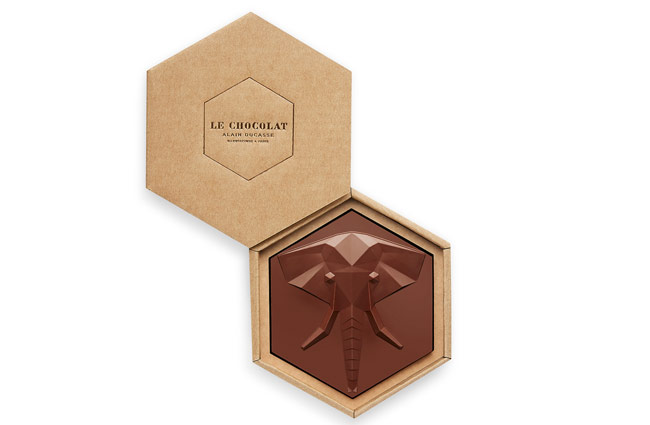 The Manufacture de Chocolat Alain Ducasse completes this year its world tour of flavors and invites you to explore Asia through tigers, elephants, and monkeys, with the complicity of chocolatier chef Quentin Gaigneux, artistic director Pierre Tachon, and illustrator Agathe Singer.
The elephant is presented in two formats. On the one hand, the Hexa-Elephant, in dark or milk chocolate, which has in its interior figs, candied oranges, almonds, and pine nuts from Corsica. On the other, figures of little elephants, in dark or milk chocolate, are ready to be placed along the Christmas table.
A most magical Paris with Pierre Hermé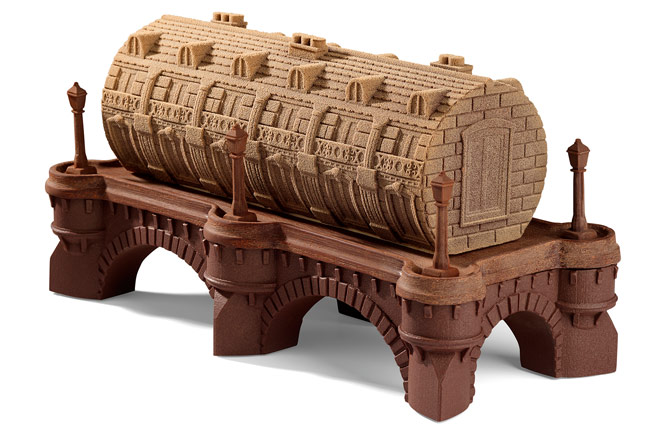 The bûche Exception Tout-Paris is presented as a magical interpretation of the Pont-Neuf made of dark chocolate filled with puffed rice praline. Its ingredients are ginger biscuit and spiced Viennese biscuit, and caramelized puffed rice.
To launch both this bûche and the rest of the Christmas collection, the pastry chef has teamed up with artist Octave Marsal to pay homage to the city of love. "I immediately accepted Octave's work. He gives life to a sketch then to an articulated drawing, without a really precise meaning, but where each piece fits perfectly in a soft and captivating spiral giving an impression of volume", assures Hermé.
The Peninsula Paris reinvents signature desserts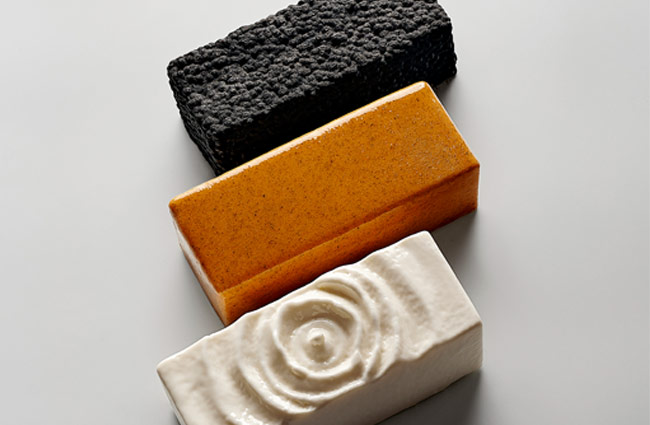 Anne Coruble, pastry chef at The Peninsula Paris hotel and Prix Passion Dessert 2021, reinvents the signature desserts of the hotel restaurant, L'Oiseau Blanc, in the form of three Christmas bûches.
One of them reinterprets one of the first desserts presented by Coruble in autumn 2020 and is made with yogurt cream combined with fresh fennel and candied lemon, mounted on a compote of blackcurrant and fir-tree yolk vinegar, which is joined by a lemon sponge cake with pine, delicately placed on a raw milk crisp. The second is a nod at Tahitian vanilla, specifically at its Vanilla-Tobacco dish. The trio is completed with a creation that pairs black truffle and hazelnuts.
Barrière. A bio version of the Black Forest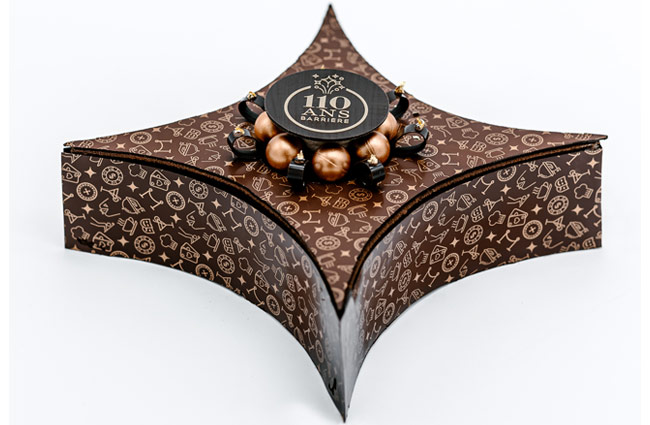 Barrière turns 110 years old this 2022. A special anniversary that is reflected in the bûche de Noël, signed by the group's chefs Benjamin Siwek (Traiteur Barrière) and Hugo Sipp (Fouquet's Abu Dhabi).
For the occasion, both pastry chefs wanted to reinterpret the traditional Black Forest based on organic and gluten-free ingredients. In this version, a creamy Andoa Bio chocolate from Valrhona is combined with an Isigny cream from Normandy, the sweetness of an Organic Bourbon vanilla mousse from Madagascar with a cherry compote with kirsch, and the crispy chocolate meringue. An inspiration drawn from the Alsatian origins of Sipp and Polish origins of Siwek, with sour cherries, kirsch, vanilla, and chocolate.
Philippe Conticini. 100% hazelnut

Hazelnut lovers will enjoy this Philippe Conticini bûche in the shape of Christmas baubles.
The chef works with this nut in various textures in the biscuit to achieve an intense hazelnut flavor and a smooth mouthfeel. It consists of a crunchy hazelnut based on chopped hazelnuts and a 69% almond/hazelnut praline. A light and creamy hazelnut mousse, flavored with Madagascar vanilla, a touch of coffee, and fleur de sel, accentuate the flavors.