For years, Easter has been a fantastic opportunity to see the talent and originality of the pastry chefs who are currently setting trends.
In this selection, we present creations are based on the traditional Easter egg, but offer unpredictable results. Some are works of art, others speak of travel, animals, and children's games. And all are a good example of how to work with chocolate.
The rabbit incorporated into the animal world of Manufacture Alain Ducasse
As a nod to its opening in London, La Manufacture Alain Ducasse incorporates a rabbit in its Easter collection, one of the symbols of Easter in the Anglo-Saxon countries, created by Pierre Tachon. Available in dark chocolate or milk chocolate, it hides small almond praline eggs inside // www.lechocolat-alainducasse.com
Tribal "Egg" Art "by La Maison du Chocolat
An exclusive, limited edition piece, made by Nicolas Cloiseau and composed of nine eggs decorated in milk or dark chocolate, perforated or covered in gold leaf. It also incorporates masks which have colors and flavors related to the countries where cocoa is grown: Ghana (dark chocolate Ghana 68%, dark praliné with pecans and slivers of caramelized pecans) , Java (milk chocolate Island of Java 45%, half dark/half milk praliné with crushed caramelized cashews) y Brazil (dark chocolate Brazil 55%, milk praliné with almonds and hazelnuts with slivers of caramelized biscuits) // www.lamaisonduchocolat.fr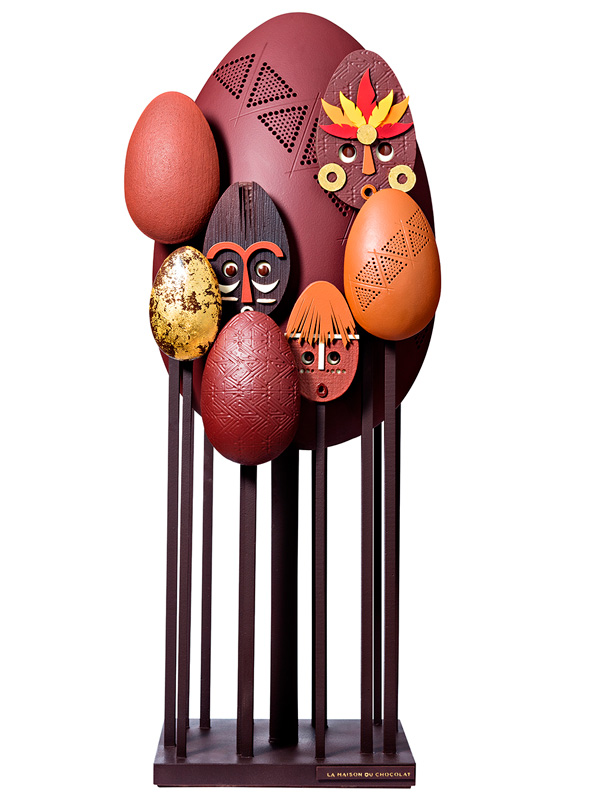 Dominique Costa. Shall we juggle?
Enchanteresse, a poetic reinterpretation of the diabolo, is the name of the Easter egg of the hotel The Peninsula Paris. The egg is 100% Signature chocolat, a specific creation of Valrhona for the hotel; a dark 70% chocolate with a delicate touch of citrus and timut pepper that hides an interior of fritters and chocolate bonbons and pralines. The symbols of The Peninsula Paris stand out: Dancing Leaves, the lobby's spectacular chandelier is here turned into golden leaves delicately put on the egg. The sticks of this gourmand "diabolo" are inspired by the Cantonese gourmet restaurant, the LiLi // www.peninsula.com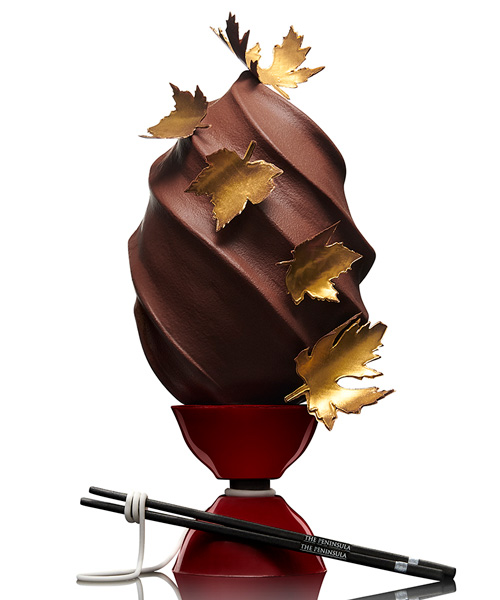 The friendly animals of Raúl Bernal return
Raúl Bernal continues to expand his varied and mythical collection of chocolate animals with bulging eyes and rounded finishes. This season we find friendly and curious animals such as the platypus and the koala, which seem to come to life thanks to the semi-spheres and Easter eggs // www.raulbernal.es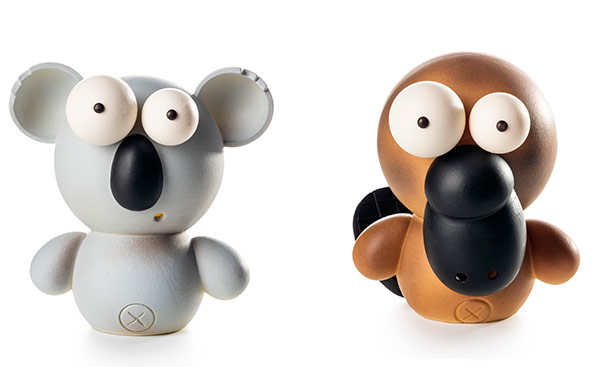 Jimmy Mornet's beautiful tribute to Native Americans
Inspired by a trip to Arizona, the Park Hyatt Paris-Vendôme pastry chef wants to pay homage to Native Americans with this reproduction of the face of the chief of the Amerindian Hualapai tribe, made with 64% Manjari dark chocolate and 32% Dulcey chocolate, and decorated with Jivara 40% milk chocolate feathers. It is topped with small Piedmont hazelnut praliné lacté eggs.
For this piece, Mornet invested a minimum of ten hours of design and 50 hours of creation // www.hyatt.com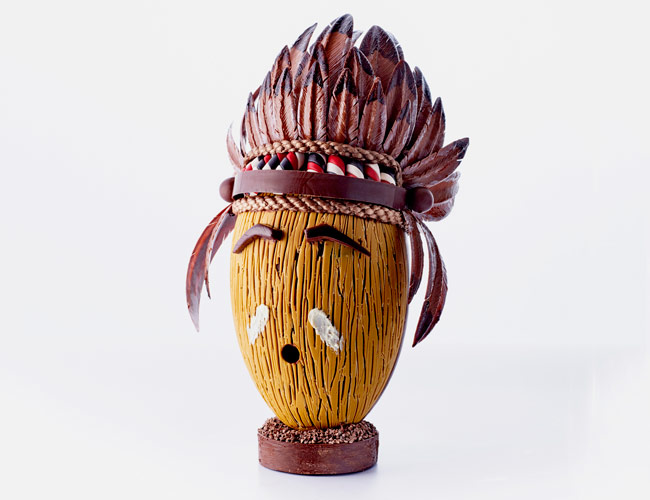 MOOD Chocolate Christofle x Pierre Hermé
Pierre Hermé makes a gourmand interpretation of MOOD, a piece by the famous French goldsmith brand Christofle. An edible work of art that combines the emblematic materials of the two maisons: Christofle's silver and Hermé's chocolate.
It can be purchased in two versions: MOOD, measuring 18 cm and weighing 400 grams, is a flat-bottomed egg that opens and closes like a precious box of sweet delicacies, made with a mold and randomly coated by hand with silver leaves. And MOOD limited edition, 30 cm and 1,950 grams, made with dark chocolate of almost two kilos -Pure Origine Belize, District de Cayo, Plantation Xibun 64% cocoa-, also coated manually with silver leaves placed at random // www.pierreherme.com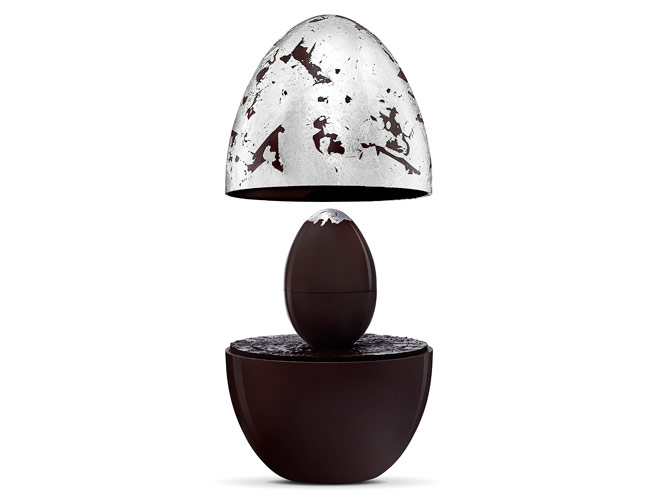 Ersnt Knam dyes Easter red
Knam turns the classic Easter egg into a juicy strawberry made of Peru Pachiza 70%, dark chocolate sprayed with red cocoa butter, and decorated with sugar plates and white chocolate colored in yellow // www.eknam.com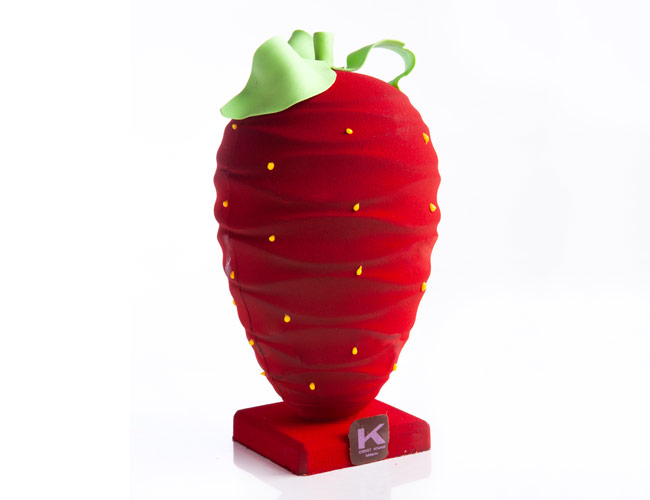 Grolet. Break and share!
Cédric Grolet proposes a crispy hollow egg in trompe-l'oeil in three flavors: peanut, cocoa grué, and pistachio. The idea arose from the desire to have a product that can be broken and shared. Its interior is covered with a layer of praline coated with a fine dark chocolate // www.dorchestercollection.com/en/paris/le-meurice/
Chocolate and nuts, Pascal Caffet's winning combination
Pascal Caffet presents an incredible gourmand collection of chocolate eggs; some with toasted almonds, others with caramelized nuts. A series consisting of four eggs: Enrobé (intense 70% dark chocolate partially coated with milk chocolate and toasted almond pieces), Précieux (puffed rice, toasted almonds, caramelized pecans, coated with 40% milk chocolate) , Croq'Télé (70% intense dark chocolate, orangettes, caramelized almonds and hazelnuts, dried grapes and raw pistachios with dried raspberry chips), and Siglé (intense 70% dark chocolate shell and milk chocolate shell combined). // www.maison-caffet.com
Saray Ruiz's seaside Easter
Saray Ruiz (so good #13) returns to bet on the sea as a landscape and source of inspiration. The EPGB teacher presents bottles with secret messages and a pair of seagulls which are painted with colored chocolate, placidly put in the harbor // www.escoladepastisseria.cat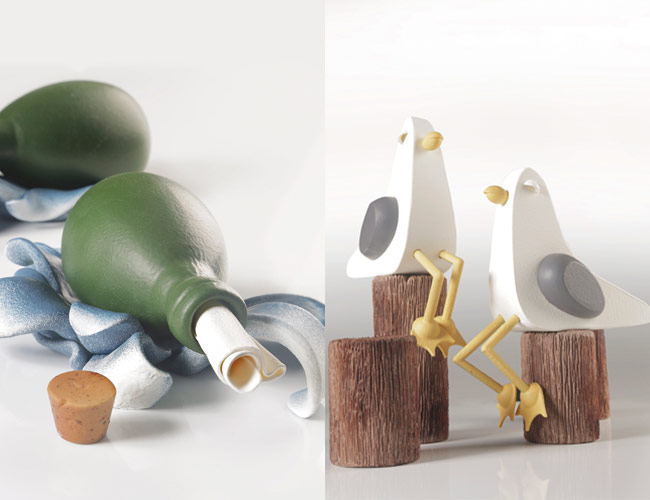 Lenôtre and his masked entremets
Guy Krenzer, chocolatier and pâtissier of la Maison, has been inspired by the animal world of Michaël Cailloux to make these entremets. The owl mask (in milk chocolate and caramel, white and black vanilla), panda (in dark chocolate, milk, caramel milk and white vanilla), and raccoon (in white chocolate and vanilla, dark, and with milk) hide revisited recipes from the popular Opera Lenôtre // www.lenotre.com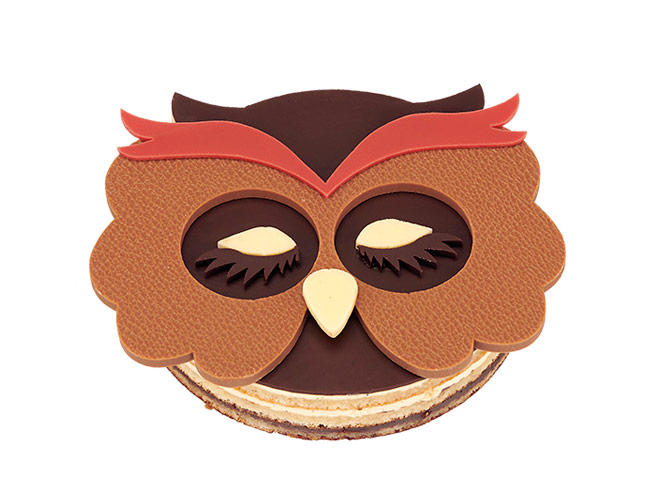 Chocolate, chocolate, chocolate, and chocolate with Michalak
Christophe Michalak has created four traditional eggs, of different textures and percentage of cocoa, for all tastes: Oeuf Brillant Noir (66% dark chocolat, cocoa grué, Pâques fritters), OEuf Rocher noir (dark chocolate 66%, gré cocoa, fritters from Pâques); OEuf Brillant lait (42% milk chocolate, cocoa pearls, Pâques fritters), and OEuf Rocher lait (42% milk chocolate, toasted hazelnuts and almonds, Pâques fritters) // www.christophemichalak.com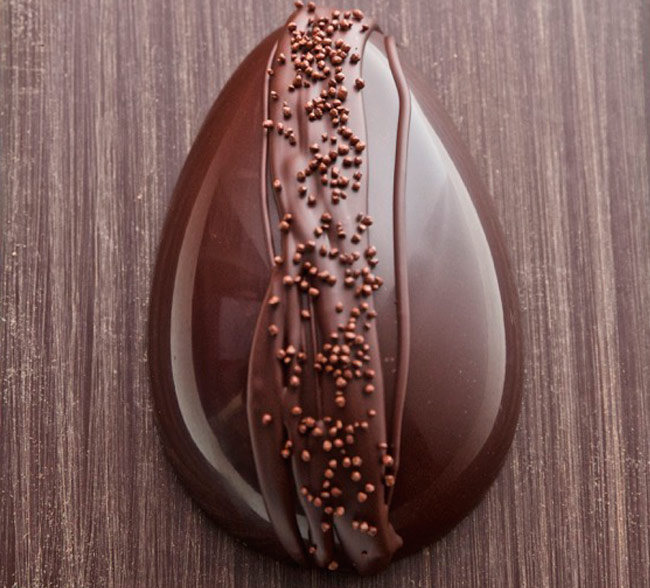 Traveling with Jean-Paul Hévin
Travel lovers will love Airport, Jean-Paul Hévin's chocolate trolley. Egg shaped, it is made up of dark chocolate and 68% cocoa filled with praline from the maison. The piece is included in the collection "Mon carnet de voyages", in which the pastry chef proposes ideal bags to transport all kinds of animals, from fish to hens // www.jeanpaulhevin.com