Maintaining an active attitude towards the rampant deterioration of our planet is no longer a fashion, or even an option. It has become an obligation. And it is urgent. As far as our sector is concerned, more and more voices are being raised to warn of the need to start thinking differently. The elimination of plastic in the workshops, composting, energy saving, maximum reuse of ingredients and products, working as much as possible with local producers and choosing suppliers who are really making an effort to adapt to a more reasonable and sustainable production are some of the issues that can be implemented on a daily basis, without the need for a regulation that requires it.
In this section de so good.. 29, dedicated to sustainability in the pastry industry, we have invited seven chefs from around the world to share their diagnosis of the current situation, and to learn about their practices in their daily work. And, of course, we also asked them to show us an example of sustainable pastry, a recipe in which this effort to reduce environmental impact can be appreciated. And the results are more than interesting.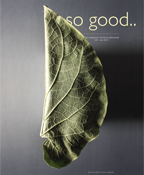 Below we share some reflections on these great seven pastry chefs featured in the magazine. If you want to delve deeper into the subject, you can consult complete interviews and recipes in so good.. 29.
Lauren V. Haas
Her interest in sustainability led her to pursue a master's degree in Sustainable Food Systems from Green Mountain College. And it was this concern for the environment that led her to propose to so good.. magazine the publication of this thematic block.
Haas proposes to act in several directions, relying on local producers to obtain ingredients, reducing waste production, eliminating disposable plastics and opting for compostable materials, or optimizing energy consumption.
'Equipping the next generation of chefs with core sustainability competencies will have a long-lasting impact'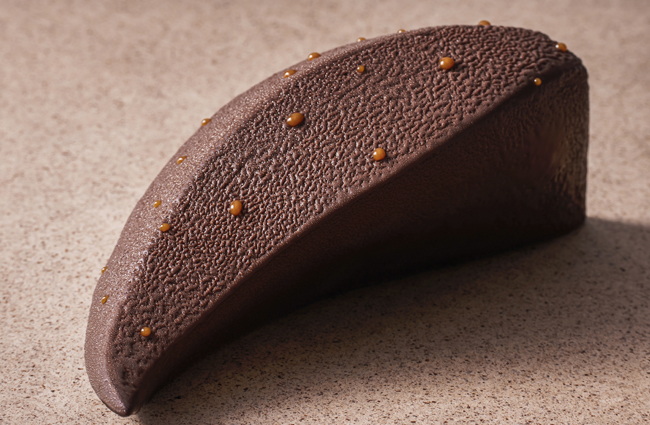 A plant-based entremet without the use of plastic or silicone molds, featuring polycrop ingredients. For the mousse and coating, Hass used Cacao Barry Evocao™ WholeFruit chocolate, which is made only with cacao liquor and natural sugars extracted from the cacao Pulp.
Francisco Migoya
This Mexican chef based in Seattle (USA), head chef of Modernist Cuisine, shares with us his philosophy about what pastry should be today, which he executes through a system he has baptized as 'Simplissimus', which he explains as follows: 'It consists of a self-imposed rule in which I can use no more than three ingredients in a plated dessert. Not three components. Three ingredients (salt, sugar and water are not considered part of the three-ingredient total equation).'
'Our fruit might be grown with environmentally sound methods, but if the people who harvest it are working for slave wages, then it is not sustainable'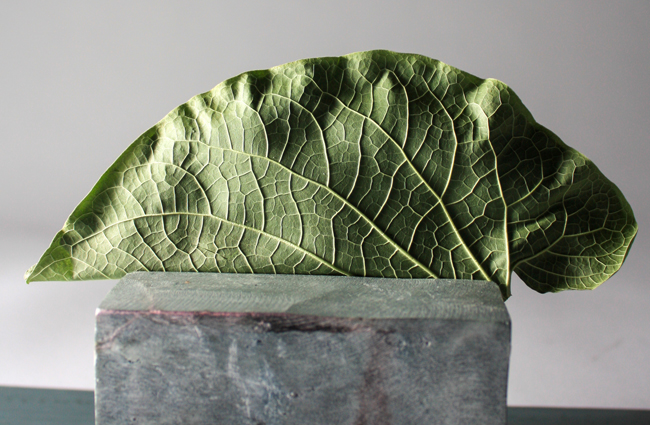 It's composed of only two ingredients – heavy cream and vanilla, which along with the leaf itself add up to the three allowed according to its regulations. A creation inspired by the classic and extremely simple but delicious root beer float, that ball of vanilla ice cream floating in a cold root beer.
Juan Contreras
For 16 years, Juan Contreras has been the pastry chef at the scintillating Atelier Crenn, where he teams up with Dominique Crenn, with such outstanding achievements as winning the third Michelin star in 2018. Here, they believe that you can't obtain a fresher product unless it's hyper local, so they decided to start their own farm to grow a large part of the ingredients that are later served in the restaurant.
'If it's not in season, don't use it. If it's not local, forget it'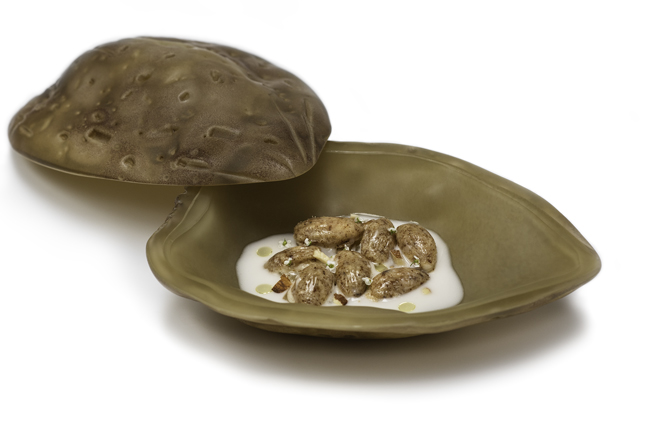 A dessert based on almonds, using the produce of the farmer Victor Camutti at his Almond Blossom Orchard. Very simple, utilizing nothing but the almond to create various textures and intensities of the same flavor. Clean and refreshing.
Nicolas Dutertre
Nicolas Dutertre, currently Head Chef for the Chocolate Academy Montreal and leading the team of chefs, has been working in this last area for eight years. Behind him is a solid professional career at the École Nationale Supérieure de la Pâtisserie Française and alongside Christophe Michalak at the legendary Plaza Athénée in Paris. This respect for the craft and for the resources that pâtisserie and chocolaterie take from the environment, leads Dutertre to an active militancy in favor of sustainability. Good practices such as recycling, elimination of plastic bottles, use of many compostable products, reduction of electricity consumption.
'Pastry making draws its resources from nature and our duty is to value and protect these same resources'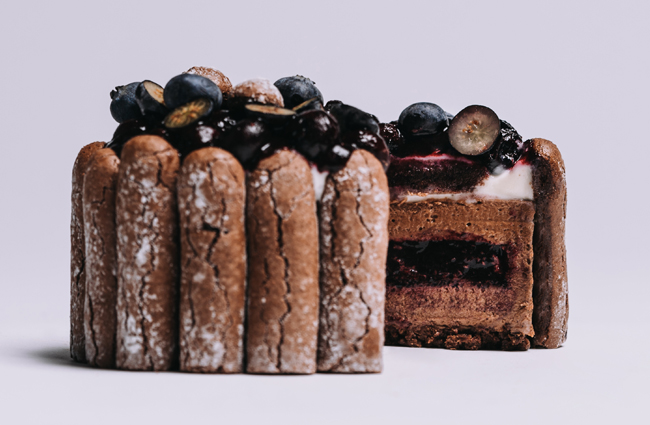 Having sustainability in mind, Dutertre wants to find a way to upcycle macaroon shells that cannot be used. He mixed the dried macaroons into a fine powder and created a recipe to obtain a cookie with the same look as the ladyfingers.
Jo Barrett
This multifaceted chef says that all of her activity is inspired by nature, including her hobbies, such as gardening, fly fishing, diving and cooking over fire. Barrett defends to work directly with producers because this helps them to farm in an ethical way they have a chef who can work with what they have.
Composting organic waste is another process that can have a large impact on the environment for her. The chef started using more honey over refined sugar. It requires less processing and transportation.
'We can change the world by changing the way we eat'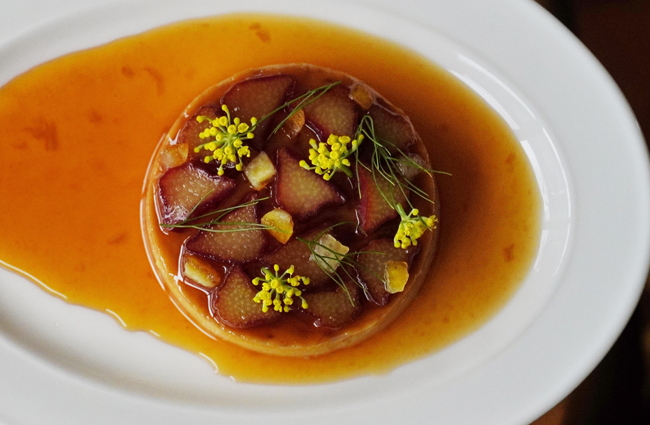 A tiger nut crème caramel with seasonal fruits. This crème caramel doesn't contain any dairy or refined sugar. It uses an invasive plant (tiger nuts), a native nut (macadamia), a natural sugar (honey) and seasonal fruit (rhubarb).
Nicoll Notter
Speaking of responsibility and sustainability, Nicoll Notter is blunt about what we need to do, 'it's the correct way to work, but more importantly – it's the way we should all want to live.'
The necessary awareness-raising begins by asking some basic questions. 'How much energy do our kitchens output with the use of ovens and freezers? Are we recycling our plastics? Are we trying to avoid using plastics? Are we composting?', the chef wonders.
Following this soul-searching, he thinks that pastry chefs are also responsible for the viability of the ingredients they use as well as the choice of suppliers.
'If I'm working in New York and a customer wants a strawberry cake in December then it's my responsibility to say no'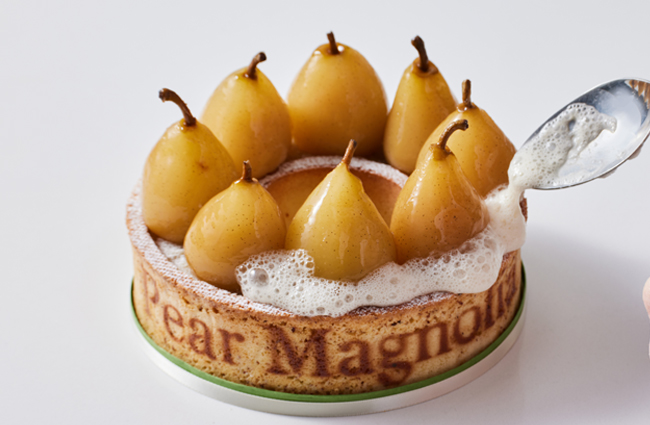 Notter created a pear entremet with the intention of showing how to make an entremet without using a freezer or mold and using seasonal products. He made it in mid-October; during the time when pears were very much in season and while being purchased from the Union Square Farmers Market in Manhattan from Cardonna Farms located in Marlboro, NY.
Natsuko Shoji
In Été Restaurant in Tokyo, Natsuko Shoji -elected Asia's Best Female Chef 2022, by 50th Best Restaurant and The Best Chef FoodArt Award 2022- implements some measures to combat these dangers, 'I introduced the biodegradable compost to my alma mater, and every trimmed part of ingredients from my restaurant and the cake shop go there. The students use the compost to fertilize their vegetable garden, and harvest the vegetables from there, and use them at the cooking class. And the trimmed part from the cooking class also goes to biodegradable compost. It's a beautiful cycle,' says.
D'At my cake shop, I only make cakes by request. In this way, there's no wastage'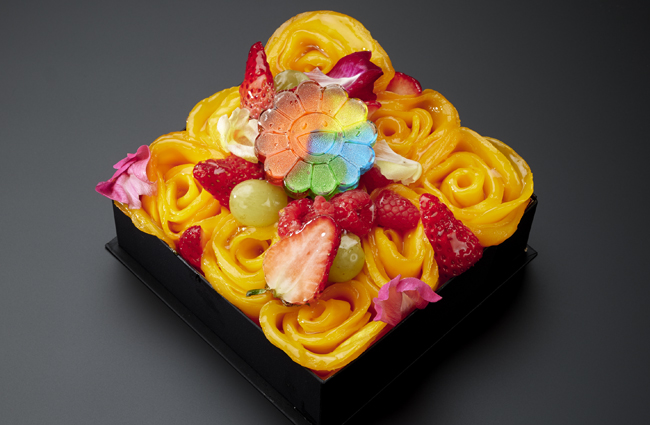 It is sold in a special box, designed and decorated together with other artists, so that the customer can keep it and even reuse it to buy a new cake.
Discover interviews and recipes in so good #29