1981. Bras Restaurant. Languiole, France. Biscuit au chocolat coulant or Biscuit tiède de chocolat coulant. This is how Michel Bras registered and introduced to society a new dessert that, at least at that time, no one could imagine would end up becoming a universal, eternal, and hyper-versioned creation.

Known simply as 'coulant', but also as soffiato in Italy or volcano in Argentina, it is undoubtedly a dessert with a magical aura, as if it were the work of an illusionist. But in reality, what the master chef had to face is a gigantic scientific challenge, such as getting a solid sponge cake to enclose a liquid filling that sprouts when opened with a spoon.

In so good # 25, we wanted to celebrate the 40th anniversary of this universal dessert, recalling the original recipe for Bras and presenting four versions of other great professionals who have created exclusively for our magazine as a tribute to the great coulant.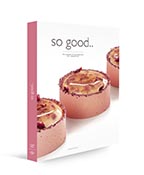 1. Michael Bras. The classique recipe

Bras's intention in creating this dessert was to emulate the thrill of enjoying hot chocolate after a cold day out with the family in the snow. Like everything in his kitchen, meditation and trial and error refined the proposal until he found the exact formula, to which he gives a local flair with an aromatic touch of Aubrac flowers.
If something defines the cuisine of this chef is the search for simplicity, there is no greater art than saying much with the right elements, and the coulant perfectly fulfills that purpose.

2. Cédric Grolet proposes a more typical concept for patisserie or buffet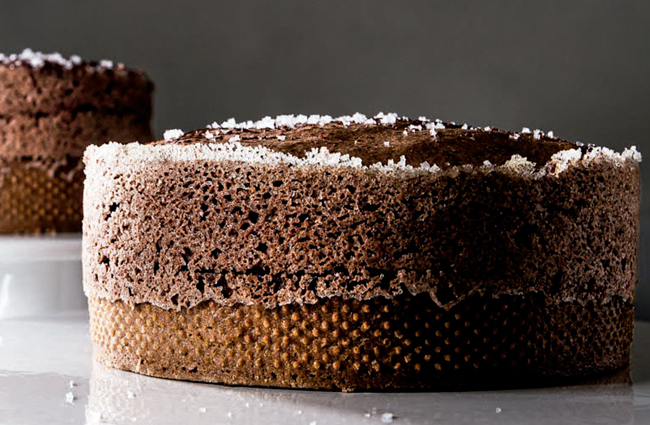 A genius. This is how Cédric Grolet defines the coulant, a dessert whose characteristic smell that emanates from it as soon as it comes out of the oven he especially loves, "a moment of gourmand ecstasy that sublimates with the first spoonful, after which the coulant gives up its solid and porous appearance and reveals its splendid core, bright, at the perfect temperature, neither too hot nor too cold, and preferably accompanied by some coconut or aniseed ice cream so that the fun reaches its peak ", he confesses.
The French chef, who is planning the launch of a third book and the opening of a third store, this time outside of France, proposes a very special coulant which highlights a spectacular chocolate souffé whose counterpoint is the pâte sucrée with which it is lined. A very playful way of bringing this dessert closer to a concept which is typically more for a patisserie or buffet, but in which it respects both the main flavor and the interaction with different textures.

3. Oriol Balaguer and his balanced coulant + cocoa bean fusion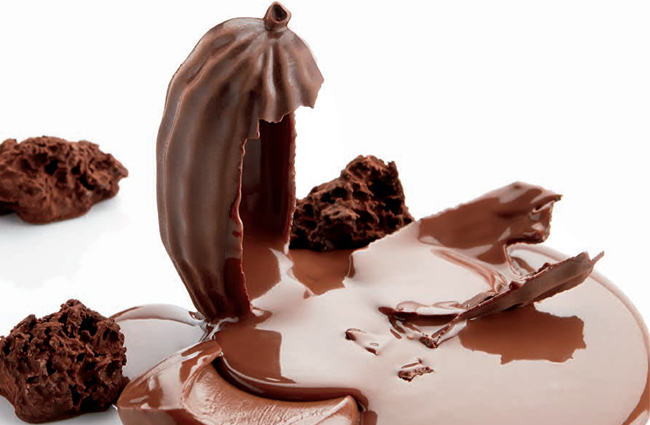 When it comes to imagining a new version, the Spanish pastry chef, owner of five establishments in Barcelona, ​​three in Madrid, and a restaurant, has wanted to be true to his style and has chosen to combine the coulant and one of his distinctive desserts – The 8 textures, which turns 25. In this case, yes, he uses four textures instead of eight and, as in the original Bras recipe, it is based on a perfect balance of textures and temperatures.
But how is this harmony achieved? "The truffle we make has a high percentage of cocoa and has to be at 32-35ºC to be 'coulant', like volcanic lava, but it cannot melt the bean on the outside ahead of time. And the walls of the bean must be very thin, that is the whole point. Using chocolate with a high percentage of cocoa will help us to make such a thin layer that it will break like glass.', he explains. These two textures explained are complemented by two others. A crémeux, also made with chocolate, so as to contrast textures and temperatures with the hot truffle. And the sponge cake, although in this case it has no technical function and is presented in the shape of cubes to complete the dessert.

4. Emmanuel Ryon. Two textures in one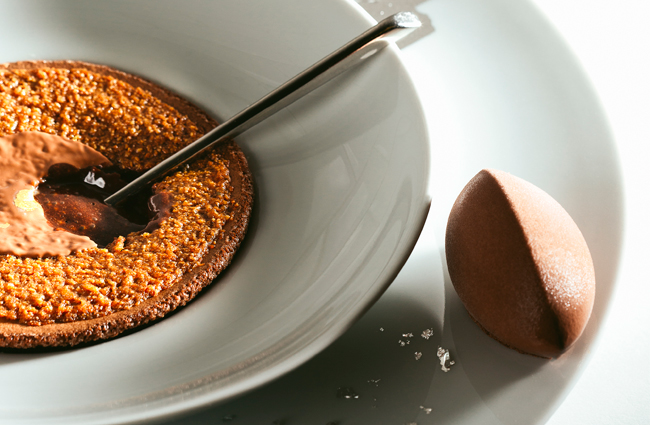 For Emmanuel Ryon, world pastry champion and MOF Glacier, the coulant is a legend in the universe of restaurant pastry around the world.
In his version, the chef proposes a chocolate coulant that maintains the two different textures from the classic, but integrated into the same preparation. And thanks to the baked siphon technique, it achieves a chocolate coulant that is fluffy on the outside and 'fluid' on the inside of the center of the plate, without the need to add ganache.
In this preparation, Ryon also wanted to make a nod to his childhood by combining chocolate with hazelnut. In this way, when reaching the center of the plate, the diner has the sensation of savoring a hazelnut cream. "Besides, since I am allergic to wheat flour, I have designed a recipe with rice flour so that I can enjoy this dessert every day," he says.

5. Albert Adrià. From cake to dessert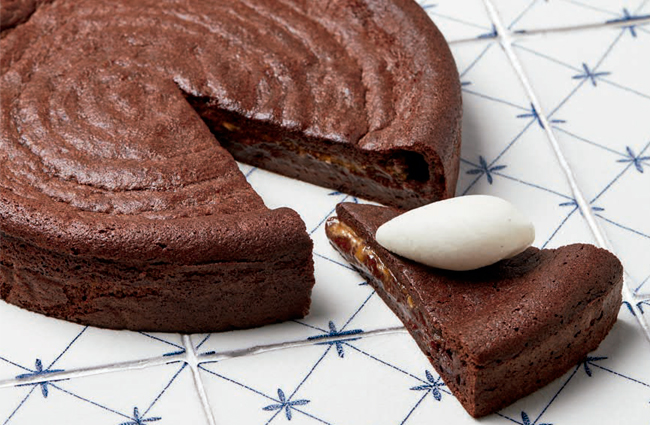 The chef at the restaurant Tickets in Barcelona has proven on numerous occasions to be a pioneer, creative, avant-garde, and admirer of the great masters. And this is undoubtedly one of these cases, "for me the coulant is an icon and an inspiration. The importance of this creation is seen with time. Forty years later, it is still as contemporary as ever. The truly unique thing is the two textures and the visual play of fluidity, he acknowledges.
For his version, he has turned to a great figure in French cuisine, Michel Guerard and his famous chocolate cake. Adrià uses a truffle or ganache that he molds, freezes, and covers the surface with a homemade hazelnut praline. That frozen disc will be the filling of a "cake" that is actually a chocolate mousse that is piped and baked with the ganache inside. The oven does the rest. The secret is obviously in the balance of textures and temperatures necessary to achieve that coulant effect. Despite its pastry presentation, it is conceived as a plated dessert in which it reclaims the simplicity, tradition, and the excellence of a good baked chocolate cake.
Discover the five chocolat coulant creations with their recipes and step by step images in so good #25