The renowned French master Yann Duytsche returns for a third time to the pages of So Good… magazine (so good #2, so good #9) to invite us to drink tea. And he does so through two attractive cakes whose main ingredient is infusions from two varieties of the famous Earl Grey and spiced Absolut Chai Organic. In both cases with chocolate as its companion.
This pastry chef settled in Sant Cugat del Vallès (Barcelona, Spain), where run his pastry shop, Dolç, cannot repress his teaching instinct and shows us the steps for preparing these two creations in an instructive and didactic way. Duytsche insists on the need for respecting every phase in the creation process to obtain the best end result.
Do you want to have all of Dolç's creations?
Get the book "One week with Yann Duytsche" and enjoy over 60 artisan creations.
Kalingo of Spice Island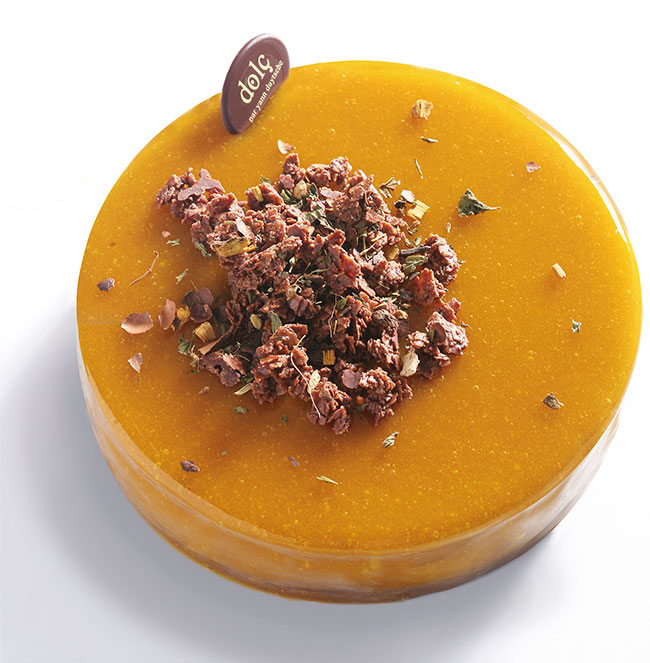 hazelnut gianduja and milk financier
224.7 g eggs
59.9 g invert sugar
89.9 g superfine sugar
59.9 g hazelnut powder
89.9 g cream, 35% fat
104.9 g T55 flour
6 g baking powder
59.9 g Valrhona liquid butter
104.9 g noissette lait gianduja
Combine the eggs, invert sugar and superfine sugar. Add the hazelnut powder and flour sifted together with the baking powder. Pour in the fresh cream and butter. Finally add the noissette lait gianduja, melted to 45-50ºC. Pour into a frame. Bake at 175ºC for approximately 12 minutes.
---
kalingo 65% mousse
450 g milk
900 g cream, 35% fat
525 g Kalingo 65% cocoa dark couverture
7 g gelatin sheets
Bring the milk to a boil and dissolve the gelatin, previously hydrated and drained. Pour one third of the hot liquid over the chocolate and mix to a smooth, elastic and glossy texture – a sign of a proper emulsion. Add the remaining milk and mix until the previous texture is obtained again. When the mixture is at 45-50ºC, fold in the semi-whipped cream.
---
suprême absolut chai
500 g cream, 35% fat
75 g superfine sugar
120 g egg yolks
7.5 g gelatin sheets
100 g cream, 35% fat
15 g Absolut Chai Organic*
Bring the cream to a boil and infuse the Absolut Chai in it for 10 minutes, add the egg yolks previously mixed with the sugar and cook to 82-85ºC.
Add the gelatin, previously hydrated and drained, rapidly cool down, occasionally stirring with a hand whisk. Once it starts to gel, add the whipped cream with the help of a rubber spatula. Reserve in the refrigerator.
*Absolut Chai Organic: Black tea with a spice mix – cassia, chili, clove and black pepper.
---
praliné crisp
280 g hazelnut praliné 60%
110 g Jivara Lactée 40% cocoa milk couverture
200 g Éclats d'Or
Melt the Jivara Lactée couverture to 45ºC, stir in the praliné and add the Éclats d'Or pieces. Gently mix until the Éclats d'Or pieces are perfectly incorporated.
---
absolu mango mirror glaze
1.000 g Absolu Cristal neutral glaze
200 g mango purée
Combine both ingredients and use at 20ºC.
---
Montage and serving
Place 50 g praliné crisp on top of a sponge disk (150 g sponge for each 16-cm ring). Then pour in 130 g suprême Absolut Chai. Freeze and add the mousse. Blast freeze. Apply the mango glaze and garnish.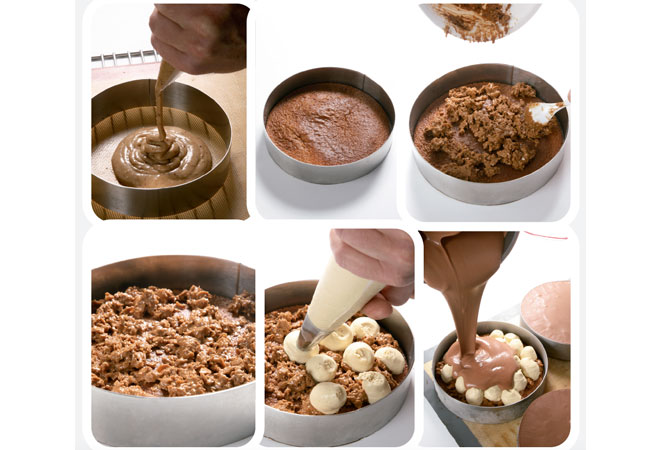 ---
You will find Rouge Vif's recipe in so good #12
Do you want to have all of Dolç's creations?
Get the book "One week with Yann Duytsche" and enjoy over 60 artisan creations.