This curious vegetable which is considered more a fruit than a vegetable, beloved by Anglo-Saxon and French gastronomy in general, crosses borders and is increasingly appreciated in all kinds of avant-garde pastry creations. It is not by chance that we find rhubarb as the protagonist in some of the proposals that have attracted our attention in recent times.
Originally from China and which in the past its main purpose was for medicinal use, we currently see it in dozens of combinations (with strawberries, vanilla, yuzu…) while taking advantage of its delicate original pink color. As for the flavor, its acid intensity surprises, which perhaps reminds us of the green apple but much more bitter, which is why it is usually handled in a compote. It is important to use only the stem when handling it, dispensing both roots and leaves, which are rich in oxalic acid and toxic to the body. It is available from April to June, fresh and in good condition. Let's see what options are the favorites among some chefs from different areas around the world.
1. The Danish look of Winterspring
Winterspring reclaims the Nordic look, using typical products of the Danish landscape and traditional techniques, but introducing interesting salty touches to desserts and a fine and colorful presentation. In so good #20, they shared this rhubarb tart with a caramel base that makes it stand out for being perfectly balanced and for its not excessively sweet taste // www.winterspringdesserts.com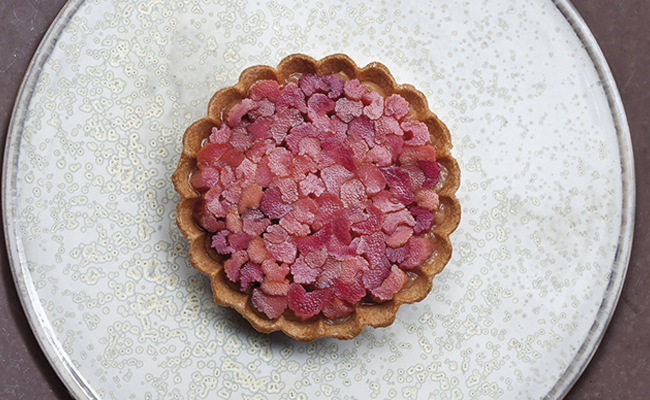 2. Patrice Demers pairs it with flowers
For Patrice Demers, one of the most popular pastry chefs in Canada, rhubarb is one of his favorite ingredients. In so good #20, he made that clear with a creation he made in his shop in Montreal: Rhubarb granite, white chocolate and sweet clover cream, and flowers. A fresh plated dessert in which the vegetable is paired with different flowers. Pastry with sensitivity and without an overdose of sugar // www.patricepatissier.ca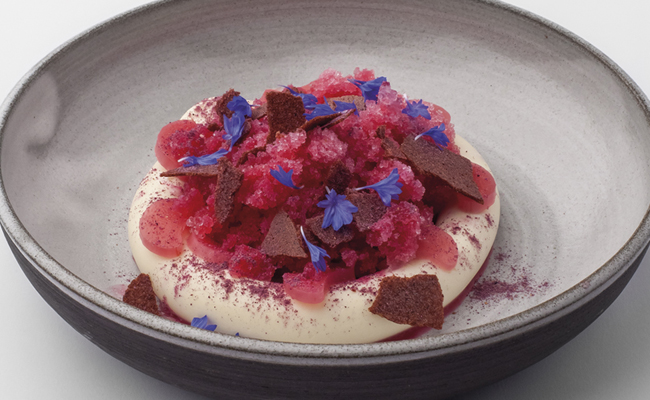 3. The Japanese touch of Matthew Siciliano
Matthew Siciliano, pastry chef of two-Michelin-starred Single Thread Farms in Healdsbrug (California), offers an interesting sweet proposal influenced by the Japanese philosophy that he has acquired throughout his long professional time in Japan. This influence is noticed in dishes like this Shisho Rhubarb, which is the cover of so good #20, with a refreshing finish and great contrast. In his creation process, as he himself explains, "when the first rhubarb from our farm came in the spring, I quickly transitioned into it with sisho" // www.singlethreadfarms.com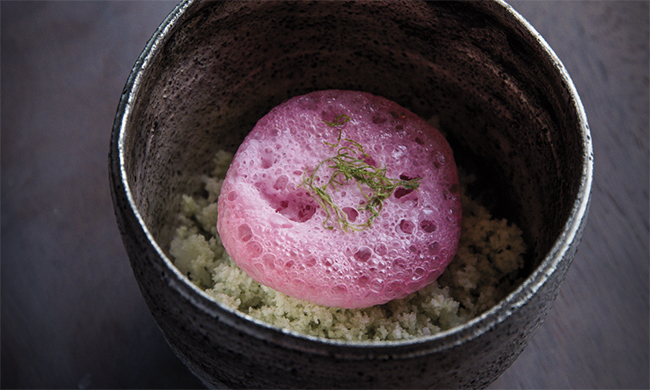 4. Nobuhiro Koto, in green
The pink hue of rhubarb itself is not present in this unique Nobuhiro Koto proposal that we published in so good #18. The pastry chef of the Bleston Court Hotel in Karuizawa, which uses exclusively local ingredients, found green rhubarb without any reddish skin cultivated near the border from the Yamanashi prefecture. "The harvest period in mid-May is very short. Along with beautiful green rhubarb confiture, I wanted to make vacherin-like dessert tinted in a green shade with watercress ice cream which thrives in clear water here," he declares. And he has achieved it // www.blestoncourt.com
5. Vicent Pascual. Welcome to summer!
From the pastry shop De Sabors in Costa Blanca's Altea (Alicante-Spain), Vicent Pascual continues expanding and diversifying his repertoire of individual pastry with refreshing and sweet pieces. In Dulcypas #449, he detailed the recipe for Estiu, an individual based on strawberry ganache and rhubarb marmalade, among other ingredients, which equally combines aesthetic and technique and that he proposes to consume in the summer especially // www.desabors.com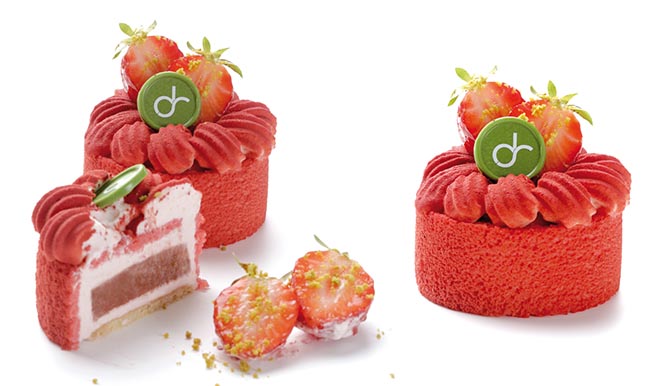 6. Oberweis Strawberry
Strawberry, oval shaped and with decorations marked by small spheres, was the ice cream cake star of Oberweis (so good #12) last summer. A nice and tasty composition based on Madeleine's sponge cake, ice cream and strawberry jam, and rhubarb and strawberry jam // www.oberweis.lu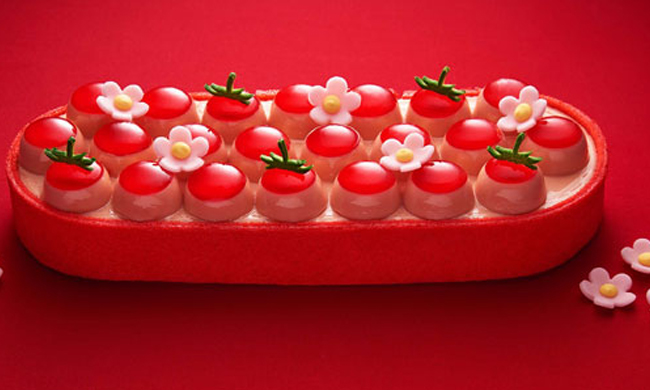 7. The amusements of Saray Ruiz and Adrián Ruiz
The teacher of the EPGB, Saray Ruiz, alongside the pastry chef of the elBarri group, Adrián Ruiz, reclaim a fun, cheerful and carefree pastry that, far from competing with sober and elegant pastry, it complements it, reaching a more heterogeneous audience. Fun products in which we find nods to childhood like these strawberry and rhubarb gummy tongues that are coated in sugar mixed with citric acid // www.escoladepastisseria.com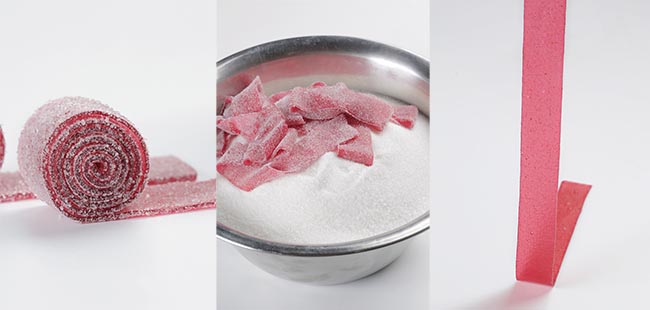 8. Jacopo Bruni. His twist on the Alaska
The Italian pastry chef, at the head of the sweet station of the Berners Tavern, likes to play with flavors and textures to present classic desserts with a modern twist. Creations that evoke a feeling of nostalgia like his version of the Alaska, published in Dulcypas #453, in which he uses poached rhubarb and in the form of a sorbet // www.berners.tavern.com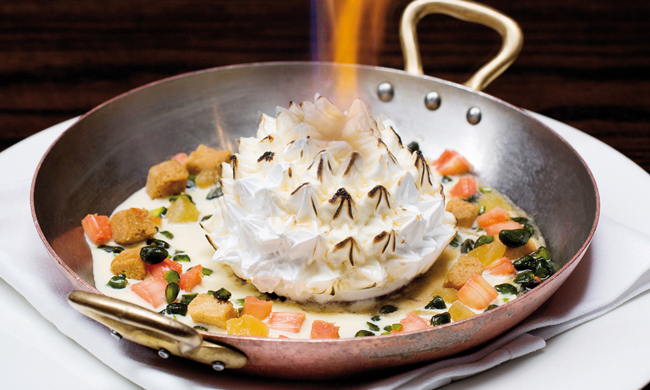 9. Brioche Belle by John Kraus
One of the creations that John Kraus offers at Rose Street Patisserie is Belle, a brioche and croissant breakfast pastry filled with a rhubarb strawberry compote. A piece that "by adding a layer of croissant dough, we offer the guest a texture component for the dough. That is a play on a cobbler or brown pastry," he explained in so good #16 // www.rosestreet.co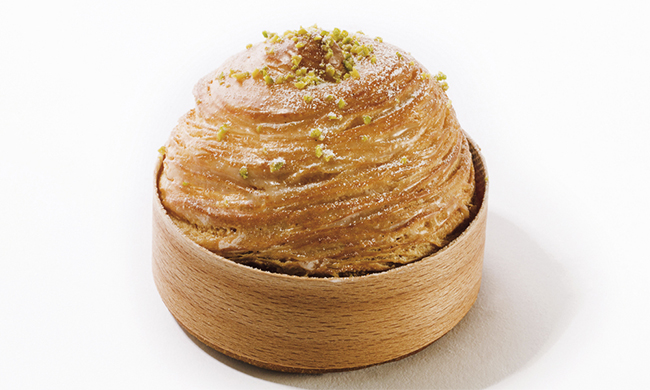 10. Rhubarb, also in the book Fruits by Cédric Grolet
In his latest book called Fruits, Cédric Grolet evokes the importance of fruit and the essential role it plays in pastry. He turns them into mimetic desserts that replicate the original, impeccable presentations that at the taste level stand out because of the purity and intensity of flavors. A wonderful catalog of creations in which we find a rhubarb sugar crust with a whipped ganache and rhubarb gelée // www.alain-ducasse.com