Eggs that grow wings, octopuses taken from the ocean, driftwood, chickens from Madagascar… Once again, the French pastry chefs explore their creativity and propose pieces of impeccable execution and original concept.
Creations that look like objects of art and hide small delicacies inside. Ten eggs that evoke nature and are designed to experience a different Easter full of sensitivity.
Let's fly with La Maison du Chocolat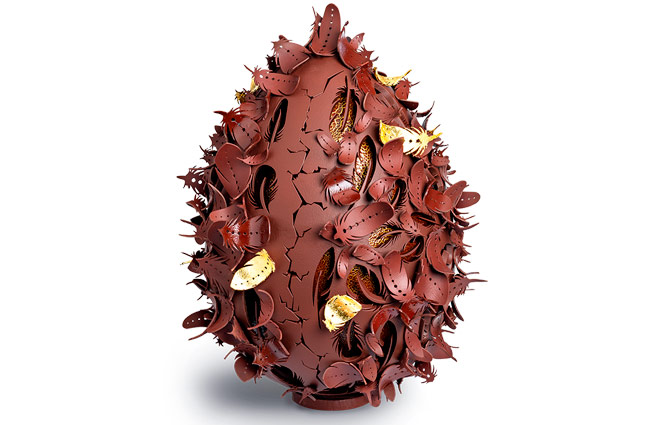 Nicolas Cloiseau presents this limited edition artistic piece made entirely by hand, requiring a week of work.
An egg covered in 200 curved feathers in chocolate featuring over 1,700 perforations encasing a second egg covered in 112 sheets of 23-carat gold. All the feathers are glued on by hand one by one, in a specific order to ensure your eye always has the five different types of feathers in view, regardless of the angle. Depending on how the feathers are positioned, the chocolatier can make his piece look wildly puffed up, or simply more demure but always unique.

Alain Ducasse, from the bottom of the ocean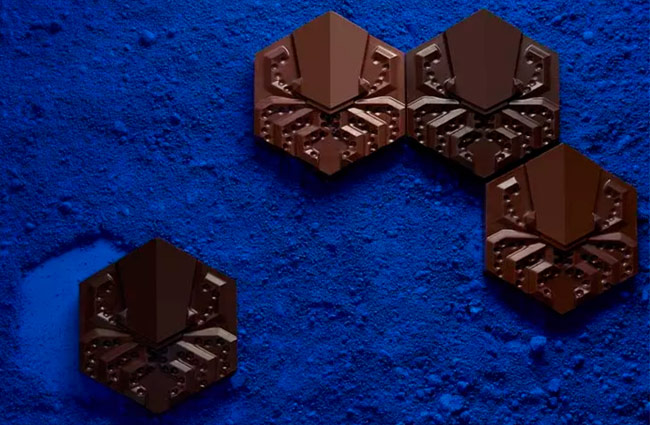 Alain Ducasse presents a very particular bestiary in which octopuses, crabs, rabbits, and chickens are not lacking. A collection between land and sea and imagined with the complicity of Pierre Tachon.
Pieces such as the Rocher octopus, available in dark or milk chocolate, taken from the bottom of the ocean, and with very marine flavors: almond praline with lemon zest and wakame seaweed.
The Sweetest Garden by Yann Brys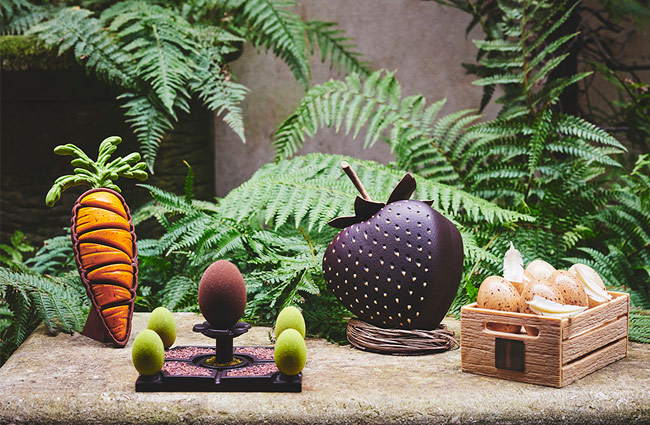 Yann Brys, MOF and director of sweet creations at Evok, presents a different Easter creation in chocolate around the world of the garden for the group's four hotels.
A 65% Cuba-origin dark chocolate strawberry and garnished with crunchy strawberry seeds for Nolinski, the first Evok Hotel which embodies French art de vivre. A box of blonde chocolate eggs topped with caramelized hazelnuts, hazelnut pralines, and marshmallows for the romantic Brach. A 34% milk chocolate carrot from Madagascar, decorated with almond praline with orange confiture, a carrot and cumin caramel, and a carrot, passion and ginger fruit paste for the unconventional Sinner. And finally, a garden of 63% dark chocolate from Peru, topped with crunchy pistachio pralines, for Cour des Vosges.

Cédric Grolet: yes to nuts!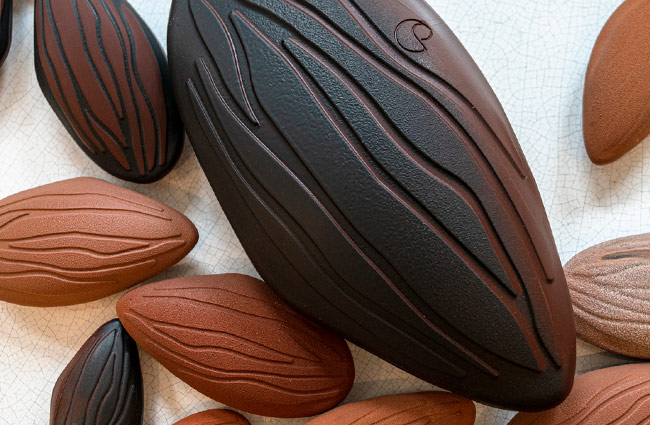 The French chef proposes an egg that lovers of nuts will love. Breaking its thin layer of chocolate, a crunchy almond appears, made using traditional methods and enhanced with a pinch of Guérande fleur de sel.
It is available in 45% milk chocolate from the island of Java or 75% dark chocolate (Ecuador, Peru, Madagascar, Sao Tomé), both made at the Manufacture de Chocolat Alain Ducasse.
Moreover, thinking of the whole family, Grolet proposes four different sizes: S, M, L, and XL.

Jean-Paul Hévin pays tribute to Edith Piaf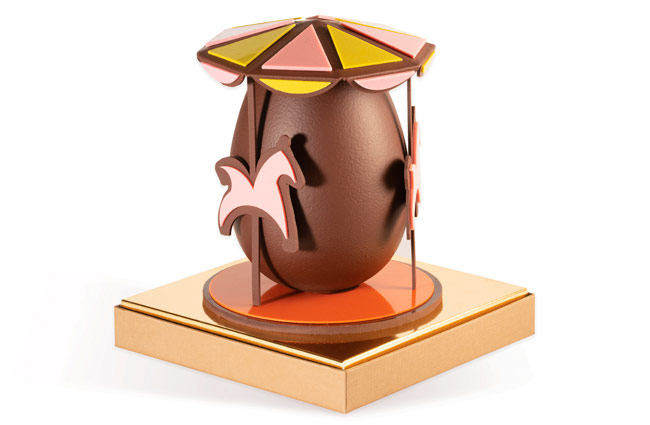 For Easter, Jean Paul-Hévin chooses the theme "Singing tomorrows". Beyond the message of optimism and hope, it is a tribute to the popular tunes that we may hum one morning and that makes us happy for the rest of day.
Specifically, the My Merry-Go-Round egg is a nod to the song "Mon Manège à Moi", one of the emblematic songs in French music, performed by Edith Piaf.
With a height of 18 cm and a weight of 920 g, it is made with dark chocolate 68% cocoa, garnished with dry and filling fries dark and milk chocolate.

Maxence Barbot's realistic egg-shell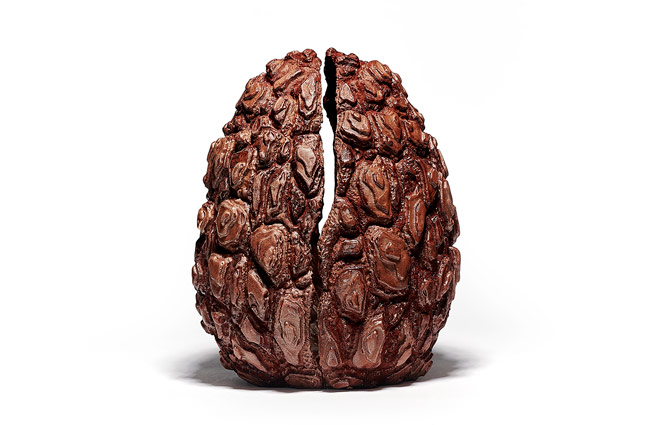 The imaginative pastry chef of the Parisian hotel Shangri-La Paris, Maxence Barbot, is inspired by nature to create this egg-shell with rough textures, made up of two half-shells that simulate the bark of a tree and that hide a chocolate surprise with puffed black rice with hazelnut praline in its interior.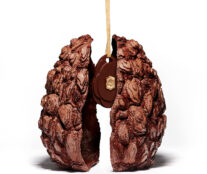 The shells are made with 60% milk chocolate from Peru, each one with a specific filling: on the one hand, hazelnut praline and raw hazelnuts and, on the other, pistachio praline accompanied by whole pistachios. In addition, it nods to its Breton origins by including subtle hints of vanilla caramel in the shell, similar to tree sap. To finish, he dusts the egg with cocoa powder and pistachios for a more lifelike effect.

Pierre Marcolini and his contemporary eggs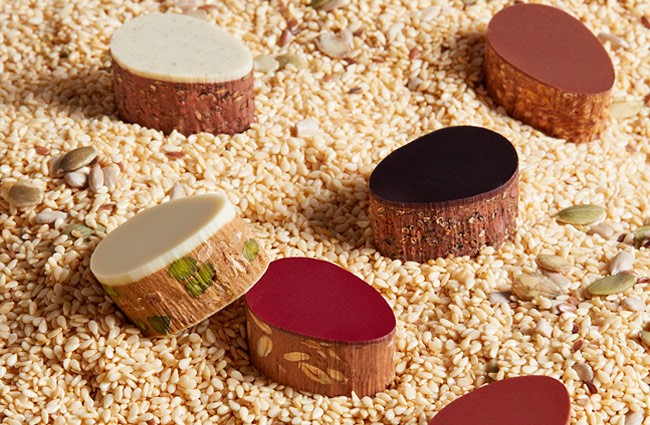 Maison Pierre Marcolini breathes new life into the Easter collection, bypassing traditions with generous eggs in a contemporary shape, revealing the essential: the exposure of pralines accompanied by greedy and crunchy seeds. They are available in six gourmet recipes, each topped with a 100% naturally colored signature chocolate shell:

Almond praline, Quimper lace, candied orange peel, and pumpkin seeds
Dried fruit praline infused with lemon, flax seeds
Hazelnut praline, almond nougatine, and light sesame
Pistachio praline, Quimper lace, pistachio pieces, and sunflower seeds
Dried fruits and kinako praliné, crispy with grilled rice
Dried fruit praline, Quimper lace, and black sesame.
Pierre Herme. Art Brut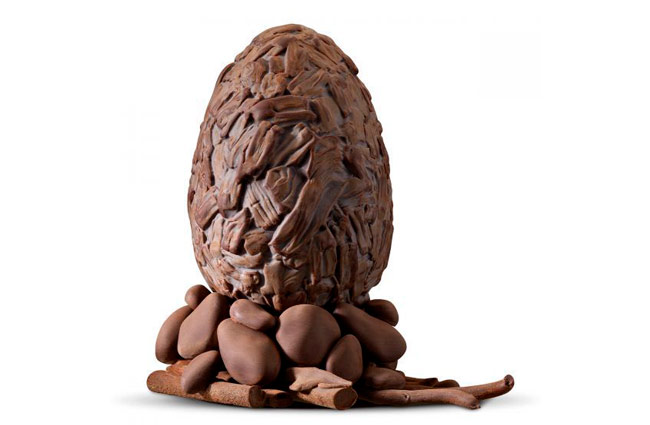 With art brut (a term coined in 1945 by Jean Dubuffet to refer to art created by people outside the art world without an academic background) as a backdrop, Pierre Hermé presents a collection that is intuitive and pure.
A proposal that evokes nature and in which he plays with unusual shapes, textures, and materials such as pebbles smoothed by the sea, floating wood sculpted by water or even fossilized plants.
Among all the pieces, we find Inédit, an 18 cm pure dark chocolate egg from Ecuador (Eleonor Plantation) that is inspired by driftwood.
The result is natural, simple, and raw.
A Tropical Easter at the Manufacture Cluizel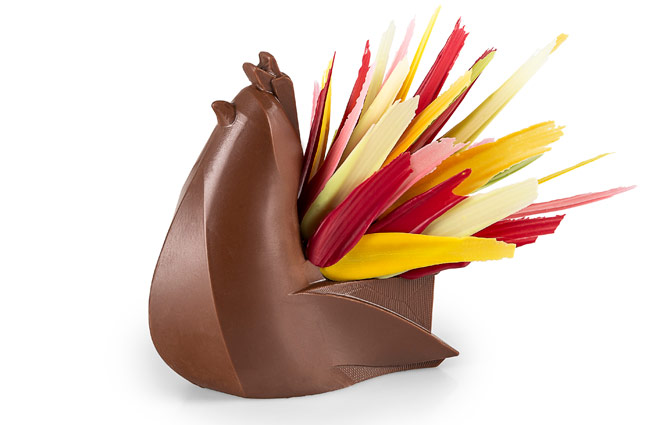 Legend has it that the explorers of Cluizel, searching for cocoa beans, were greeted on arrival in Madagascar by a totemic-looking hen and rooster which came to display their fabulous plumage. They proudly led them into a wild land, with cocoa beans of exceptional richness. Thus the Mangaro plantation was born.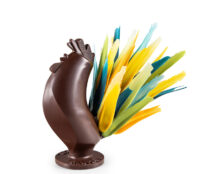 The Malagasy rooster, composed of 71% dark chocolate from the Mangaro Plantation, rests on a base of intense dark praline with 72% cocoa. Its dress, in Kayambe ivoire chocolate 36%, displays the colors of Madagascar. While the Tropical hen is sculpted with 51% Mangaro milk chocolate. Its feathers, made of 36% Kayambe ivoire, unfold in red, yellow, and green. Both pieces hide small dark chocolate, milk chocolate, and kewane eggs filled with praline from the Manufacture.
Lenôtre, the forest explorer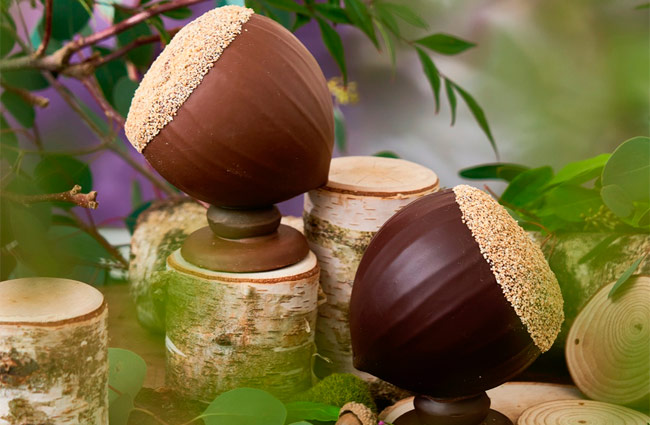 Who hasn't dreamed of exploring the wonders of nature together with a playful squirrel, a mischievous fox, a shy fawn, a curious owl, or a chatty woodpecker?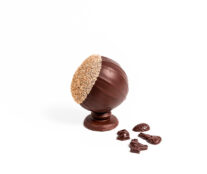 This year, Guy Krenzer, Creative Director of Lenôtre and twice crowned one of the Meilleurs Ouvriers de France, has created the "Explorers of the Forest" collection together with the maison's pastry chefs and chocolatiers.
Fauna and flora are presented here in the form of chocolate pieces. Pieces like this hazelnut, available in milk chocolate, and dark chocolate, decorated with almond praline and hiding gourmand fritures inside.