Bees that remind us of the need to care for the planet, spectacular flower bouquets, magic hats, the wonders of the world… In 2023, French pastry chefs once again show that Easter is one of the most creative and original campaigns.

Below we share nine artistic chocolate eggs designed for a very springtime Easter, full of magic and sensitivity.
Yann Brys. The importance of bees for the planet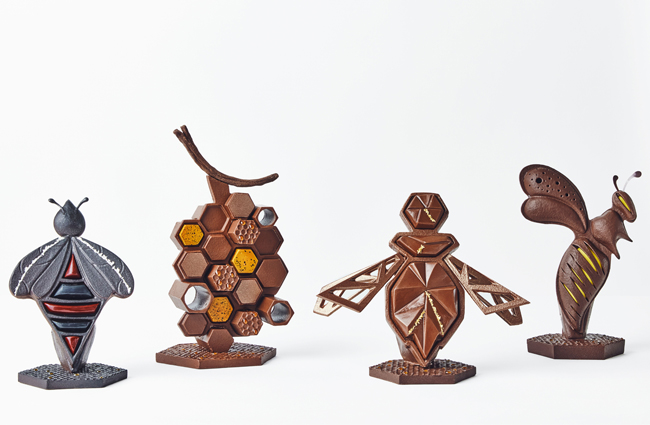 Like every year, Yann Brys, director of Evok's sweet creations, presents proposals for four of the group's hotels. On this occasion, the four pieces revolve around bees, which are essential for life on earth and yet are in danger of extinction.
In the case of Brach, the MOF has created a honeycomb made with 46% milk chocolate from the Dominican Republic, 64% dark chocolate ganache from the Dominican Republic with flower honey and orange jelly. For the other three establishments, he has opted for bees, although with different aesthetics. Nolinski's is made up of 46% milk chocolate from the Dominican Republic, honey and pollen marshmallow, and almond praline. Sinner's, in a grayish tone, is made up of 62% dark cru chocolate from Brazil, filled with inflated honey balls and covered with 40% milk chocolate. Finally, the one from Cour des Vosges, in profile, is made with 33% milk chocolate from Madagascar, alfalfa honey ganache, and crunchy baklava.
Spring is here with La Maison du Chocolat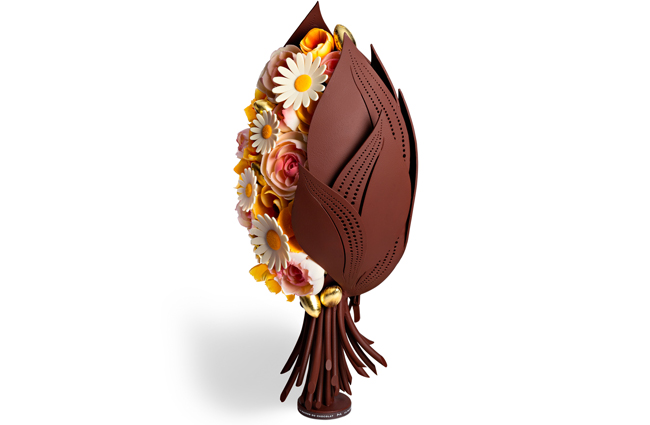 Its pastry chef Nicolas Cloiseau invites you to savor spring with a very floral Easter collection. He highlights the Bouquet egg, a limited edition piece of art, handcrafted in the Maison's workshops. Made entirely of chocolate, it weighs six kilograms and required up to 35 hours of work by specialist chocolatiers in decoration.
More than 100 petals have been assembled: seven white peonies and eight orange poppies, combined with five delicately cut daisies for a total of 20 flowers of four different sizes, wrapped in ten chocolate sheets with 1,700 perforations spread over a dozen stems. In addition, ten 23-carat gold-plated eggs are hidden among the flowers and the interior of the bouquet is covered with chocolate figurines and praline eggs.
Maxence Barbot. At all hours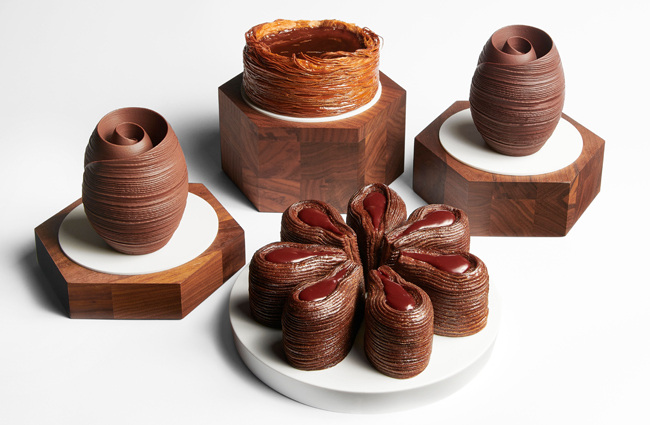 Maxence Barbot, pastry chef at Shangri-La Hotel, presents the "Easter at all hours" collection to be enjoyed at different times of the day.
The Easter egg is adorned with delicate swirls reminiscent of puff pastry and hides a gourmet filling. The 40% milk chocolate version from Peru incorporates an almond gianduja wrapped in notes of caramel and vanilla, and enhanced by almond chips. For its part, the 75% dark chocolate egg from Peru is associated with a hazelnut gianduja with caramel and vanilla notes, as well as fine hazelnuts.
For breakfast, Barbot proposes a Parisian flan made with a caramelized 75% chocolate puff pastry from Venezuela that contains a pastry cream infused with cocoa beans, accented with vanilla nuances. And for a snack, a flower made up of a flaky chocolate brioche that rests on a layer of almond and hazelnut cream combining chocolate nuggets and hazelnut chips.
Lenôtre's magic show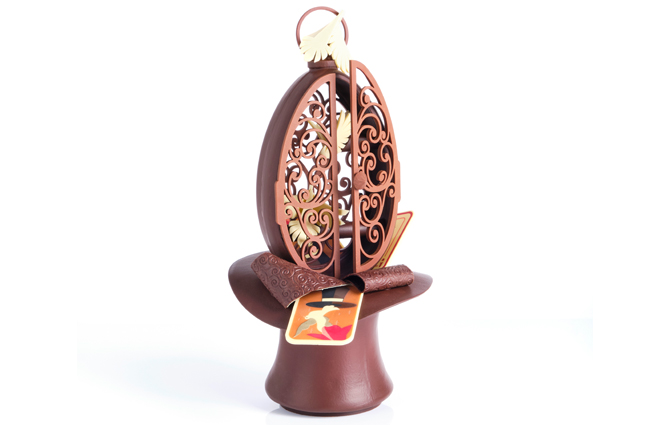 Étienne Leroy, pastry chef of Maison Lenôtre's sweet creation, is inspired by the theme of magic and reproduces the magician's most famous trick: the magic hat, molded in dark chocolate.
A spectacular piece, in a limited edition, from which a white chocolate card game and an egg-shaped cage emerge, whose delicate milk chocolate doors are chiseled as if they were wrought iron. Doors from which white chocolate doves escape, which add a touch of elegance.
Entirely assembled by hand, it is made up of more than 1.5 kg of signature couverture chocolates: 36% milk and 70% dark chocolate from the Maison, and white chocolate.

Jean-Paul Hévin. The beauty of scars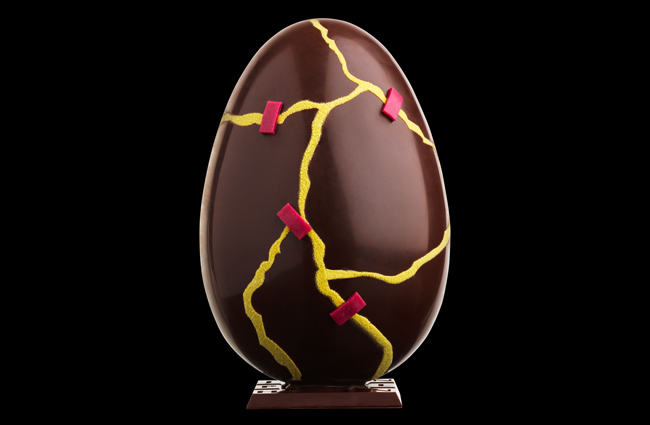 It is common for Jean-Paul Hévin to surprise in campaigns such as for Christmas and Valentine's Day, with original associations or puns, always prioritizing the use of grand cocoas.
This Easter, he wants to pay homage to kintsugi, a centuries-old technique of Japanese origin that consists of repairing broken ceramic pieces with the help of gold dust. A technique that has ended up becoming a philosophy of life that defends that imperfections and wounds should be shown and extolled. This is how the chef does it in this 68% dark chocolate or 40% milk chocolate egg, garnished with dry and filled fries. With an imitation tablet base in dark chocolate.
Pierre Hermé and his fascination with pre-Columbian civilizations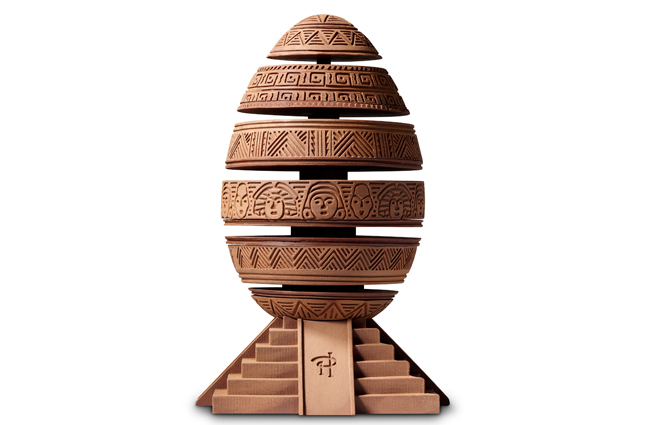 Pierre Hermé invites you to immerse yourself in pre-Columbian civilizations where he takes as a source of inspiration a three-thousand-year history of incredible artistic diversity. A civilization, which is still enigmatic in many ways and that hypnotizes with its meticulousness of the work on its masks or the complexity of its solar calendar.
In his collection we highlight this majestic egg measuring 25 centimeters in height with chiseled glyphs that represents the Kukulkan pyramid in Yucatan, which is considered one of the seven wonders of the world. Made with 64% dark chocolate of pure Belizean origin, it is divided into six parts and filled with hazelnut praline, pistachio praline, and nuts. Likewise, the drawers of the box hide chocolate figurines and praline eggs.
Cedric Grolet. Hazelnut to share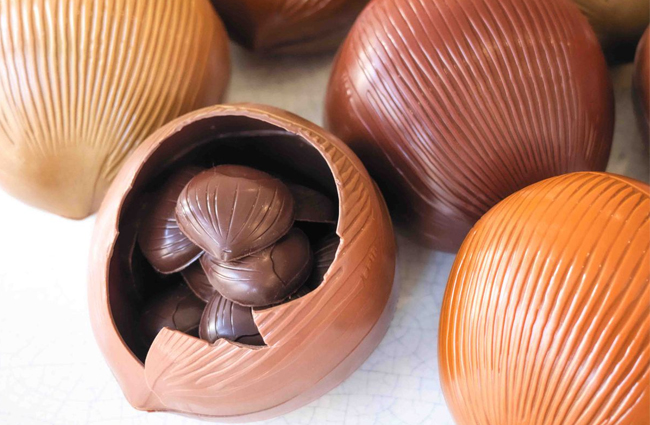 As chef pâtissier at the restaurant Le Meurice Alain Ducasse (Paris), Cédric Grolet, alongside his assistant François Deshayes, imagines a hazelnut to share for Easter. Gourmet fritures are hidden in a thin chocolate wrapper, which gives the sensation of being a walnut shell. Covered with lightly salted crunchy praline, they are available in dark and milk chocolate.
Impossible not to think of one of the award-winning pastry chef's emblematic cakes, the Noisette, which he came up with in 2013 and of which he later offered a 2.0 version which is more refined, with less sugar, fresher and with a true flavor of dried fruit.
Christophe Michalak. The friendly Marcel and Lucien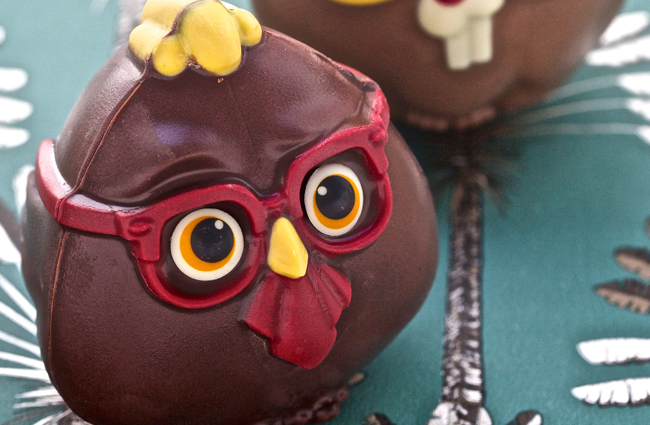 Animals cannot be missing from an Easter ranking, especially if they are as cute and friendly as Lucien the hen and Marcel the rabbit by Christophe Michalak.
Marcel, made with 40% milk chocolate, and Lucien, 66% dark chocolate, with figurines of dark chocolate truffles, white chocolate, and toasted pecans, Dulcey chocolate filled with walnut praline, milk chocolate filled with hazelnut praline and dark chocolate filled with marshmallow hidden inside.
Quentin Lechat. XXL tablet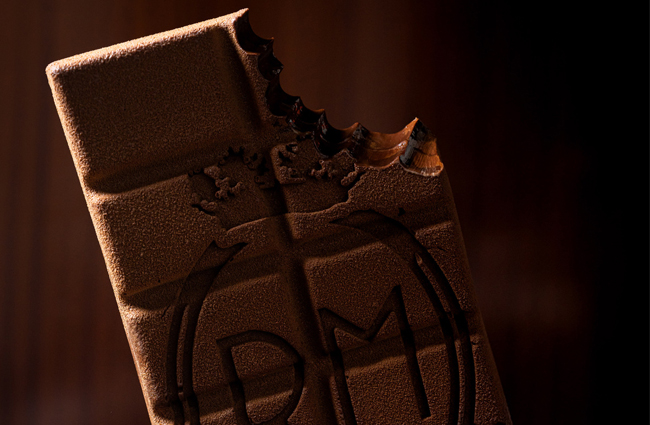 The pastry chef from Le Royal Monceau – Raffles Paris presents an extravagant, playful and tasty XXL tablet. Lechat was inspired by contemporary art present in red thread throughout the hotel in order to offer a totally revisited maximum creation.
To achieve a unique piece, he has not used molds. The chocolate has been worked on and cut by hand. The base seems to be slowly melting, giving it a very gourmet effect.
The egg is composed of dark milk chocolate and a filling of peanut praline and caramelized peanuts.