Frank Haasnoot will begin the season of master classes at Horeca Culinary School on March 28, 29, and 30. In addition to exhibiting some of his most popular and valued products, such as J'adore, Piemont, and Fleur de Tahiti and Chococo, the Dutch chef will present the launch in Romania of his first book, Prisma, a complete book about his pastry creativity.
In the month of May, the school will receive the visit of Nicolas Haelewyn, of the famous pastry shop, Karamel, in Paris, who will teach a class focused on caramel, and Marike van Beurden who will talk about plated desserts and vegan menus for restaurants.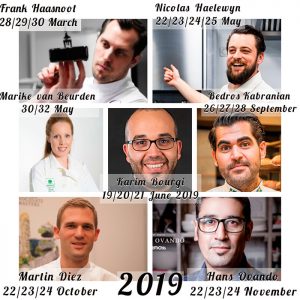 Karim Bourgi will teach his acclaimed desserts with a special focus on the philosophy of taste and surprising textures from June 19 to 21. Bedros Kabranian, as part of the team of bakers from Sweden, will attend the Horeca Culinary School for the third time in September to show his incredible viennoiserie. Martin Diez will demonstrate his skills with chocolate, as well as tips and tricks to use Barry Callebaut's Ruby chocolate. And for the third time Hans Ovando (so good #5, so good #11, so good #14) will be in Romania in the month of November to carry out a Sweet Buffet and Entremets class, emphasizing taste and design.
In addition, the school has already announced its first masterclass scheduled for 2020. Francisco Migoya, head of the Modernist Cuisine department, will offer a Petit Four class, followed by another focused on bread, very much like the new book he published, Modernist Bread.