As is tradition, this 2019 we also propose a tour of some Christmas bûches that have caught our eye because of their impeccable execution, the combination of ingredients, or the originality and fantasy with which thinking minds have conceived them.

Some take advantage of Christmas to express yearnings, dreams, and memories, some resort to traditional elements of these dates such as reindeer and fir trees, others reinterpret pastry classics, and there are some that surprise with enigmatic creations. Without a doubt, this holiday is a laboratory of ideas for great pastry chefs.

Let the music play with Christophe Michalak!
Before becoming a pastry chef, Christophe Michalak dreamed of studying Fine Arts. Working at the Negresco hotel in Nice, he fell in love with the creations of the Franco-American artist Arman, well known for his fragments of glued violins or soldiers with different noble materials such as wood or metal. Now, the chef wants to pay tribute to Arman's work with this violin, made up of a praline coulant with pecan nuts and an intense dark chocolate mousse // www.christophemichalak.com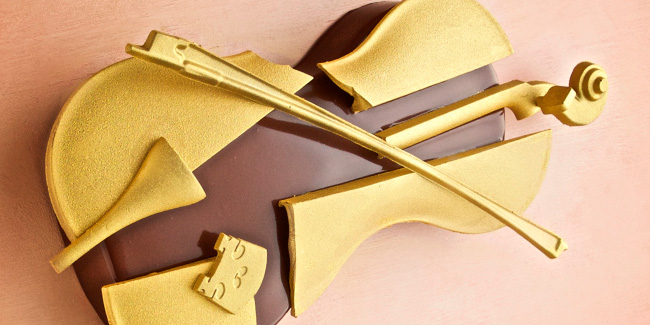 Home sweet home by Dalloyau
For a large number of people, Christmas is a time of refuge, family, and traditions. A date where home becomes a reassuring and dreamlike space full of memories. In this line, Jérémy del Val, in charge of Dalloyau's pastry creations, presents this limited edition Bûche Oh Sommet, as a symbol of those happy homes, full of sweets and moments for sharing. Under a thin layer of milk chocolate, crunchy caramelized nuts with honey from the Ile de France and a touch of fleur de sel, there is a sponge cake of nuts and chocolate chips with milk, gianduja interior, 46% Dominican Republic milk chocolate mousse, and sablé with sweet spices // www.dalloyau.fr/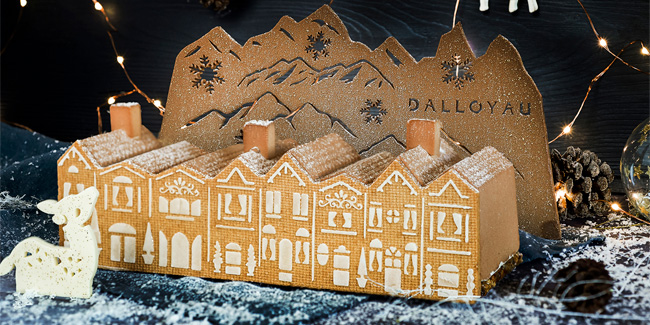 Jean-Paul Hévin, happy in the meadow
Nature has always been a source of inspiration for Jean-Paul Hévin, who grew up in the countryside surrounded by fruit trees. Used to visiting cocoa plantations all over the world, he is aware that cocoa is very sensitive to the weather and seasons. With his Christmas collection "Happiness is in the meadow", the French chef wants to pay tribute to flora and fauna, as well as recognize the quality of those who work in the plantations, following environmentally friendly processes.
In this range we find, among many pieces, this bûche sapin, made with almond and cocoa biscuit with cognac, dark chocolate ganache with fir honey and pistachio gianduja //www.jeanpaulhevin.com/en/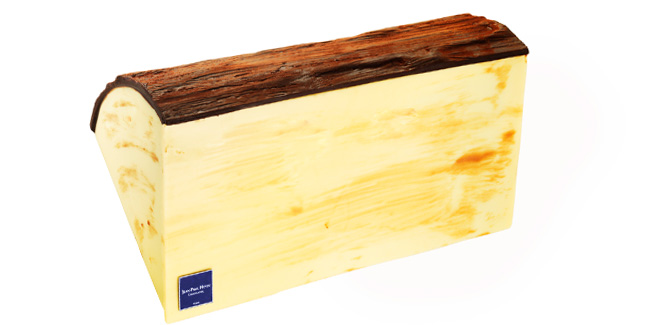 Laurent Duchêne's beautiful fir
The MOF Laurent Duchêne, in collaboration with Fabien Le Moal, executive chef of the maison, has designed a bûche made up of five individual fir trees connected with a delicate chocolate saw. With a crunchy base of Japanese buckwheat praline from the Hokkaido region, it is made up of a 65% Organic dark chocolate mousse, alcohol-free sour cherries, sacher biscuit and a light Madagascan vanilla cream // www.laurentduchene.com/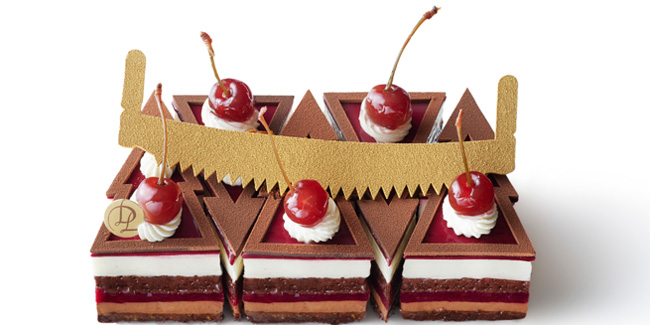 Stollen by Mathieu Kamm
Kamm, who joined Relais Desserts in 2018, has worked for several years as a pastry chef at Pierre Hermé Paris. In 2011, he led Pâtisserie Kamm, a business that his family has had since 1981 in Sélestat, in the Alsace region. Since then, he surprises the clientele with numerous original and tasty creations.
For the Christmas season, Kamm has opted for a stollen, of German origin, with dried and candied fruits, filled with marzipan // www.patisserie-kamm.fr/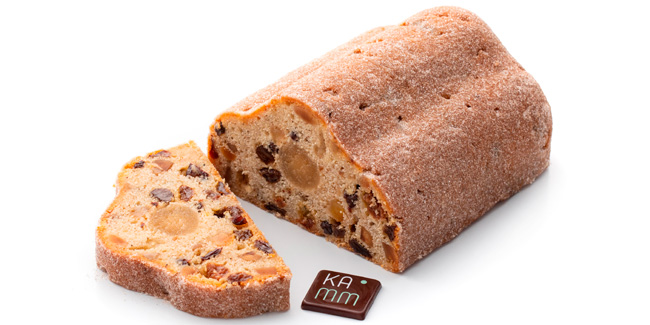 Arnaud Larher reinterprets the Black Forest
The chef revisits the Black Forest, one of many French pastry classics, achieving an attractive set of flavors and textures. It incorporates punché chocolate biscuit with cherry juice, 65% dark chocolate mousse, dark chocolate crunch, whipped cream with vanilla infusion and scented with kirch decorated with cherries and chocolate chips //www.arnaudlarher.com/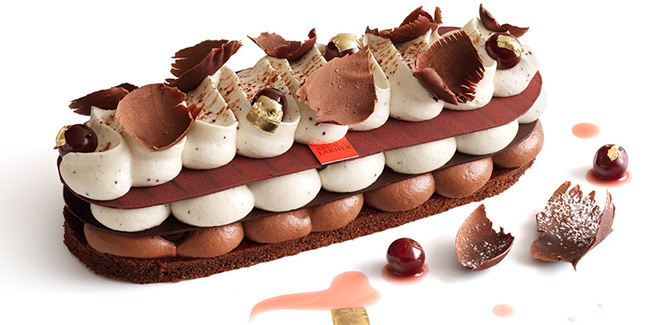 Rolling through the snow with La Maison du Chocolat
Fascinated with capturing the moment, Nicolas Cloiseau imagines a snowball in continuous motion and freezes it. This dark chocolate ornament, 5 Kg and 40 cm in diameter, is carved with 2000 perforations, with five sides finely chiseled with 150 snowflakes in four different sizes. The bear and iceberg are in ivory chocolate. Finished with gold leaf, ivory velvet chocolate, shiny dark or satin milk chocolate.
The result is a spectacular artistic and very limited edition piece, taking five days to be made entirely by hand by the team of chocolate chefs of the maison // www.lamaisonduchocolat.fr/en/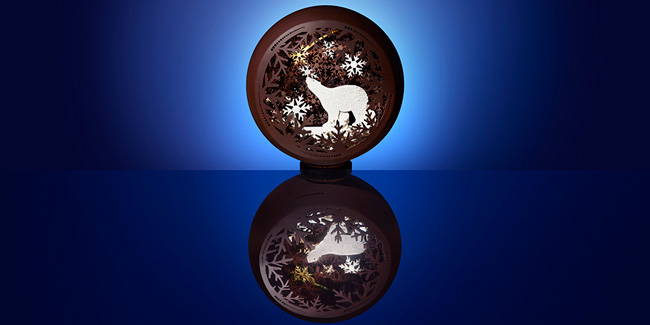 Jérôme De Oliveira's charity reindeer
For 10 years, Jérôme De Oliveira has been the godfather of AFAO, an association that brings together families with children with esophageal atresia. And this year he wanted to go one step further by launching this limited edition charity bûche Comète, with pear, caramel, and speculum parfums. 100% of the sales of this bûche, inspired by one of Santa Claus' iconic reindeer, will go to the Association // www.patisserie-intuitions.com/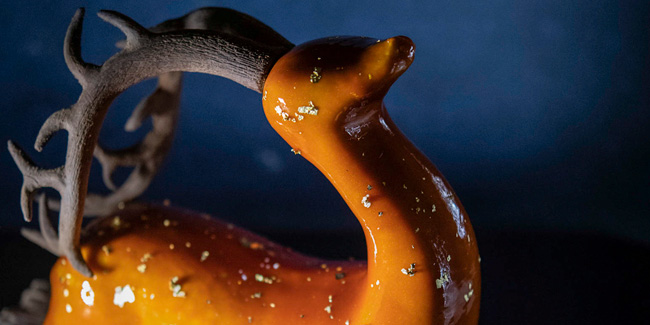 Canadian Christmas in Ladurée by Patrice Demers
Ladurée CEO David Holder is so excited about the generosity and warmth he received when he traveled to Canada that he decided to dedicate the Christmas collection of the maison to that country. And for this he has counted on the acclaimed pastry chef Patrice Demers.
For the exclusive bûche Atoca, Demers has been inspired by the memories of his childhood, family dinners during holidays sharing traditional dishes that were served with cranberry sauce. It is precisely blueberries, commonly grown in Quebec, which are present in the heart of this bûche, of which the chef has given all the details: "maple syrup – another Québécois specialty that I can't get enough of – provides the perfect balance to the cranberry's acidity. I also used buckwheat flour in the sponge and added a roasted buckwheat infusion to the Chantilly cream. This gives a delicate nutty flavor that is ideal with the smooth 66% of cocoa chocolate mousse. " // www.laduree.fr/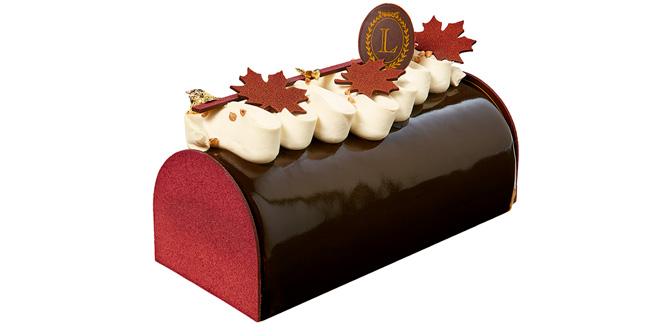 The original Yann Brys cube for the Sinner hotel
For the year-end holiday season, Evok Hotels Collection Group offers a collection of impressive bûches for each of its establishments (Nolinski, Brach, Sinner, Cour des Vosges and Evok), designed by MOF Yann Brys, Director of Evok's sweet creations.
Here, we share the spectacular piece he has made for Sinner. Ingredients: dark chocolate soft biscuit, 75% Tanzanian dark chocolate mousse, spiced pomegranate compote, dark chocolate cremeux, chocolate crunch //www.yannbrys.fr/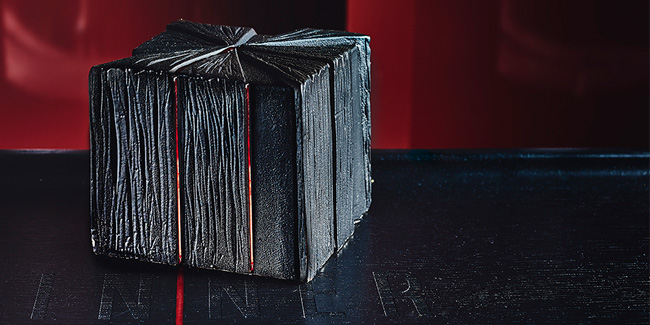 Yann Menguy breaks stereotypes
In his Parisian coffee shop La Goutte d'Or, Yann Menguy has creativity as his motto. For the Christmas season, the young chef breaks with stereotypes by combining Piedmont hazelnut with croustillant sobacha, without excessive sugar // www.facebook.com/patisserielagouttedor/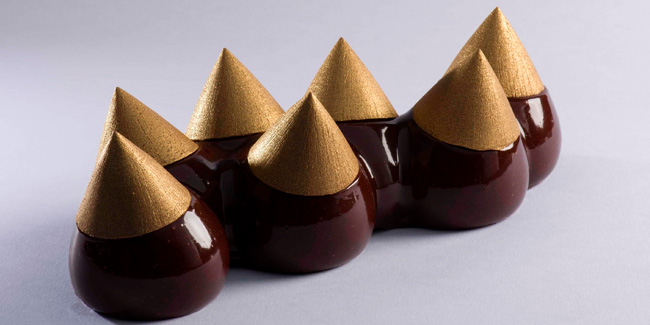 La Forêt Glacée apple and matcha tea from La Fabrique Givrée
Matcha biscuit, Margerie apple juice sorbet, matcha ice cream, matcha streusel, kiwi jam and matcha chocolate firs. This is the delicious combination proposed by La Fabrique Givrée in one of its four icy versions of the Black Forest. A visual dessert featuring a valley, fir trees in the shape of cornets, and an especially beautiful and delicious strata of ice cream, sorbets, and pastries in the air of geological layers //www.lafabriquegivree.com/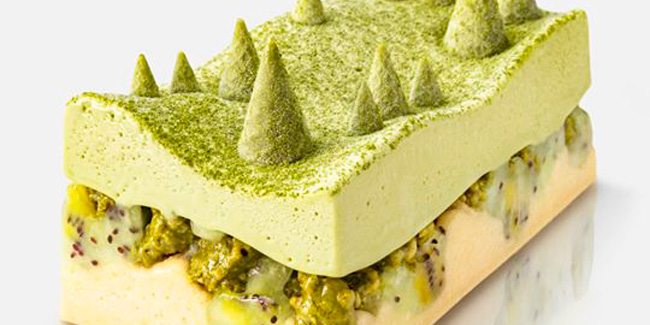 Apple, caramel and almond, the winning trio of Emmanuel Hamon
Emmanuel Hamon, who has recently premiered as director of ABA, an Academy of Baking Arts in the Middle East, features elegant bûches like Applelina (see recipe). Its ingredients: almond biscuit, apple and caramel compotee, vanilla creamy, caramel mousse, and hazelnut streusel // www.aba-lb.com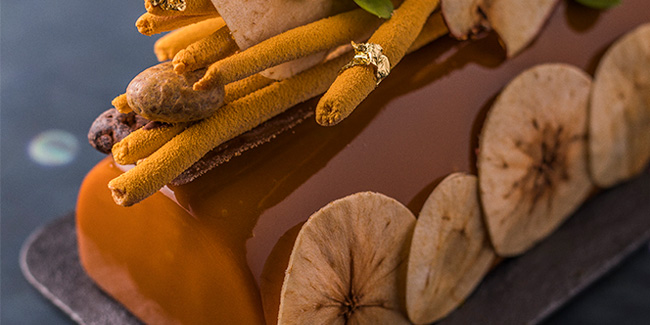 Francisco Migoya and the bûche bouche
Francisco Migoya has been setting trends for years. Co-author of Modernist Bread, he proposes B(o)uche de Noel. A curious proposal (see recipe) that encloses a play on words, since bouche means mouth in French, and in which he has used lips as a mold. A white bûche with winter details made with sweet chestnut paste, vanilla streusel crunch, brown glace financier, milk chocolate shell, vanilla Chantilly, and white glaze // modernistcuisine.com/