Chocolate firm Cacao Barry recently asked its ambassadors around the world to prepare a new creation to celebrate the launch of its revolutionary new chocolate, WholeFruit. This chocolate has the peculiarity that it is made exclusively with ingredients from cocoa itself, including sugar.
Cacao Barry had the courtesy, which we appreciate, of allowing so good.. magazine to select the five most interesting creations in our opinion to be published exclusively in so good #26 edition. As always, we have applied criteria such as beauty, technical contribution or originality in both flavors and presentations when choosing these works and not others, regardless of the fame or prestige of their authors. However, that prestige usually corresponds to talent and quality, as can be seen below in the pieces by Andrey Dubovik and Ronya Belova, Kirsten Tibballs, Frank Haasnoot, Melissa Coppel and Emmanuel Ryon. Now you can enjoy the introduction which each chef makes of their own creation. You will find more information and detailed recipes in the printed edition of the magazine.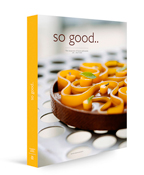 Andrey Dubovik & Ronya Belova: Crowned with laurel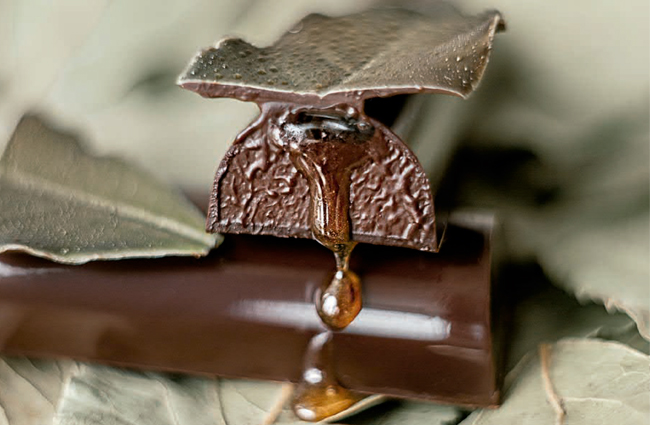 'Our main goal was not to create a combination of tastes but to find an ingredient that would enhance and emphasize the beauty of Evocao chocolate. We considered recommendations on compatibility of different ingredients with the chocolate couverture, and our choice fell on bay leaf. This spice is very popular in our national cuisine; however, we've never used it in our chocolate recipes before. When making water-based ganache we followed the same idea – to save the pureness of Evocao taste. And after a few tests we realized that this combination makes it even more expressive. Having added chestnut honey to the filling, the taste of the bar turned out to be so elegant and gastronomic that it will blow anyone's head away!'
Frank Haasnoot: Fruit is beautiful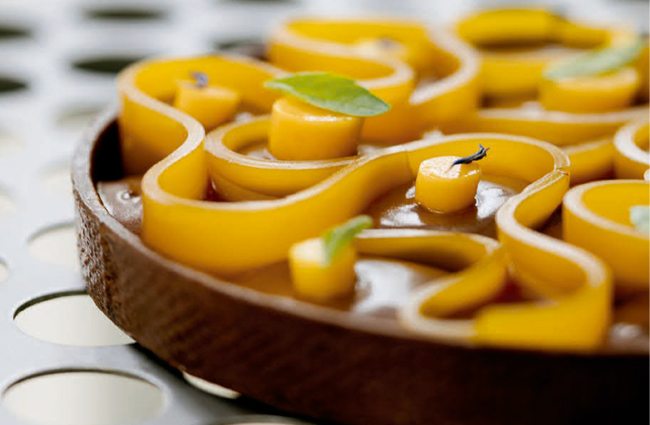 'The concept of the tart is based on the new WholeFruit chocolate, fresh and fruity. Everything that is inside the chocolate comes from the cocoa fruit, including the sugar. So this is one of a kind thing, unique, it has never been done before. The taste is really interesting, very tasty and very nice.
Nothing at all has been added to it, no vanilla, no lecithin…, so my approach for my tart is that I wanted to create something that would look stunning, as well as different, and taste amazing, following the similar principles of this chocolate. Also not buying or needing many things to create it, so no freezer, no colorings, no silicone molds. Just the basic tart ring to create something unique around it, just with the help of creativity and originality. So that was the concept of keeping the flavors clean and simple, letting the chocolate speak fully, so there is a combination of Earl Grey, a combination with bergamot, and of course chocolate, WholeFruit chocolate. I personally like flavors that are not too crazy, and I don't like to use too many flavors.
It is a well-balanced, beautiful tart and very happy with the result. Hopefully the readers that see the creation and taste de WholeFruit chocolate will agree with me. Thank you very much.'
Melissa Coppel: Sensory journey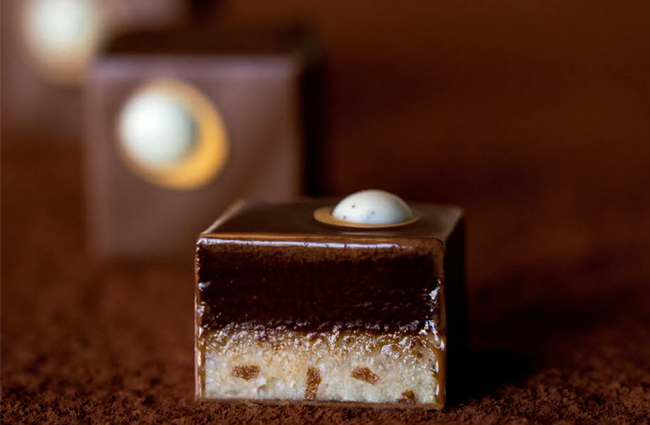 'When I heard the idea of having a chocolate made 100% from a cocoa bean, it shook me! I thought to myself, 'how revolutionary is this?' Then when I tried it, it took me a few seconds to unfold its magic… I felt in the middle of a cocoa plantation munching on the delicious pulp from a fresh cocoa bean: fruity, with notes of plums and raisins, balanced acidity and an incredible bold finish.
My dream when I created this chocolate bonbon was being able to recreate that first experience. So I played with layers of almond and raisin marzipan and a water-based Evocao™ ganache, all coated in 100% Evocao™ and a thoughtful decor representing the inside of a cocoa bean: Clean, bold and magical! I truly believe Evocao™ will transform the way we perceive chocolate forever.'
Emmanuel Ryon: Homage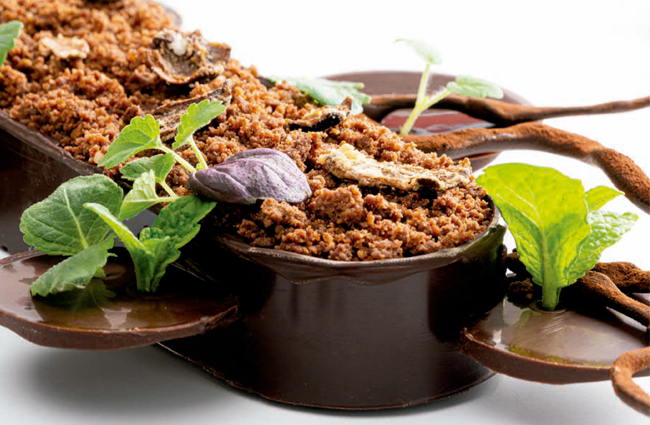 'The idea of the design of this dessert came to me as a matter of course, it had to represent nature. We find chocolate and cocoa powder decorations, which come out of the dessert to represent the roots of plants, nature with its strength and power. The small aromatic herb shoots are there to amplify the visual of the garden of greenery and bring freshness to the tasting, and on the dessert I placed caramelized cascara which is there to bring back a unique taste and to represent the peat that we find in Nature and which is in my tasting brought by Whisky.
This is what this Evocao™ chocolate and this dessert created for the occasion evokes. In conclusion, let's take care of Nature if we do that, Nature will always take its place in our landscape, in our lives, in our memories and in our creations.
Kirsten Tibballs: Sweet & savory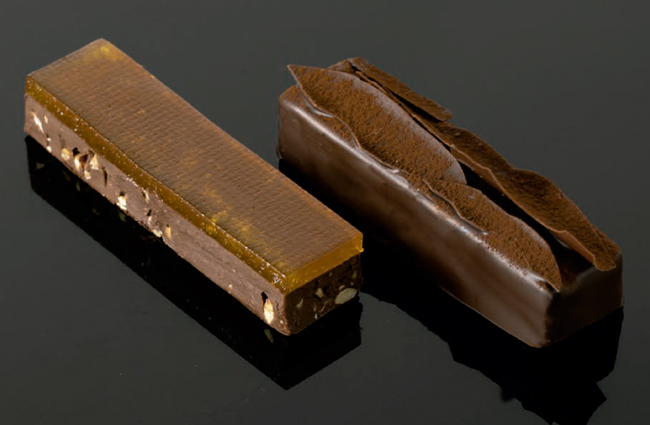 'WholeFruit chocolate is one of the biggest breakthroughs in the chocolate industry. To align with the philosophy of the chocolate I wanted to create a product that was made from sustainable ingredients and embraced and harmonized with the delicate flavour profile of the chocolate. I created a robust salted peanut and WholeFruit Evocao chocolate praline, the salty flavour balances the acidity of the passionfruit pate de fruit which I placed on top. I fully enrobed and garnished the chocolate bars in WholeFruit Evocao chocolate with a touch of cocoa powder.'
Find out more about these 5 signature creations and get their recipes in so good #26