Fun animals, elegant chickens, pictorial eggs, pop symbols, spaceships … The Easter season is approaching and pastry chefs have unlimited imaginations, always pushing the limit, and the results could not be more original and artistic.

In this year's selection, we collect eight proposals which are full of life to satisfy the most gourmet palates, and in which the great mastery of chocolate and the inventiveness of its creators can be plainly seen.
Patrick Roger breaks the barriers between chocolate and art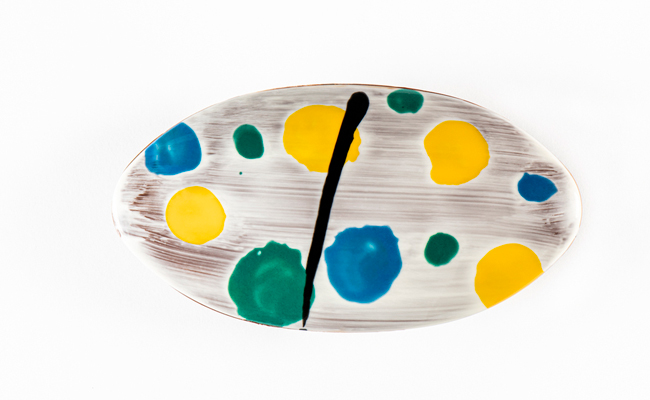 Patrick Roger once again shows off his creative genius and his very personal style. The French chocolatier brings out his most artistic side with two eggs: Poisson, with a fine shell filled with figurines filled with exceptional pralines (almond, hazelnut and nougat), and Felé filled with praline figurines of Pure Madagascar chocolate, French almonds, and Piedmont hazelnuts.
Colorful, cracked, and ready to be devoured, not only with the eyes since they offer an innovative tasting.
The Vanilla Egg with a surprise by Maxence Barbot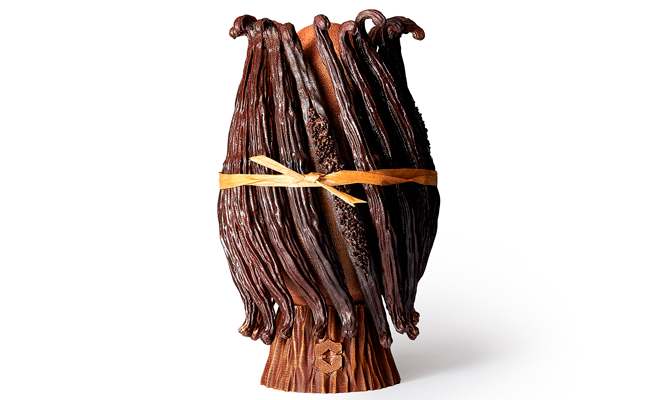 Maxence Barbot, pastry chef at the Shangri-La Hotel Paris, presents an impressive piece surrounded by vanilla beans reconstructed with Deltora 70% Panama chocolate with subtle spicy aromas and topped with pecan almond praline, crunchy vanilla and amaranth soufflée, and a touch of fleur de sel.
Under the pods there is a 40% milk chocolate egg that hides a small treasure in its interior in the shape of a small 70% dark chocolate egg filled with a tender heart of almond, pecan, and vanilla praline, delicately coated with vanilla marshmallow.
Yann Brys and his gourmet chicken coop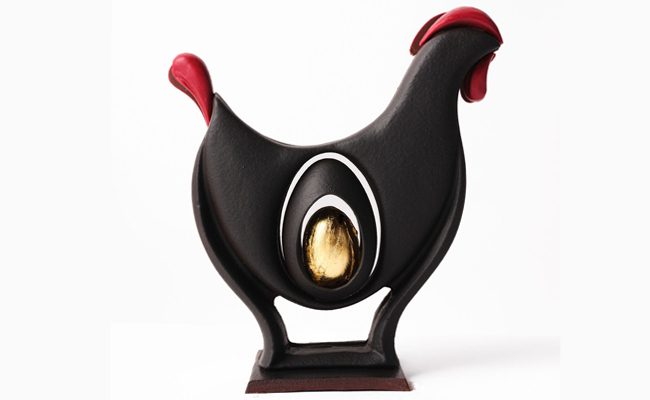 As usual, Yann Brys, director of Evok's sweet creations, presents four different creations adapted to the personalities of four of the group's hotels (Nolinski, Brach, Sinner, and Cour des Vosges).
Daring and gourmet limited-edition pieces with which the MOF once again shows his great creativity. Here we gather two of these chickens that could perfectly be works of art. For Nolinski, which embodies French art de vivre, he has created a sophisticated hen made with 62% Brazilian dark chocolate garnished with hazelnut praline and holding a spectacular golden egg with gold leaf inside. For the bright and romantic Brach, he proposes a 63% Peruvian dark chocolate hen with colored mosaics adorned with almond praline, pistachio praline, and raspberry paste.
Philippe Conticini's homage to Elysium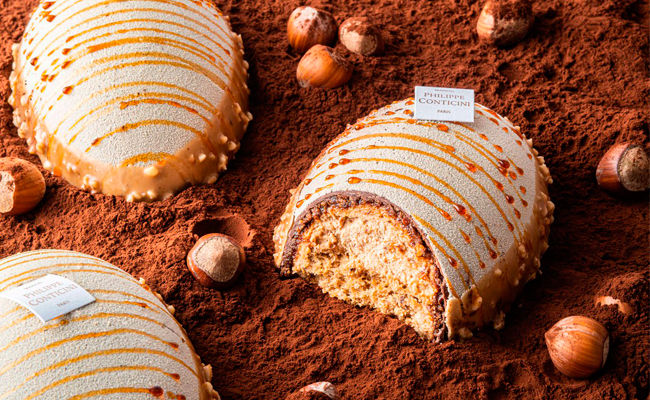 This Easter, Philippe Conticini presents a different Easter egg with which he invites you to travel to other planets in these difficult times.
With Elysium, the chef pays tribute to this mountain located on the planet Mars. It is a milk chocolate half-egg appetizer containing a praline coulant insert, a crunchy hazelnut biscuit that provides texture to the mouth, covered with caramel in ÿlets carefully placed on a delicate sweet chocolate glaze.
Cyril Lignac's fun Les Coquettes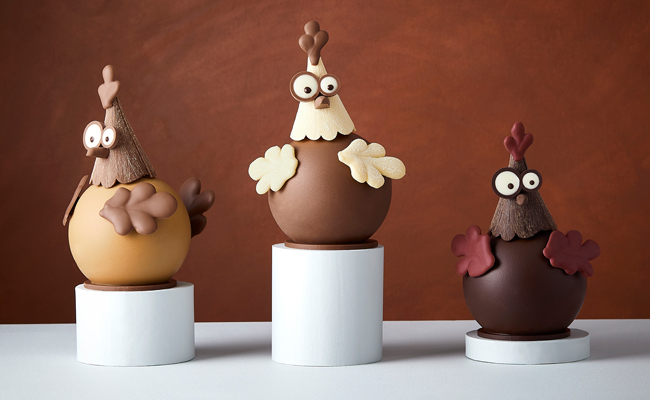 At La Pâtisserie et La Chocolaterie Cyril Lignac, the stars this Easter are three fun chickens called Coquette, available in milk, dark, or dulcey chocolate, and filled with delicious dry fritters and small praline eggs. Endearing characters that can be accompanied by some vanilla marshmallow chicks covered in milk chocolate.
With these pieces, the chef once again confirms his funniest and wittiest side, as well as his mastery of chocolate.
Jean-Paul Hévin continues to draw inspiration from the Pop years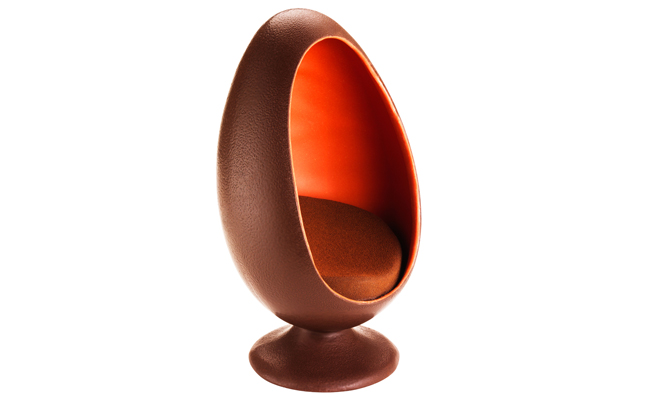 Like in the Christmas campaign, Jean-Paul Hévin refocuses on the dynamic and cheeky pop years to create a joyous Easter collection that is full of life.
Within the collection we find the Arne Egg, in which he makes a chocolate interpretation of the popular Arne Jacobsen armchair, an icon of this era.
This sweet sculpture is made with 68% dark chocolate and adorned with pralines, a classic of the Maison.
La Maison du Chocolat, heading to the Chocolate planet!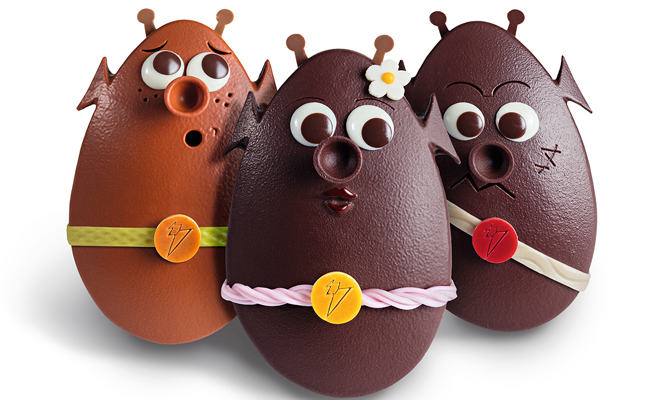 This year, Nicolas Cloiseau, chef of La Maison du Chocolat, imagines an alien universe that looks like something out of a comic strip. In an unidentified flying egg, Captain Ecuador, Pilot Peru and Agent Jamaïca, a trio of fine cocoas of pure origin from South America, explore the mysteries of the only planet where chocolate grows. Some characters with whom Cloiseau wants to convey, in a cheerful and poetic way, the craftsmanship and the Maison's commitment to the best cocoas.
The egg U.F.E, made entirely by hand in his Nanterre workshops with 39% milk chocolate pure Peru and dark chocolate 66% pure Ecuador, with 650 perforations, is available in a limited edition (10 pieces). Like a Russian doll, it is balanced on a giant egg of more than 7 kilos of chocolate, surrounded by a disk in chocolate as well as a rosette of 50 praliné eggs.
Each superhero is a figure (Peru – milk chocolate Peru 39%, Jamaïca – dark chocolate Jamaïca 70% and Ecuador – dark chocolate Ecuador 66%) molded in detail, colored and decorated by hand, and placed on a crunchy chocolate bouchée.
Raúl Bernal. Less is more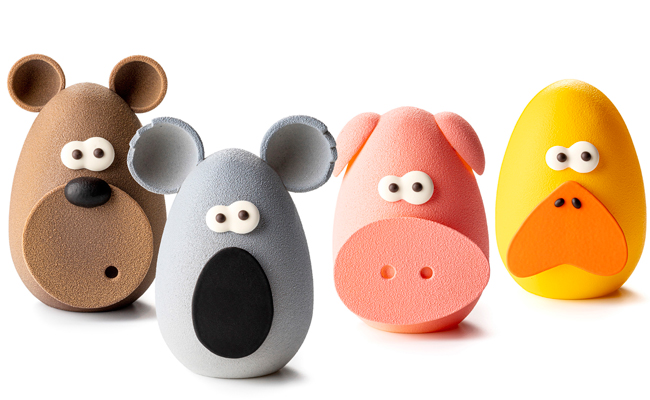 Raúl Bernal, one of the great Spanish chocolate talents, continues to expand his popular collection of chocolate-colored animals with bulging eyes and rounded finishes. This year, the new additions are four animals – pig, koala, bear, and duck – which are original, easy to make, and profitable. Unlike other seasons, these pieces are in a smaller size and only the head appears. "It is a more affordable line, in which you can take advantage of all the elements. They are all the same height, so they perform without complications, you just have to start assembling pieces," he explains. What he does maintain is the use of spheres and eggs as the main elements to give life to these endearing figures.