In the Christmas collection of the Park Hyatt in Tokyo, Julien Perrinet has fused Japanese customs with French pastry culture. He has only been at the hotel for two years and has already changed almost 95% of its repertoire, modernizing most of the recipes and maintaining the most emblematic references of the house.
The star products of this collection are three bûches de Noël, whose names are directly related to the flavors and/or the design. Corsica, in which IPG mandarin oranges from Corsica are combined with chestnuts; Saint Malo, where he not only vindicates the salty caramel of his homeland, Brittany, but also plays with the color white on the outside and black on the inside to emulate the flag of Brittany, and Maestro, which "is actually the name of one kind of strawberry that we use for our red Bûches. So, again, it came naturally", explains the pastry chef.
Apart from the Christmas logs, a preparation that is highly appreciated by the Japanese and that is a tradition at Park Hyatt is the stollen, both the classic and the chestnut version. This year Perrinet also adds a third more brioche version with a pronounced butter flavor.
His approach for his cutting-edge creations is to focus on flavor and main ingredients, and design something elegant without unnecessary frills. All in all, the purpose is "to provide a lot of pleasure in terms of textures, flavor combinations, and look so that customers find them 'kawaii' (pretty and delicate') at first sight", he assures.
Next, we share the Bûche Maestro's recipe, decorated with fresh Amaou strawberries, raspberries, and blueberries. Perrinet has created a melody of flavors by using strawberry jam, pistachio namelaka cream, and pistachio financier sponge.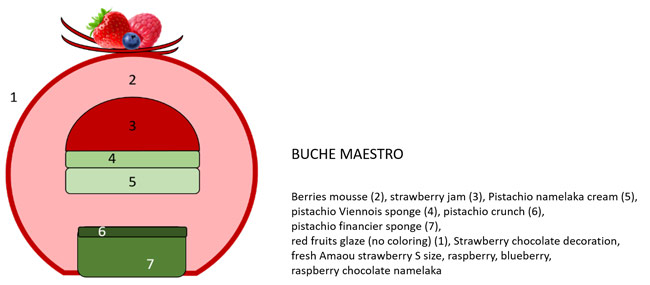 Bûche de Noël Maestro
Berries mousse
1.000 g strawberry puree 100%
300 g raspberry purée 100%
200 g cassis purée 100%
400 g cream (warm)
55 g brown sugar
320 g gelatin mass
1200 g whipped cream
300 g mascarpone
Warm up half of the purees, add gelatin, add the other half of liquid cold purees, add the whipped cream mix with mascarpone.
---
Strawberry jam
560 g strawberry puree 100%
1,2 g acid citric
16 g cornstarch
28 g sugar
90 g gelatin mass (1/6)
4 g pectin NH
Heat up the puree. Combine the remaining ingredients (except for the gelatin), add to the puree, mix it and cook it as a creme anglaise. Once thickened, remove from the heat and add the gelatin.
---
Deco chocolat
375 g Strawberry chocolate inspiration
15 g Red Cocoa butter PCB
Melt and combine.
---
Pistachio viennois sponge
150 g egg yolk
400 g whole fresh eggs
315 g sugar
250 g egg white
100 g sugar
200 g flour violet (Japanese cake flour)
210 g pistachio paste
Egg yolk + fresh egg + sugar in mixer > whip. Make meringue with egg white and sugar. Add meringue in the first mix and then add the flour sieved. Poor the sponge mix on silpat. Bake it in ventilated oven at 230ºC for 5-6 minutes.
---
Crispy feuillantine pistache
1.000 g pistachio praline
300 g white chocolate Opalys
500 g feuillantine
Melt chocolate to 35°C, add praline and fold in feuillantine, spread on pistachio financier
---
Praliné pistachio
750 g pistachio nuts (roasted in oven, 12 min at 165c)
250 g sugar
6 g sea salt
60 g pistachio paste Babbi
Cook sugar at 160ºC, poor the nuts, sable and crystalized sugar, cook slowly until caramelization. Once done, Poor on silpat and allow to cold down, once cold, put in robot coupe. Add salt and pate de pistache.
---
Pistachio financier
1.000 g icing sugar
480 g almond powder
460 g flour violet
10 g salt
12 g baking powder
1.160 g egg white
112 g trimoline
640 g brown butter
774 g pistachio paste
Combine powders altogether. Pour over the pistachio paste. Fold in egg whites, trimoline and brown sugar. Por on baking sheet and bake.
---
Red fruit glaze
300 g raspberry puree
60 g strawberry puree
280 g water
100 g glucose
100 g Trimoline
200 g sugar
12.5 g NH pectin
1,6 g stabilizer (sorbet)
2 g acid citric
Combine purees, water, glucose and tremoline. Warm up to 34-40ºC.Mix well sugar, stabilizer and pectine. Add to the puree and boil. Add acid citric.
---