Chicago's Chocolate Academy was recently the scene of an unusual meeting. It is not usual for three renowned pastry chefs and chocolatiers to meet with no other objective than to imagine, with no other urgency than experimenting, and no other obligation than to push the boundaries of their creativity. This meeting, led by Dimitri Fayard, Martin Diez, and Nicoll Notter was called Creative Week, an initiative of the Chocolate Academy promoted by its director, Manoela Lima and its Lead Chef, Fayard.

The latter, who focused his work on the versatile world of baked dough, was awarded three gold medals at the Atlanta Pastry Classic Competition in 2001, and was named one of the Top Ten Pastry Chefs in America by Pastry Art & Design and Chocolatier magazines in 2007. Chef Dimitri was named World Pastry Champion in 2008, in 2009 he was admitted as Academician into the Academie Culinaire de France, and was a finalist for the MOF in 2011.

A fun assortment of proposals in confectionery and bonbon making was the contribution of Martin Diez, who is leading the chef services of Barry Callebaut in the Americas. He is a globally-recognized chef for his creative mindset in confectionery, ice cream, and pastry. Martin is constantly traveling the world to give classes around his art and artwork which allows him to always discover new ingredients and meet chefs and other artisans. Martin loves to push the boundaries of his chocolate playground, pairing the most fascinating product (chocolate) with hundreds of rare and unique ingredients from all over the world.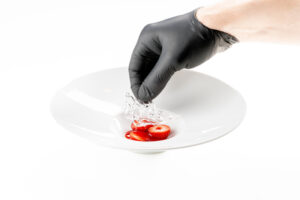 The third guest, Nicoll Notter, who took advantage of the meeting to experiment with plated desserts, is the head chef for the New York Chocolate Academy. Son of two pastry chefs, Nicoll was introduced to the pastry industry at an early age. He has given his adult life to the pastry world and has been fortunate enough to work in many places. His resumé varies from chocolate production, pastry shops, hotels, and restaurants in the states and Switzerland. At age 21, Nicoll competed in and won Pastry Chef of the Year for the United States, being the youngest person to win the competition. In 2020 as captain of the Swiss National Team, Nicoll and the team won 1st place in the Coupe d'Europe held in Paris. In 2022, Nicoll was working as a pastry chef for a restaurant in Manhattan called Frevo and the restaurant was awarded its first Michelin star. Nicoll's base philosophy is hard work and determination will take you further than talent ever could.

Three talents at the service of creativity who demonstrated that from the confrontation of ideas, experiences, and knowledge, new proposals often emerge, enriched and strengthened by the sum of all. Martin Diez himself explains it perfectly: "It is amazing how you are way more inspired and creative working with a team. We picked up some themes, exchanged ideas, made lots of trials and that's how it came out".

Next, from the Chocolate Academy of Chicago they explain to us how the idea of calling this interesting Creative Week was conceived and we complete this article with three creations, one from each chef, that were born from this fruitful meeting.

How and why did the idea of this Chocolate Academy Creative Week come about?
Last year in Greece, Barry Callebaut hosted a global chefs conference that was incredibly energizing and inspiring. We were left wondering, "how can we work to inspire ourselves internally?" After a few brainstorming sessions, Dimitri Fayard, Lead Chef, Chocolate Academy North America and Manoela Lima, Director, Academy and Gourmet Marketing created the idea to host an internal Creative Week.

Why did you choose these three chefs to participate in this action?
The idea began as a North American initiative and, with the opening of our brand new Chocolate Academy New York, we really wanted to include its head chef, Nicoll Notter. Hosting him in Chicago with Lead Chef Dimitri Fayard and Director of North American Chef Services, Martin Diez, was the perfect way for him to witness and feed off the creative energy of these two Academy veterans.

What are the conclusions of this action?
Creative Week allowed our chefs to push the boundaries of their creativity, challenge their knowledge, and left them energized and inspired by each other with the goal of continuing to bring pastry and confectionery to the next level.

Will it be repeated in the future with other chefs?
The day-to-day goal of academies across the world is for our chefs to inspire professionals. We will have similar events to allow our chefs time to be creative so that they can continue to inspire the industry.
Dimitri Fayard – Multi texture pound cake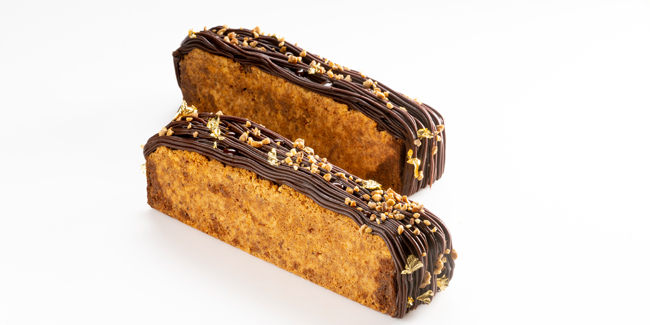 I wanted to create a multi texture pound cake, with a moist pound cake base baked into a crumble. The soft piped ganache on top add an extra layer of indulgence.
Pound cake
380 g butter
600 g sugar
300 g cake flour
320 g eggs
134 g buttermilk
70 g Cacao Barry cacao powder Extra Brute
6 g salt
2 g baking powder
10 g vanilla paste
72 g expresso
200 g chopped Cacao Barry Evocao
Cream the butter, sugar and salt. Alternate with the eggs, buttermilk and sifted dry ingredients. Add the vanilla paste and expresso. Fold in the chopped chocolate.
---
Crumble
234 g butter
234 g pastry flour
3,6 g fleur de sel
198 g turbinado sugar
306 g Cacao Barry Praligrain
Mix all the ingredients together till well combined. Roll to 3 mm between parchment paper.
---
Chocolate ganache
187,5 g cream
260 g corn syrup
8,25 g vanilla paste
29 g yolks
280 g Cacao Barry Mexique 66%
144 g butter
Bring the cream and corn syrup to a boil. Temper the yolks. Pour over the couverture and vanilla paste. Hand blend. At 40°C hand blend the butter. Keep at room temperature.
---
Montage
Line the loaf molds with strips of crumble. Line the crumble with plastic wrap and baking beans. Par bake at 160°C for 30 minutes. Fill the par baked loaves with the chocolate pound cake. Bake at 180°C for 25 minutes. Once cooled, pipe the ganache and decórate.
---
Martin Diez – Salted caramel dragée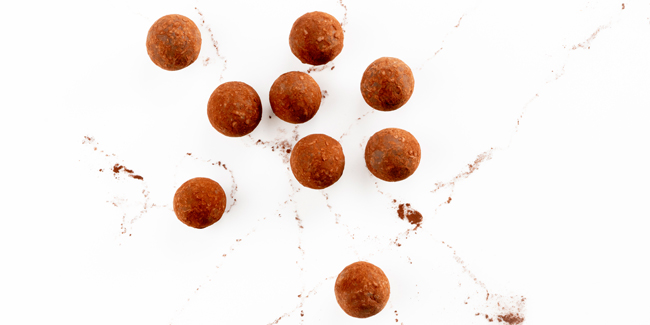 "This panned item is layered to deliver a unique chocolate taste at every moment of the degustation. The cut of the dragees is also very impressive".
Salted caramel center
225 g sucrose
33,75 g glucose
15,75 g liquid sorbitol
135 g butter, unsalted
3 g fleur de sel
0,5 g lecithin
225 g heavy cream
0,5 g baking soda
1 ea vanilla bean
Warm up glucose and sorbitol. Slowly add sucrose to make a caramel. When desired color is reached add butter, fleur de sel and lecithin. Add cream warmed to 60ºC, baking soda and vanilla bean. Cook to 120ºC, whisking constantly. Emulsify caramel. Cast into a 15 mm frame, let rest at room temperature for least 6 hours preferably overnight. Cut caramels to 8mm squares.
---
Chocolate panning
As needed extra bitter Guayaquil
As needed Alunga milk chocolate
As needed Zephyr caramel chocolate
As needed Zephyr white chocolate
Prepare panning machine. Coat caramels in a layer of dark chocolate, allow to crystallize. Coat caramels in a layer of gold chocolate, allow to crystallize. Coat caramels in a layer of milk chocolate, allow to crystallize. Coat caramels in a layer of white chocolate, allow to crystallize. Coat caramels in a layer of dark chocolate, allow to crystallize. Finish with natural dark cocoa powder.
---
Nicoll Notter – WZS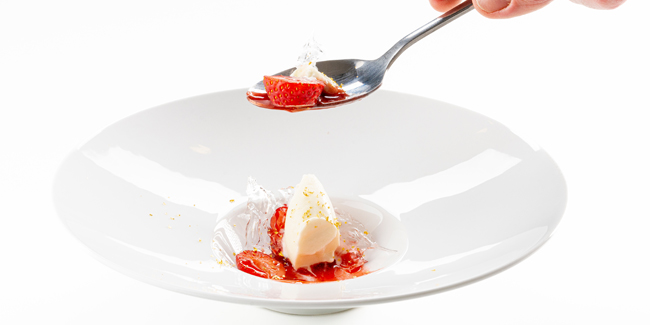 The Zéphyr is very nice chocolate and pairs well with wasabi and strawberries. I see this as a pre-dessert and to be served in the late spring or summer.
White chocolate wasabi ice cream
608 g coconut milk
233 g Zéphyr White chocolate
30 g wasabi
2 g stabilizer
Grate wasabi into coconut milk warm to 85ºC and add stabilizer. Warm chocolate to 35ºC and make emulsion. Freeze and spin the next day.
---
Strawberry sauce
418 g strawberry puree
92 g sugar
1 g vanilla
15 g lime juice
1 ea lime zest
Warm all together and sift.
---
Isomalt tuile
Cook to 170ºC. Crinkle parchment paper. Cool isomalt and pour onto paper. Drip down. Break into pieces. Warm and curve.
---
Montage
Pacojet your ice cream two hours in advance. Cut the strawberries vertically and place them on the bottom of the plate. Add strawberry sauce. Place isomalt tuile on top of strawberries. Quenelle ice cream on top of tuile and serve.