Marike Van Beurden's curriculum leaves little doubt about her talent. Trained alongside greats like Philippe Rigollot in France, brilliant in championships such as the C3 in plated desserts or the World Chocolate Masters, now her headquarters is placed in Hong Kong, which has lately become home to pastry figures of the highest level. From there, she offers her creativity by traveling around the world and looking for the best application of products the likes of Sosa Ingredients, Ravifruit or Callebaut. And if talent and technical quality are among her best attributes, she does not lack the capacity of exploring new paths which take classic pastry to a more youthful, colorful and casual level without renouncing even a milligram of gourmand pleasure or intensity of flavors. A good example is her line of 'funky brownies', although in reality the funky spirit is equally applicable to other formats that she presents on this occasion: entremets shaped like doughnuts and restyled tartlets. Her area of influence is centered in Southeast Asia, a fact that has driven her to foster the use of spices and exotic fruits in her proposals, but without abandoning her European origins as she demonstrates in the Apple tart inspired by the traditional Dutch classic.
Brownie carrot coconut cake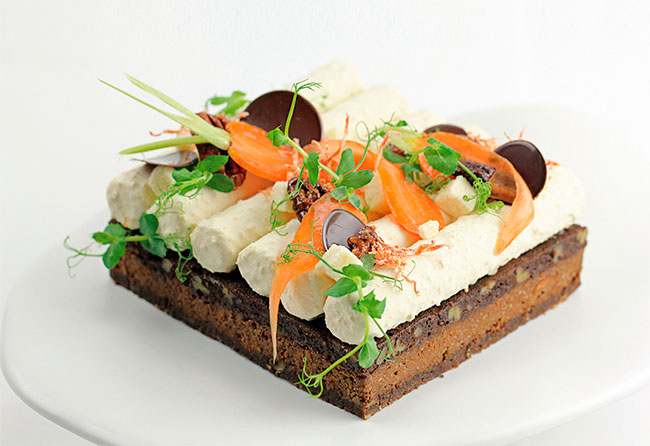 carrot brownie pecan chocolate brownies
120 g brown sugar
120 g sugar
160 g eggs
80 g dark chocolate Guayaquil, 64% cocoa
180 g butter
40 g flour
14 g cacao powder
70 g pecan nuts
30 g macadamia nuts
100 g shredded carrots
Mix the eggs with the sugar. Melt the chocolate and butter and add to the whipped egg and sugar mix. Add the powders, nuts and carrots. This recipe makes two 60×40 trays. Bake in a square at 170ºC for 15 minutes approximately.
---
coconut and carrot ganache
375 g coconut purée Ravifruit
200 g dark chocolate Guayaquil, 64% cocoa
100 g toasted desiccated coconut
150 g shredded carrots
Heat up the purée and make a ganache with the chocolate. Add the coconut and carrots. Spread out on top of the first layer of brownies, about 15 mm thick. Place a second brownie layer and finish off with a thin layer of ganache, and place a layer of Sosa Carrot Jam on the top.
---
coconut mousse
375 g coconut purée Ravifruit
300 g whipped cream
60 g gelatin mass
Melt the gelatin mix with the purée and, once it starts to set, mix with the cream. Pipe into the tubes, freeze and cut when frozen. Dip into white chocolate coating with coconut.
---
white chocolate coating
200 g white chocolate
200 g cacao butter
100 g desiccated coconut
Melt and mix.
---
other elements
Fresh baby carrot
Pea shoots herbs
Compressed coconut Sosa
Cantonese pecan nuts
Orange cream
Dark chocolate rounds
---
The story about 'funky brownies'
The carrot cake brownie is one in the series I've created of Funky Brownies. This series is created to show how much it is possible to be done with brownie, as it's a big favourite for a lot of people, so why not restyle it and make it funkier.
Old time favourite brownie or carrot cake, no need to make the choice anymore as here these is a combination of both. And, hey! it's (kind of) healthy because it contains veggies and nuts.
Brownie dough bakes with grated carrots and nuts, a ganache made with Guayaquil chocolate, carrot purée, grated carrots and roasted desiccated coconut. A light coconut mousse piped in tubes and dipped in a coconut chocolate for the extra crisp.
MVB
---
You will find three others recipes in so good #15