In the heart of the French Riviera, between Nice and Monaco, we find Eze, a medieval town in a privileged setting and with unique views of the Mediterranean Sea. It is there where the La Chèvre d'Or hotel stands majestically, a space where pleasure, comfort, and elegance go hand in hand. Three characteristics that are also reflected in the restaurant, with two Michelin stars thanks to the work of MOF chef Arnaud Faye. Leading the desserts station, we find talented Julien Dugourd, a versatile and elegant professional, who treasures a solid cooking training background acquired in his early years.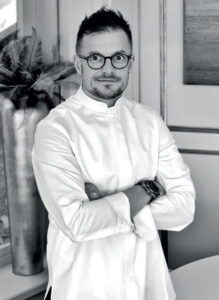 Julien Dugourd stood out first in the world of savory cooking, preparing even to be recognized as one of the best kitchen apprentices in France. It was at that time that his head chef advised him to train as a pastry chef, because to be a good cook you have to master the basics of pastry. A fundamental first contact. Dugourd took the definitive leap from cooking to patisserie while working under chef Marc Veyrat at l'Auberge de l'Éridan, a mythical restaurant that held three Michelin stars and the highest Gault & Millau score. 'Veyrat asked me to switch to the pastry station and everything changed there, I have not left the sweet world since.' And after passing through the Veyrat restaurant, the pastry chef has accumulated experiences together with Jean-Georges Klein, Alain Ducasse, Philippe Rigollot and Christophe Michalak. 
As a result of all this experience and his culinary background, this pastry chef does not hesitate to define his proposals as 'simple, light and fruity', without losing sight of the importance of the visual aspect of each creation. As he claims, 'the appearance is particularly important, as much as the taste, because you eat a cake with your eyes before trying it.' For this reason, he does not hesitate to seek inspiration even in contemporary art to finish finding original designs that provide that necessary added value that a setting like La Chèvre d'Or demands. Designs like this colorful apple tart with a vanilla and mascarpone cream, a golden apple brunoise cooked with vanilla, an apple chantilly and slices of granny smith apple, whose recipe we only share on our website and which complements the article we dedicate to Dugourd in so good # 25.
Apple tart
Sweet pastry crust
225 g butter
4 g salt
113 g icing sugar
113 g ground almonds
95 g egg
450 g flour
Mix all the ingredients with the blender provided with a blade until you get a homogeneous consistency. Spread on a laminator at 2 mm and let it rest for two hours in the refrigerator. Line the circles of the 8 cm diameter tartlet. Cook at 145ºC until it has a good color. Keep in the oven.
---
Mille-feuille cream with mascarpone
160 g cream
36 g sugar
30 g yolks
1 pc vanilla bean
3 g gelatin sheets
150 g mascarpone
Mix the cream with the scraped vanilla. Cook in like a crème anglaise with the yolks-sugar mixture. Adhere at a high temperature with the soaked and drained gelatin. Pour over the mascarpone and mix. Pass through the strainer and let it rest for 12 hours.
---
Liquid caramel
125 g sugar
15 g glucose
1 g salt
150 g hot cream
1 pc vanilla bean
100 g butter
Make a light brown caramel with the sugar, glucose, salt, and vanilla beans. Cook with the hot cream. Add the butter gradually. Remove from the heat and let cool. Put in a pastry bag.
---
Baked apple brunoise with vanilla
2 u Golden apples
20 g butter
q.s. dried vanilla seeds
q.s. sugar
You cut the apples into brunoise. Melt the butter and cook the brunoise. Add the dried vanilla seeds.
---
Apple cream
Assemble the ingredients and whisk to obtain a whipped cream.
---
Apple rosette (syrup + apple slice)
2 u granny apples
200 g water
20 g sugar
2 g ascorbic acid
1 g citric acid
Make a syrup. Cut the apples with a mandolin into thin slices. Dip them in the hot syrup to poach them a bit and soften them. In a soft chocolate disk, arrange the slices in a rosette.
---
Dentelle leaves
150 g butter, melted
150 g powdered sugar
150 g flour
120 g egg whites
Work all the ingredients together. Roll out into leaf molds. Bake until a good color is obtained in a ventilated oven at 145ºC.
---
Discover these other two creations by Julien Dugourd in sogood #25