Six months after the final of the Coupe du Monde de la Pâtisserie, which will take place in January 2021 at Sirha in Lyon, the competition continues to work to promote an even more conscious patisserie. The event, chaired by Pierre Hermé and which remains on the calendar despite the health crisis, has completely renewed the Organizing Committee and has appointed Claire Heitzler and Frédéric Cassel as vice presidents, who are willing to guide the event towards a responsible pastry whilst continuing to enhance the image of the trade and promoting the transmission and know-how of the CMP.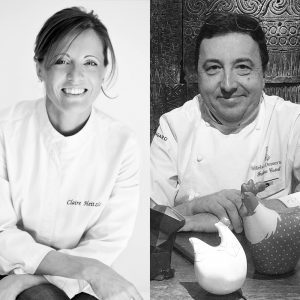 The commitment of these new vice presidents to ecological and climate change is solid. In Heitzler's opinion, "to satisfy the need for information and transparency regarding raw products, their origins and impact on our health, it is essential that seasonality, biodiversity, respect for the land find their place at the heart of the pastry industry. We must realize that Nature is our main work instrument and that the decisions we make today will allow us to work better tomorrow ".
The new mixed International Organizing Committee, which aims to chart a new course and give a boost to the competition, is made up of experienced and young chefs: Julien Alvarez, Quentin Bailly, Sébastien Bouillet, Christelle Brua, Alain Chartier, Patrick Chevallot, Claire Damon, Sophie De Bernardi, Jérôme De Oliveira, Laurent Le Daniel, Johanna Le Pape, Christophe Michalak, Angelo Musa, Philippe Rigollot, Marc Rivière and Eric Vergne. These professionals, who will have the task of succeeding the previous committee in force for more
than 30 years, "will be intent on involving the participants, judges, partners, and other players concerned with the Coupe du Monde de la Pâtisserie in a responsible and ecological approach. I surround myself with members who share these values as well as those of diversity and excellence that are so important to the competition, "says Hermé.