Barcelona's relationship with chocolate was not born yesterday. This product's history, whose first factory in the city is dated to 1780, is closely related to the history of culture, art and technology. In so good #13, we pay tribute to this city through the eyes of nine professionals directly linked to Barcelona and chocolate. Bonbons, desserts, cakes, pastries, bars, decorations… a whole range of applications that chocolate gives modern patisserie, through the talent of nine masters from Barcelona.
1. Enric Rovira. 20 years reinventing chocolate
A great mind, 'chocolate-devoted' hands with no rivals, an artist faithful to his own ideas like few others, a chocolate revolutionary that does not support older classifications or shortcuts to achieve instant popularity. After 20 years of a solo career under his belt, he still has in his list of triumphs products which are rabidly modern, admired, if not copied, by many. His name is Enric Rovira and we begin our conversation talking about Barcelona, the city he reclaimed in terms of chocolate, whose inspiration and much of his creative work draws from. But we won't get much further if we continue in the field of presentations. It is best to sit down, get comfortable, accompanied by hot coffee and let him revise his countless creative contributions through his most emblematic collections.
'We would never have done many things if we sought only to satisfy what the customer demands. The challenge is to have a structure, a regular demand for items listed, which is sufficient to then do what I want. If I cannot do special things there is no need to set up my own chocolate firm and might as well work for others. Anyway, I have spent so much time expressing that personal freedom that, to some extent, I feel I know too well the way to go.' These are his words, though knowing the desire to renew he has shown throughout his career, we do not rule out new and surprising proposals in the future.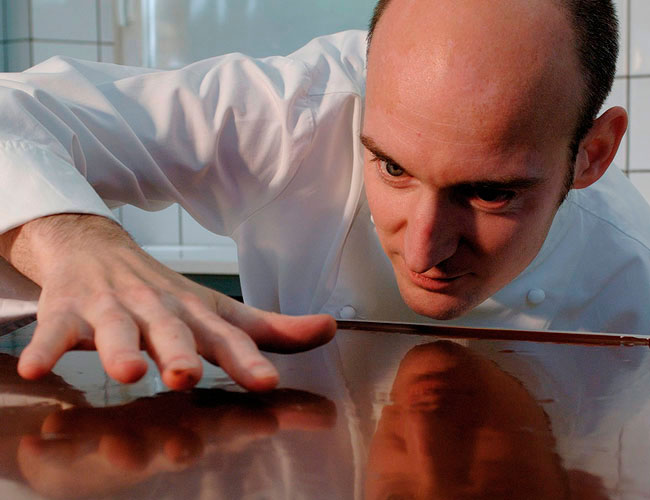 2. Carles Mampel. Constant metamorphosis
Carles Mampel is, above all, a survivor. Only a person with an iron strength like his can overcome health obstacles that fate has put him through. But he is also a well of knowledge and an artist who is constantly evolving. So much so that when we went through his workshop we caught him renewing the packaging and the concept of much of his line of sweet snacking and chocolate.
Although we are in the middle of that process which is not yet crystallized, we catch some ideas that deserve our attention on the fly. A good example is these Slimtablets filled with extremely liquid ganaches/caramels.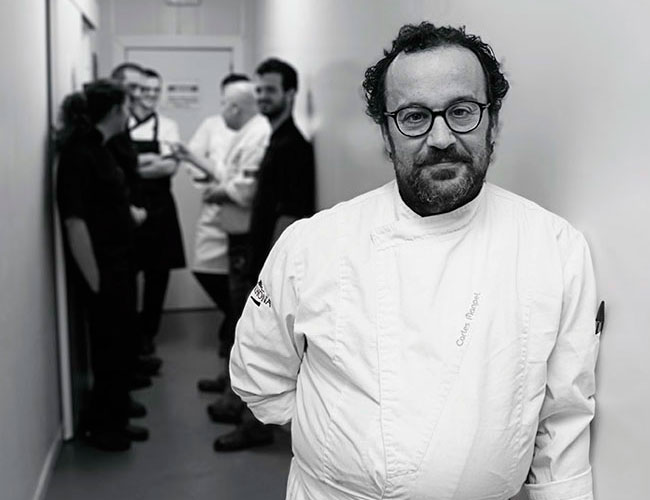 3. Josep Maria Ribé. Inside and outside
Design and taste, form and substance, inside and outside. Josep Maria Ribé has demonstrated in his highly lucrative career that he is not willing to overlook a single detail. His creations astonish because of the boldness of his flavor combinations, as well as by the elegance and imagination of his designs.
In his taste universe, chocolate is always a common denominator, a link that ends up giving meaning and unity to all. And so we encounter, for example, a powerful trident like chestnuts, anise seed and orange, which fit perfectly in a milk chocolate coating; or two very different flavors with very defined personalities, yuzu and matcha tea, which taste better in the presence of a sweet, white chocolate. And if chocolate is a connecting element in the section of flavors, it is the support and the element with which Ribé creates his aesthetic. In this as in other cases, the chef chose the elegance and simplicity of geometry to present a bar format, ending with the sensitivity of air-spraying and subtlety of little embellishments.
Josep Maria Ribé is Spain's Best Chocolatier (MCE) and technician in Callebaut, as well as professor at the Chocolate Academy in Barcelona (Spain).

4. Miquel Guarro. Squeezing out creativity
He was professionally discovered alongside the Torres brothers in the Barcelona restaurant, Dos Cielos. Since then, Miquel Guarro's rise has been meteoric. He won last year's competition for Spain's Best Master Chocolatier, the 'Lluis Santapau' trophy, and immediately joined the team at the Chocolate Academy in Barcelona. There he found the freedom necessary to create, which he takes advantage of: 'I believe that inspiration can come from many places, a photograph, a flavor, a sculpture… and then an idea forms which you reflect and work on. That idea sometimes ends up as something with some consistency and balance,' says this young chocolatier committed to great things in the future.
And speaking of the future, we asked Miquel about his professional dreams: 'In the long-term, I would like to get to have my own small business, offering customers honest and well-made pastry, with quality products, modern influences and perhaps combined with some other type of culinary discipline. Maybe cocktail bartending. But I realize how hard it is.' In that professional dream, the chef comes up with a healthier pastry with less fat, as a result of rebalancing traditional recipes. And of course, prioritizing flavor and freshness.
What about chocolate? 'The truth is that almost everything is invented… The major unresolved issue is bringing the culture of chocolate to the public. This way we would have more demanding customers forcing us to evolve and improve.'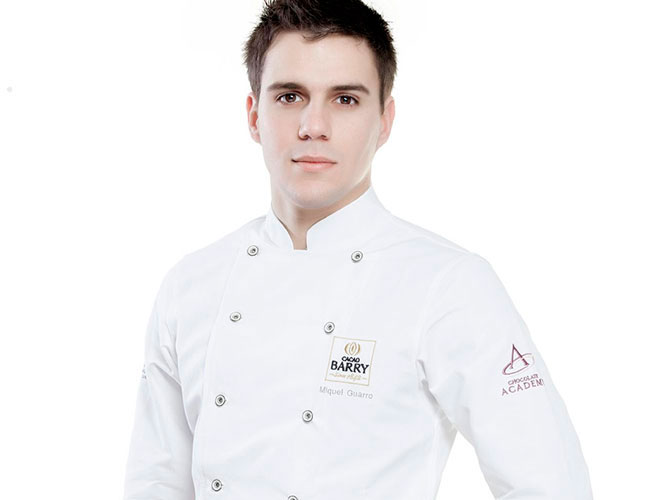 5. Oriol Balaguer. Caught between rigor and creative freedom
His training in pastry at the School of Barcelona provided him with rigor and accuracy. And in the orbit of El Bulli he learned to be creatively free. Both facets make Oriol Balaguer one of the most versatile professional pastry chefs in the international scene, able to create the most highly rated dessert at the World Pastry Cup (his famous Eight Textures Chocolate), and also capable of developing Spain's Best Butter Croissant (a prize won barely a few months ago).
But this chef from Barcelona is not just a pastry jack-of-all-trades; he is a creator of elegant and glamorous collections, creator of a luxurious and distinguished concept of sweet in general, but specially of chocolate.
All the above mentioned cannot be completely understood without the almost obsessive passion that Oriol Balaguer lives his craft. And it is precisely this OBSESSION that leads to the title of his new book, published by Grupo Vilbo, the same publisher of So Good.. magazine, which will be released in April.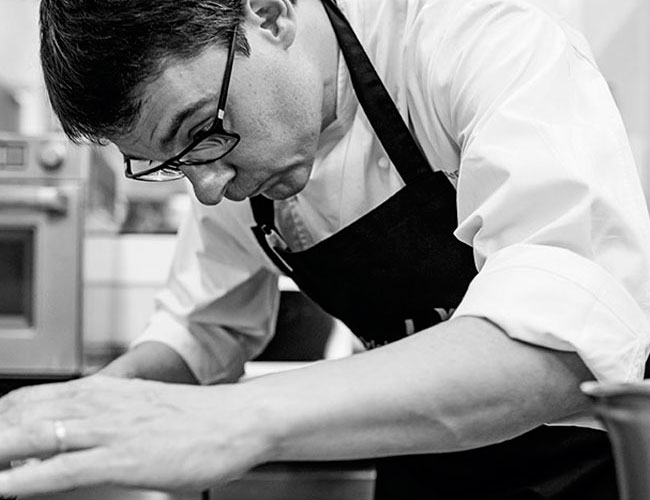 6. Ramon Morató. Sensorial bonbons #PureFive
More intense, more liquid, more stable, more pure
Five primary flavors and five colors for five special bonbons. The five basic taste perceptions (sweet, salty, sour, bitter and umami) 'sneak' into bonbons in the form of cocoa beans. All this, presented with exquisite taste in a wooden box designed for that purpose, was offered to the great chefs from around the world and the press in the last ceremony of The World's 50 Best Restaurants (London), and previously in Asia's 50 Best Restaurants (Singapore). But the author, the great master chocolatier Ramon Morató was not content with creating a beautiful and glamorous collection. The semi-liquid fillings these bonbons have are completely stable at room temperature and also have a low sweetening power. But how?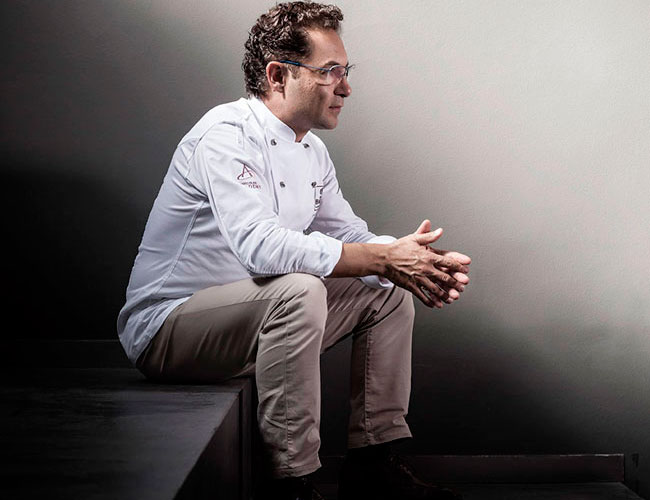 7. Raúl Bernal. Where is the corn?
Nothing is what it seems. Raúl Bernal's popcorn is not made of corn. And his potatoes are not tubers. What is certain is that there is chocolate in both creations, which is logical in someone who is a professor at the Chocolate Academy in Barcelona and technician in the firm Chocovic.
What is undeniably true is this chef's brilliant career, and most especially, his creative 'spark', a talent which is not learned. This is what he has shown in recent years in all his public appearances, including a commendable championship win as Spain's Best Master Chocolatier, the Lluis Santapau trophy, in 2011.
Incidentally, well roasted corn, is on the inside of the 'potatoes'.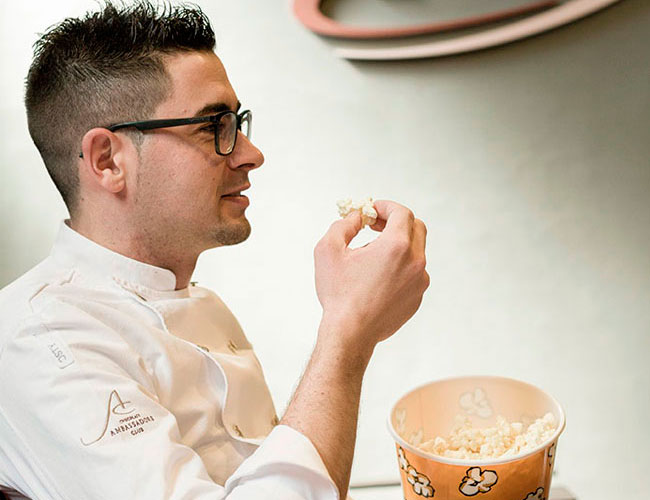 8. Olivier Fernández and Saray Ruiz. The haunted forest
Olivier Fernández and Saray Ruiz, director and professor respectively at Barcelona's Guild Pastry School, are glad to accompany us into this haunted, magical and somewhat spooky forest. Chef Fernández's 'black tree' is an alkaline puff pastry millefeuille with a chocolate cream and a red couverture motif, which symbolizes life amid barren darkness. By adding cocoa to the puff pastry dough, a dark shade is obtained, such as that of this 'tree'.
The professor Saray Ruiz takes us to another location in this peculiar forest, in which within a gianduja trunk, apparently dry, a green tea sponge, a yogurt mousse and a magical liquid toffee are surprisingly hiding.
Two imaginative proposals with the hallmark of Barcelona's Guild Pastry School, undoubtedly one of the most dynamic and creative training schools in the international scene nowadays.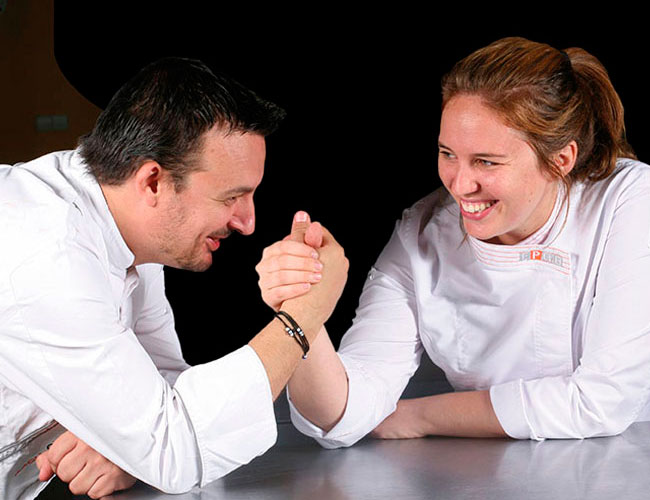 Do you want more? Get the complete article at
so good.. #13»