He was professionally discovered alongside the Torres brothers in the Barcelona restaurant, Dos Cielos. Since then, Miquel Guarro's rise has been meteoric. He won last year's competition for Spain's Best Master Chocolatier, the 'Lluis Santapau' trophy, and immediately joined the team at the Chocolate Academy in Barcelona. There he found the freedom necessary to create, which he takes advantage of:  'I believe that inspiration can come from many places, a photograph, a flavor, a sculpture… and then an idea forms which you reflect and work on. That idea sometimes ends up as something with some consistency and balance,' says this young chocolatier committed to great
things in the future.
And speaking of the future, we asked Miquel about his professional dreams: 'In the long-term, I would like to get to have my own small business, offering customers honest and well-made pastry, with quality products, modern influences and perhaps combined with some other type of culinary discipline. Maybe cocktail bartending. But I realize how hard it is.' In that professional dream, the chef comes up with a healthier pastry with less fat, as a result of rebalancing traditional recipes. And of course, prioritizing flavor and freshness.
Lime and pistachio tartelette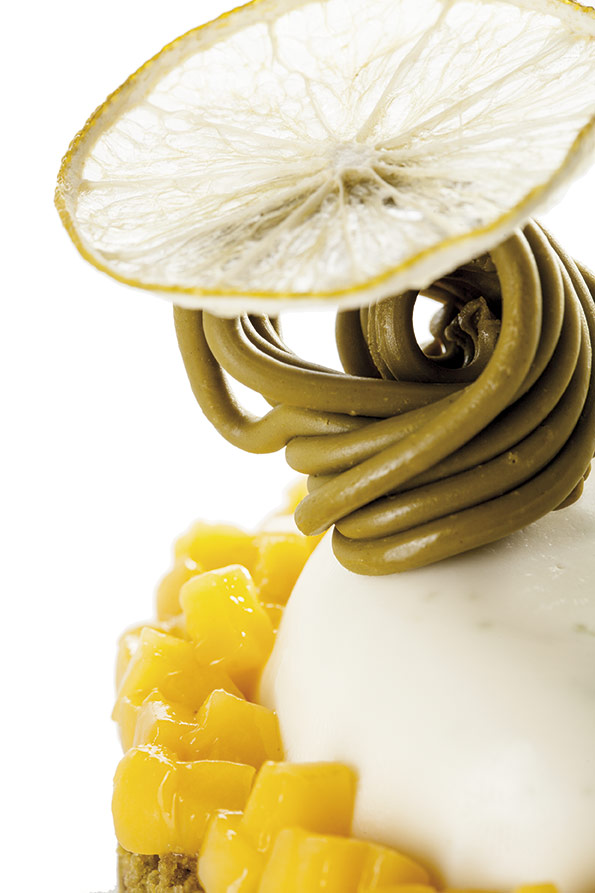 pistachio sablé
95 g green pistachio paste
70 g butter, 82% fat
30 g  pasteurized egg yolks
150 g  cake flour
100 g green pistachio powder
100 g sugar
30 g La Mancha Origin caramelized whole pistachio
1.2 g fine salt
0.3 g mint green color
Combine the butter and pistachio paste and beat together until softened. Mix the pistachio powder and cake flour together. Add the salt, sugar and mix with the fats. Roll to a cylinder and freeze. Once frozen, pulse the dough in a meat grinder to crumbles. Arrange 8cm-wide and 1.5cm-high rings on a silicone mat.
Bake in a 130ºC oven for 25 minutes.
---
light lime ganache
230 g cream, 35% fat
40 g dextrose
170 g lime juice
360 g Zephyr white chocolate, 34% cocoa
3.8 g gelatin sheets
2 u lemon zest
40 g butter, 85% fat
Heat the cream and lime juice separately to 60ºC, combine the liquids and add the gelatin (previously hydrated). Melt the white chocolate to 40ºC and emulsify with the liquids. Add the butter and emulsify again.
Grate the lime over the cream and mix. Leave the ganache to cool down to 26ºC and pipe into the silicone molds.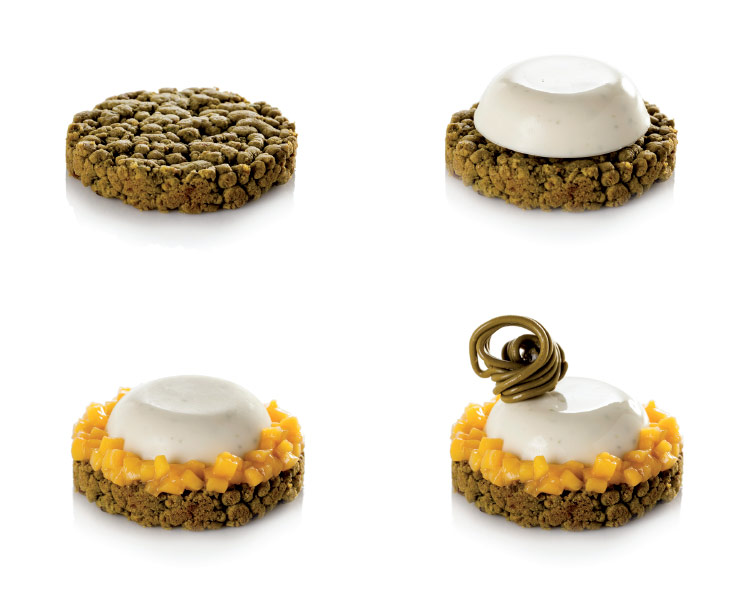 mango brunoise
Cut a mango brunoise, leave to drain slightly on some kitchen paper and place in a pastry bag.
---
pistachio gianduja strings
380 g Zephyr white chocolate, 34% cocoa
500 g green pistachio paste
4 g fine salt
Temper the white chocolate and add to the paste at room temperature. Add the salt, emulsify thoroughly and allow to crystallize for 24 hours.
Once crystallized, extract some strings with the help of a zester and interlace them.
---
dehydrated lime disks
Slice some limes (previously blanched) with the help of a slicing machine and leave to dehydrate at 40ºC for 24 hours.
---
Montage
Unmold the lime ganache and spray with cold gelatin. Place the ganache on top of the baked pistachio sablé and encircle with a mango belt. Garnish with the gianduja strings on one side and top with the dehydrated lime slice.