Can you imagine what it would be like to spend a week at Dolç's workshop (Sant Cugat, Barcelona)? The French pastry reveals, with absolute transparency, all the secrets of his gastronomic pastry in the book, One week with Yann Duytsche.
Throughout seven chapters, from Monday to Sunday, the book exposes complete recipes and detailed technical comments on a wide range of products, from tea and pastries, to pies and mousses, ice creams, cups, bonbons, plated desserts… Creations that are not prototypes, "that have matured and evolved for a long time to achieve success. They are the result of the production and sales experience I have accumulated in Dolç's for more than ten years and that, in addition, I have been able to contrast with many colleagues in my many professional trips," says Yann.
Among the many creations included in One week with Yann Duytsche, all of them sweet and fresh, we find Suau, with which he wanted to reflect "tender, soft, and inspiring moments, after a wonderful trip with my wife, Astrid. The ultra-black roller ball only slides across paper to draw the first silhouette of this cake emerged after those days together. The ripe Canarian banana, as a starting point, associated with pear brandy caramel and a chocolate mousse with milk and hazelnut. Tout on doucer! Pour mieux te plaire…", he confesses.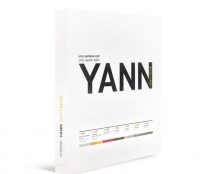 Discover One week with Yann Duytsche
Suau
Recipe for 6 entremets, 16 cm in diameter
Soft sponge with crunchy hazelnuts
205 g butter
80 g Azélia milk couverture, 35% cocoa
180 g eggs
245 g semi-refined sugar
100 g cake flour
190 g hazelnuts, roasted and crushed
Add the brown sugar to the eggs by briefly mixing just to melt the sugar crystals. Reserve. Soften the butter without beating it excessively, add the melted Azélia couverture and mix until a smooth, homogeneous mixture is obtained. Gradually add the tempered egg and brown sugar mixture carefully so that it does not lose it smooth texture. Add the sifter flour and the roasted hazelnut bits. Cook in rings, not greased with butter, at 175ºC for 15 to 20 minutes, in a convection oven.
---
Banana namelaka
290 g banana from the Canary Islands
10 g lemon juice
3,5 g powdered gelatin, 200 bloom
150 g Ivoire white chocolate
150 g cream, 35% fat
Heat the puréed banana together with the lemon juice. Add the hydrated gelatin. Process with the handheld blender and emulsify with the melted white chocolate. Finally add the chilled cream.
---
Caramel coulant gelée
430 g sugar
195 g mineral water
40 g mineral water
325 g cream, 35% fat
325 g glucose
365 g cream, 35% fat
50 g pear liqueur, 40% alc.
14 g powdered gelatin, 200 bloom
Cook the sugar with the 195 g of water to 202ºC to obtain a dark and airy caramel. Lighten with the 40 g of water, add the 325 g of warm cream and glucose and then the previously hydrated gelatin. Process with a handheld blender, allow to cool slightly and add the remaining cream and pear liqueur. Reserve in the refrigerator.
---
Crème anglaise base
165 g cream, 35% fat
165 g milk
65 g egg yolks
35 g sugar
Heat the cream together with the milk and pour over the egg yolks, previously mixed (not in excess) with the sugar. Cook to 80ºC, process with a handheld blender and pour into a different container.
---
Azélia crémeux
405 g crème anglaise base
610 g cream, 35% fat
780 g Azélia milk couverture, 35% cocoa
5,4 g powdered gelatin, 200 bloom*
Add the hydrated gelatin to the crème anglaise, pour over the melted chocolate and emulsify with the help of a handheld blender. The temperature of the mixture should be around 40ºC. If necessary, stabilize the emulsion by adding some of the whipped cream. When the mixture is smooth, check its temperature and fold in the remaining cream. Freeze in the molds. *Dilute the powdered gelatin with six times its weight of water.
---
Extra bitter milk chocolate glaze
300 g sugar
250 g glucose
125 g mineral water
20 g powdered gelatin, 200 bloom
300 g Extra Bitter milk couverture, 39% cocoa
170 g condensed milk
Combine the water, condensed milk, sugar and glucose and bring to a boil. Add then the hydrated gelatin. Pour over the chocolate in different additions so as to obtain a perfect emulsion. Use the glaze at 35ºC.
---
Other
ripe banana from the Canary Islands, roasted
light Muscovado sugar
red Sichuan pepper
milk chocolate rings
---
Montage
Arrange banana 'medallions' on an oven tray and sprinkle with some light Muscovado sugar and Sichuan pepper. Cook at 210ºC for approximately 20 minutes. Once cool, arrange the banana pieces on the sponge disks. Pipe the banana namelaka and caramel gelée. Finish with the chocolate crémeux. Freeze and coat with the milk chocolate glaze. Finish by garnishing with the milk chocolate rings.