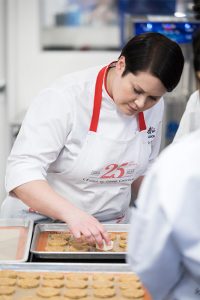 This year, L'École Valrhona Brooklyn has once again had in its classes calendar the Pastry Chef Sarah Tibbets, who taught a course dedicated to modern buffets, focused on Thanksgiving & Christmas, highlighting Fall & Winter flavors and colors.
A graduate of the Culinary Institute of America, she has developed a successful career in some of the most recognized restaurants and hotels in the country. Nominated for the 2009 James Beard Awards, she appears regularly in the media and qualified for the American semi-finals of the Valrhona C3 in Versailles in April 2011.
The purpose of the course was to discover how to create eye-catching and memorable dessert tables and buffets for celebrations of all sizes, explore the roles of flavor and texture in smaller bite-sized desserts and to create visually appealing displays with seasonal inspiration. The students had the hands-on opportunity to make desserts in a small format, from verrines, to cakes, petits gâteaux, macarons, and various sweets, with Sarah. Among these creations we highlight this almond dainty cake, with step-by-step details below.
Photos: Alex Ayer Photography

Dainty cake
makes 35 portions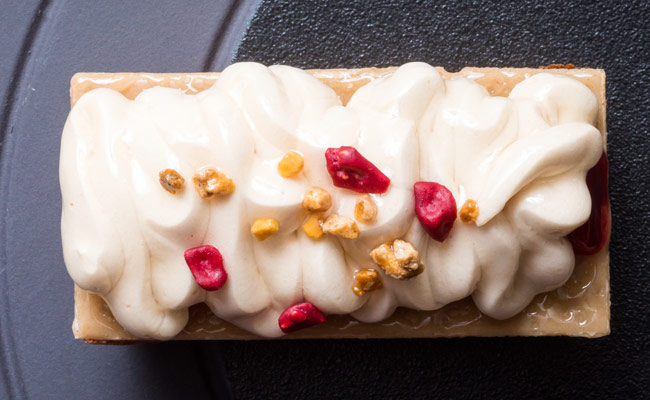 almond cake
=55 g per mold
500 g almond flour
500 g confectioner's sugar
500 g whole eggs
30 g invert sugar
150 g all-purpose flour
500 g butter
Combine the first four ingredients in the bowl of a stand mixer and blend with the paddle attachment.
Add the flour, then the melted butter.
Place in a pastry bag and chill until ready to use.
---
raspberry geleé
=15 g per mold
388 g raspberry purée
65 g glucose
115 g sugar
11 g NH pectin
38 g lemon juice
In a pot, heat the purée and glucose to 40°C (105°F).
Combine the sugar and pectin NH, then add to the mixture. Bring to a boil for one minute.
Add the lemon juice and immediately fill molds (fleximolds REF1146) using a sauce funnel.
Refrigerate until completely set.
---
almond whipped ganache
=50 g per cake
ganache
450 g whipping cream
50 g glucose
50 g invert sugar
650 g Almond Inspiration
whipped ganache
900 g ganache
900 g whipping cream
Combine the smaller amount of cream with the glucose and invert sugar in a pot.
Bring to just under a boil and then slowly pour over the melted Almond Inspiration, to create an emulsion. Blend with an immersion blender.
Rescale to 900g and add the cold liquid whipping cream- blend with an immersion blender again.
Pour into a shallow container and allow to crystalize in the refrigerator for 12 hours.
---
Absolu Cristal Spray Glaze
500 g Absolu Cristal Neutral Glaze
50 g water
Combine the Absolu Cristal and water- bring to a boil.
Spray immediately using a spray gun with the glaze at 80°C (176°F).
*For manual spray bottle, reduce Absolu Cristal to 300g.
---
Assembly and finishing
Pipe the Almond Cake batter into the molds (fleximolds REF4394) and bake at 190°C (375°F) until light golden brown (home oven 20-22 minutes).
Cool and unmold- trim the top to create a flat surface.
Temper Almond Inspiration and spread between two guitar sheets.
Cut rectangles to fit on the top of the cake (9×4.5cm).
Place a Raspberry Geleé bar directly on the décor rectangle.
Whip the Almond Inspiration Whipped Ganache to medium stiffness and pipe on the décor in a zig-zag motion to cover the Geleé completely. Repeat with all the décor rectangles and place in the freezer.
Spray the frozen pieces with the Absolu Cristal Spray Glaze and place on the baked Almond Cake.
Garnish with freeze dried raspberry pieces and caramelized almonds.
---
Another creations that Tibbetts designed during her class dedicated to modern buffets at L'École Valrhona Brooklyn